Friars Aylesbury remembers Bowie -click here
Special Friars Aylesbury Bowie memorial on Saturday 16th January 2016
A huge thank you to the hundreds that came despite the cold weather making this a heartfelt and appropriate tribute to the late David Bowie. Prior to the event, David Stopps had challenged radio stations and fans worldwide to play Starman at 12 noon. BBC Three Counties did just this and referenced the event extensively on their lunchtime show and featured interviews with David and others involved in the Friars Bowie story including Vivien Symons whose Bowie shirt piece from that July 1972 gig was a feature of the 2014 exhibition.
The BBC 3CR show can be heard on the BBC iPlayer for a limited time or can be heard on our YouTube Channel as well as the BBC TV Friars tributes.
We have a selection of photographs from the event below (all courtesy of Sue Stopps except where noted)
Particular thanks go to the following people who braved the very cold weather to help with this event.....
Judy Pearce, Rick Pearce, Phil Gomm, Josephine Whitfield, Nik Gibson, Gordon Wilmot, Glenda Lake, Laurence Hollands, Mandy Farmery, Lindsey Winn, Janet Bishop, George Entecott, Ray Hill, Adam Makeham
........we couldn't ha
ve done it without you.
Our thanks also go to Impact Signs for producing and generously donating the fabulous photographic display panels; to Aylesbury's Town Centre Manager, Diana Fawcett, for her enthusiastic support; Aylesbury Waterside theatre for the loan of tables; Buckinghamshire County Council; AVDC and Aylesbury Town Council.
Photo credit - Peter Randall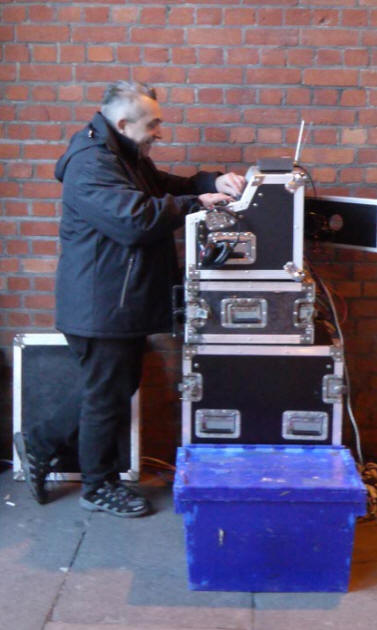 Our deep appreciation to Phil Gomm for supplying the sound equipment...which was loud and clear in the middle of town all day.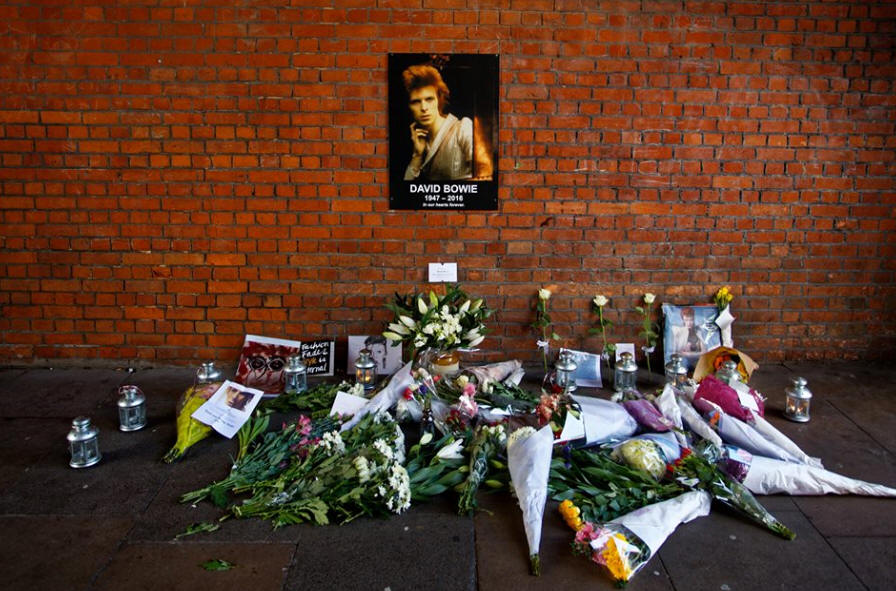 Photo credit - Peter Randall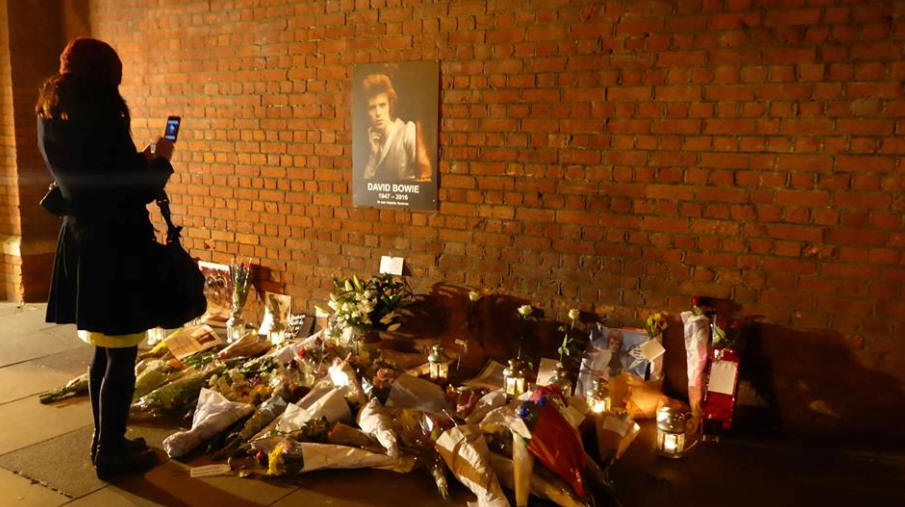 Bowie's music was played all day from the most popular to the most obscure. The man on the Thin White Dukebox is David Stopps, seen here with John Braley.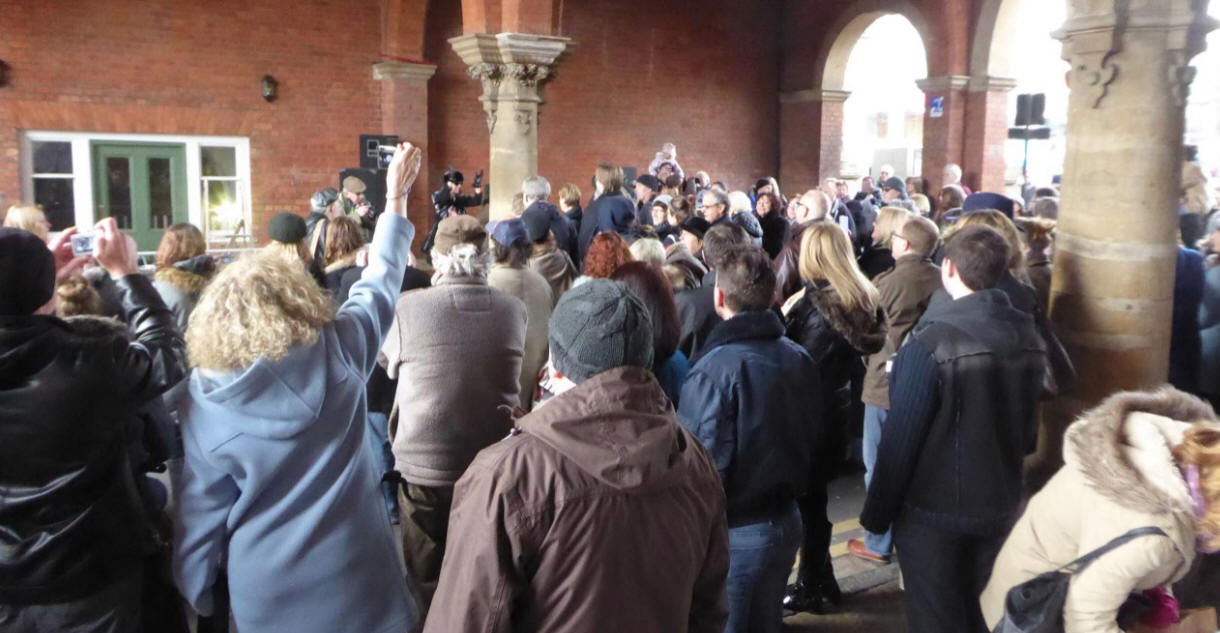 This lady got into the spirit with the trademark Bowie lightning strike.
Photo credit - George Entecott
Photo credit - Peter Randall
Photo credit - Peter Randall
People not only signed the book of condolence, there was also a significant contribution to the petition to have a permanent Bowie statue/memorial in Aylesbury.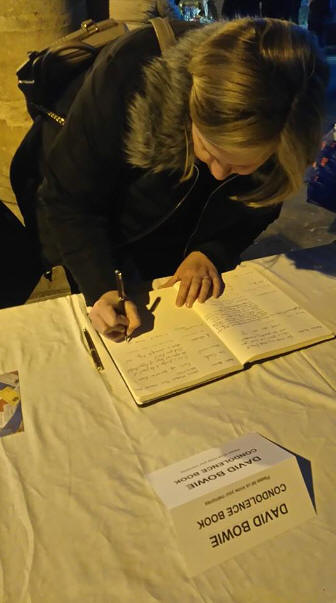 Marillion came along too as did Robin Boult (below right with John Braley)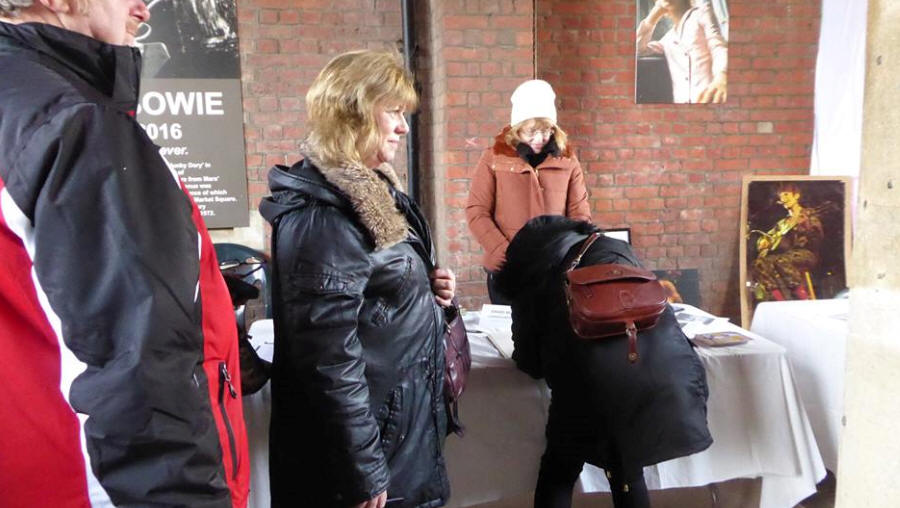 The very successful memorial came to a conclusion with people dancing to Bowie sound and vision projected directly on to the walls which gave an amazing effect.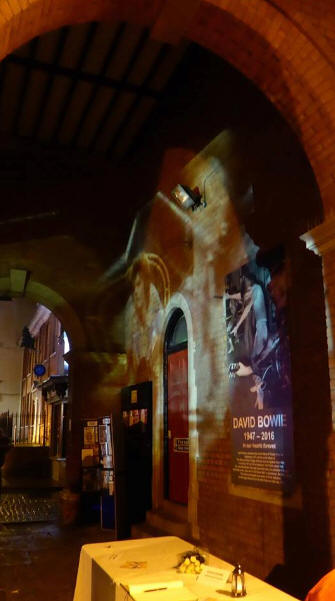 Photo credit - George Entecott