The official FRIARS Aylesbury compendium
Page last updated 18th August 2009
In 1973, Friars fan Susy Batchelor received this hand written letter from Angie Bowie concerning David playing Friars in 1973. Our grateful thanks to Susy for allowing us to use this.
In 1982, Friars fan Andrew Mian received this hand written letter from Mike Rutherford concerning Genesis at Friars Aylesbury for a project he was working on at the time. Many thanks to Andrew for sharing this with us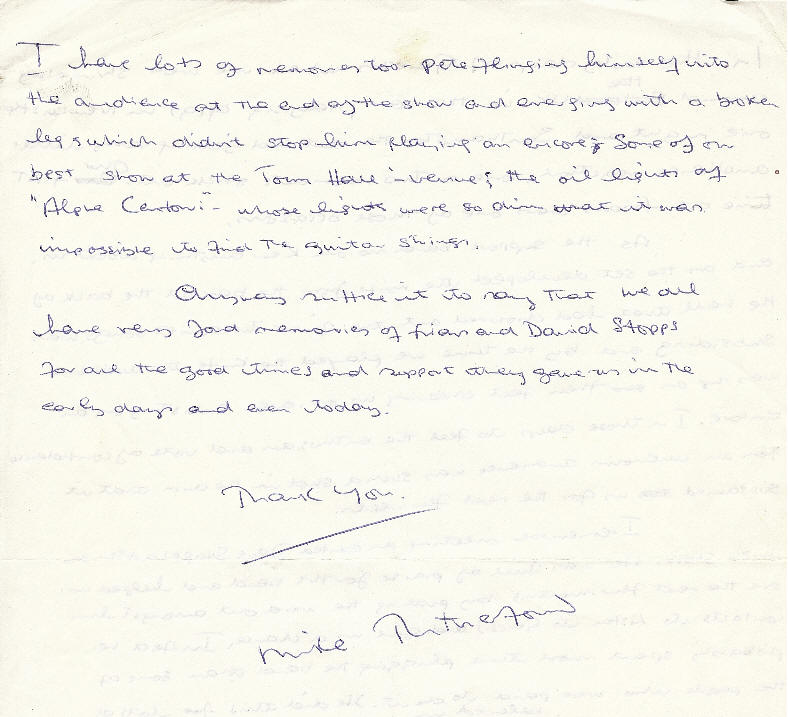 In 1985, David Stopps sent this press release regarding the end of Friars Aylesbury.
As you know, Friars came back on June 1st 2009, but here's some other things for your delectation.
Poll results Flyers Gallery A Complete A-Z of who played Friars Support bands who went on to headline Bands who went stellar after playing Friars Aylesbury
Best support band names Party occasions
You will see a general theme from fans and artistes alike, that the club actually cared about what it put on and listened to the club members and tried to keep most people happy, although this was no easy feat. To this end, Friars ran members polls which ranged from ascertaining the members favourite bands from the previous year, who they would like to see and what they didn't like. The results were fascinating and did have a direct bearing on the likes of The Jam and Steve Hillage playing Friars at the stage when these bands should have been beyond the club's grasp.
Poll results 1977
Poll results 1978
Poll results 1979
Poll results 1980
Poll results 1981
A gallery of all the flyers from Friars Aylesbury (mostly complete)
1969 1970 1971 1972 1973 1974 1975 1976 1977 1978
For a complete A-Z of all bands who played Friars and when - click here
A feature on support bands who went on to headline - click here
A feature of bands who went stellar after playing Aylesbury -click here
Best support band names - click here
Banners and balloons time! - click here