Sign up for the newsletter here
THOMPSON TWINS' TOM BAILEY PERFORMS THOMPSON TWINS LEGENDARY 80's ALBUM 'INTO THE GAP' IN ITS ENTIRETY FOR THE FIRST TIME – FRIARS EXCLUSIVE
Friars Aylesbury at the Waterside Theatre
Saturday 3 September 2022
Tickets go on sale this Friday, 25 March at 10.00am online from ATGTickets/Aylesbury, Ticketmaster and See Tickets or by telephone on 0844 871 7615.
Special Presale will take place this Thursday, 24 March at 10.00am exclusively to Friars Aylesbury newsletter subscribers. (Free subscription is available at the link at the top of this age) Friars newsletter subscribers will receive a link on the evening of Wednesday 23 March.
Limited number of top price VIP tickets will include best seats in the house, an exclusive Q&A session experience with Tom Bailey, signed poster and a personalized laminated pass. VIP tickets available from ATGTickets only.
The venue will be in all seated configuration.
Tickets limited to a maximum of 6 per person. Doors open 6.00pm. Show 7.30pm.
In an exclusive for Friars Aylesbury, Thompson Twins' Tom Bailey will be performing one of the classic eighties albums 'Into The Gap' in its entirety for the first time in his career at the Waterside Theatre on Saturday 3 September.
This is not part of a tour but is a one-off performance and is expected to attract Thompson Twins fans both nationally and internationally. Into The Gap included songs that were the soundtrack of our lives, including 'Doctor! Doctor!', 'You Take Me Up', 'Sister of Mercy', 'The Gap' and their biggest hit 'Hold Me Now'. Bailey and his all-female band will also be performing other classic Thompson Twins hits such as 'Love On Your Side', 'Lay Your Hands On Me' 'King For a Day' and 'In The Name of Love' in addition to tracks from his 2018 album 'Science Fiction'.
Bailey stormed UK arenas in December 2021 when he and his band were special guests to The Human League, receiving a standing ovation every night.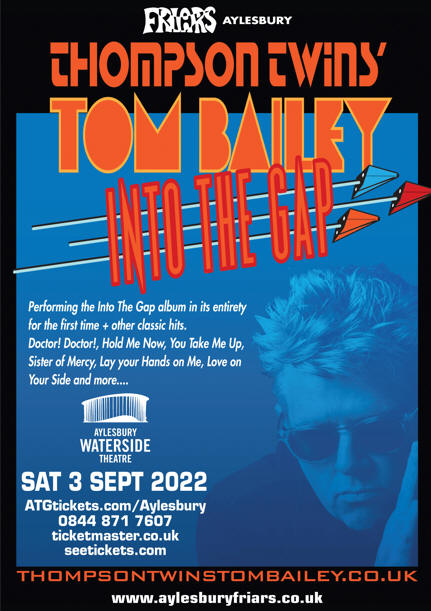 He will also be playing European festivals this Summer, but never before has he played the whole of 'Into The Gap' which is regarded as the Thompson Twins' greatest work.
Thompson Twins were one of the most iconic of the eighties bands, with huge success particularly in the UK and the USA. In 1985 they appeared at Live Aid in Philadelphia with Nile Rodgers on guitar and Madonna on backing vocals. Thompson Twins singer and co-writer Bailey is regarded as one of the UK's premier songwriters, performers and producers. He played on Grace Jones 'My Jamaican Guy' and Foreigner's 'I Want to Know what Love Is' amongst many others.
Thompson Twins Tom Bailey feature Tom Bailey (vocals/guitar/harmonica/percussion), Charlotte Raven (vocals/keyboards/electric cello), Paulina Szczepaniak (vocals/electronic drums) and Alice Offley (vocals/keyboards/bass guitar).
FRIARS LEGENDS MARILLION RETURN TO WHERE IT ALL STARTED CELEBRATING THE RELEASE OF THEIR 2022 ALBUM 'AN HOUR BEFORE IT'S DARK'.
Friars Aylesbury at the Waterside Theatre
Saturday 24 September 2022
Tickets online from ATGTickets/Aylesbury, Ticketmaster and See Tickets or by telephone on 0844 871 7615.
The venue will be in standing/seated configuration.
Tickets limited to a maximum of 6 per purchase. Age limit is 8 (accompanied by an adult) for seated tickets and 16 for standing tickets. Doors open 6.00pm. Show 7.30pm.
Can it be four years since the ultimate local heroes Marillion played the Friars Aylesbury stage? Amazingly it is. The band last played Friars on 25 March 2018 when they played a stunning short set in support of the Bowie statue Earthly Messenger on the day it was unveiled. This will in fact be Marillion's 12th Friars Aylesbury appearance the first of which was on 29 May 1981 when they played in the Aston Hall which was the small hall in the good old Aylesbury Civic Centre.
This 24 September date will be in celebration of their new covid era album 'An Hour Before it's Dark' which is getting ecstatic reviews and is being regarded as possibly the best album of their career. Started just as the pandemic hit in early 2020 'An Hour Before it's Dark' is an album of compassion and hope rather than doom and gloom.
Amongst other things it celebrates the extraordinary selflessness of those working in the front line of care during the pandemic which hopefully sowed the seeds of a new beginning for the future.
Marillion are by far the most important band to have ever come out of Aylesbury and it's so exciting that they will be bringing it all back home on 24 September.
Marillion are Steve Rothery (guitar), Steve Hogarth (vocals/guitar/piano), Pete Trewavas (bass), Ian Mosley (drums) and Mark Kelly (keyboards).
We can't wait.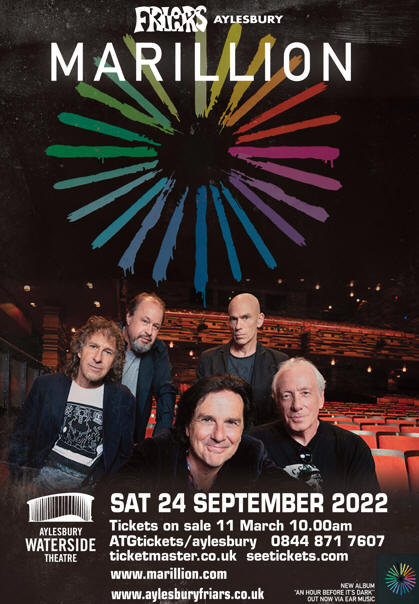 STEVE HACKETT – GENESIS REVISITED – FOXTROT at 50 + Hackett Highlights
FRIARS AYLESBURY at the WATERSIDE THEATRE 13 SEPTEMBER 2022
TICKETS on sale now from ATGtickets.com/Aylesbury, Seetickets.com and Ticketmaster.co.uk.
This is an all-seated concert. Tickets limited to a maximum of 8 per person. Minimum age 8. The Waterside Box Office is not open during the day.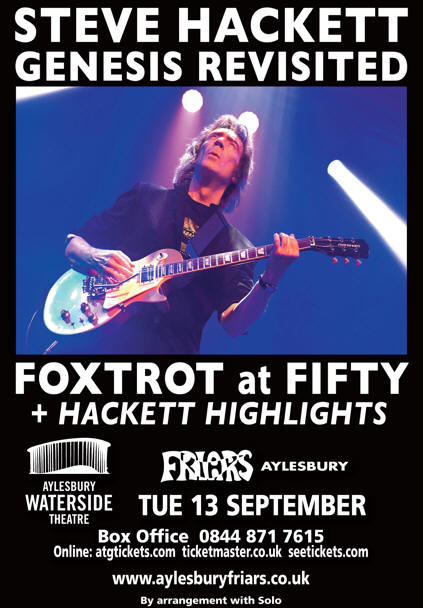 Following his stunning sell-out Friars date in October 2021, Steve Hackett returns to Friars Aylesbury, the place where Genesis began, for a special show celebrating the 50th anniversary of Genesis's 4th album 'FOXTROT' which they released in 1972. Foxtrot was the first Genesis album to have chart success, reaching No 12 in the UK album chart. Friars was closely involved with Genesis in 1972. Friars thought the band were in danger of splitting up, so a special Genesis Convention gig was organised at Watford Town Hall in June 1972 to celebrate how good they were and to attract some press attention. It worked, and that summer the band wrote the Foxtrot album which they debuted at Friars Aylesbury on 2 September 1972. The album was released in October 72 which caused their fan following to expand rapidly. Friars put the band on again on the Foxtrot tour at Friars Dunstable on 26 February 1973 which was a total sell out. Genesis's Mike Rutherford said recently that if it wasn't for Friars the band may well have split up at that time.
FOXTROT features some of the most classic Genesis tracks of all time including the 23 minute epic 'Supper's Ready', 'Can-Utility and the Coastliners'. 'Get 'em Out by Friday', 'Time Table' 'Horizons' and the Friars favourite 'Watcher of the Skies'. Steve Hackett was a major contributor to the success of Foxtrot both as a writer and a performer.
Steve will be joined on the tour by regular musicians Roger King (keyboards), Jonas Reingold (bass), Rob Townsend (saxes/flutes) with Nad Sylvan on vocals.
Craig Blundell (Steven Wilson, King Crimson, Iron Maiden) will be on drums & percussion. He was voted by Modern Drummer and Rhythm Magazine readers as one of the top progressive and forward thinking drummers in the world.
Steve's autobiography, A Genesis In My Bed was published in 2020. Steve talks candidly about his early life, his time with Genesis, and in particular his personal relationships with the other band members, with great insight into the daily goings on of this major rock band.
About Steve Hackett
Steve Hackett joined Genesis at the beginning of 1971 and first played Friars Aylesbury in June 1971. He quickly gained an international reputation as the guitarist in the band's classic line-up alongside Peter Gabriel, Tony Banks, Mike Rutherford and Phil Collins. Steve's intricate guitar work was a key element of Genesis albums from Nursery Cryme (1971) to Wind And Wuthering (1977) including the classic Selling England By The Pound.
After leaving Genesis at the end of 1977, Steve's solo career, which now spans more than 30 albums, has demonstrated his extraordinary versatility with both electric and acoustic guitar. Steve is renowned as both an immensely talented and innovative rock musician and a virtuoso classical guitarist and composer and this was recognised in 2010 when he was inducted into the Rock Hall Of Fame. He has also worked alongside Steve Howe of YES in the supergroup GTR.
Steve's compositions take influences from many genres, including jazz, classical and blues. For his later studio works The Night Siren (2017) and At The Edge Of Light (2019) Steve has explored the influences of world music.
Reviews from Steve Hackett's recent tours
'the night's prog feast.. was Selling England' ' which allowed the guitarist's band to fully showcase their talents…' 'for one evening at least it was fantastic to dance with the Moonlit Knight once more.' Simon Carter - The News Portsmouth
'Hackett's guitar effortlessly carves a path through the songs mixing melodic lines with experimentation and flat out rock...' 'The individual personalities of the band also shine throughout…' Stuart Avis -The Brighton Magazine
'a great riff, great lyrics and another guitar solo to die for...' 'the magic seems never-ending...' Alan Jones – Getreadytorock
'complex time changes and elaborate melodies were recreated by Hackett's superb band with verve and skill.' 'Hackett may well be the best guitarist around. Oh, and a great light show too. Obviously.' S Copeland - Brighton Argus
"This is a consummately highly talented group of musicians, possibly the best working band currently playing anywhere in the world. Seriously." Paul H Birch – Ramzine
FRIARS LEGENDS CAMEL WILL RETURN TO WHERE IT ALL STARTED CELEBRATING THEIR 50th ANNIVERSARY, at the Waterside Theatre on 7 June 2023
Tickets go on sale now online from ATGTickets/Aylesbury, Ticketmaster and See Tickets or by telephone on 0844 871 7615.
The venue will be entirely seated.
We're still reeling from Camel's last Friars Aylesbury appearance at the Waterside on 10 September 2018 when they played the whole of 'Moon Madness'. We were hoping they would be good, but no one thought they would be THAT good. It was quite simply one of the finest Friars Aylesbury gigs of all time.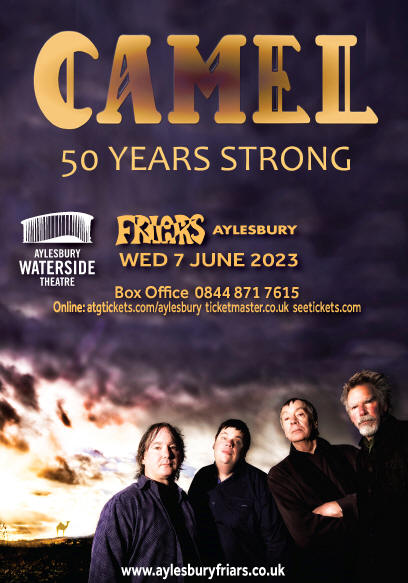 We really value bands who are loyal to Friars and Camel are certainly one of them. For this 50th Anniversary they are playing just 6 dates. Birmingham, Manchester, Edinburgh, Southampton, London and Aylesbury. After the 2018 gig Andy Latimer particularly asked to come back to Friars.

For these '50 Years Strong' dates Camel will be playing their best material from right across their long and distinguished career, which includes their albums 'Camel', 'Mirage', 'The Snow Goose', 'Moon Madness', 'Rain Dances', 'Breathless', 'I Can See your House from Here', 'Nude' and 'Stationary Traveller'.

Back in the day, Camel played Friars no less than six times. They first appeared on May 25 1975, just three months before Friars Phase 2 at the Borough Assembly hall ended. They went down a storm and were immediately booked to play Friars again, which by this time had moved to the Phase 3 Civic Centre. This second gig on Nov 8 1975 was the one that many remember best. It was part of their classic Snow Goose tour which is regarded by many to be Camel's finest hour. Expect to hear Camel play tracks like 'Rhayader' and 'The Great Marsh' on this 50th Anniversary gig.

Camel feature main man Andrew Latimer on guitar, Colin Bass on bass, Denis Clement on drums and Peter Jones on keyboards/vocals.

BIG BIG TRAIN rescheduled to Friday 2 September 2022

Modern prog heroes Big Big Train were originally scheduled to play Friars Aylesbury on 16 July 2020 which, due to lockdown, was postponed until 18 July 2021. This second date was also not possible due to government regulations on live events.

Today we are announcing that this long-awaited date will now take place on Friday 2 September 2022.

Tickets for the new date are on sale now from ATGTickets/Aylesbury, Ticketmaster and See Tickets. If you have tickets for the original date or the first postponed date, please hang on to your tickets….. they will be 100% valid for this new rescheduled date.

Local prog legends LIFESIGNS will also be appearing with Big Big Train on 2 September 2022 although that is still to be confirmed.

Big Big Train dropped their stunning new album 'Common Ground' on 30 July 2021 which is now available on streaming services, CD & Vinyl. Tracks "The Strangest Times', 'All the Love We can Give', 'Apollo' and 'Common Ground' just have to be heard. The band released a further new song 'The Connection Plan' via streaming services on 24 August 2021 as part of their 'Stay Tuned' series."

Lifesigns released their excellent third album 'Altitude' in March 2021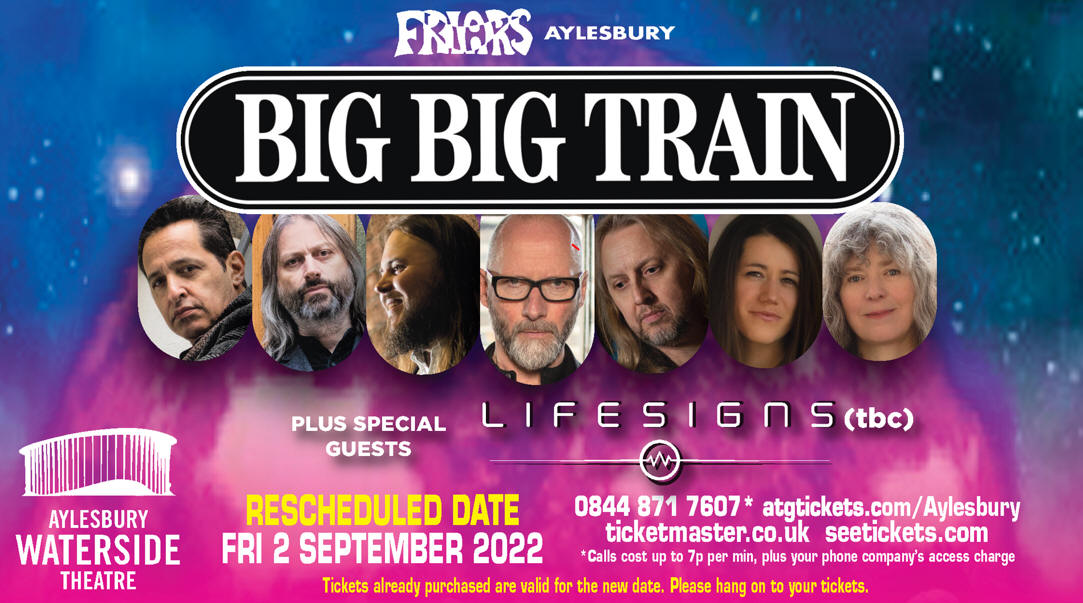 THE FLAMING LIPS RESCHEDULED FROM 21 JULY 2021 to 30 MAY 2022.
We were all hoping that The Flaming Lips would be able to play Friars Aylesbury at the Waterside Theatre on 21 July but due to Covid uncertainty, travel and quarantine restrictions and the fact that no band or live event in the UK is able to insure against Covid19, all the Flaming Lips 2021 UK dates have been moved to 2022.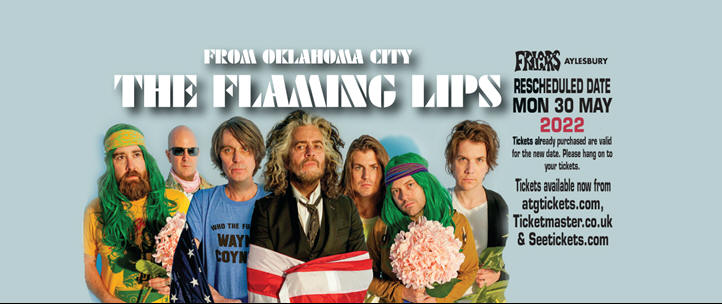 If you've already bought tickets it would help Friars Aylesbury enormously if you would hang on to them. They will be 100% valid for the 30 May 2022 date.
If you cannot attend on 30 May 2022 please contact the ticket agency where you purchased the tickets. (ATG Tickets, Ticketmaster or See Tickets)
Tickets for the rescheduled date are available now to those who haven't yet bought tickets.
As you know the live music industry has been decimated since March 2020 with 99% of all live events being made impossible due to Covid restrictions. Friars Aylesbury is hoping to survive this but we can only do it with your help. This amazing Flaming Lips show will happen, but we'll all have to wait a while longer.
The May 30 date will be an important date on the Flaming Lips American Head World tour which will now kick off in the USA this coming Autumn.
We can't wait for live shows to start again. There's a light at the end of the tunnel.
TICKETS on sale now from ATGtickets.com, Seetickets.com and Ticketmaster.co.uk.
FRIARS AYLESBURY ARCHIVE PROJECT
The Friars Aylesbury Archive is a not-for-profit project wherein we are trying to create a complete archive of all Friars related memorabilia including Friars news sheets, posters, tickets, video, recordings, press cuttings etc. We are then intending to completely digitise everything so that there is a permanent record of everything that has happened since Friars first started in June 1969.
In order to finance the project we will be offering for sale items where we have excess copies. Any funds created will be used to add additional security to the archive, digitise the archive and to create a fund to buy any missing items of which there are quite a few, as you will see below. We were recently thrilled to be able to purchase a Friars U2 poster from June 1981 which we've been after for many years.
As explained we are very keen to acquire the items we are missing, for the archive. Some people have already kindly donated items to the archive for which we are very grateful, but we are quite prepared to pay for them if necessary.
These are the missing handouts and posters as of May 2021:
HANDOUTS
| | |
| --- | --- |
| 1971 | |
| 04-Sep | Mott The Hoople + Paul Brett's Sage |
| | |
| 1973 | |
| 10-Feb | Mott The Hoople + Darien Spirit |
| | |
| 1974 | |
| 25-May | Cockney Rebel + BeBop Deluxe |
| 06-Jun | Cockney Rebel + AJ Webber |
| | |
| 1982 | |
| 18-Sep | Simple Minds + Hey! Elastica |
| | |
| 1983 | |
| 29-Jan | Solstice + Pendragon |
| 03-Nov | Public Image Limited |
| 29-Dec | Marillion + Nigel Planer as Neil |
| | |
| 1984 | |
| 17-Feb | Thomas Dolby + Dekka Danse |
| 23-Mar | Ian Dury & The Music Students + MG Giant + Adrenalin |
| 16-Jun | Fiction Factory + House Of Hearts |
POSTERS (20" X 30")
| | |
| --- | --- |
| 1969 | |
| 25-Aug | Renaissance |
| 8-Sep | Quintessence + John Peel |
| 13-Oct | Principal Edwards Magic Theatre |
| 20Oct | Skin Alley |
| 10-Nov | Caravan |
| 17-Nov | Graham Bond Intiation |
| | |
| 1970 | |
| 5-Jan | East of Eden |
| 12-Jan | Writing OnThe Wall |
| 2-Feb | Mott The Hoople |
| 9-Feb | Steamhammer |
| 23-Feb | Hawkwind + Mick Softley |
| 2-Mar | Writing On The Wall + Black Apple |
| 9-Mar | The Crazy World Of Arthur Brown + SME |
| 16-Mar | Edgar Broughton Band |
| 23-Mar | Matthews Southern Comfort |
| 6-Apr | Skin Alley |
| 13-Apr | Genesis + Nick Drake |
| 20-Apr | Roy Harper + Mick Softley |
| 27-Apr | Van Der Graaf Generator |
| 4-May | Mott The Hoople + Mick Softley |
| 11-May | Bronco |
| 18-May | Gypsy + Amber |
| 1-Jun | Mick Softley + Roger Ruskin Spear + Wishbone Ash + Les Payne |
| 8-Jun | Groundhogs + Chameleon |
| 29_jun | Stray |
| 6-Jul | Argent |
| | |
| 1971 | |
| 5-Jun | Southern Comfort + Help Yourself + Ade Roach |
| 26_un | Al Kooper + Hookfoot |
| 2-Jul | Lindisfarne + Gilbert Hampshire's Armpit Review |
| 10-Jul | Van Der Graaf Generator |
| 31-Jul | East Of Eden + Home |
| 21-Aug | Hookfoot + Quiver |
| 9-Oct | Quintessence |
| | |
| 1972 | |
| 8-Apr | Edgar Broughton Band + Mr Moses School Band |
| 22-Apr | Hawkwind + Magic Muscle |
| 8-Jul | Caravan + Gnidrolog |
| 12-Aug | Stray + Snakeye |
| 9-Sep | Wizzard + Glencoe |
| 21-Oct | Jonathan Kelly + Capability Brown |
| | |
| 1973 | |
| 6-Jan | Brinsley Schwarz + Kala |
| 10-Feb | Mott The Hoople + Darien Spirit |
| 3-Mar | Mott The Hoople + Darien Spirit |
| 26-May | Roy Buchanan + Solution |
| 17_jun | o'Burg Hawk + Magus + Otway & Barrett (Raban's Rock '73 |
| 23-Jun | Backdoor + Budgie |
| 7-Jul | Jack The Lad + Peter Hammill + Zox & The Radar Boys |
| 18-Aug | Jo'Burg Hawk + Glencoe |
| 1-Sep | String Driven Thing + Ducks Deluxe |
| 15-Sep | Commander Cody and His Lost Planet Airmen + Kilburn and The High Roads |
| 29-Sep | Jonathan Kelly + Gryphon |
| 3-Nov | Darryl Way's Wolf + Le Orme |
| 17-Nov | Stackridge + Aj Webber + Warrior |
| 1-Dec | Gong |
| 7-Dec | Carmen + Rotgut |
| 22-Dec | Ducks Deluxe + Starry Eyed And Laughing |
| 29-Dec | String Driven Thing + Kilburn and The High Roads |
| | |
| 1974 | |
| 2-Feb | Greenslade + Chilli Willi & The Red Hot Peppers |
| 16-Feb | Can |
| 2-Mar | Queen + Fruupp |
| 9-Mar | Manfred Mann's Earth Band + Wally |
| 13-Apr | Refugee + Aj Webber |
| 20-Apr | Blodwyn Pig + Narnia |
| 8-Jun | Silverhead + Blue |
| 21-Jul | Capability Brown + Aj Webber + Druid + Palace + Avalon (Raban's Rock '74) |
| 17-Aug | Blodwyn Pig + Nutz |
| 21-Dec | Jess Roden Band + String Driven Thing |
| | |
| 1975 | |
| 19-Mar | Hunter Ronson Band + Warren Harry and The Yum Yum Band |
| 17-May | Dr Feelgood + Warren Harry |
| 8-Nov | Camel + Asylum |
| | |
| 1976 | |
| 20-Nov | The Flamin Groovies + The Vibrators |
| | |
| 1977 | |
| 18-Jun | Tom Petty and The Heartbreakers + The Boomtown Rats |
| | |
| 1978 | |
| 7-Jan | Osibisa + Spartacus |
| 11-Mar | Motorhead + The Radiators From Space |
| 22-Apr | The Modern Lovers |
| 28_Jun | The Clash + The Coventry Automatics |
| | |
| 1983 | |
| 25-Jun | Big Country + The Lotus Eaters + Red Beat |
| 29-Oct | The Truth + Screen 3 + Doris and The Dots |
| 5-Nov | The Alarm + Basta Roc + Perfect Crime + The Climb |
| 19-Jun | Public Image Limited + First Priority |
| 3-Dec | Gary Glitter + Gothique |
| 23-Dec | The Farmers Boys and The Higsons + Popular Voice |
| | |
| 1984 | |
| 17-Feb | Thomas Dolby + Dekka Danse |
| 14-Apr | Grandmaster Flash + Mike Bruce + Seelabeelia |
| 23-Jun | X-Mal Deutschland + The March Violets + Red Lorry Yellow Lorry |
| 2-Nov | Sisters Of Mercy + The Skeletal Family |
| 10-Nov | The Alarm + Blue In Heaven |
| 24-Nov | The Cult + Balaam and the Angel + Play Dead |
If you have any of the above items and would like to donate them or allow us to purchase them from you we would be enormously grateful. Please contact Sue@fmlmusic.com
Many thanks
FRIARS 50th ANNIVERSARY PODCASTS
Friars Aylesbury first opened its doors on Monday 2 June 1969. Exactly 50 years later on 2 June 2019, the 6 Friars Founding Fathers reunited in Aylesbury's Kings Head to talk about the early days of Friars and the first magical years of Friars Aylesbury.
Those participating are legendary rock journalists Pete Frame and Kris Needs as well as the Friars Founding Fathers Robin Pike, Adrian Roach, Jerry Slater, Terry Harms, John Fowler and David Stopps. Also participating are John Braley who managed the Borough Assembly Hall and the Civic Centre for many years, Stephen Daglish who managed Earth Records and created the Aylesbury Music Town website and Keith Martin who was Friars member No 1.
http://www.buckstv.co.uk/friars-50th-anniversary-podcast-part-two/
http://www.buckstv.co.uk/friars-50th-anniversary-podcast-part-one/
The photograph below shows those participating in the podcast:
Left to right:
Kris Needs, Adrian Roach, Robin Pike, David Stopps, Terry Harms, Jerry Slater and Pete Frame.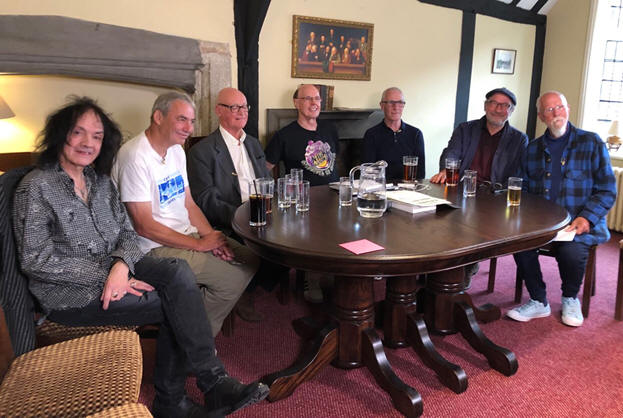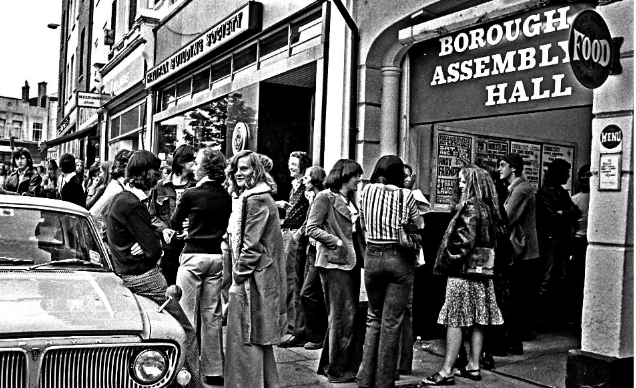 Wow, that Steve Hillage and Gong gig was amazing - galleries from that gig and the other Friars gigs this year by clicking the relevant poster.
Sign up to the newsletter (link above) for all the latest gig news etc
| | | |
| --- | --- | --- |
| | | |
| | | |
HEROES....JUST FOR ONE DAY
The statue was unveiled on Sunday March 25th to a large crowd, a large audience watching live online and covered by local and national media. This was followed by an amazing gig featuring local heroes Marillion, Howard Jones, John Otway and the Dung Beatles.
To see the statue live, there is a dedicated webfeed here
Full gallery here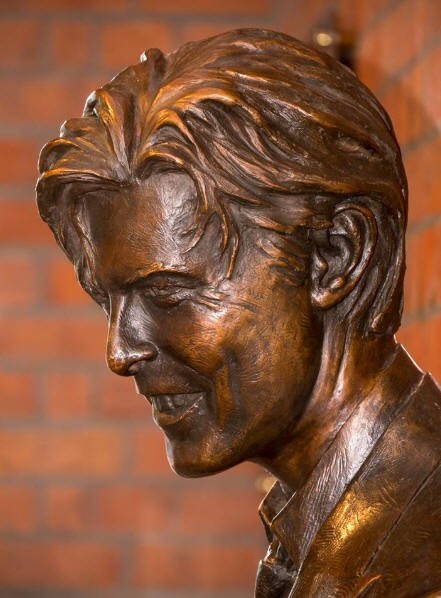 Full gallery from Erasure gig here

The Thin White Book now available to purchase

At last it's here!

The Thin White Book - A History of David Bowie and Friars Aylesbury is now available here from the Friars Aylesbury online shop - link above in menu or click this link. goo.gl/D6LbGf

If you are in the Aylesbury area you can also purchase the book from Rocky & Kook or Aylesbury Music, both in Temple Street, Aylesbury or Deco Audio/Vicious Squirrel in Kempson Close, Aylesbury (Avoids P&P charges).