"Memories are everything apparently, and I have only great ones of the fabulous Friars." David Bowie, February 28th 2014
FRIARS LEGENDS CAMEL WILL RETURN TO WHERE IT ALL STARTED, PLAYING THEIR CLASSIC ALBUM 'MOONMADNESS' and other classic Camel tracks, at the Waterside Theatre on 10 September 2018
Tickets are available now from Waterside Box Office or online from atgtickets.com and ticketmaster.co.uk. Tel: 0844 871 7607
The venue will be entirely seated.
After several years of trying, Friars Aylesbury is ecstatic to be able to announce that Camel will be making their long overdue return after a short break of 37 years.
Camel played Friars no less than six times in the seventies. They first appeared on May 25 1975 just three months before Friars Phase 2 at the Borough Assembly hall ended. They went down a storm and were immediately booked to play Friars again, which by this time had moved to the Civic Centre. This second gig on Nov 8 1975 was the one that most remember best. It was part of their classic Snow Goose tour which is regarded by many to be Camel's finest hour. Expect to hear Camel play tracks like 'Rhayader' and 'The Great Marsh'.
Half of the evening in September 2018 will be their 1976 album 'Moonmadness' in its entirety which is regarded by prog rock fans to be a complete classic marking the return of vocals to the band's music.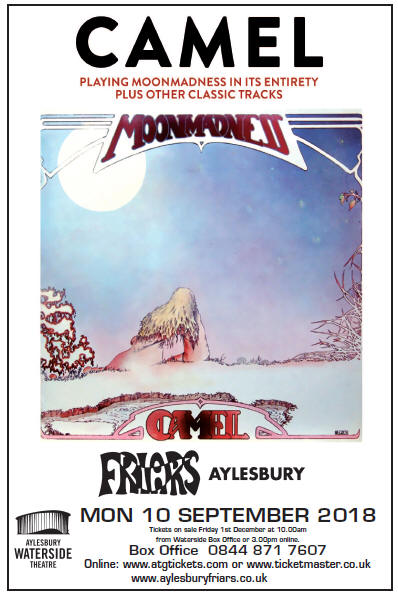 Camel feature main man Andrew Latimer on guitar, Colin Bass on bass, Denis Clement on drums and Peter Jones on keyboards/vocals.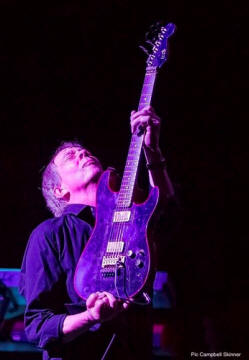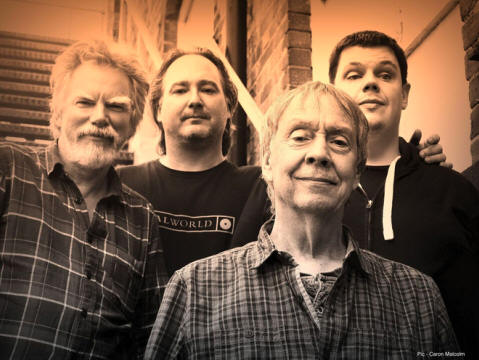 Prog Rock magazine readers voted the Waterside to be the second best prog rock venue in the country after those amazing Friars gigs by King Crimson and Marillion. The number one venue was the Royal Albert Hall so to come second was quite an achievement. Based on their shows in Europe immediately prior to this UK tour, the band is on sparkling form and the second half of the show is classic too with tracks from Mirage, Rain Dances and more.
HEROES....JUST FOR ONE DAY
The statue was unveiled on Sunday March 25th to a large crowd, a large audience watching live online and covered by local and national media. This was followed by an amazing gig featuring local heroes Marillion, Howard Jones, John Otway and the Dung Beatles.
To see the statue live, there is a dedicated webfeed here
Full gallery here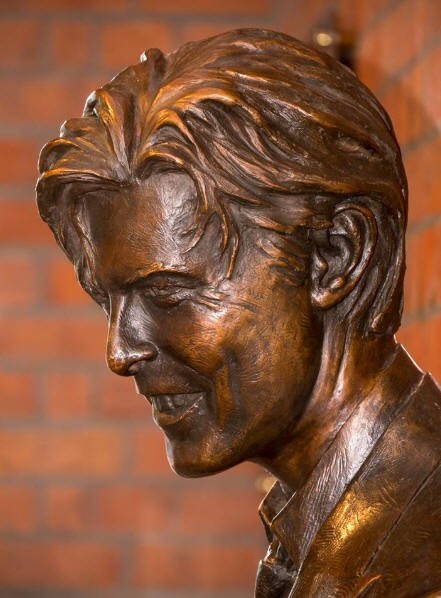 Full gallery from Erasure gig here
The Thin White Book now available to purchase
At last it's here!
The Thin White Book - A History of David Bowie and Friars Aylesbury is now available here from the Friars Aylesbury online shop - link above in menu or click this link. goo.gl/D6LbGf
If you are in the Aylesbury area you can also purchase the book from Rocky & Kook or Aylesbury Music, both in Temple Street, Aylesbury or
Deco Audio/Vicious Squirrel in Kempson Close, Aylesbury
(Avoids P&P charges).