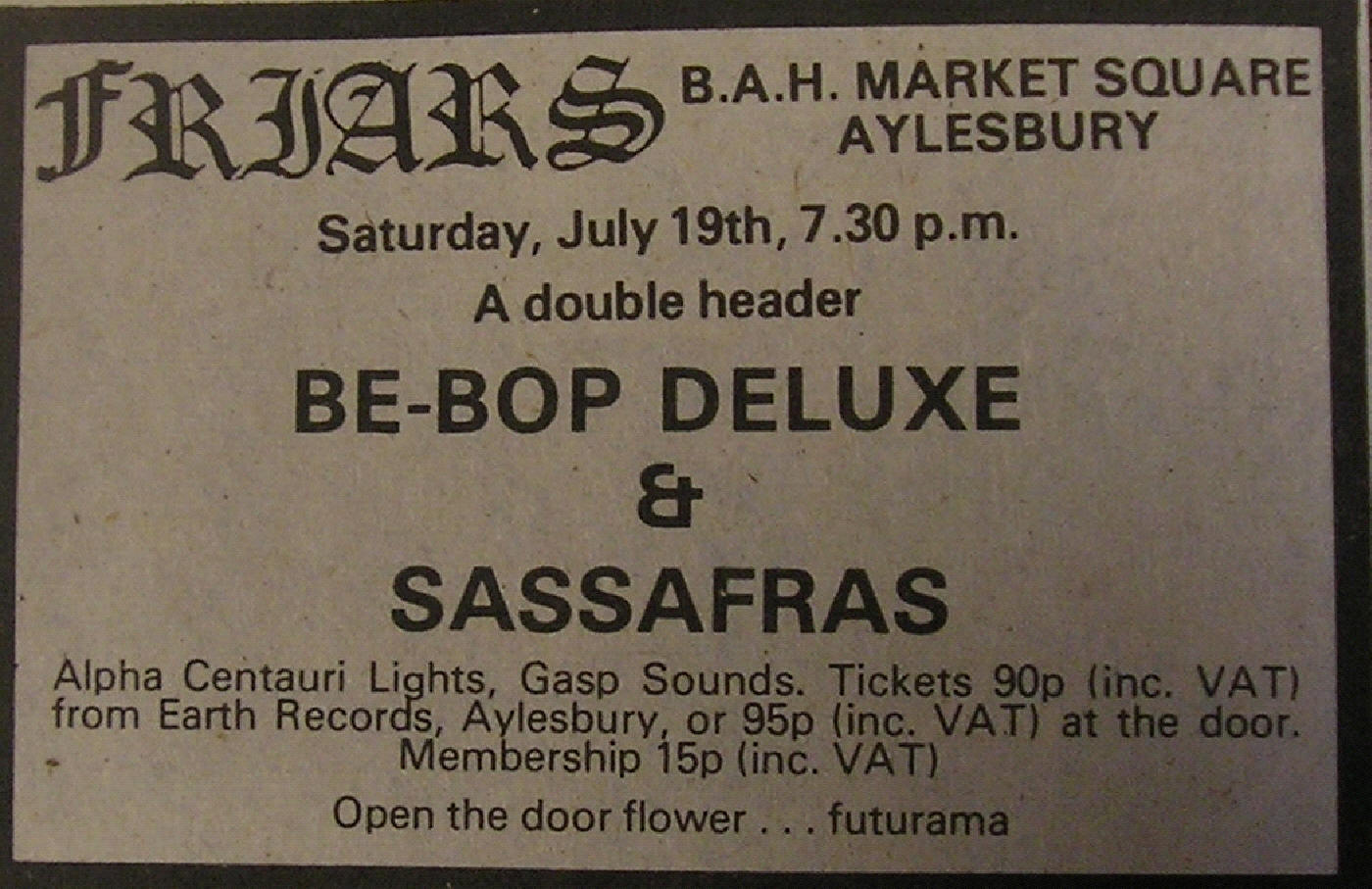 Charles Shaar Murray, NME, 9 August 1975
THE FIRST THING that hits you when you see Be-Bop Deluxe in their current incarnation (or, for that matter, listen to said incarnation's Futurama album on the highly deserving and impeccably integrity-loaded Harvest label) is that they're about 400% better than they used to be.
This is undoubtedly down to the fact that Bill Nelson (lead everything) is now working with musicians, who can keep up with him.
It was fairly apparent a year ago that, in the original Be-Bop line-up, Nelson was stuck in a classic syndrome – semi-pro band makes good on the strength of the talent of one of their members – but these days one-man bands don't make it.
Just how unequal to the task Nelson's former colleagues were only becomes fully dear when you see him working out with bassist Charlie Tumahai and drummer Simon Ffox (plus an excellent keyboard player called Andy Mumble).
I mean, they're good.
Hence, Nelson is now able to let fly infinitely more.
He provides by far the best guitar-show available in his present price-range, which is just as well since he writes songs of such an obstacle-course nature that they'd derail lesser mosicians in the first six bars.
The obstinately dejointed structure of Nelson's compositions, in fact, are liable to be the major (if the only) stumbling-block in the path of Be-Bop's upward course to fame, fortune, super-stardom and guitars which don't go out of tune whenever you bend a note, since he doesn't write anything even remotely catchy for the benefit of us poor bozos who're unable to retain any line longer than 16 bars.
The way round that little dilemma, however, is the frenetic energy with which Nelson et al approach the songs in performance, as per Aylesbury, one of the few remaining English rock halls where you can amble in and be confronted with a (glurrrrrrrp) light show and (choke) Country Joe and the Fish records over the P.A.
It's strange that a hall with such a totally ZigZag aura should've been the launching pad for such '70s-oriented acts as Mott, Bowie, C. Rebel and now Be-Bop Deluxe.
Instead of just standing there and letting Bill gangle his way through the show as the only remotely visual item, Tumahai vibes up the ensemble quite considerably with the intensity of his playing and back-up singing, and the awesome charisma and star quality emanating from his hat (don't ask silly questions. Go see and All Will Be Revealed).
Occasionally, Nelson seems a trifle out of his depth conceptually.
Dramatising a scene from Harlan Ellison's 'Repent, Harlequin!', Said The Tick-Tock Man on the back cover of Futurama was a nice idea (and proves Nelson to be the only rock star apart from David Bowie who's openly conversant with Mr. Ellison's work), but 'Swan Song', the album track which I am informed relates to the picture, doesn't seem to do anything of the sort. Plus his lyrics still come on like collegemag poetry of the more tangled variety.
Still and all, Be-Bop Deluxe are a good show (Good show, chaps). Nelson's fluid, deft, powerful and intelligent lead guitar (note to EMI: this phrase is eminently suited to quoting in advertisements) builds up a more than considerable head of steam on 'Maid In Heaven' and 'No Trains To Heaven', and he gets lyrical all over the place on 'Sister Seagull' and the afore mentioned 'Swan Song'. Very bird-oriented is our Bill.
Still think they're a little overheated in the singing and songwriting departments, but Be-Bop Deluxe are still of this season's most interesting and promising new groups.
Though they haven't yet developed the knack of transmitting the greater part of their energy and presence on record, they're hell on wheels in concert.
Two gold stars and a tick in the margin.
© Charles Shaar Murray, 1975