related friars history (click on date)
Blossom Toes Monday September 22nd 1969
B B Blunder (The two Brians) Saturday November 27th 1971 Friars Watford Wednesday January 26th 1972
Cockney Rebel (Jim Cregan) Saturday August 24th 1974 Wednesday April 7th 1976
Ronnie Lane's Slim Chance (Brian Belshaw) Saturday March 22nd 1975
setlist
Unknown
band line up
Blossom Toes
Brian Godding (guitar/vocs) Jim Cregan (guitar) Brian Belshaw (bass) Barry Reeves (drums)
gig poster and flyer (click to enlarge flyer)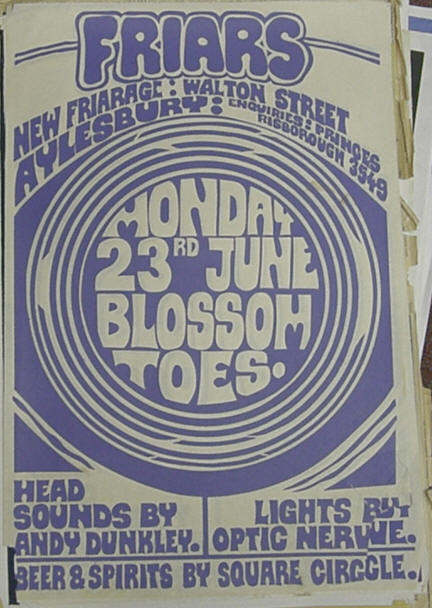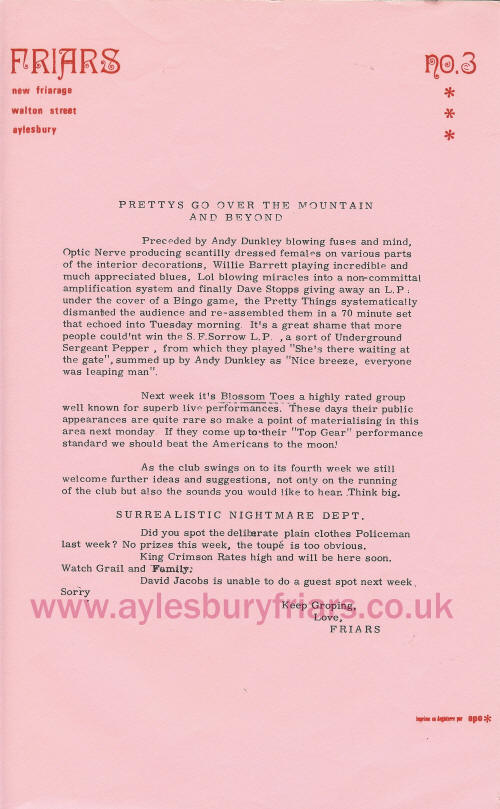 ticket
memories

Blossom Toes c 1968 courtesy of Brian Godding
Brian Godding:

I

t

end to remember Friars for what it was in the grand scheme of things rather than specific performances.

It was

,

without doubt, the most revered and sort after venue/ gig to do for bands of our ilk back then

. If

you like, a safe haven, most UK venues (out of town) were always a lottery and could be quite dangerous

to work in ( for instance working men's clubs up north !) I think it's fair to say Friars was the Mecca of

the musical movement of the period and bands felt safe in the knowledge that they were among 'like minded people'

.

So it was a place you could go and try out all your new weird and wonderful Ideas without getting thumped or threatened !

I

do remember, for instance, it was at one of our Friars gigs I first saw Genesis

and was totally blown away by them and Peter Gabriel

It was a little like a 'club' that both bands and audiences all belonged to!
odds and trivia
what happened?
Blossom Toes
: Brian G has pointed out...
All the Blossom Toes material has just been reissued on Sunbeam Records ( this time under our own control!)
The two Brians appeared at Friars In November 71 as part of BB Blunder. Jim Cregan played Friars again in 1974 with the new Cockney Rebel. Brian Belshaw played Friars also with Ronnie Lane's Slim Chance
official web presence
Brian Godding Official Website
sound and vision
Blossom Toes - Love Bomb