We have some odds and ends here and interesting curios (it says here), some of which are on the site elsewhere and some not that you may not necessarily have been aware of. Lots of random facts under the flyers as you'll see!
Here's some issued flyers, not all on the site, of gigs that never took place:
Ian Matthews should have played but pulled out quite late to be replaced by Man
Medicine Head nearly played in 1971
Wang Chung should have played the 15th birthday party in 1984, Fiction Factory's gig two weeks later became the party.
In 1974, Ronnie Lane cancelled all his current gigs including Reading but came back three times after.
Also in 1974, Savoy Brown pulled out after their gear was held at Heathrow and were replaced last minute by Budgie - there was no time to issue a new news-sheet
In 1975 a second news-sheet was issued to reflect Wally being top of the bill after The Winkies pulled out.
October 1976 saw all three gigs changed, references to two of them had already been published - Eric Burdon and Renaissance
Killing Joke cancelled their gig after the Jaz Coleman went missing in 1982, replaced by Anti Nowhere League. An unusuality about that flyer is that (like the Peter Gabriel 79 one) it was deliberately just one sided text.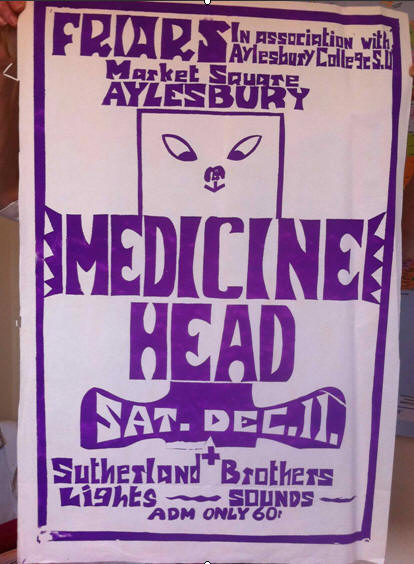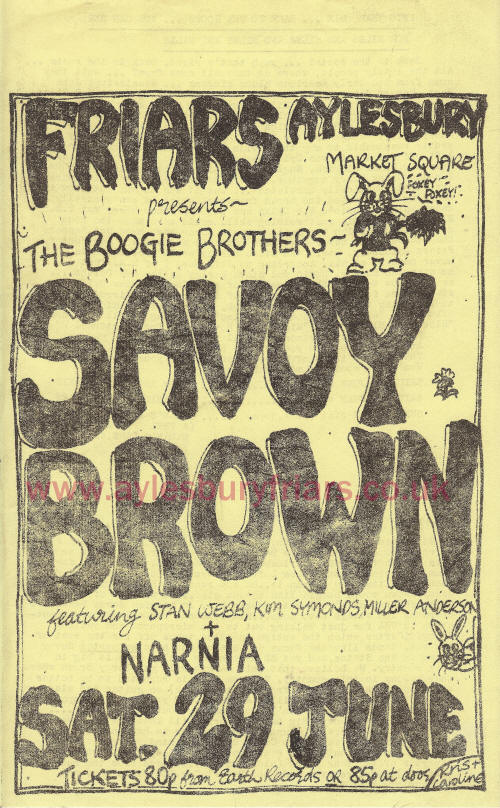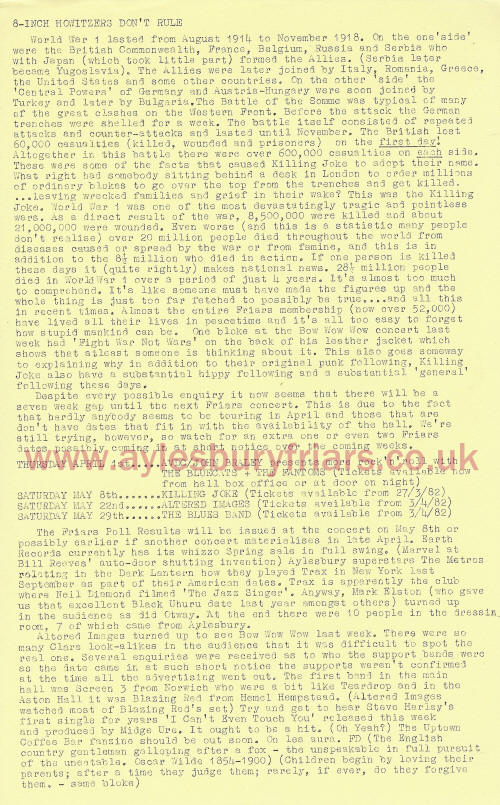 Being the completist, you may have noticed that some gigs had more than one version of the news-sheet issued, usually because an extra gig had been slotted in after they had been originally issued. Here's a couple of examples from 1982:
Random facts:
Did you know that apart from the planned Nico/Magma gig which got cancelled and the Free Otway gigs of 1978/1980, no Friars gigs took place on a Sunday? No particular reason, just worked out that way!
Did you know that at least two headlining bands have referenced Aylesbury in their songs (aside from Otway)? Of course, Marillion's Market Square Heroes which featured a dedication to Friars on the sleeve, but did you know that Steeleye Span's The Ups and Downs from 1973 featured Aylesbury in the very first line?
Did you know that Mick Hucknall played Friars? He did with his band Frantic Elevators and they were already performing an early version of Holding Back The Years.
Likewise an unknown drummer called Jon Moss played in 1980 in The Edge (supporting The Ruts)
Did you know that two gigs nearly got pulled on the day due to "difficulties" with the main artist? They were Queen and Gary Numan. Brian May is alleged to settled Freddie Mercury's issue of not wanting to play with "if this place is good enough for Mott The Hoople, it's good enough for us" - of course Queen had toured with Mott. Worth pointing out as well that Freddie and Roger Taylor had already been to Friars in 1972 and were in the audience for the legendary Bowie gig of July 1972. Numan's issues were down to being verbally abused by bikers in the Market Square and suddenly felt "bad vibes" On both occasions, Mr Stopps used his skills to get these gigs on.
Backstage at the Captain Beefheart gig, the great Don asked David Stopps for some water which was duly fetched in a glass. On receiving it, van Vliet asked if it was "city water" - Stopps understandably looked surprised. What he had meant by this was whether the water from was from a tap or bottled. When he found out it was from the tap, he wouldn't touch it.
Also in 1975, Camel had to postpone a Friars gig simply because their equipment would never have fitted in the Borough Assembly Hall. It did at the Civic in late 1975.
Did you see a band called The Reaction at Friars in 1978? No? Well, they came back to Friars in 1982 headlining.....as Talk Talk!
In 1980 The Reluctant Stereotypes supported The Specials and featured Paul King and Tony Wall who went onto ultimately to form King. Never officially revealed before, but King unwittingly cemented their place in Friars history when Friars officially closed in Spring 1985. David Stopps stated in his letter that the final straw was a well known band pulling out of playing Friars so they could earn more money elsewhere. That gig would have been on April 6th 1985 and was meant to be......King.
When ELO played Friars Watford in 1972, David Stopps withheld half of their fee because they turned up so late. The following day, their manager, the notorious Don Arden (Sharon Osbourne's dad) demanded to know why they had been half paid. After Stopps explained, Arden surprisingly accepted it.
When Elton John played Friars Watford in 1972, would you like to have been the person to have sidled up to Elton on stage and ask him to leave as there had been a bomb scare?
When the Ramones first played Friars, they were found in the Civic kitchens carving ham off the bone!
When Killing Joke played Friars the first time in 1980, in addition to everything else, David Stopps set up a banquet for them.
Very few gigs have been cancelled because one of the band has done a runner but that happened to Friars twice in a very short period in 1982. Joe Strummer from the Clash went missing (in Paris) forcing the postponement of their Stoke Mandeville gig and Jaz Coleman went missing from Killing Joke forcing the gig to be cancelled altogether.
Only three times did Friars present two gigs on consecutive days. In June 73 Gryphon/Capability Brown, in 1980 with Girlschool and The Jam and also in 1980 with The Piranhas/Otway and Barrett