David Bowie, writing in a blog in 2002 said:
"[Spiders From Mars drummer] Woody Woodmansey was saying, "I'm not bloody wearing that!" There were certainly comments, a lot of nerves. Not about the music — I think the guys knew that we rocked. But they were worried about the look. That's what I remember: how uncomfortable they felt in their stage clothes. But when they realized what it did for the birds . . . The girls were going crazy for them, because they looked like nobody else. So within a couple of days it was, "I'm going to wear the red ones tonight."
Woody Woodmansey
The Aylesbury Friars Club gig sticks in my mind as one of Bowie and the Spiders favourite gigs. I remember the first time we played we'd spent weeks working out the show and it was the first airing of a Bowie and Spiders concert that we then took around the world! The audience reception was the best.'
Roger Taylor (Queen drummer), quoted in Mojo in 1999:
"I got Freddie out in my little Mini and I remember the lights didn't work very well and we were going around the roundabouts and he was going "Oh dear - I don't think you can see dear, can you?" and I said "Don't worry Freddie it will be all right" and anyway we did get around the roundabouts and we got out to Friars Aylesbury which seemed like the end of the earth at the time. I think it could have been the first-ever Ziggy Stardust gig and it blew us away - we were blown away - it was so fantastic like nothing else that was happening and so far ahead of its time - the guy he had so much talent to burn really and charisma to burn as well, I hate to gush but he did have it like no one else did at the time"
Glen O'Brien in an interview with Andy Warhol, 1972 said:
'The Aylesbury town hall is the size of an average pre-war high school gym...There were perhaps a thousand peers in the hall when we entered. At first I thought it was remarkable that RCA had spent at least $25,000 to bring a select group of writers to a concert at which there were no seats for them, save the floor...David Bowie did not come on unannounced. He was in fact preceded on stage by a handsome Negro and his attendants who attempted to work the audience to a fever pitch by tossing them balloons, pinwheels, and hundreds of Bowie posters. The audience needed little prodding, though, and anxiously awaited David Bowie and The Spiders From Mars, while the giant amplifiers sounded a recording of old Ludwig Von's Song of Joy from the Ninth Symphony. David appeared on stage with his band to what could fairly be called a thunderous ovation. And he deserved every handclap...His hair was a vibrant orange..And the band played on...And David proved himself to be a unique performer
The New Roxette's, (and local leek grower), Rick Pearce recalls the gig in 2011:
'I don't remember how we got hold of tickets for the July 15th Friars date but we did, somehow.
By now the 'Tour Without End' had really hit its stride and things were getting faster, slicker and even tighter than ever. Memories of the gig itself are a jumble of confused images and impressions
A huge wave of energy and sound coming off the stage, Hang On To Yourself always hits like a bolt of lightening and it's the first time I've seen them in a small venue since they played here in January…Blue lit otherwise darkened stage for The Supermen… Total strobe disorientation and fragments of She Shook Me Cold during the jam section of I Feel Free… Ronno raising his arm to signal the end of White Light White Heat and Woody just keeps on drumming… Crushed against the PA by the crowd with Jackie, Jenny and her friend Tim and being deaf for days after… Bowie taking off his jacket towards the end of the show, ripping it to pieces, throwing rags to the crowd. At the same time Stuey George and (probably) Stage Manager Peter Hunsley are hurling fliers from both sides of the stage, girls are fighting over bits of white satin and I'm wondering how it's possible to look cool in the middle of all of this, realising it's impossible and giving up on even trying… Grabbing Ronno's guitar as he runs to the front of the stage and shoves it out into the audience… The surface of the guitar is rough, almost like sandpaper and the strings are very light gauge… Wondering if seeing the Beatles at the Cavern was anywhere near as good as this…
Eventually the band leave the stage, the houselights come on and we are left standing there, drained, deafened and stunned by the sheer intensity of what we have just witnessed.
After that things just got bigger, wilder and totally beyond control. DB and the Spiders were no longer able to be just our band. The Universe, or at least America had taken them over and we would never get them back. Sadly that's often how it works and the only choice we have is to live with it every time it happens or to become bitter, twisted, cynical and ultimately deadly boring
On further consideration, there is no choice!'
Mick Rock photographing Bowie at this gig (thanks Martyn Cornell)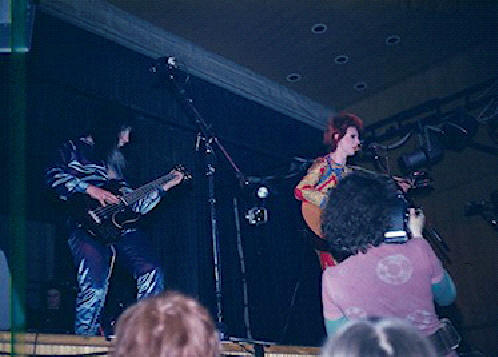 This was issued in 1972. The owner of this copy (Keith Bradbury) received this in the Regent Cafe in Kingsbury Square, Aylesbury.
and the back simply had this