The Aylesbury legend, Heroes inductee and FA Cup winner always tried to play a free concert in his hometown in the 1970s in venues including Bedgrove Pavilion.
With John very much on the up, Friars assisted in promoting free gigs from 1977 to 1981 and they were all very very different.
This took the form of a regular Friars gig in December 1977 and with Willy Barrett taking a short sabbatical, Bletchley band Scratch backed John and also support from Ken Liversausage. The first 500 attending the Radiator and Stiffs gigs got first dibs on the tickets. The plan was to present this concert of Thursday November 10th but it got pushed back to Tuesday December 6th and good timing and Cor Baby was about to smash into the charts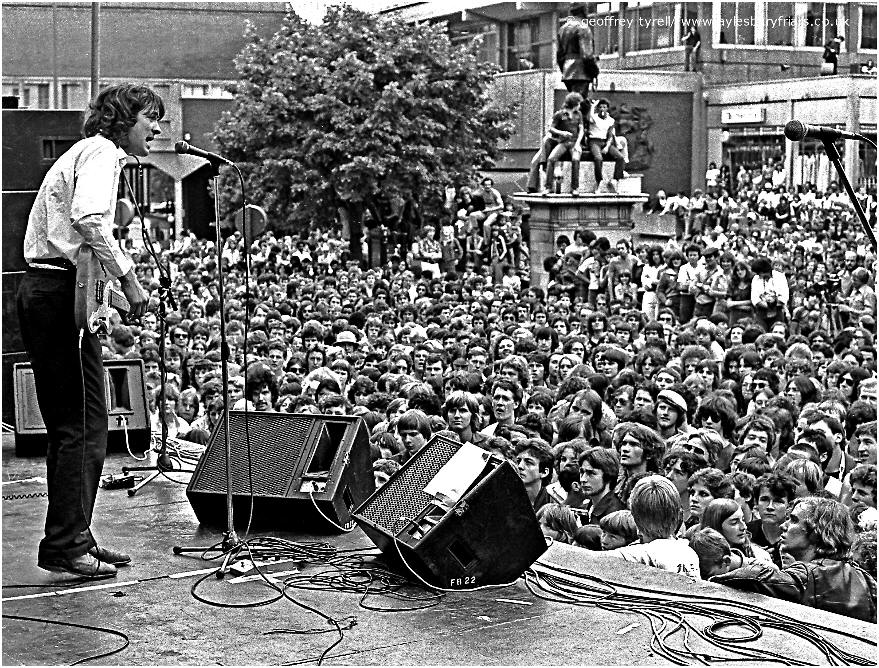 "Let's make this the big one for Otway" he used to say and this was Friars biggest ever gig. David Stopps wiped his schedule clean (no other Friars gigs took place in August 78) to ensure this massive open air gig in Aylesbury's Market Square on Sunday August 13th went without a hitch. In the end, the crowd was estimated at anything up to 20,000 and the weather held out.
The plan was to make a film documentary about Friars but Central decided the Otway story was too good to miss and Otway - Stardust Man was broadcast throughout the ITV regions in late 1978.
More photos from this gig 1 Photos from this gig 2
This was again in December after Christmas and took the form of the Hostelry Tour where he played five sets in five Aylesbury pubs. The only downer was that The Bell in the Market Square declined permission for John to play which was a shame given close associations with both John and Friars.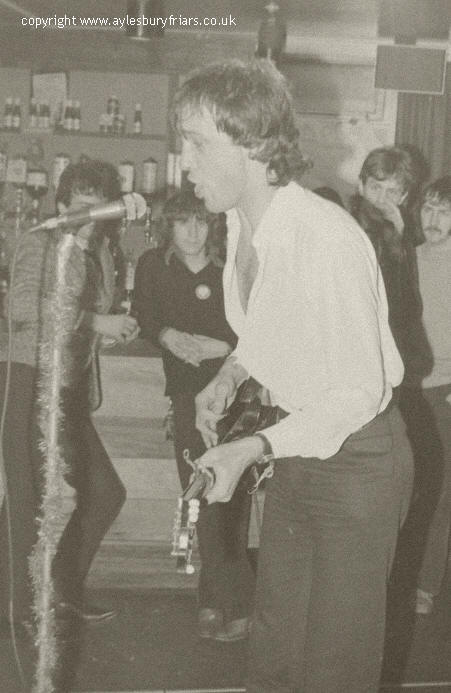 More photos from these pub gigs
Again just after Christmas, Free Otway 80 took place in the Maxwell hall on a Sunday lunchtime (technically meaning that Friars had only ever presented two Sunday gigs and both Free Otway gigs). The age restrictions had been thrown out and anyone could come along. The bonus of this one was that old sparring partner Wild Willy Barrett performed with him.
Again just after Christmas and perhaps the most unusual one yet when Friars presented, after Gryphon in 1973 at Stone Parish Church, only the second gig in a church, this time St Mary's in the Old Town.