Back in 1974 when Fruupp were presented on the same bill as a burgeoning Queen, it was very clear that Friars was rooting for this Northern Irish band described as full of dynamics, full of light and shade and thoughtful poetry.
The rest is history. Aylesbury took to this band in a unique way proven by the fact they went on to headline Friars Aylesbury by public demand after that Queen gig twice in 1974 and headlined five times in total along with a slot at Friars Dunstable in 1974 supporting Cockney Rebel. If fate hadn't played a hand in destroying the tapes then it is quite likely that for many Friars members, "Fruupp Live at Friars" would have been in their record collections. Fruupp made their last appearance at Friars in 1976 before disbanding. They are not forgotten.
We've been trying to honour Fruupp for some time and the award was presented to Fruupp's Martin Foye on behalf of the Friars Aylesbury website by life long friend and Fruupp fan Brian O'Neill. My deepest thanks to Brian especially along with Gus Devlin and Vincent Lyons for all their help and assistance with this award. We're hoping to get further pictures in due course with other members of the band. Big thanks too to award winning photographer Oliver McVeigh for taking the pictures.
Fruupp were Martin Foye, Peter Farrelly, Vince McCusker, Stephen Houston, John Mason and lyricist/manager Paul Charles.
Update January 2013:
Stephen Houston: Ah! we were supporting Queen and not the other way around. I shall have to put that right on any blurb I have said. Shucks, I've been dining out on my version for years. Oh well. Thank you also for giving Fruupp the award and also including us in the Friars Hall of Fame.
Fruupp's Martin Foye accepting the Friars Heroes Award from Brian O'Neill, Northern Ireland, June 2011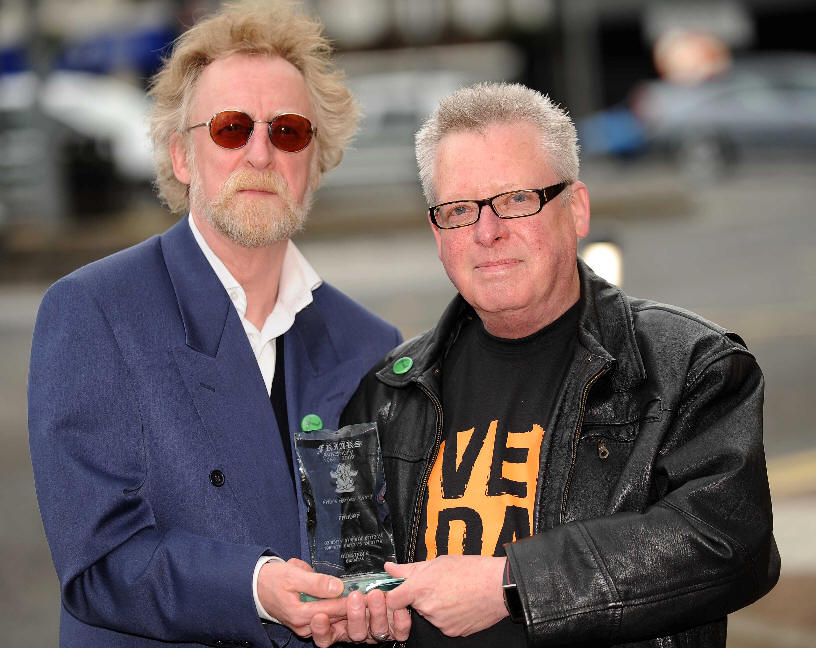 Picture: Oliver McVeigh
Fruupp's history at Friars