Kris is a Friars legend and is much Friars as Friars is Kris. Kris also covered Friars extensively in his acclaimed autobiography Needs Must. From day one Kris attended as a member, mentored by one of his school teachers (and fellow Hero Robin Pike) and in fact designed the unique 'frog in a boat' ink splat that became the Friars logo and has remained to this day. Kris, through his journalism for Mojo, Zig Zag and more championed many of the bands that played Friars and was also part of the original Aylesbury Roxette team whose main aim was to make Aylesbury the musical centre of the earth in the same way Liverpool had been in the 1960s. To many he succeeded and many of the local bands that went on to play Friars were covered and encouraged by the Roxette.
Kris is also an acclaimed DJ and musically his finger has always been on the pulse. An immense Friars character, the gigs would have been all the poorer without the distinctive flyer artwork and of course the rabbits. So much of Kris' imagery and imagination has shaped what became an institution.
Inscribed on Kris' award was 'Always First With The News' - what else can we say?
Kris Needs: I still donít know what I felt when David called me up to receive a Friars Heroes award but I do know Iím still smiling. I was 15 when I went to the first night in 1969 and it is strange that, 41 years later, Iím up there getting an award from a deity which, frankly, shaped my life and future activities. But in 1969 I would sit on those chairs near the front of the stage and dream what it would be like to be up there, running such an amazing club, maybe shaping my attempts at psychedelic posters into underground flyers. I also gazed in wonder at DJ Andy Dunkley, wondering what doing that would be like...
If it wasnít for Friars, I wouldnít be a writer because it gave me the urge and it helped meeting Pete Frame in the foyer when Mott The Hoople first played there; eventually he let me write for Zigzag and I never looked back. If it hadnít been for meeting Mott and Bowie at Friars I would never have got into the music business either [For better or worse!].
I was also honoured to get my award on the same night as Robin Pike, the bloke who first told me about Friarsí imminent opening, introduced me to David, who asked me to design the membership card [the frog in a boat ink splodge], then later the flyers. I already owe Robin the world for making it possible for me to see Jimi Hendrix but nothing quite compares to the huge amount of care and input he put into the club, and all this time later heís still something of a spiritual mentor.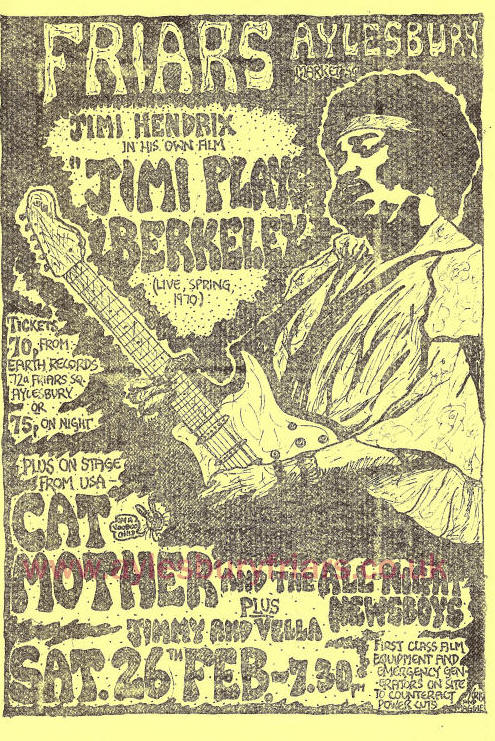 The opening night of Phase Four showed that Friars carries a unique spirit which, try as I might, I canít think can now be found anywhere else in the UK. The Buzzcocks picked up on it and Barrie Masters from the Hot Rods [who I hadnít seen for 33 years!] was raving about it. Above all, it showed that the Friars vibe will work in the most challenging of places. By the time 999 wound up their [very warm] set, the Waterside had been claimed and the Friars flag planted squarely in its upturned, sloping bottom.
Now itís like Friars has never been gone, well and truly back with exciting things on the horizon and I can draw rabbits forever.
Kris Needs accepting the Friars Heroes Award from David Stopps, Friars Aylesbury, October 8th 2010.