Norman, (with fellow future Blockhead John Turnbull) first trod the Friars boards in 1972 in Glencoe and again in 1973.
Norman's first headline appearance was with the fabled Stiffs tour of 1977 and it became very obvious that Ian Dury and The Blockheads were going only one way. They came back headlining Friars in 1978 selling out the gig very quickly. In January 1980, a highly secret support slot to The Clash remains one the most talked about gigs. They came back later in 1980, coincidentally with Wilko Johnson in the band, and sold out effortlessly again.
We waited a long time for Norman to come back to Friars, but in May 2011 he finally did with Wilko Johnson's band and blew everyone away with some amazing bass playing. Norman we salute you.
Norman Watt Roy accepting the Friars Heroes Award from David Stopps, Friars Aylesbury, May 2011.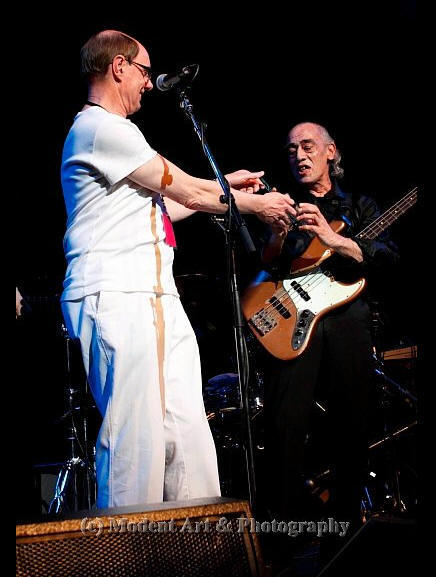 Picture: Neale Wareham/Modent Art
Norman's history at Friars