Sailor broke through in 1975 and 1976 putting on five highly memorable Friars concerts based around Parisian concepts and revue. Who will forget that famous nickelodeon? There's only been one act with a nickelodeon and that's Sailor. Sailor are still playing with 75% of their original line-up, no mean feat for a band who have been a going concern for 35 years. Best known for A Glass of Champagne and Girls Girls Girls which established them here and in Europe, they are still a draw on the continent where they still play many concerts, mainly as part of bigger packages, to enthusiastic and loyal audiences.
Their first headlining slot at Friars in 1975 concert drew Steve Harley, in disguise (allegedly as a rabbi!), to the audience to check Sailor out. He was so impressed they were offered (and accepted) the support slot on Cockney Rebel's 1975 British tour (see cutting below)
The Aylesbury audiences took them to their hearts and played a major factor in their rise up the ladder. Also in 1975, Sailor were presented with the FA Talent Winners Cup, an annual event in the gift of David Stopps and this award still sits on Phil Pickett's mantelpiece. Sailor will be forever in Friars thoughts.
The webmaster presenting the award to the band on stage in Milton Keynes said: "There is a town 20 miles from here called Aylesbury. From 1969 - 1984 there ran the legendary Friars Aylesbury club where many successful bands in the 1970s cut their teeth before going on to bigger things. Sailor was one such band and in 1975 and 1976 they played no less than five highly successful headlining concerts. 2009 sees the 40th anniversary of the inception of Friars Aylesbury and to commemorate this, there are a number of Friars Heroes Awards for those who made an outstanding contribution to the Friars legacy. It gives me great pleasure to say that Sailor are the inaugural recipients of the Friars Heroes Award."
Sailor: It was one of those venues around the world, probably one of only around four very very special places where we got the kind of reaction that was almost unbelievable. I'm glad to say we usually go down reasonably well, but the audiences there [Aylesbury] were always sensational...and helped propel us into the stratosphere for the time that we were very big. It's a long time ago but still remember it very well and David Stopps and all the people there and all the characters. You just loved playing there. It was always a great vibe...
Sailor accepting the Friars Heroes Award, Milton Keynes, December 2008.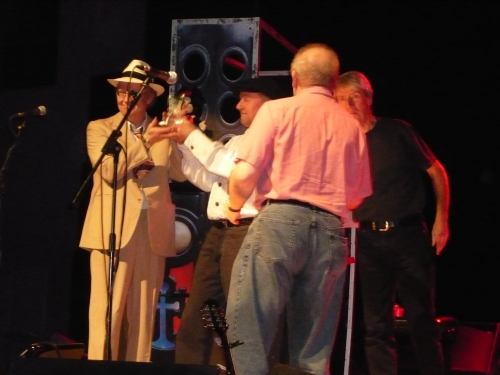 (Picture by Malcolm Knowles from the Sailor approved fansite, Sailor-Marinero.com run by Katrin Wagner)
(l-r) Henry Marsh, Grant Serpell, Phil Pickett, Oliver Marsh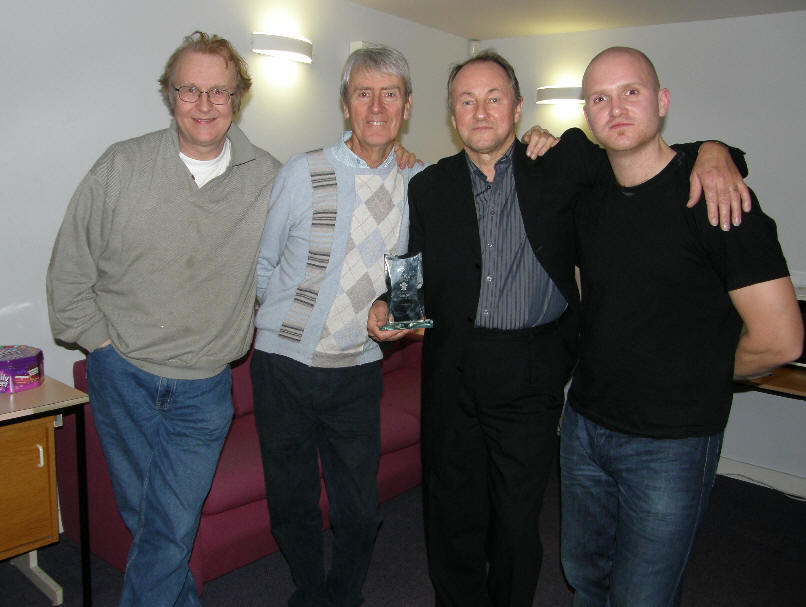 Sailor's history at Friars