1974 was the year that a certain young group called Cockney Rebel took Aylesbury by storm. Playing in January, they quickly came back in May and such pandemonium ensued, they played again a fortnight later. By August when they played the fourth time, they were one of UK's biggest bands.
Steve came back to Friars in 1976 and again in 1980 and 1981 where he was certain of an assured Friars reception. Steve was acknowledged in the mid seventies as one of Friars greatest icons and received the Friars Aylesbury cup for 'sensation of the year' in 1974 (picture below). Steve is still playing and filling big venues in 2010. Step forward, Steve Harley, true Friars Hero.
Steve Harley: In the 70s, Friars was the gig of gigs. We could play 40-date tours of the UK, to all towns and cities, and still carry that air of anticipation throughout the bus, waiting especially for Aylesbury. Dave Stopps was a sensational 'spotter and Promoter; finger on the pulse, hip to his fingertips to all that was happening out of everywhere that boasted new bands. In 1974, Cockney Rebel played Friars four times - in January, in May, in June and again in August. All sold out and all buzzing. Unforgettable.
Steve Harley accepting the Friars Heroes Award, Suffolk, April 2010.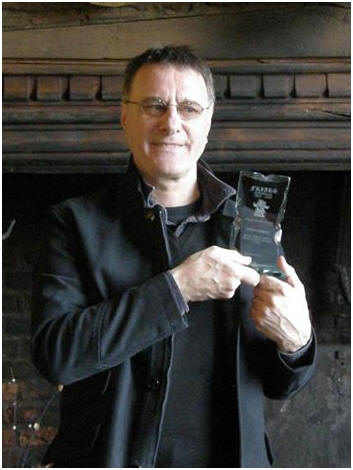 Picture: Mike O'Connor
Steve's history at Friars
Steve Harley receiving the FA Cup 1974 from David Stopps - courtesy of Stephen Daglish