Paul Weller is a genuine Friars legend and the final Friars Phase Three gig was one of the two most in demand gigs EVER at Friars (in modern terms of the internet etc, possibly THE most in demand). Weller played Friars five times with The Jam and remained the only band to play a matinee show. As the band got bigger and bigger, they kept loyal to Friars playing further gigs in 1978 and in 1979. By the spring of 1980, The Jam achieved, in Going Underground, the first single to go straight to the top of the charts since Slade in 1973.
Much to everyone's surprise and pleasure, The Jam, influenced by the annual Friars Aylesbury poll results, came back one more time and took the place apart. This was very much a band of the people and the Aylesbury people took them to their hearts. After the Jam split in 1982, Paul Weller's Respond record label's package tour came to Friars in 1983 maintaining the Jam link with Friars.
In 1980, Paul, with the Jam, also received the FA Cup from David Stopps.
After a patient 30 year wait, Paul Weller came back to Friars, arguably bigger than he was in 1980 and blew the roof off in one the greatest Friars nights ever and a fitting way to say goodbye to the Civic for good.
Paul Weller accepting the Friars Heroes Award from David Stopps, Friars Aylesbury, June 2010.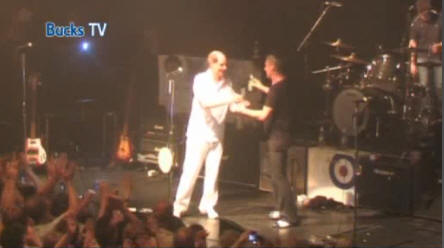 Picture: courtesy of Bucks TV
Paul's history at Friars