related friars history (click on date)
Rory Gallagher Friars Watford Tuesday August 24th 1971
setlist
Shinkicker;

Wayward Child;

Calling Card;

Follow Me

;

Bad Penny

;

Tattoo'd Lady

;

Off the Handle;

Moonchild;

Out on the Western Plain;

Too Much Alcohol;

As the Crow Flies;

Goin to my Hometown;

Philby;

Bought and Sold

;

Brute Force and Ignorance

Country Mile;

Shadow Play

;

Souped Up Ford

;

Bullfrog Blues;

Secret Agent;

Hellcat;

Walk On Hot Coals
band line up
Rory Gallagher
Rory Gallagher (vocs/guitar) Gerry McAvoy (bass) Ted McKenna (drums)
U2
Bono Vox (vocs) The Edge (guitar) Adam Clayton (bass) Larry Mullen Jr (drums)
gig poster and flyer (click to enlarge flyer)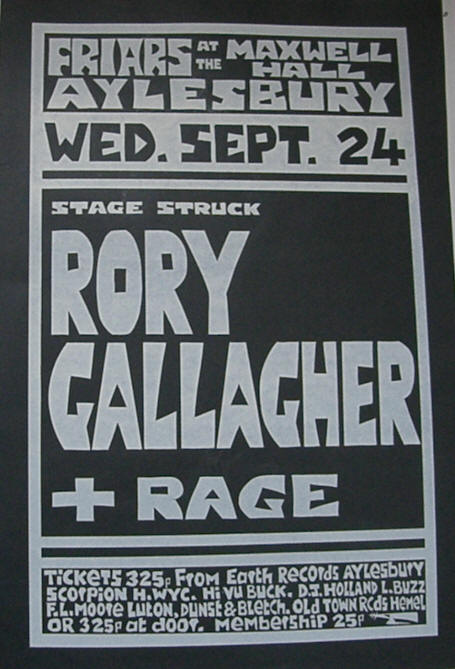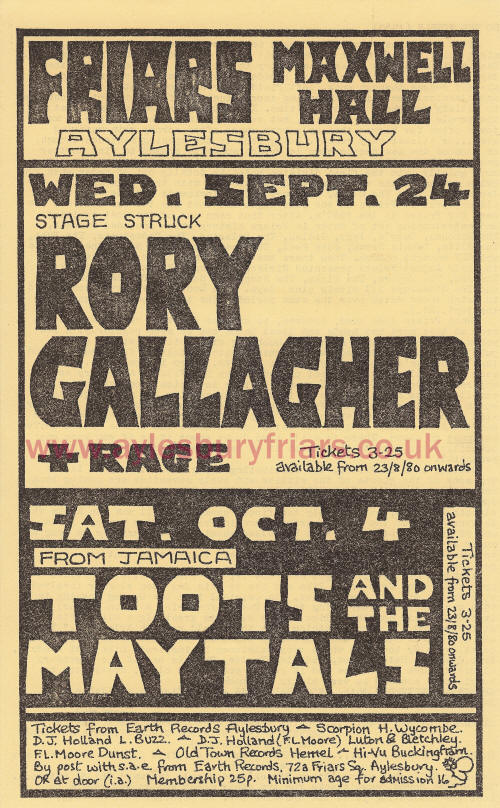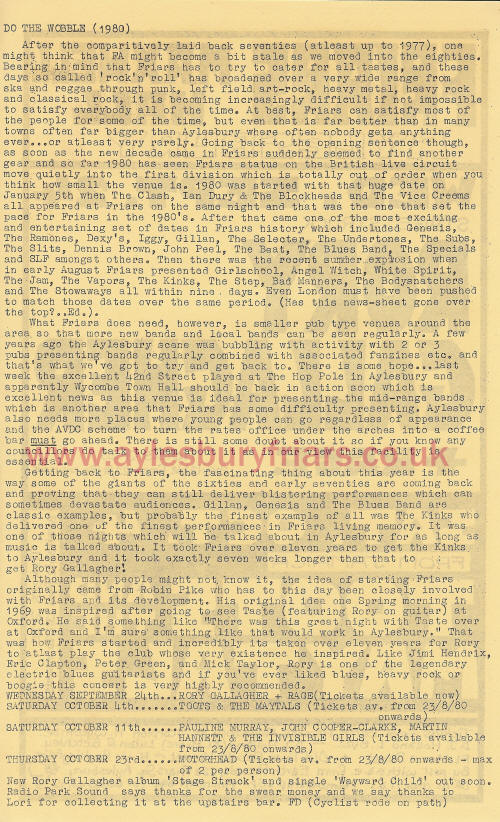 ticket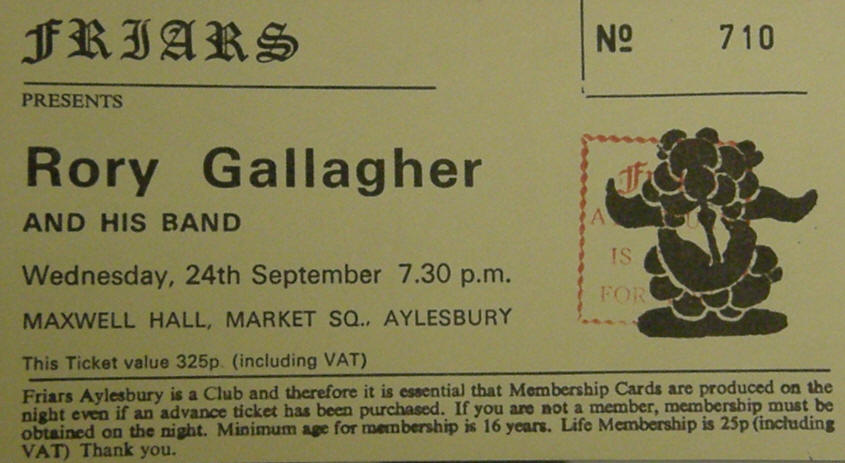 memories
press cuttings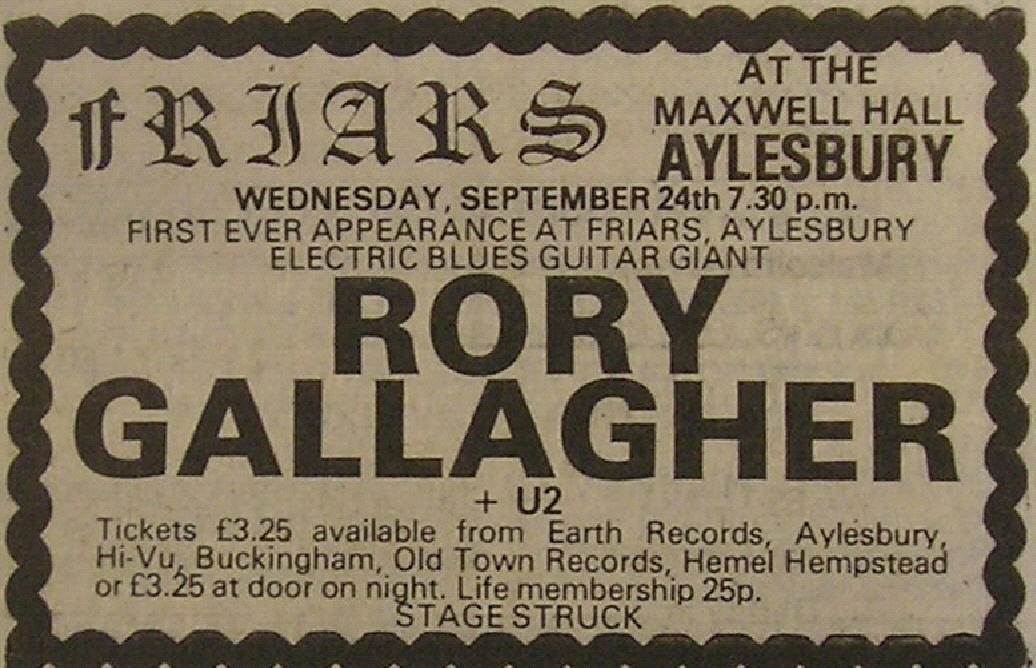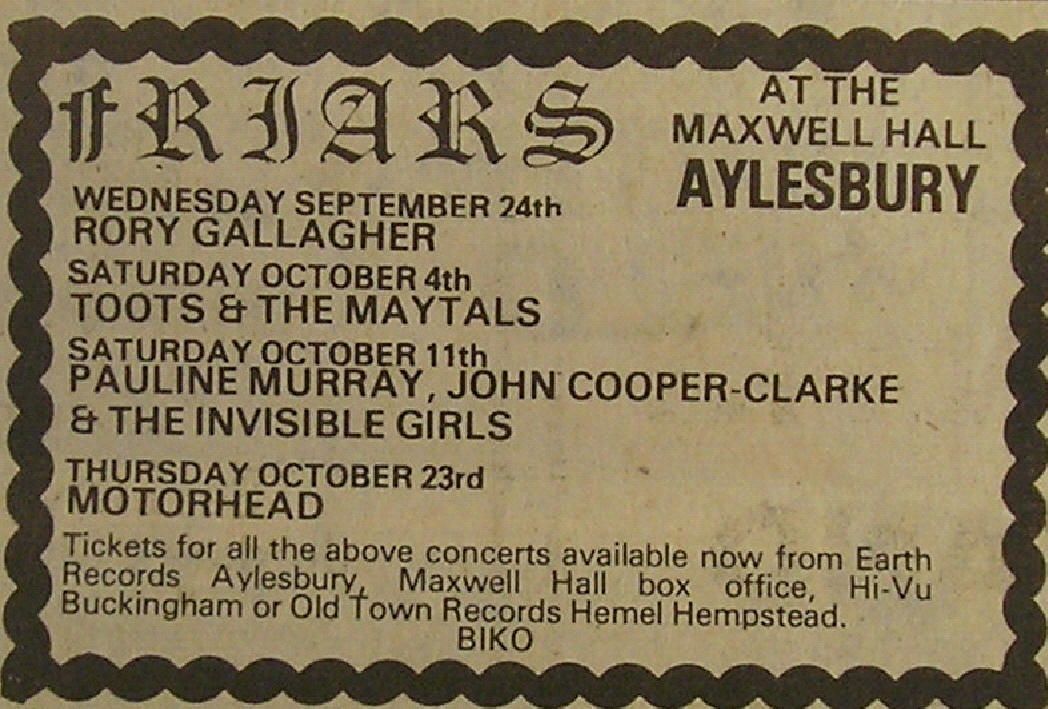 what happened next
Gallagher continued touring through the 1980s/early 1990s despite his lifestyle quite literally killing him. He survived a liver transplant but not the infection that followed and died in 1995

The little known Irish band that supported Gallagher became fairly well known.........
odds and trivia
It was through seeing Taste (with Gallagher) in 1969 that inspired Friars to start. Robin Pike saw them locally and thought it would be good in little old Aylesbury to have some proper gigs. He was right.
The support was changed as U2 was not the advertised band.
Can you believe now that U2 got paid £25 for this gig?
Also Rory Gallagher's auntie turned up out of the blue. Mr Stopps escorted her to Rory's dressing room where he apparently turned a very dark shade of red!
official web presence
Rory Gallagher official site
U2 official site
sound and vision
Rory Gallagher - Shin Kicker
U2 - The Electric Co