"Memories are everything apparently, and I have only great ones of the fabulous Friars." David Bowie, February 28th 2014
'EARTHLY MESSENGER' DAVID BOWIE STATUE UNVEILING CONFIRMED FOR SUNDAY 25 March 2.00pm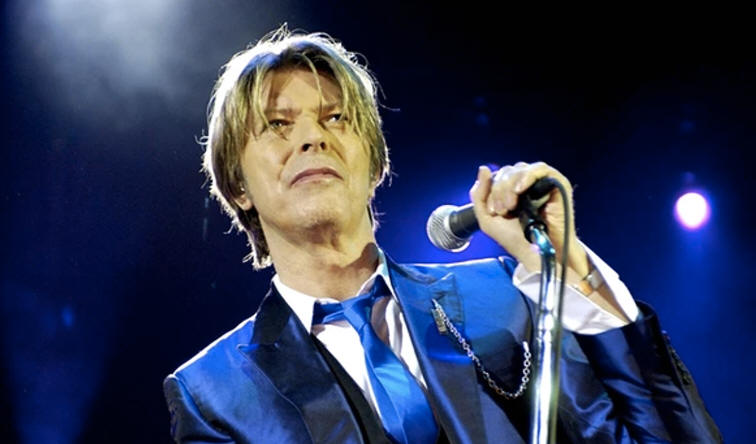 The statue unveiling day is now only seven weeks away! The actual unveiling is a free event which will take place at 2pm on Sunday 25 March in Aylesbury's Market Square. From 12noon there will be a stage with live music and also a screen showing Bowie videos.
That same evening we have organised a Benefit Concert - an amazing festival of Aylesbury music at Aylesbury's Waterside Theatre. This will be the first time that MARILLION, HOWARD JONES, JOHN OTWAY and THE DUNG BEATLES have ever played the same gig together. All four bands/artistes are playing for expenses only and all money raised from this event will go towards the David Bowie Statue Fund, which is still £50k short of covering costs.
Tickets are available from
atgtickets.com
(0844 871 7607) and
ticketmaster.co.uk
Search for Benefit Concert for Earthly Messenger.
We are so grateful to all those individuals and businesses who have pledged towards this ambitious project. It's been a far bigger two-year project than we ever thought it would be. We've all been on this amazing journey together and we're almost there....
It will be a festival of the best of Aylesbury area live music and all proceeds from the concert will go towards the Earthly Messenger David Bowie statue fund which still needs £50K to break even.
Each band/artist will play for 45 minutes and the concert will be entirely seated.
Each artist will have equal billing.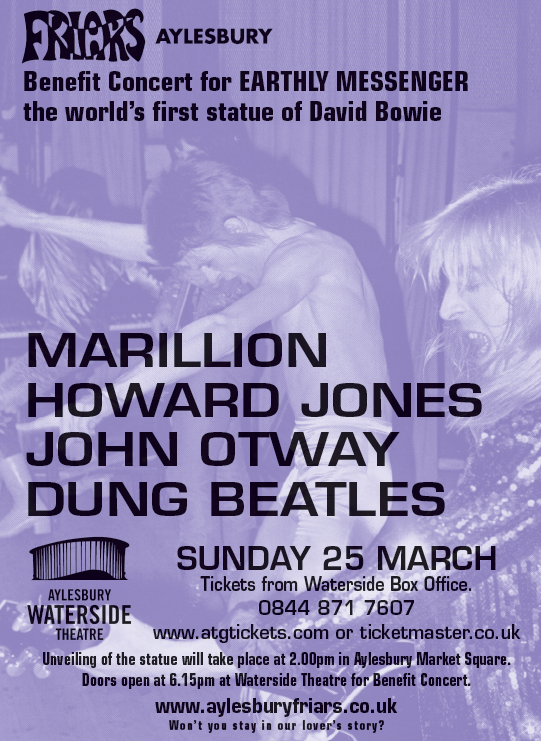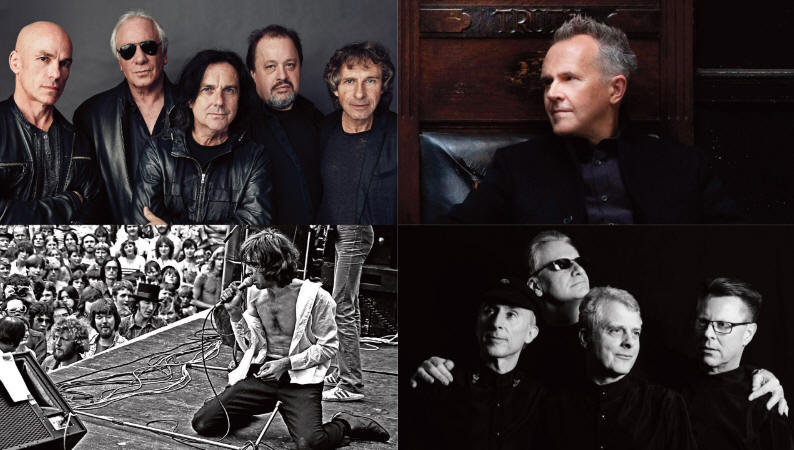 See updates below from the foundry!
It's been an exciting week….On Monday we visited Paul O'Boyle's foundry, where the Earthly Messenger Bowie statue is in the final stages of being cast in bronze. We watched whilst the molten bronze was poured into a mould and once it had cooled, saw Paul hammer off the mould to reveal the Ziggy head. Quite a moment!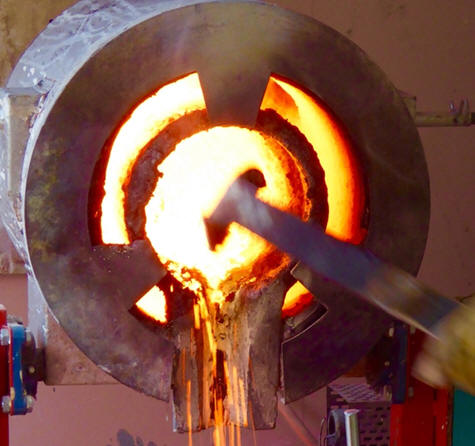 Bronze pour of the Ziggy head
Ziggy head in ceramic mould after bronze pour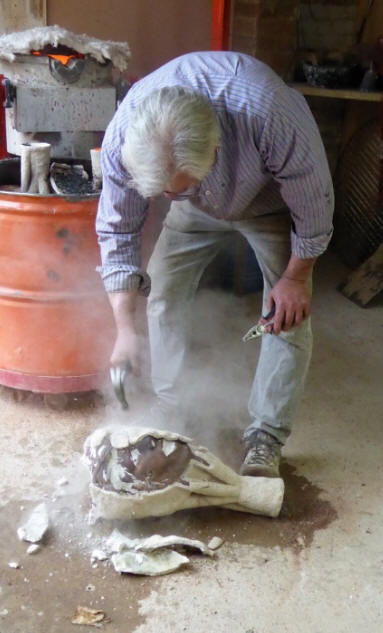 Paul O'Boyle removing ceramic mould from Ziggy head
David Bowie performed the world debut of two of the most iconic albums of the 20th Century, 'Hunky Dory' and 'The Rise and Fall of Ziggy Stardust and The Spiders from Mars' at Friars Aylesbury in 1971/72. He formed the Spiders from Mars in the tiny Friars Aylesbury dressing room and referenced Aylesbury Market Square in the first line of 'Five Years' from the Ziggy album.
This will be the first David Bowie statue in the world and is expected to attract Bowie fans from all over the world for the next 100 years. In so doing it will give a significant boost to the town's economy. The Beatles legacy has been measured at £83million per year in Liverpool and employs over 2000 people. If Aylesbury achieves 10% of that it will be significant.
The unveiling will take place at 2.00pm on Sunday 25th March and the benefit concert will take place that same evening. There will be a screen at the bottom of the Market Square which will show the unveiling for those that can't get under the arches.
The statue by Andrew Sinclair is currently in its final stages of production in his studio in Devon.
The Dung Beatles are one of the best bands to have emerged from Aylesbury in the past 5 years. Their renditions of the Beatles classics have built them a large Buckinghamshire following which is rapidly growing. The Dung Beatles are Steve Hillier (Guitar/vocals), Danny Prendergast (guitar/vocals), Phil Toler (bass/vocals), Mike Ashton (drums) and Martin Kent (keyboards).
John Otway is simply a living Aylesbury legend. Last year he recorded his first studio album for many years in Montserrat and was the first artist to record there since most of the island, including George Martin's studio, was destroyed by Hurricane Hugo in 1989. When John appeared at Friars by way of a free concert in 1978 over 20,000 people turned up in Aylesbury Market Square. The Square has never seen that many people ever. This will be a wonderful homecoming for one of Aylesbury's most famous sons.
Howard Jones actually comes from High Wycombe but was a regular at Friars Aylesbury when he broke to national fame in the early eighties. Managed by Friars promoter David Stopps from 1982-2015 Howard continues to expand his worldwide audience, particularly in USA where he is currently in the middle of a 38-date acoustic tour. To date he has had nine top twenty hits in the UK and has sold over 8 million albums worldwide. This will be Howard's first Friars Aylesbury appearance since 1984 and will be an emotional homecoming to one of the most talented artists out there. Local guitar legend Robin Boult and drummer Jonathan Atkinson will be playing on stage with Howard.
Marillion are getting bigger and bigger exponentially. They have sold out Friars twice in recent years and sold-out the Royal Albert Hall in just a few hours back in the summer of 2017. They virtually invented the concept of crowd-funding and have a reputation for loyally looking after their fans. Marillion are of course Steve Hogarth (vocals/keyboards), Steve Rothery (guitar), Pete Trewavas (bass), Ian Mosely (drums) and Mark Kelly (keyboards). Superbeing Steve Hogarth was particularly supportive of the Bowie Statue campaign in the early stages, even writing to the Bucks Herald, and we're very grateful to him. Not one to miss.
Friars Aylesbury is extremely grateful to all 4 bands/artists for participating in this concert and giving their services for free. This Earthly Messenger project has turned out to be far bigger than was ever imagined, and it's wonderful that these superb musicians are prepared to support the club where it all started, in it's time of need.+
FRIARS LEGENDS CAMEL WILL RETURN TO WHERE IT ALL STARTED, PLAYING THEIR CLASSIC ALBUM 'MOONMADNESS' and other classic Camel tracks, at the Waterside Theatre on 10 September 2018
Tickets are available now from Waterside Box Office or online from atgtickets.com and ticketmaster.co.uk. Tel: 0844 871 7607
The venue will be entirely seated.
After several years of trying, Friars Aylesbury is ecstatic to be able to announce that Camel will be making their long overdue return after a short break of 37 years.
Camel played Friars no less than six times in the seventies. They first appeared on May 25 1975 just three months before Friars Phase 2 at the Borough Assembly hall ended. They went down a storm and were immediately booked to play Friars again, which by this time had moved to the Civic Centre. This second gig on Nov 8 1975 was the one that most remember best. It was part of their classic Snow Goose tour which is regarded by many to be Camel's finest hour. Expect to hear Camel play tracks like 'Rhayader' and 'The Great Marsh'.
Half of the evening in September 2018 will be their 1976 album 'Moonmadness' in its entirety which is regarded by prog rock fans to be a complete classic marking the return of vocals to the band's music.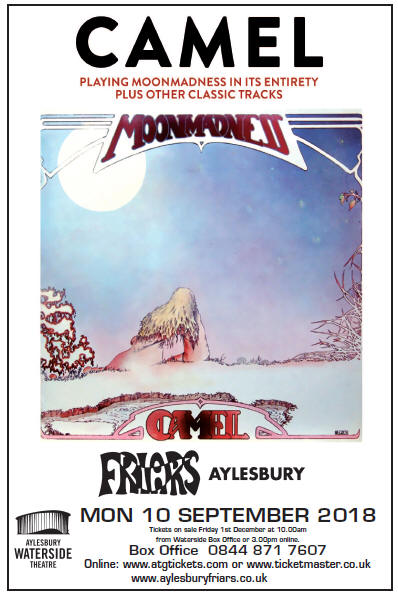 Camel feature main man Andrew Latimer on guitar, Colin Bass on bass, Denis Clement on drums and Peter Jones on keyboards/vocals.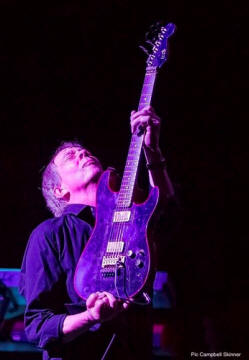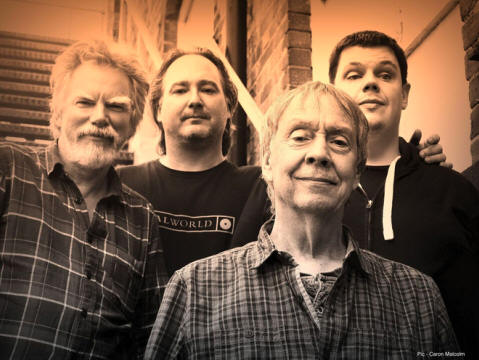 Prog Rock magazine readers voted the Waterside to be the second best prog rock venue in the country after those amazing Friars gigs by King Crimson and Marillion. The number one venue was the Royal Albert Hall so to come second was quite an achievement.
The Thin White Book now available to purchase
At last it's here!
The Thin White Book - A History of David Bowie and Friars Aylesbury is now available here from the Friars Aylesbury online shop - link above in menu or click this link. goo.gl/D6LbGf
If you are in the Aylesbury area you can also purchase the book from Rocky & Kook or Aylesbury Music, both in Temple Street, Aylesbury or
Deco Audio/Vicious Squirrel in Kempson Close, Aylesbury
(Avoids P&P charges).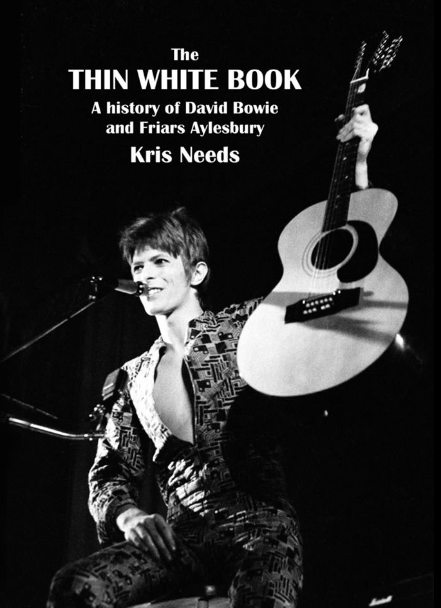 All proceeds from the book will go to the Aylesbury Bowie Statue fund. We still need to raise £65K to fully fund the project so every amount helps. The book is written by the legendary Kris Needs and also has contributions from Pete Frame, Robin Pike, Rick Pearce, Vivien Symons, Mike O'Connor and David Stopps. It contains some amazing Friars Aylesbury photographs by Michael Putland and Mick Rock as well as copies of the Bowie Friars newsheets, tickets, posters and contracts. Mick Rock's famous fellatio shot with Bowie and Mick Ronson taken at Friars Aylesbury on 15 July 1972 is included.
For those of you who received copies of the book through the Kickstarter reward packages, here is Kris Needs signing the books (in the same room and on the same sofa that he designed the iconic Friars original news-sheets including the Bowie ones)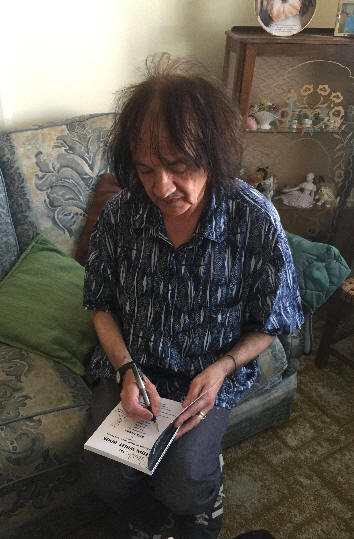 The Bowie Statue 'Earthly Messenger' will be unveiled under the arches in Aylesbury Market Square in March 2018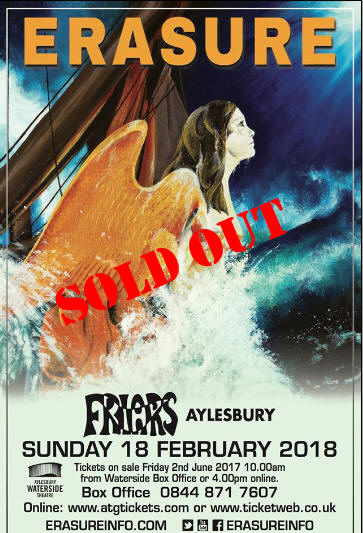 There is also a dedicated website which will be updated over the coming days and weeks