999 played and sold out Friars Aylesbury in March 1979 with hundreds turned away. Nick also played Friars in 1973 as part of cult heroes Kilburn and The High Roads with the immortal Ian Dury. Here, Nick tells us about his local connections to Aylesbury and his complete abhorrence of some of the culture that seemed to follow some new wave gigs in the early days. And he's very much looking forward to playing Friars again.
We spoke to Nick in October 2010 on the eve of their long awaited Friars return.
Friars Aylesbury Website: Nick, welcome to the Friars Aylesbury website - we are all looking forward to Friday - I think it is going to be a good one!
Yes, we're all looking forward to it - we've played there before, along time ago in what they call the punk era and it was great show. I'm sure I read on the Friars website I played outside because the place had sold out.
Yes, that's right, I was going to ask you about that! That gig in March 1979, there was over 200 people who couldn't get in.
Let's hope it's the same on Friday! Some good things have happened to me playing outside of venues. There was this venue in Dusseldorf, Germany, where these kids couldn't get in as they were took young for the licencing laws there. I took my amp and played some songs outside. Anyway, years later, one of these kids ended up being a singer called Campino and he ended up being in one of the biggest bands in Germany, Die Toten Hosen. He said he was one of the young kids outside that day and asked if we would play on their Learning English record with people like The Damned and Johnny Thunders. So Guy (Days) and I played on it and it went gold. And I got to play with Johnny Thunders one last time singing Born To Lose. It was a good thing, taking the old guitar and amp outside.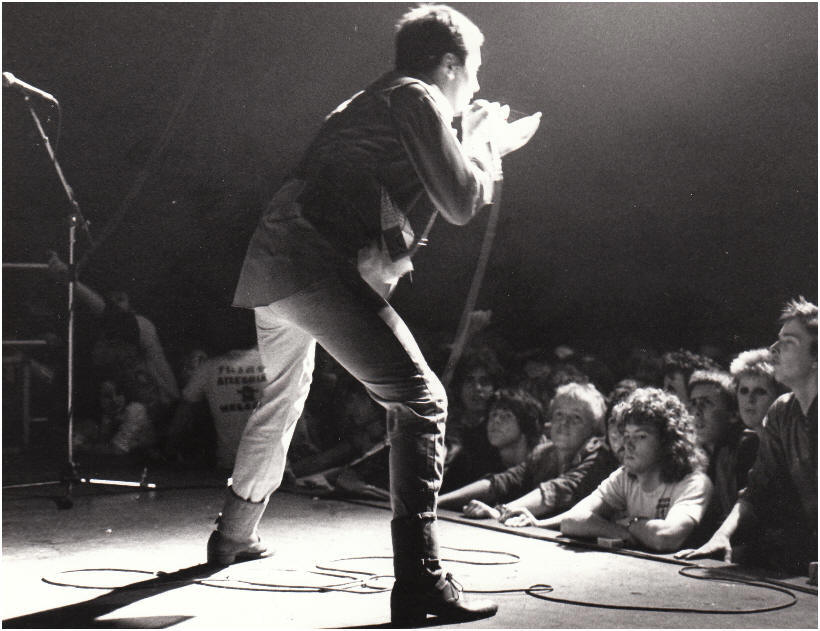 Nick at Friars Aylesbury 3rd March 1979 - Picture - Chris Gibbons
It very much paid off! Tell us about your early visits to Friars as I know you were local.
Kilburn and the High Roads used to visit the club a lot and one of the bands we saw was a fantastic gig by Roxy Music in 1972. The whole band (the Kilburns) used to live at the vicarage in Wingrave. Ian Dury will lived with us at the time as well obviously - that's all in the film. And Friars was an important place to go. After seeing Roxy Music, we all decided to get our hair cut short! (laughs). I was speaking to David Stopps and he was telling me that one week was David Bowie, the next Roxy Music and the next Lou Reed.
That really happened!
When you think how important that gig was and it's so great to be coming back to Friars with Eddie and the Hot Rods and the Buzzcocks. It's a great bill and I hope it does well.
Yes, it is.
I heard from David that there's people coming from America for this gig.
That doesn't surprise me as The Pretty Things gig last year which was the first Friars gig in 25 years had people coming from all over.
The Pretty Things were a big influence on me and their song 'Don't Bring Me Down' - quite a wild sound.
I didn't know too much about the Pretty Things before the gig, but they blew me away. Going back to you being a Friars member and seeing the likes of Roxy Music......and then Kilburn and The High Roads played Friars twice in 1973, what do you remember of those gigs? The first one was supporting Commander Cody.
Oh that's right! Yeah, Bill Cody! That's right. That was fantastic. We got some great support slots like The Who's Quadrophenia tour, that was unbelievable. We went from being paid £13 a night a Kensington to playing The Free Trade Hall in Manchester and a decent support slot.
Funny you should mention that because your second support slot in 1973 was the Christmas party supporting String Driven Thing and there's a newspaper cutting on that website page about you having just come off a US tour with The Who.....
That never actually happened. We were going on the tour and the management at the time couldn't set it up. I tried to set up but couldn't do it in time. We got on well with them - we didn't do any thrashing of halls! We shared an art school background and they could see that we were starting like they did so they had empathy. But the management wasn't very good and it all fell apart and Lynyrd Skynyrd got the tour instead.
I found a really good picture last week of Ian Dury and me before our first gig at Canterbury College of Art.
There's pictures of you in 999 on the Friars website as well from that 1979 gig!
Really? Unbelievable! You'll have a photographer on Friday won't you! Friars, to me, is one of the most important gigs in England along with the Electric Circus in Manchester and CBGB's as well. When you think what the club did musically....It's great that Friars is having these events again.
And your memories of 999 at Friars Aylesbury and that ime?
It was great - the Southall crew came up from London for example and they were all really good gigs, but everything was happening so fast. It was such a fantastic time. We went round the world.
This is astonishing......if we look back to March 1979....three sold out consecutive gigs. The bands? 999, Eddie and The Hot Rods and Buzzcocks.
That is unbelievable! Has anyone spotted that before? It's great we're still doing it.
999......nearly 34 years since the band formed. Incredible.
Yes, we have a following and the young kids who like it plus other people who like the music. We go all around the world and play and we can go to Brazil, Argentina and in a couple of weeks, we do a 16 date tour of Germany. And we've had offers to do the Rebellion festival in Blackpool again. The last time, it was great to see the New York Dolls again. It goes on like that, it's great fun! (laughs)
Actually when I come back to Friars on Friday, do you think I should bring my small amp and play outside again!
For old times sake, that would make a great photo opportunity!
In terms of the classic new wave period 1977-1981, you had a tremendous following and still have, many singles...you left your mark on the scene didn't you?
And got banned by the BBC - they banned Homicide because of the title. How ridiculous was that when that word was always mentioned of Kojak? How could this hurt any body? They were so terrified - but the establishment and the violence, they thought it was downright evil.
The BBC at that time didn't exactly have their finger on the pulse did they?
No they didn't. We played Homicide on a John Peel session and someone said rather than saying "I believe in Homicide", could you say "I believe in Homicide" with a different nuance. When we came to do it, I did the first one! It made no difference.
The BBC at that time were so touchy about new wave.
It was in the papers that everybody was terrified. Here's an example - we played at the LaFayette in Wolverhampton. There were stories about punks being beaten up and there was the story about Johnny Rotten having been beaten up. We went on stage and this guy reminded me that we did two songs and then the audience rushed the stage to try to beat us up because that was what they had read in the papers [they should do]. So they came down to have a barney but fortunately that all blew over rather quickly and people came to listen to the music and it survived and lived on and all that stupid behaviour has gone. People still like the music and like 999's music which gets used everywhere. If you've got Grand Theft Auto (console game), Homicide is on that and that still gets played round the world. Times have changed.
The tabloids had a lot to answer for, effectively playing the new wave movement as some kind of revolution and suggesting that people had to behave in a certain way - i.e badly.
It was ridiculous. We ended up in The Sun's front page in a story about slam dancing. We didn't start slam dancing. It was a fairly innocuous thing where people jumped around and often bumped into each other, like a moshpit. A reporter from the Los Angeles Times saw this and said some kid got his lip cut and three weeks later, somebody attacked someone in the street at a concert and it was all "it's a disgrace" etc from the papers. So The Sun took us for an interview and asked us to do some slam dancing. We said, no we want to talk about our music, it's just kids having a good time jumping around. We found out, as this was the time of the bread strike, that the editor sent a reporter and photographer out to report on queues outside bakeries. There weren't queues so the reporter paid people £5 to queue outside a bakery so they had a story and a picture! They (The Sun) thought we were going to be like Sid Vicious or something and be sick on the pavement and slam into people and beat everyone up!
Being nice guys, you disappointed them!
I wrote a letter to the LA Times pointing out that we were totally anti-violence and that they had misrepresented us. It was energetic music - kids want to get up and express themselves like at a football match.
That reporting, as you mention, was very poor judgment of the newspapers - this was the kind of thing that Sham 69 and The Clash were experiencing as well...
Everybody was getting it - and the Nazi and Fascist connotations - we sidelined all of that. It was dubious for some people at the time. We played some of the first Rock Against Racism gigs. Do you remember all that? We were against wholeheartedly.
Yes I do remember it and not all with affection. I won't mention the band concerned, but I walked out of a gig as their audience was full of seig-heiling skinheads and I wanted no association with that at all as it was repulsive. I do remember that era with the Rock Against Racism, and Rock Against Thatcher badges and it being a big thing at the time but for the right reasons.
Yes, definitely for the right reasons. Radio One did a feature a while ago and they played Homicide (!) which we got banned from doing on Top of The Pops. I don't care, I've had a great time doing 999.
Without giving too much away, we can expect 999 classics like Homicide and Emergency on Friday and maybe some of your newer stuff?
Yes - a couple of songs from the new album "Death In Soho" We'll do stuff like Give Me The World and a song which is against knife crime called The Last Breath which is a great song written by the drummer Pablo LaBritain who started in The Clash and went to school with Joe Strummer. Not a lot of people know that.
I was Keith Lucas in Kilburn and The High Roads but I changed my name to Nick Cash, simply because I didn't want people to come down who knew me from Kilburn and The High Roads - I wanted to start afresh so people didn't know the name. It worked and we took off on our own.
I can understand that as it would kill off people's expectations of you possibly being like your former band. Possibly the right thing to do.
Exactly.
We'll see you on Friday night!
It will be the three original members on Friday - Arturo Bassick isn't in the band anymore and I will be playing bass. We didn't want to cancel the gig.
We're very pleased you haven't!
Thanks so much Nick - we are looking forward so much to seeing you on Friday.
This interview and its content are © 2010 Mike O'Connor/www.aylesburyfriars.co.uk and may not be used in whole or in part without permission.