Andy Fairweather Low is a walking encyclopedia of who's who in rock. Three sold out Friars gigs do not tell the whole story of this remarkable musician. There was a 26 year gap between his last two albums because as you will see he has been a member of Roger Waters, Eric Clapton and Bill Wyman's touring bands and played to 400,000 as part of The Wall's staging in Berlin in 1990. And aside from that Andy has played with George Harrison, Stevie Nicks, Linda Ronstadt and Joe Satriani amongst countless others. He has recently recorded with Kate Bush and is about to complete an album with The Gaddabouts a band also featuring Steve Gadd, Edie Brickell and Pino Palladino. Oh, and he recorded with Jimi Hendrix as well.
We spoke to Andy at his home in Wales in June 2011
Thanks for talking to the Friars Aylesbury website. We're very honoured!
I'm honoured to be asked.
Your first gig at Friars was the legendary last gig at the Borough Assembly Hall, the last night of Friars Phase Two before we moved to the bigger hall....
That was the night I had a twelve string guitar that ended up as a nine string guitar!
So that gig holds memories for you!
Yes for many reasons. Looking at the photos of that gig, I am wearing a T shirt that says 'All Quad's Children' which I was given at a recording session in Nashville for Spider Jiving (1974 album) which I wore for years till it fell to pieces! The overdubs for that album were done in a quadrophonic studio.
We caught you just after that after album and around the time of La Booga Rooga. You came back to Friars seven weeks later and sold out the new hall effortlessly.
We had Dave Mattacks on drums in the band at the time and for some reason we bet him to streak through the hall which he did and that's why I remember that second Friars gig so well! He did it early in the evening so I'm not sure many people noticed! (see McGarrigles news-sheet below for confirmation! - Ed)

Well, they say drummers are mad!
Yes, he was!
Looking back at those 1975 gigs you had a quality band with you. Not just Mattacks, but pedal steeler BJ Cole and keyboard player John 'Rabbit' Bundrick.....
And John David on bass of course. A fabulous band and I was lucky to get players of that calibre to go out (and play). All the soloing and improvisation was BJ and Rabbit and we just held the thing down. I was going along with it but I was bemused by it all, no doubt about it.
These were pedigree quality musicians.....
Rabbit played in my Sweet Soulful Music album in 2006, which was my first album in 26 years. There wasn't much keyboards on that album, but Rabbit played on two on the tracks. He's a hell of a player and he played on the first Bob Marley album, Catch A Fire. He was at the Island studios in a band called the Sons of the Jungle and he played the accordion on Johnny Nash's I Can See Clearly Now. A bit of useless information for you!
You made your third appearance in 1976........Mick Weaver was in the band along with BJ Cole still. Was that the Mott The Hoople guy or have I got him confused with someone else.....
Of course by this time, you'd broken into the mainstream with the immortal Wide Eyed and Legless and Reggae Music which were two hit singles.
No, that was Blue Weaver. Mick Weaver was also known as Wynder K Frog. He made some Booker T type records. Legend has it that it was Mick who played the organ on the old World in Action theme tune. But Mick Weaver was in my band whilst Blue Weaver was with me in Amen Corner and then Mott The Hoople and many others.
I almost got it right - there was a Weaver connection in there!
A double connection! Mick was there after Rabbit. All the musicians I've had have been fantastic. But the band never got enough money and I never got enough money so that was when we had to stop. I was making no money selling records.
I was coming on to that and I'm jumping forward a bit here. Your most recent album Sweet Soulful Music was released 26 years after the last, Mega Shebang. In that time, your life is like reading a rock bible - you've worked with everyone!
Well, I've worked with everyone I wanted to work with...there was one I didn't want to work with, but I can't go there...
Every now and then, I do look back, but I am very much fixated with looking forward. I was working on the Sweet Soulful Music and I was looking back at some of the names I have worked with. Joe Satriani for example.
With the band having not made any money, this was presumably the driving force behind you changing tack as a musician....?
Yes, I was forced to change tack. I couldn't get a record deal even if I begged. Unfortunately I did sort of beg, give me any sort of deal, I need this. Anyway, they didn't bother and that left me flat broke, no work and no chance of getting any. The Sex Pistols were a defining moment at A&M (which we'll come on to later) and I just couldn't get a deal. So at that point I thought if anyone phones up offering a charity gig, I happen to be around. I was obviously available so I did a few and eventually I got a phone call from Roger Waters who I had first met in 1967 on a package tour - Amen Corner, The Move, Jimi Hendrix and Pink Floyd. I actually recorded with Hendrix in New York in 1969.
The Waters thing really opened up the door. I started working with him in 1984 and finished working with him in 2007 after The Dark Side Of The Moon tour.
I seem to remember you leaving Waters' band citing your solo album as where you were at and that was what you wanted to concentrate on...
I'd also worked with Eric Clapton from 1991 to 2004. I started on a Japanese tour with him, then did the MTV Unplugged album and that went on for 13 years. The truth is that the Waters gig was more art...I played some bass but basically watched two other guitarists every night and I just wanted to play. I was never going to do that if I stayed with Roger. He rang me up and asked me to play on the current The Wall tour but it was we'll have to find something for you to do. I said I wasn't sure I could do that now that the genie was out of the bottle.
I recently played as the support to Eric Clapton's UK tour. I'm no longer in the main band. But we were finished by 8.15 every evening! It was fantastic and just fantastic to play.
And being on the bill with someone you know so well.....
The Clapton gigs were May this year, our first work as a band since we supported Robert Cray in June last year.
Working with Waters and Clapton, you can only have cemented your reputation in the period between your albums......
I was always a rhythm guitar player. You don't seem to get them anymore as everyone wants to be a lead guitar player. I never saw myself like that which is a problem. I was always happy to play bass for Roger who treated me so unbelievably well. You can't play with someone for so long and it not work. It certainly wasn't a lack of musicianship
. Will I be seeing The Wall? Yes, hopefully later this month in Paris.
But...for me as a guitar player, The Wall doesn't suit me. The object of seeing The Wall is hearing it note for note like the original album....
Yes, and with technological advances, the show is physically superior as a production.....than 30 years ago.
I did the 1990 Berlin production of The Wall with Roger which commemorated the falling of the Berlin Wall. We rehearsed for three months for that. I'd never seen so many swinging cranes for that show. It was apparently the largest number of cranes in the smallest place in Europe. It's a lot of cranes flying around your head. In terms of people, all the fences came down and they gave up any notion of security. There were people everywhere you looked as far as you could see.
There were hundreds of thousands of people there weren't there?
They reckon between 300,000 and 400,000 people were there. Unfortunately the first bricks (in the production) were put up in front of me. Oh never mind...I didn't take it personally! It wasn't planned.
You've worked with some of the most iconic names in music in Waters, Clapton and George Harrison and many many more beside, but one of the things I hadn't realised until relatively recently was that you did the backing vocals on one of my favourite songs, Who Are You by The Who....
Oh yeah! I played on seven songs on that album and played guitar on another song afterwards. Not many get to do that I might add. The link though is Glyn Johns who produced my albums in the 70s hence the connection with Pete Townshend. He produced The Who as well as Rough Mix by Pete. He also produced Eric Clapton's Slowhand, I was around then as well. Sometimes it is about who you know and I knew Glyn.
It certainly didn't do you any harm did it!
No it didn't, that's for sure. Quite recently, I worked with Kate Bush, quite unbelievable.
On The Director's Cut album?
No - on newer stuff. Who knows when it will come out. We'd never met before either. Is she as lovely as she seems? Yes, unbelievably fabulous. We hit it off straight away and it made me realise I'd worked with a lot of women too. Linda Ronstadt, Stevie Nicks, I spent a year with her. Two albums with Linda and one with Linda and Emmylou Harris. Charlie Dore as well, another Glyn connection, as was Stevie Nicks and Linda Ronstadt.
On those pictures of you at Friars in August 1975, on stage serving the champagne was one Pete Frame....
Oh...Mr Tree!
Pete would have a field day trying to do a Rock Family Tree of who you have worked with!
He'd need quite a bit of paper!
There's so many connections!
I've been around a long time! The recent Clapton tour, the final night at the Albert Hall was my 105th appearance there!
That's no mean feat!
I'm working on my 200th now!
You mentioned Joe Satriani earlier and you working with him (in 1995). Seems an odd match in many ways? You've got a bluesy background and some gospel in your current shows...
Who'd have thought?! With me, less is more, because I don't know the more, but Joe did know the more. Another Glyn Johns production, cut as live album in the studio with Manu Katche (renowned drummer) and Nathan East (Clapton and Phil Collins bassist)...
Gosh, they're no slouches are they?!
No and I am not in that league. Joe phoned me up and I said to him, do you know what I do? And he said 'yeah' but I said I couldn't see myself fitting in. He sent me something to listen to and it was tough. Other guitar players were shocked when they found out I was playing - Joe will never do that again....(laughs) When I listened to those demos, they were unbelievable. And I got the part of trying to play it. There's a bit of camouflage going up there....
Joe is a lovely guy and a great player.
Your CV is amazing when you consider amongst other things you have played with Hendrix. At the start of your career, everyone knows you had hits with Amen Corner, but your next taste was Natural Sinners with Fair Weather....
Yes, but we fizzled out. I headed back to Wales and started writing which led to Spider Jiving being recorded in Nashville and the start of another career. My career ended at the point (despite being popular on the university and college circuit) as I mentioned earlier when my record company A&M signed the Sex Pistols. They had to let them go with all the money they had paid them as they upset the staff so much. They came in were rude and would spit, shout, swear....the people who worked for A&M said we aren't paid enough to be treated like this so they had to let them go.
I think that anyone who has a vinyl copy of God Save The Queen is sitting on a goldmine - I think it is one of the most valuable rarities.
Someone at A&M probably has. I'll tell you what it was like. I was touring at the time and played a gig in Sheffield at the same time the Pistols were in town. I took ill and they had to call the doctor from the hotel and he said he wouldn't come out if I had been one of the Sex Pistols and had to be persuaded to come out. That Pistols thing went everywhere, it wasn't just about making records, it pervaded society.
Music at that time certainly needed a big kick, it just didn't need the spit though.
Many people thought that change was going to happen although not everything that came with it. Your enforced change of tack was clearly the making of you, all good things out of adversity and that....
It was the injection of new young people with enthusiasm and naivety which we were all losing. If you can just keep that, it's fine. I'm a better guitar player now than when I started but I don't have that naivety.
We spoke recently and you are about to go into rehearsals for an upcoming gig....
We just finished a big gig last weekend, Wintershall, which Gary Brooker of Procol Harum puts on every four or five years. We're doing a gig this weekend with my band, Gary, some horn players and some girl singers. I've worked with Gary for 25 years and every Christmas we gig with a band called Nose, Stilletos, Shoes. That Wintershall gig....Eric Clapton, Georgie Fame, Paul Carrack, Lulu, Roger Taylor with his band with guests Ron Wood and Jeff Beck.
I'm off to New York soon to work with The Gaddabouts to work on finishing a new album. This band, apart from me, features Steve Gadd, Pino Palladino and Edie Brickell.
What are your upcoming UK plans, are you going to be touring with your band The Low Riders or maybe with the Gaddabouts?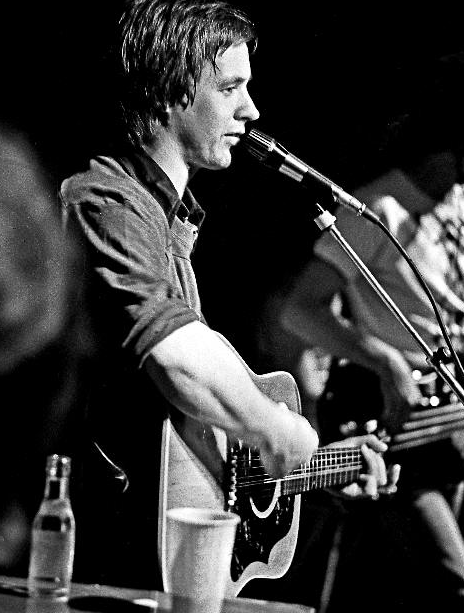 Andy at Friars 30th August 1975 (Geoff Tyrell)
I've just lost my manager and agent as it wasn't working out. So I am having meetings with agents at the moment and should have some answers soon, then we'll get a tour set up and we'll get out. Will be me and The Low Riders. I toured earlier this year with Bill Wyman. Have some German dates later in the year, so may be next year. I'm managing myself now.
Another glorious collaboration!
That stems back to 1983 and Willie and The Poor Boys. That's still going on and will be fitting in a couple of dates in July with him. It's all good and I am enjoying playing more than I ever did. I think I am a good guitarist but I know I have played with some great ones. I'm aware of how I am, the older you get the better you get!
We look forward to seeing you again. With very best wishes from everyone at Friars Aylesbury.
As I said, Friars was such an important gig and seeing those pictures brings back such good memories.
Official Andy Fairweather Low site
This interview and its content are © 2011 Mike O'Connor/www.aylesburyfriars.co.uk and may not be used in whole or in part without permission.