Liverpool Scene came to Friars in 1969 with their unique blend of music and poetry reflecting the best of the post Merseybeat world in Liverpool. The band was to last less than two years but guitarist Andy Roberts has had a varied and interesting career, including working in theatre and playing with The Scaffold, Pink Floyd and even Spitting Image.
We caught up with Andy at his home in Brighton in January 2013.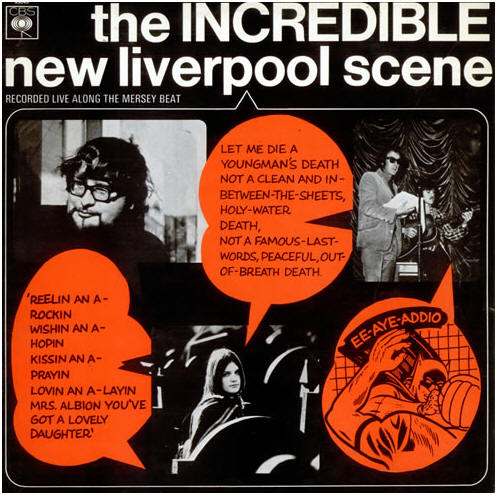 Hello Andy, thanks for talking to the Friars Aylesbury website.
How many times did we play there?
Liverpool Scene played just the once sadly, in 1969.

I'm visualising that Friars was like the back of a pub with a stage....

That stage was about 12 feet wide and about a foot high! The gig took place at the ex-Services club in Aylesbury, so probably can see where you are coming from!

I seem to remember looking out to windows and the room being pretty full of people. We are talking 40 odd years ago! I associate Aylesbury more than anything with John Otway......
Otway is an Aylesbury legend!

He must have been a twinkle in his mother's eye in 1969!
He played Friars for the first time in 1971!
Really?!!! I became aware of him later on when he was working with Wild Willy Barrett..

Willy played Friars in 1969 before you! Looking back at Liverpool Scene, it was great. There was a mixture of blues, jazz and an interesting marriage with poetry.

There was a lot of acoustic guitar. Most bands played electric instruments and wouldn't play acoustic instruments, (the attitude was) only folk players did that.

But what you did was I think very original, working with Adrian Henri and his like. It was a very creative time. Also in 1969 you supported Led Zeppelin and played Isle of Wight, but in those days John Peel was a great friend to the band wasn't he?

Yes, he was really the reason Liverpool Scene existed as much as anything. We had been playing locally in Liverpool but he set us up with a recording contract with RCA and introduced us to our management. He created a national platform for us which we would not have got in any other way, so yeah, he was really supportive and helpful to us.

Liverpool Scene went on to make a few albums......

We made three albums whilst we were all still together. From 1968 - 1970, we made three albums in about 21 months.
That's not a bad output in that time.

In those days, any band who had a deal were expected to produce two albums a year. You might have had a couple of singles lifted from the album but they were usually independent from the albums. Even underground bands worked this way, the same sort of bands that were on the same circuit as us. That's how you were expected to work. These days, no artist would be expected to produce two albums a year.

In this day and age, two albums in three years is an achievement.

Our first album, we drove down from Liverpool to London the night before and stayed at a hotel on Cromwell Road, were at Chapel Studios at 9am and recorded the album, all 59 minutes of it between 10.00 and 17.00. The next morning we mixed it and were back in Liverpool by mid afternoon.

It's hard to credit in the modern age, when technology is supposed to make things simpler, you working at that speed.
What brought about the end of Liverpool Scene - was it lack of commercial success?

No, it wasn't that, it had run its course really. It was a different kind of band and we'd had personnel changes, we'd been on our third drummer in that 21 months and there were also musical differences. We'd toured America which was spectacularly unsuccessful and lo
We just had four track recordings, we set up our gear, did our act, recorded it and went home - which is how The Beatles did it too. This was the level you were expected to work at.

People's memories of Liverpool, you mentioned the Beatles, they think of the Merseyscene. What you were doing was post the Mersey boom, the scene showed a different side to the city.

I didn't even get to Liverpool (to university) until 1965. The only people left were those who had missed the boat. That was good in some ways as some were good bands, but it meant there was room for other types of bands. Back then I started working with The Scaffold.

That was with Roger McGough wasn't it?

Yes, and Mike McCartney (Mike McGear) and John Gorman. I started working with poets in 1966 and the Liverpool Scene started coming together in 1967. Adrian Henri and I started working together in 1967 whilst he was teaching at the art college.

So, in The Scaffold, did you play on Thank You Very Much and Lily The Pink?

Yes, Lily was recorded in 1968. That was the end of my time in The Scaffold. I was still a student and the success was too great and I couldn't stick with it. They'd be off playing week long residencies at Batley Variety Club and The Fiesta Club in Stockton. I had be back at lectures so couldn't do it and dropped out. They were signed to Brian Epstein before he died and had a pretty big career before I had met them, mainly on TV in the north west
Lily The Pink is one of the records of my childhood!

Funnily enough I was just reading about the session when those songs were recorded.
What brought about the end of Liverpool Scene - was it lack of commercial success?

No, it wasn't that, it had run its course really. It was a different kind of band and we'd had personnel changes, we'd been on our third drummer in that 21 months and there were also musical differences. We'd toured America which was spectacularly unsuccessful and lost a lot of money. Financial pressures yes, but I never expected commercial success, as it was a live act more than anything else - we were very successful as a live act. We were all young although Adrian was 15 years older than me. When it broke up in 1970, I was still only 23.
You continued in the business and didn't you go on to form Plainsong with Iain Matthews?
Within about nine months of the breakup I'd met Iain. I wasn't from Liverpool, like the other guys. I was from London and just went to university in Liverpool. So I cleared my room in Canning Street and pretty much left the next day. I went to live with my parents in London, back to where the music industry was centred. I'd worked with Iain from late 1970 on his solo records and was good friends with him and toured America with him in the summer of 1971. When we came back, I was immensely busy as I was also working with the Bonzo Dog Doodah Band. There was always something, I had loads of session work and was playing with bands at the same time, as well as having a solo career. Plainsong was formed at the end of 1971. After that we were on the college circuit, for about a year; we played a lot on the Continent, too.
Mentioning the Bonzos, I know from talking with Roger Ruskin Spear about his Three Bonzos and a Piano, you were playing with them. Are you still doing that?
Yes, and I am also working with Hank Wangford. I'd worked with him in the early 1980s and I started working with him again about two years ago as a duo. It's like a cabaret show and it's very good.
You were back at Friars in 1977 as part of Roy Harper's Black Sheep, what did you do between Plainsong and then?
I had a solo career and was mainly playing with a band called The Grimms which was an amalgamation of some of the Bonzos and The Scaffold and some extra musicians. It was a bit of music, acting, comedy and poetry. It was successful as a concept. At the end of 1973, I also wrote my first stage musical and starting branching out and got work in television as well as theatre work.
So you joined Roy around the Bullinamingvase period.....
Yes, I joined Roy in America in 1976 around the time had a really good album called HQ. I went to America because Chris Spedding had been playing with Roy's band Trigger and Chris couldn't or didn't want to continue playing, so I went out to replace him. When we came back, I continued working with Roy. It was a great band and on its night was superb.
I do remember a lot of airplay for One of These Days in England from the Bull album. There was also a story that got in the papers at the time suggesting Roy had gotten ill after attempting to give a sheep the kiss of life?
It was all rubbish - just a PR thing. He wasn't well though, he had a genetic condition to do with his blood circulation. It's been fixed since but in the 1970s he struggled with it. He wasn't getting the correct amount of oxygen. Some of his blood at the back of his lungs wasn't getting its full quota. To compensate, his body would manufacture more red cells to get the oxygen. The drawback was that his blood became thick and coagulated. The tips of his fingers and his eyes would go blood red. He would have to go to hospital so they could get the thickened blood out of him and thin his blood. It was then a repeat process so was always in and out of hospital. Until they discovered what was going on and how to counter-act it, he wasn't very well. The whole sheep story was publicity concocted by the management to cover up that Roy wasn't well.
I had a feeling that story wasn't true somehow!
He did, however, have a flock of sheep in a farm in Hereford. We would record and rehearse there, he had about 17 acres of land. He had about 50-60 pedigree sheep, he was really into it and successful.
I'm pleased you've put the myth to bed.
Well we were happy to go along with it at the time. Roy having sheep was a publicist's dream really. We had these badges made...after playing in Norway, they got his name wrong and billed him as Joe Harters (!). So we got these badges made which said "Go with Joe, the swinging shepherd" !! The shepherd thing stood him in good stead. There was one time when we were recording Bullinamingvase..... The early part of the process was just Roy and I before we brought the other musicians in. Roy had an advance from Harvest/EMI and he spent all of it in one day buying sheep and I was being paid at Musicians Union rates to drive a hire van from Hereford to Leominster for a dispersal sale! Roy spent £1000 + on sheep that day. We got them back in the van. It got worse as we were driving up a hill in Bridgnorth, the back door of the van flew open and about 6 or 7 sheep all rolled out on to the road. Thankfully, they were very well fleeced and none of them got hurt. We weren't going fast, but we then had to round up the sheep including a Royal Show champion Roy had paid big money for!
After the Black Sheep period, you played on Pink Floyd's The Wall on its 1981 run at Earls Court - how did that come about? You were one of those pretending to be one of the band in the show?
The show opened with the surrogate band, we had latex masks on pretending to be Pink Floyd. The second song in, the lights went down on the front stage and came up on the back stage with the real Floyd. With a plane just having crashed over the audience's head and the band being in a different place, it created an immediate illusion which shifted the focus round. It was about playing with people's minds and paranoia, very much a Roger Waters production. Having said that, it was a terrific thing to be involved in and I was as proud as hell to be asked to do it. I got decent pay and a great experience, I got my rock and roll dinosaur phase over with early!
You got them just as the classic band played for the last time with Richard Wright having been forced out of the band and playing as a hired hand.......
I kept out of all that. It was David (Gilmour) who had brought me in and that was because of his association with Roy (Harper) - I stayed well clear of any conflicts going on. I had been asked to do these shows when Snowy White was unavailable for the second year of The Wall live as he had joined Thin Lizzy. At that point, I had not listened to any Floyd records since Syd Barrett, but I did see one of their mid 70s shows at Wembley Arena, Wish You Were Here, because Dick Parry, a saxophonist and a friend of mine was playing with them. When I got the call from David, I had to go out and buy the records! I was a full time musician working on my own stuff so didn't have the time to listen to what anyone else was doing! I loved all their early stuff but even Dark Side of The Moon I hadn't heard!!
After Floyd, did you revert back to your solo career?
I had a duplicate career as I was doing a lot of theatrical touring and in 1980 I was six months in New York with a Broadway musical I had written, called Censored Scenes From King Kong. After that I was musical director at the Royal Court Theatre in Sloane Square till about 1983. I also in 1981 toured with Billy Connolly. But I returned to the Royal Court - I was working with Hank Wangford at that time too. But musical theatre was a major thing with me. I worked with Hank till about 1983 which was around the time I left the Royal Court. I spent a couple of years in the doldrums after that, doing pub gigs round London mostly. I spent a year (1984) working on Spitting Image playing in the band and doing voices. I had worked a bit for the BBC in the 70s, doing single dramas like Play For Today. But from 1985 I started working in Continuing Education; it was small budgets but interesting projects. From 1986 I got very involved in that, and then later I moved on to Drama Series and Serials. I did work for Central Television as well, and all this drama work ultimately led to me scoring films in the 1990s for most of the time, including being in Hollywood.
Do tell more about Spitting Image........
There'd already been one series, I think. Phil Pope who had done all the music so far took a year out, for some reason. A close friend and associate, Peter Brewis, who'd worked on TV comedy like The Young Ones, Alas Smith and Jones and Not The Nine O'Clock News amongst others, had been brought in to work on Spitting Image and he always used a group of musicians which I was a part of. Because I could sing, I got asked to do that as well. I'm not a career impressionist! Everybody was required to do stuff. I did the lead vocals on I've Never Met a Nice South African.
Oh, you're kidding me! I remember that very well!
It ended up as the B side of the Chicken Song. That rescued my year and they sent me a very nice Christmas bonus! I was very pleased! The vocal was done at the end of a session, in 20 minutes, I was just asked if I would do it on the spur of the moment, and next thing I know, it was on a hit record.
What are you doing now in 2013?
I'm working with Three Bonzos and a Piano, I'm working with Hank Wangford and I have a project which I am trying to get off the ground with Clive Gregson and Mark Griffiths, but we're all spread out geographically. Clive's in Houston and Griff's in Rutland. It's a guitar trio, called 3 Boxes. I'm 67 now and a pensioner, so I don't work as often as I used to. I'm also up for solo work. I live in Brighton – sometimes I play locally with a rockabilly band.
Andy, thanks so much for your time and best wishes from all at Friars Aylesbury.
Thanks a lot.
This interview and its content are © 2013 Mike O'Connor/www.aylesburyfriars.co.uk and may not be used in whole or in part without permission.