Remember driving round Aylesbury and seeing those iconic Friars posters? Didn't matter who the band was, just the posters indicated it was a Friars gig. The lady behind nearly all of the Friars posters is Budget Stopps who over time forged her own unique style and created the iconic posters so many of us today reminisce about.
We had a chat with Budget about her very important (and largely unsung) role in Friars and the posters and doing it all again for the 40th anniversary gig. These days she lives in the rural Buckinghamshire countryside. Thanks again for your time.
Here's a selection of some posters that Budget did. All by hand....even The Beat one below.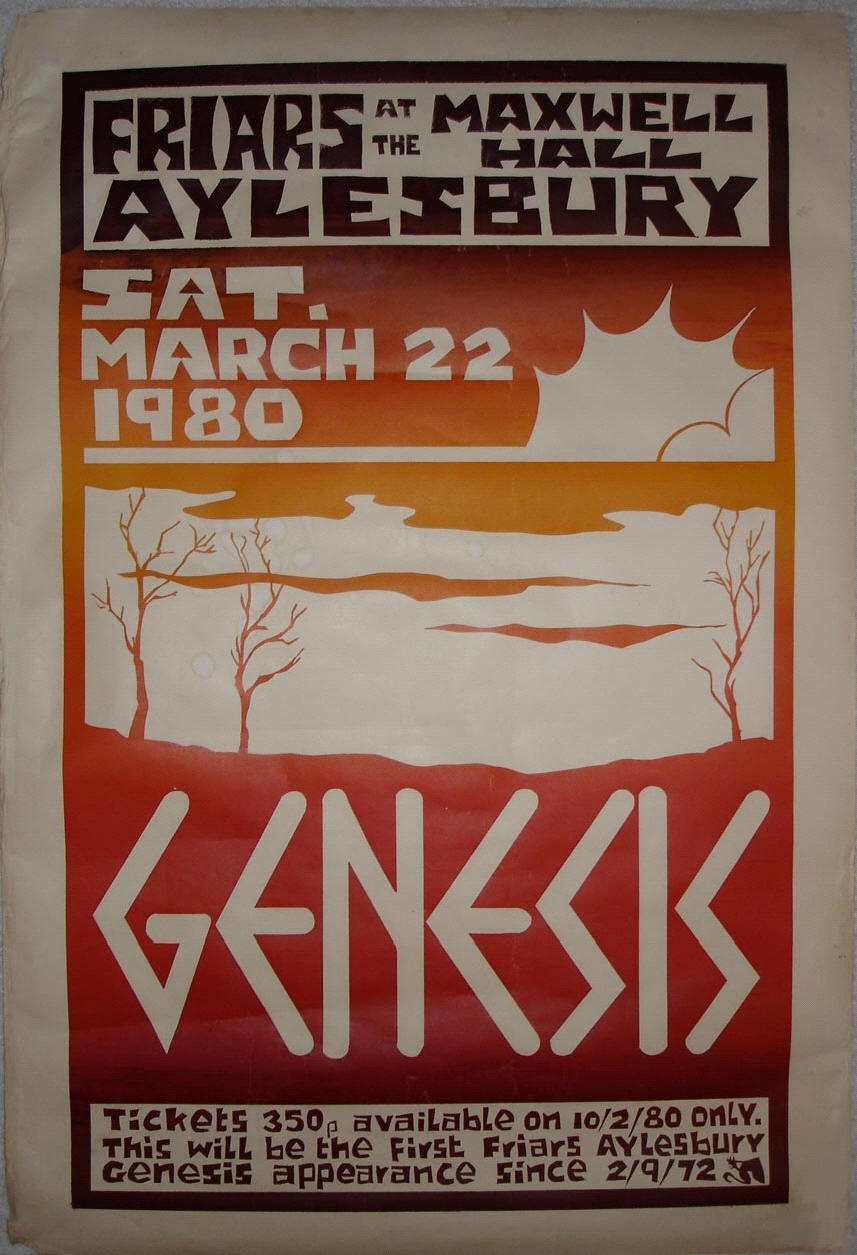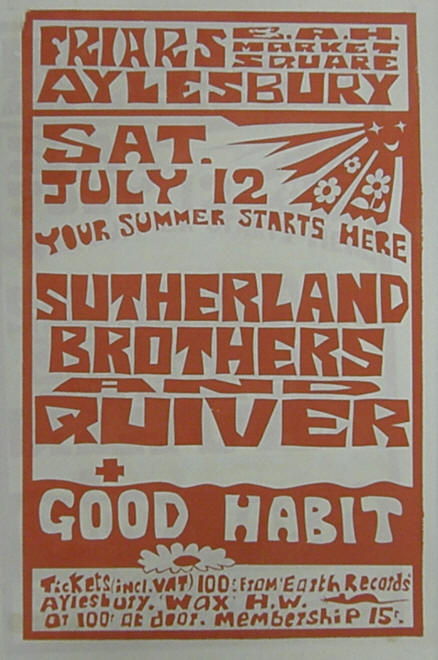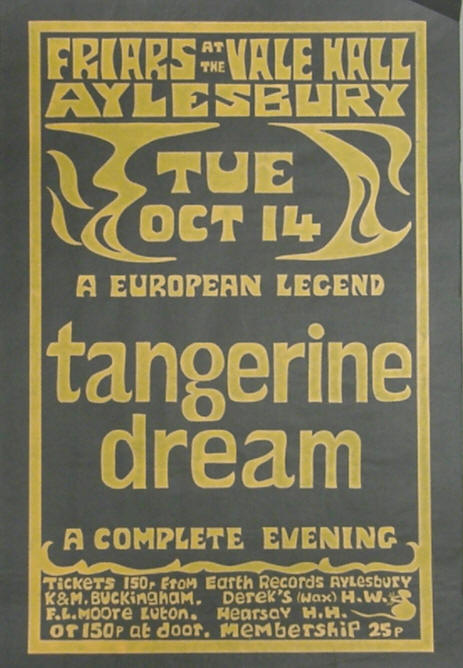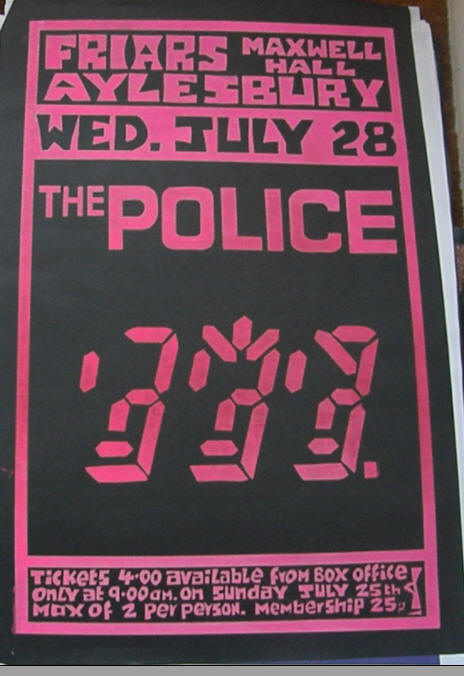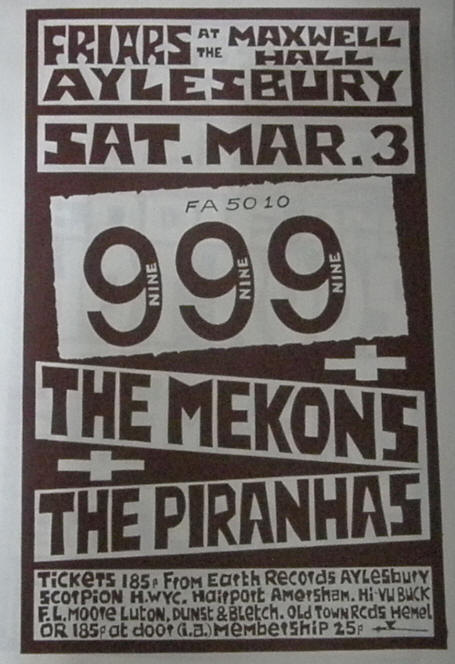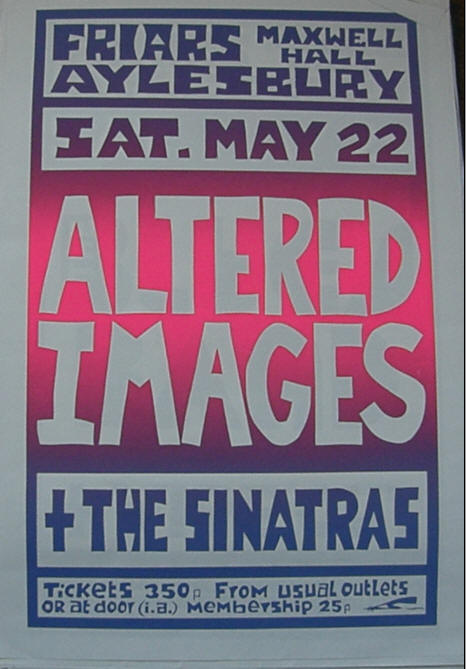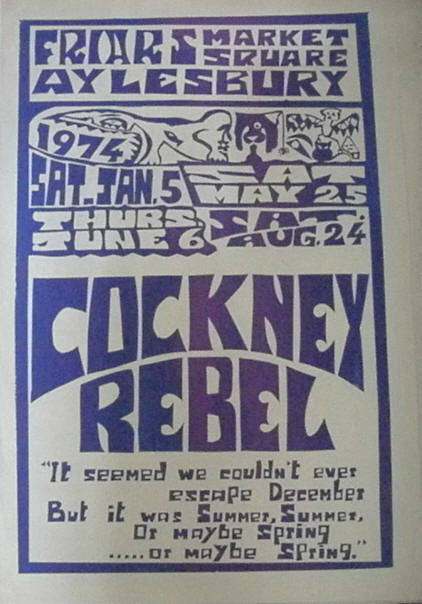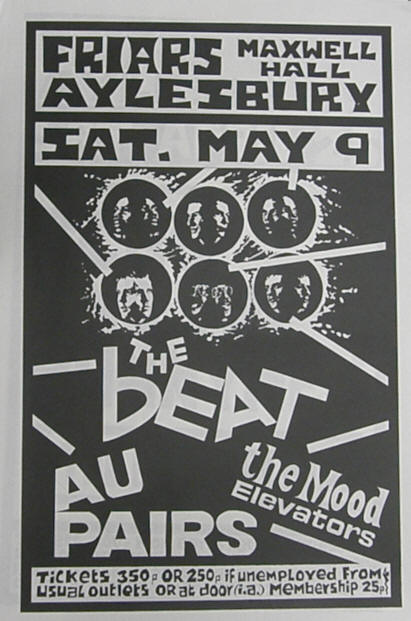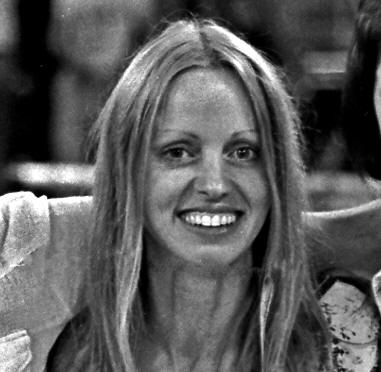 Budget Stopps (photo credit Geoffrey Tyrell)
Budget: Gosh, where do you start?!!
Friars Aylesbury Website: You were heavily involved in Friars from about 1971....
David and I started up the second phase together. I'd met him in between the end of the first phase and the start of the second. I was his right hand person.
There was that big make or break gig, the first one at the Borough Assembly Hall with the Groundhogs...
Yes and it just went on from there.
That (Groundhogs April 1971)was the saviour gig wasn't it? Without that, there would have been no Bowie, no Mott The Hoople...
I think one of the things that helped put the club on the map was the Bowie gig in 1971. That was my connection (laughs). Nobody had heard of him, but I was a huge fan as he had written stuff for my ex husband (a musician) and I couldn't understand why he wasn't recording it himself. I had a demo tape of Bowie which I played to David and later when we were offered him through the music business, we snapped him up and got him when nobody else knew who he was. We had 700 people at that first gig. People were coming up from London. That was the beginning really - it was the first night he had played with Mick Ronson.
I've heard a bootleg of that gig and what surprised me was how nervous he seemed to be.
He was a very different person then! He was with Angie Bowie and had long hair. He was wearing all these long flowing clothes. If you imagine the cover of The Man Who Sold The World album, that's what he looked like. He loved Friars, it's close to his heart and you should try to find him to interview him! That gig was important for us and for him.
Would love to have him on the website! But there's a common theme here. Apart from Bowie... Steve Harley, Genesis, Mott The Hoople, Sailor all owe their careers to Friars...
Yes they do.
I spoke to Steve Harley recently and he was so praising of Friars regards his career.
I remember those early Cockney Rebel gigs at the Borough Assembly Hall and everyone was like this (makes waving arms gestures), the whole audience was waving their arms like blades of grass blowing in the wind and it looked like waves on the sea!. Such a good atmosphere.
I know that the Phase Two years are referred to in some circles as The Golden Years...
It was the most magic, yes.
You had an amazing knack of tapping the bands at just the right time...
It was a magic era, the Beatles era had passed and we caught the next wave. It's a shame there were not more venues like Friars in the country. It hasn't happened since.
Although Friars moving to the Civic Centre afforded you opportunities you would not otherwise have had, did you feel some of the magic was lost?
Time moved on. Stage acts had got bigger and it was time to have a new venue, although of course, it didn't have the same magic of the old place. But we moved on. It was still brilliant!
I sadly never experienced the Borough Assembly Hall as a punter, but many people are very praising of it. If we exclude the Bowie gigs, what are your favourite memories of that venue?
Lou Reed was unforgettable. Genesis, Steve Harley, Mott The Hoople, Edgar Broughton and more!
Were there any acts that you put on in that period that disappointed you musically or otherwise. I'm not trying to be salacious, but some bands might not have been as good as you might have expected....
There were times, but this was all a long time ago!
With your promoter hat on, did you get any unusual difficulties?
Yes, very occasionally a fight might have broken out or somebody might have fainted and you had to deal with it. People might have been ill, that was one of the biggest difficulties if someone on the organising side was ill. Also just sorting people out and running round dealing with things meant I often missed a large part of a gig. I'd be running backwards and forwards to dressing rooms, counting money at the Box Office, helping people who'd lost their keys, that type of thing. You name it...people phoning up trying to make emergency contact with someone.
A thousand things could go wrong when promoting a gig, did any bands present you with problems through being awkward etc?....
Occasionally. I don't really want to name anyone (laughs) There was one band I didn't particularly like and several others were difficult. We had a very big name act smash up the dressing rooms once, you wouldn't believe (who it was)
Even when you had moved to the Civic with more possibilities there must still have been bands you wanted but still couldn't get?
Towards the end of Phase Three that was certainly true. The stage wasn't wide enough to accommodate more elaborate stage sets. We were finding it increasingly difficult towards the end, as the council wanted too much money for the hall and it was getting more and more difficult to run the venue in the end.
Certainly in 1983/1984, there were bigger gaps between the gigs sometimes.
Yes, and we were moving into management at that point as well, but Friars stopped being financially viable.
The headline in the paper when Friars closed was 'The Day The Music Died' which kind of summed it up really....but I guess you had to deal with the realities...
It just wasn't viable at the end. It was very very sad. We'd enjoyed it and ran it for more years than most venues.
Over a period of time when stage productions were getting bigger and bigger... but Genesis came back in 1980. That was quite special. How did that come about?
Well....some bands were prepared to compromise and others weren't...
You mean in terms of big bands coming back to smaller venues?
Some bands wanted to come back and play, but there were other factors involved, such as their management.
That's a shame, as we may have missed out as a result.
The only artists we didn't put on at Friars (but would have liked to have done) would be The Rolling Stones. I think we put everyone else on!
(Laughs)...well you must have got just about everyone else! The Stones would have been a good one.
Yes, we missed out on them.
Favourites from Phase Three?
Camel, Undertones, Stiff Little Fingers, Kate and Anna McGarrigle, Ian Dury...but there were so many! (laughs)
Out of curiosity, was it frustrating in the summer months when you sometimes might struggle to find someone touring...in that you might put two gigs on in June and then only one in July and August or such like..
I don't remember it being an issue.
I only mentioned it as some of the news-sheets seemed to suggest this.
Probably glad of the gap! (laughs). It was a lot of work for David and I.
Tell us about Open Air Otway in 1978
Hobble on the Cobbles is back (nowadays), but that wasn't on the scale of what we did in 1978. And it got filmed and on TV.
Ah yes, Stardust Man, the Otway film....
That was so special as the Market Square was packed. There were film cameras on top of Burtons (top of the Market Square) and they made a very professional film of Otway.
My understanding is that originally it was going to be a documentary about Friars....
Yes, it was.
But the subject matter got changed....
I think it was a nice story.
At least Friars got covered indirectly in the film
Otway liked it!
The Friars sixth birthday party in 1975 with Stackridge, Peter Gabriel jumped out of a cake didn't he?
I made that cake. I took a load of cardboard and gaffer tape and turned it into a huge cake with a paper top and I pasted ceiling paper all over to make an icing effect and put decorations on it. It said Happy Birthday Friars on the front and it went on stage with Gabriel in it. He jumped out and then were was silence for a few seconds and then the audience realised who it was!! It was very funny. I'll never forget making that cake.
You'll already know that Gabriel broke his ankle jumping off stage at Friars in 1971. One of the best fun gigs was Kid Creole and the Coconuts. I also remember making a rice paper hat for David one time after he said he would eat his hat if he didn't get David Bowie back to Friars that year....... he didn't so he ate this trilby shaped rice paper hat on stage!
The Clash gig at Stoke Mandeville in 1982 - it was a pity only one gig ever took place there. It was just the logistics wasn't it?
It was very difficult to organise, a nightmare. I took The Clash in the day time to the Spinal Unit at Stoke Mandeville Hospital and I remember this kid called Paul, who was jumping up and down in his wheelchair as he was such a huge Clash fan and they came to see him. He was bouncing because he was so excited.
There's pictures of Joe Strummer on the website with someone that day, so it could be him.
I drew pictures of The Clash after that gig. I remember Joe and Kosmo (Vinyl) I took round the ward.
(webmaster's note: Budget has gathered some personal journals of her poetry and drawings, many of which are in a 'Friars' style and also the drawings of The Clash which Budget has allowed me to show)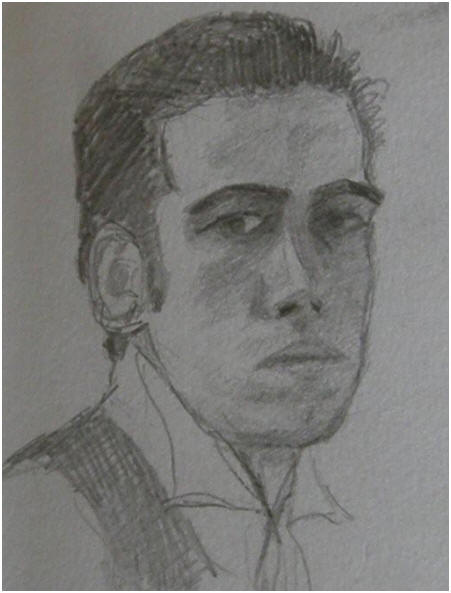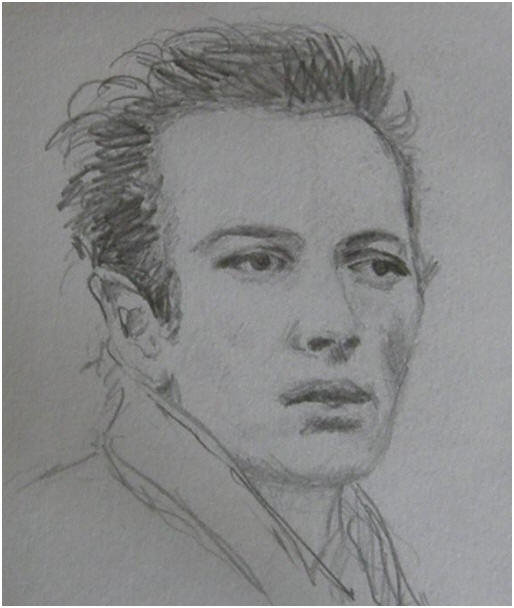 Hazel O'Connor speaks highly of you - she spoke about how nice it was to have flowers in the dressing room, which was rare.
Hazel and I have remained friends all this time. We used to meet up when she was touring. I have a long standing invitation to visit her in the mountains in Ireland which I will do one day, I must do it!
As for the flowers, bands always remember our flowers in the dressing room. Robin Pike liked to arrange them for us. He did a great job.
Any special memories from the non Aylesbury gigs you put on?
Elton John at Watford in 1972. There was a bomb scare. I will never forget that moment...Elton John was sitting on a stool with the spotlight on him, the audience silent whilst Elton was singing Your Song with him and a policeman walked on stage which is the first we knew of it, tapped him on the shoulder (laughs) and asked him to leave! Then the lights came up and the place was cleared.
Putting on those gigs in other towns must have afforded opportunities for some bigger acts?
Yes. Watford was an interesting one though. I do remember King Crimson - a complete sellout and there were hundreds of people outside trying to run the doors and break in. It was scary, and people were getting ladders from building sites and climbing up the building trying to get in and some did get in!
In terms of the posters, these were so iconic and distinctive - they weren't just run of the mill 'here's a gig' type posters. When you saw then round town you knew they were Friars posters even if you saw nothing else on it.
Yes, they were quite distinctive.
Presumably the plan from the outset was to make these memorable and to stand out as an advertising piece...
During Phase One, someone else was doing the posters and I was utilising the style of those posters and developed a style of my own as I went on.
Some of the early Phase Two ones were done by a guy called Ben from the art workshop in Aylesbury. His artwork was quite curvy whereas mine was quite triangular.
And of course your very distinctive mouse sign off!
I was always into art and as a little girl had wanted to go to art school, but didn't and ended up designing Friars posters! (laughs) The mouse was like...my signature
You did some of the flyers too, but Kris Needs did a lot too...
Yes, his had the rabbits on! At some point Kris wasn't around so I took over the flyers which were just a small version of the poster.
I must tell you, the flyers/handouts were printed on an archaic second hand printing machine which I think we picked up from the Bucks Herald. It made an awful noise. It used to sit in the corner of the office (one of our bedrooms) and it took up a quarter of the room! It had a huge barrel and went CLUNK CLUNK CLUNK on every handout and it was really loud! (laughs). There was a couple of thousand of them...CLUNK CLUNK CLUNK all day! As Friars got bigger, the whole house became an office. David had a secretary, there were accountants and the phone was constantly ringing. But it was interesting as there was also something different going on. It was exciting.
It was all self contained wasn't it?
David and I ran Friars like a cottage industry. We did the posters in a stable area at the side of the house. David made the silk screen by hand, I did the stencil, ironed it on and taped it all up. Then each one was done by hand with a big squeegee with different coloured inks and we made these posters one by one. David would hand me these posters and I would hang them up on pieces of string to dry and they took up one corner of the house! As soon as they were dry we would pile them up, there would be about 300 posters for every gig and it often took two evenings to do them, although we would try to do them in one go.
That's a lot of work!
It was rewarding to see them put up as they worked.
Those posters got put up far and wide didn't they?
Yes, we used to go out poster sticking as you did in those days. You couldn't do it now, you'd get arrested! We used to have a northern run, southern run, eastern run and western run. We would go out in the middle of the night. Joe was in a carrycot in the back seat (laughs). We'd get a babysitter when he was a bit bigger! We took the dog with us and on one occasion when David had to do an emergency stop, the dog ended up in the paste bucket! (laughs). That's funny, don't think the dog thought so! But she was OK.
Here we are in 2009 and the digital age and no-one seems to produce posters in that way...
It's a real shame, a lot has been lost.
(webmaster's note: the Friars posters for the 40th anniversary gig were a nightmare to produce. From Budget's original drawing, no one was able to do a traditional silk screen and I scanned the drawing in pieces and designer Steve Cripps deserves a lot of credit for cutting a digital stencil)
I think this gig on June 1st will be interesting. Such a big gap and I wonder if the old magic will be the same?
It's not going to be the same is it! (laughs), if we did one in ten years time for the 50th, people could be there in their Zimmer frames!
I meant that will it feel like being at Friars or just being at a gig....
I think it is going to be a fantastic reunion for a lot of people. People seeing people they haven't seen for so long.
Going back to the hey day, people weren't just going to a gig to see band x, they were going to Friars, it was an event....
I don't think youngsters today have a fraction of the fun we did as they have nothing like that going on. I feel sorry for them actually! (laughs)
Since Friars closed 25 years ago, no-one has attempted to take up the mantle of running a regular gig in Aylesbury, which is surprising on some ways....
True, but then remember we were finding it hard to make it viable at the end, that's why.
There's no-one willing to take on the risk I guess. It was a tragedy when Friars closed as the name became synonymous with Aylesbury and the calibre of artists who wanted to play. So many artists didn't see Friars as another gig, it was something special.
Yes, but the audiences had grown up and perhaps it was a change that happens.....
Possibly. Another way of looking at it is that if all things being equal and Friars still ran and was presenting the crop of new bands, you'd be attracting lots of new members...even if some of the older members didn't go anymore.
Yes, but things change and people moved on and had families etc. It was a magic era and things changed. I've often wondered how many people met and had children as a result of Friars.
Funny you mention that, as I've had emails from people who did exactly that! It's really nice.
Budget, thanks for your time.
This interview and its content are © 2009 Mike O'Connor/www.aylesburyfriars.co.uk and may not be used in whole or in part without permission.