Dave Brock, will on 28th May, become the first artist to play all four phases of Friars with seminal space rock band Hawkwind. The styles have varied over the years but science fiction themes have always run through their work. Their work falls in to distinct eras and everyone has their favourite. Commially at least, their golden era was the early to mid 1970s when they hit the heights with the timeless Silver Machine and had a number of Top Ten albums. As they prepare to come back to Aylesbury, Dave took some time out on the way to their Southampton gig in May 2011 to speak to the Friars website.
Dave, thanks for talking to the Friars Aylesbury website, we're very much looking forward to the gig next Saturday.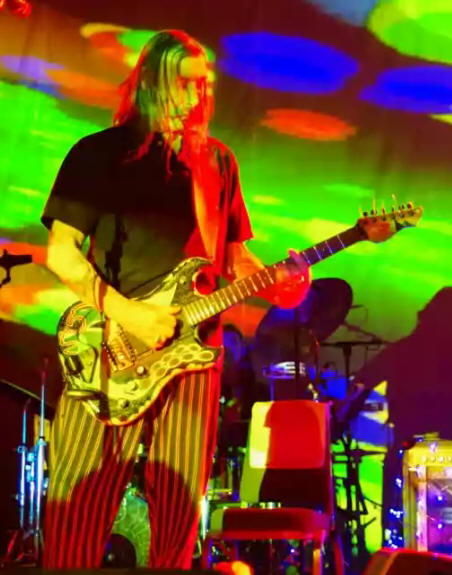 (photo: Dave Law)
We've waited a long time to welcome Hawkwind back to Friars and you are the only band to have played all four venues, something which may never be challenged! You played the first time in 1970 and it was quite different at the time for Friars billed as a 'special electronic concert'. There wasn't too much of that type of 'experimental' music at the time apart from the 'obvious' such as Pink Floyd or the very early ELP?
I suppose so, I think we called it psychedelic prog rock!
A good way of describing it! Right at the start, with your roots in the influential Ladbroke Grove scene of the late 1960s with the busking, what did you see as your influences when you were starting Hawkwind?
I don't know – I don't think we had any influences really…I guess maybe early psychedelic music. I was doing all sorts when I started, playing guitars with echo units and the like on top…
So you were always trying to break new ground musically….
Yes, with repetitive riffs! We always got slagged off in the music press..oh that's Hawkwind, they can only play in one key!
When Hawkwind were bursting out of London and the free festival scene... by the time you played Friars again in 1972, you were being tagged as the people's band. Is that how you saw yourselves or as an underground band or both?
Both actually. We did free festivals for the White Panther Party (anti racist group) and various charities.
The free festival scene was starting to spread beyond London and you were a big part of that weren't you?
Oh yeah, we carried on doing that through the 70s, 80s and 90s – we did a lot of free festivals. We used to do them every two weeks going round the country. These festivals were often set up as craft shows with music. People trying to sell their stuff while the music was on. Quite arty. But there were a lot of drugs unfortunately. At festivals here this (drugs) carried on till the 90s with the rave culture.
If we talk about the classic free festival era, if we look at the giant Isle of Wight Festival in 1970, this seems to be to be a turning point in the free festival movement so to speak.
The Isle of Wight Festival was huge and we played outside in a canvas dome shaped thing and we played the festival last year in exactly the same spot where we played first time with our Hawkfest! The local golf course freaked out as it had visions of people running naked across the golf course! There were about 1500 people in a family orientated festival. The 1970 one had about 650,000 people. I have a photo, eight feet long joined together of the entire festival and only then can you take in how big it was.
Funnily enough, some people coming to see us play tonight (in Southampton) run the Dimbola Lodge museum on the Isle of Wight and they have memorabilia to do with the Isle of Wight festivals and we have had our pictures taken with Jimi Hendrix! If you go the Isle of Wight, this museum is worth a visit.
You mentioned Hawkfest and how the local golf club perceived your audience as running naked round the course, so how did you as a band react when a certain 6'2" lady (the unforgettable Stacia) turned up at your gigs and ended up joining the band?
Taking your clothes off and dancing naked was taken as a symbol of freedom. It was that age when women took off their clothes and burned their bras to be free. Lots of people used to wonder round naked. You have to remember this was the era when people also dressed in bright coloured clothes. A lot of this was down to LSD, which opened peoples minds and made them a bit more artistic and changed their way of thinking (laughs)
That's putting it nicely! The early to mid 70s line up of the band achieved considerable notice, most obviously with the iconic Silver Machine. It's interesting to me how you now might see the reaction to Urban Guerilla today (banned single from 1973) with a 2011 head on - do you see it as just bad timing with what was happening in Britain at the time or an over-reaction by the BBC?
Well nothing's changed, but yes it was an over-reaction by the BBC. The words of the song reflected what was happening in society then and they do now. Nothing's changed. We wanted to stop all this and come together.
A friend of mine who was there has told me about The Greasy Truckers gig from 1972 (legendary Roundhouse gig with Hawkwind, Man and Brinsley Schwarz and Friars DJ Andy Dunkley) and album. Although the album was a limited edition, this did seem to help put your name out there didn't it?
I don't think it did. Yes it was a limited edition but there were several reprints which I don't think should have happened but the money went to the organisation. But we got Silver Machine off that album and after that yes we had Top 10 albums and went off to America and played huge auditoriums.
With all the success and the Top Ten albums, we had to wait and finally got you coming back to Friars in December 1976 around the Astounding Sounds album (there's pictures on the website). The following year's Quark Strangeness and Charms album, this was the one that saw you open up to a wider audience even forming to an extent an alliance with punks who accepted you. Would you see it like this?
Yes – the funny thing round that time, when we did the Hawklords…...
I was going to ask you about that – it wasn't long after that you formed the Hawklords, this was presumably meant to be a totally different project to Hawkwind or complementing it?
It was an extension to Hawkwind really. It cost us a lot of money to get it together. But John Lydon came to see us when he was in the Sex Pistols….
It seemed at the time, a lot of the punks were saying we don't like the old guard, but Hawkwind are OK.
Yes, we always wrote about society (which obviously struck a chord)
As I mentioned, you are the only band to have played all four phases of Friars Aylesbury…… this leads to me to ask what do you think sums up Hawkwind's longevity? Between this upcoming performance and the last appearance in 1976 you've released the best part of 25 albums including the most recent Blood of the Earth which is a great piece of work. After 40 years, what still makes you tick as a band and retain that loyal following?
It's fun! It does get a bit harder as you get older. We have a couple of albums worth of material we've recorded. And the band sound alright and they are an interesting bunch of characters. We've got Mr Dibs and Richard Chadwick has been our drummer for 22 years.
There aren't many bands after forty years still going retaining a loyal following and gaining new followers on the way whilst making new music.
The kids of the audiences have grown up and now go to the gigs with their parents – they listen to their parents' record collections and think this isn't bad – I'm going with dad!
We were talking earlier about being accepted by the punks. John Lydon is on record as saying that Hawkwind are an influence, but there are clearly influences on other acts and as much as I don't like musical tags, let's say trance or space rock, say The Orb or Ozric Tentacles. You must see these influences?
I guess so – it's quite nice to get accolade for doing out stuff. Musicians get their bands together and go off on their own courses, and I don't mean just The Orb or Ozric Tentacles. Even some big name bands have covered out stuff. Primal Scream covered Urban Guerilla last year.
That still makes Hawkwind relevant doesn't it?
I think it's quite a nice thing.
We'll see in in Aylesbury next week – the reports from the show are amazing – we can expect spaceships, stiltwalkers and all sorts can't we?
It's part of a show – we try to entertain people – escapism!
Thanks very much for your time Dave, see you on the 28th!
This interview and its content are © 2011 Mike O'Connor/www.aylesburyfriars.co.uk and may not be used in whole or in part without permission.