David Rhodes is something of an unsung national treasure as he has played on more records you own than you realise - from Peter Gabriel to Blancmange to New Order to Scott Walker and lots of points between. And also his own music too, firstly with Random Hold who played Friars twice in 1979. After the band broke up, David became an in demand guitarist and has worked most notably with Peter Gabriel for the last 30 years but a wide range of artists including Japan, Blancmange (with whom he played live at Friars in 1983) Roy Orbison and New Order. David is currently working as a solo artist and with his trio and has been involved in a fairly unique venture marrying guitar sounds with live art. Welcome David Rhodes to whom we spoke in February 2012.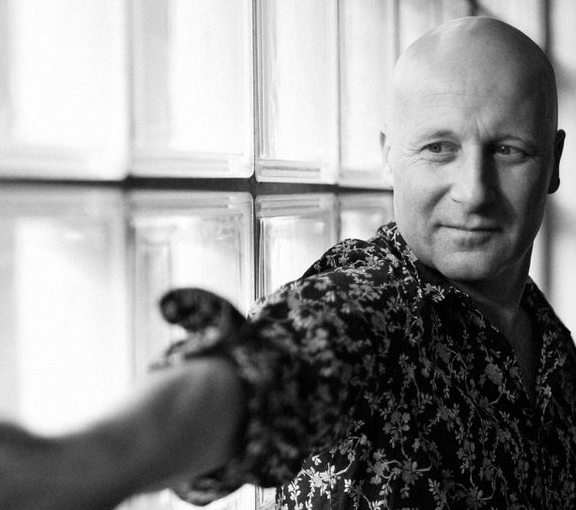 David Rhodes (photo credit York Tillyer)
Hello David and thanks for talking to the Friars Aylesbury website.
...a pleasure.
Random Hold formed in unusual circumstances. Whereas say the Sex Pistols inspired a whole generation of Manchester bands to form, you were inspired to form a band because the gig you had seen disappointed you. What was it about that gig specifically (Phil Manzanera/801) that made you want to get up and do something different?
I was at the gig with a Canadian girlfriend. I'd actually gone to the stage entrance, to blag seats from Bill MacCormick, who was playing bass. We watched the show and as we were leaving I got talking to David Ferguson, whom I knew to say hello to. We seemed to be the only people walking out who had misgivings about what we'd heard. We went to a curry house, and started setting the world to rights.
I seem to remember that given the musical climate that was changing with the emergence of punk, that what we'd listened to that night appeared somewhat smug and unchallenging, and perhaps emotionally light. We decided, bellies full of beer and curry, to come up with a riposte. This turned out to be noise-making and tape to tape looping...probably unlistenable, but enjoyable to do.
I now think that anyone who gets and up and plays in front of audience should be applauded.
You are interested in the fine arts and prior to being a professional musician you were a sculptor. Was it a hard choice to leave that all behind and do you still do any sculpting now?
Sadly I don't make anything now, just things we need around the house: simple woodwork, benches, shelves, tables, doors, out of good timber. I guess when I was trying to get going in music, I had no dirty space to work in, so the sculpture slipped away. I don't think I was particularly good. I still enjoy looking at things.
Jumping forward to one of your present projects – it is fairly unusual I think to see two art forms merged together with you playing live whilst Graham Dean is painting. I know you have known each other a long time, but what inspired you to marry the two art forms in terms of performance?
It was actually an art director in Aachen, Rick Takvorian, who came up with the project. He had seen a film of Graham's, for which I'd made the music. He thought we could try and do it at the arts festival that is part of the Aachen calendar, as an experiment; initially it was meant to be some sort of open workshop. As the ideas started flowing, it turned into a bigger thing, a performance of painting and music, in a an old church. It turned out to be really interesting. The walls and ceiling, bathed in colour and Graham's images, with guitar noise echoing about. It went well.
I mentioned Graham at this point because I believe it was him who initially introduced you to Peter Gabriel? He'd seen you playing in Random Hold which is how you met?
Yes, Peter was looking for musicians to work on demos for his third album. Graham put us forward.
Have you plans to take that forward with any more shows?
I think we're going to do more later in the year; probably late summer into autumn.
You've toured in the last year under your own name but seemingly mainly in Europe, have you plans for any UK gigs?
At the moment, shows are planned in Europe in the spring. There are no UK dates scheduled.
Peter Gabriel saw something in Random Hold as you played with him in 1979 and in the US in 1980 including of course the legendary Friars Gabriel gig of August 1979. Did he sort of take you under his wing?
After he came to see us at the Rock Garden, we ended up doing some demos with him, and sharing the same management company. We also signed to Hit and Run Publishing, who published his songs.
I suppose we did think he'd done that...probably misguidedly.
You also did the XTC winter tour of 1979 and another Friars appearance – I believe you remember these gigs as you mentioned to me sometime back about the version of Montgomery Clift you played?
Yes, I remember feeling the version supporting PG was particularly powerful. Because he nearly always announced us to the audience, we were given a sporting chance of winning some of them over. It felt like we did so that night. I don't remember the XTC show vividly.
As I understand it, Random Hold fizzled out because of musical differences with two camps as it were. Do you think Random Hold could (and should) have been bigger or was it that you just couldn't compromise on the music you were creating?
I guess we fell apart because I was unhappy with how it was going, and I fell out with David Ferguson over what we were doing.
I was also a troubled and somewhat unhappy soul at that time. I think realistically we missed our moment, probably not by much, but second chances are rare.
You became an in demand guitarist, notably first of all with Japan live in 1981 when they were quite good. How did that come about and how did you find their brand of music – I know you are on record as loving The Art of Parties (well, it is good!) – and them personally given the strains that ultimately broke them apart?
From being involved with Gabriel's third album ('Melt'), people started to call, I think not realising that I wasn't really a player. I was, and still am technically wanting, but I like to think I can make a good noise, and that I enjoy a good groove.I can't remember how that particular connection came about. Japan were an odd bunch. I was saddened to learn of Mick (Karn)'s passing, last year. He was a lovely guy, who played really distinctively.
You're possibly best known as Peter Gabriel's guitarist of choice. You said to me that when you saw Gabriel at Friars you wished you could be up there with him and so it proved – how did this come about (specifically playing with Gabriel)? Of all the tours and albums you've done with Gabriel, do you have a favourite?
As I said before, he came to see the band I was in, and asked us to make some demos with him. We got on, and I guess he liked the fact that what I did was a bit quirky and at that time very European sounding. At Friars, I was listening to someone playing some of my parts...that's always a weird one! The next round of touring that PG did, after the 4th album, the gig was offered to me.
Am I right in saying that prior to meeting Peter all you really knew was his stuff in Genesis, of which you weren't a big fan?!
I was not, and am still not a Genesis fan. After meeting him, I listened to his first two albums, which my flatmate had.
You always look like you are enjoying it – I remember you mockingly falling over as it you had actually been run over by that Zorb ball at Wembley when I saw the Growing Up tour in 2004, there must have been a few close calls with that one….?!
I'm lucky. I've worked on some cool projects and played in a lot of great venues, with some good people.The Zorb was fine and not painful, as it rolled onto me. I've managed to trip on stage, and even fall off the front...pride and body mildly bruised.
You've co-written some stuff with Gabriel, is there anything you have written with him that hasn't seen the light of day yet?
No
You played Friars again in 1983 with Blancmange a gig I remember well. You did some work on their album and they presumably asked you to tour it with them? Very different musically again!
Blancmange supported on the Japan tour. I got on well with Neil Arthur, and still do. I played on some of their material (probably three albums). I always enjoyed playing 'Feel Me'.
Given the diversity of the artists you have played with, do you have a favourite style you prefer to play or do you see yourself as adaptable regardless?
I think I probably do much the same thing whatever I'm faced with. I listen a bit and then join in. If it's not working I'll try a different approach.
You've played with artists from a diverse range as I mentioned above, not including Gabriel, Japan or Blancmange. You have done stuff with New Order, Talk Talk, Mick Karn, Roy Orbison and countless others. Has one of these given you more pleasure than another?
I suppose some of the music I'm proudest to have played on was Scott Walker's 'Tilt'. It's a wonderfully difficult record. The most consistent pleasure I get, is singing and playing in my band, with Ged Lynch and Charlie Jones.
You have done a lot of work with Richard Evans who has played also in the live Gabriel band of late. I think he was based at Real World before he started doing these gigs but you have a body of work with him with TV documentary soundtracks and the like – you play as The Footnote? Had you worked with Richard prior to the Growing Up album?
Yes, Richard and I work as The Footnote. He was an engineer at Real World for quite a long time, so we worked on various projects there. We then worked on the soundtrack for Rabbit Proof Fence, for Gabriel, and a couple of projects that were also nominally his.We still work on projects, which have ranged from Discovery Channel and National Geographic programmes, to sound and light installations. Richard also does a lot of work (producing and recording) with English folk artists, including Jackie Oates, Tarras and Rosie Doonan. He's a talented multi-instrumentalist and producer.
Your playing style has been described as 'sparing' – Peter Gabriel has described your approach to the guitar as a work of precision also referring to your father's surgeon skills. That's a huge compliment, but how do you describe your playing?
Naive...
What's the proudest thing you have achieved musically?
There are bits of things, tiny details that have come up when working for people; noise that seems utterly appropriate to the song. Performing 'Biko', with Gabriel, in Giant's Stadium, at an ABC televised Amnesty show was moving. But again, doing my own shows, with friends, is about as good as it gets.
The All Things David Rhodes website
This interview and its content are © 2012 Mike O'Connor/www.aylesburyfriars.co.uk and may not be used in whole or in part without permission.