Hi Sean, thanks for talking to the Friars Aylesbury website. You are one a select number of artists to have played Friars with at least three different acts. You first played with Help Yourself back in the very early days of Phase Two – 1971/1972. You probably won't remember the specific gigs, but what was that period like for working bands, what aspirations did you have?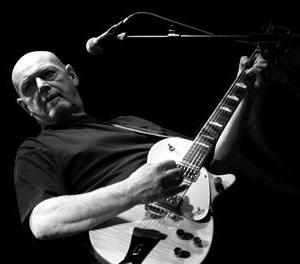 I wanted to be a rock n' roll star and have my work recognised and loved - who didn't. Money wasn't a factor and never has been.
We know that Ducks Deluxe formed from the ashes of Help Yourself, why did Help Yourself end or at least you leaving them?
I helped the band out through a tough period but once Malcolm Morley was back at the helm it was time to move on. They helped me find myself and I struck out on my own. Help Yourself.
A great name for a band is Ducks Deluxe – I think that there was a crossover period when you were both working….did anyone ever confuse you for BeBop Deluxe? You must be the only two bands with a 'Deluxe' in them!
Often. Especially a promoter in the US who booked us on a 36-date tour in error.
More seriously, how did you see the Ducks progressing – I don't know if the term was coined them, but you were bracketed in the'pub rock' genre with the likes of the Brinsleys and Dr Feelgood and Kilburn and the High Roads and many others, most of whom played Friars. Did you see these guys as competitors, peers, contemporaries, rivals?
They were completely different bands. The Feelgoods were the closest musically and the Brinsleys were our best mates. I only saw the Kilburns once and never met Ian Dury in my life. We were reasonably confident of our own abilities, such as they were.
There were some great bands of that scene but little commercial recognition – was there a great push to be recognised commercially, which the Feelgoods did achieve or was it about the live gigs and the rejuvenated scene you had helped create?
I was pissed off that RCA didn't get us to the US. That was stupid in the extreme. They also shot themselves in the foot running out of records after Coast To Coast spent a week on Capitol radio as People's Choice. Bowie had the whole machine focused on him and that is where the RCA UK resources were targeted. We never had a chance really. We were a trophy band to them. We were a highly successful live act and that mattered a lot to us.
Also, it must have been difficult bottling the live feel into a studio disciplined record?
Read my book!
It must have been disappointing calling it quits in 1975 after the record company lost faith despite air play – I know people who did see Ducks Deluxe at Friars and enthuse about those gigs today.
Yeah, it was. I thought if we had got to the States we could have gone on forever. When Garvey, McMaster and Tim buggered off and Billy Rankin and Brinsley joined we could have taken on the World. It was the best line up of them all. We just ran out of enthusiasm.
After this, two of the band went on to play Friars again as The Motors who did reasonably well, but you came back to Friars first in 1977 as the Tyla Gang. I think there was the Help Yourself connection again with Ken Whaley (who in turn I think played Friars with Man). That Tyla Gang gig was supporting Mink de Ville, one of the most talked about gigs at Friars ever – what was this time like?
Ken joined the TG in 1978. I don't remember the gig!
When the band disbanded in 1978 after the record company went belly up, had you lost the impetus to carry on as a band?
Not really. Ken joined Man and Mike was disillusioned. We made some demos with Mike Kellie and Bob Daisley and got a deal offer from WEA but the Only Ones and rainbow came along and we were just a duo. Bruce wanted to get back to Canada and that was that.
You then started your solo career, having a big hit in Germany in 1980. That must have been different! You were never likely to go all David Hasselhoff on us though were you!!? You enjoyed successful records until 1985 in Europe?
Nah! Those solo albums were meant to be commercial - I had a family to feed.
Your first solo album, after the record company folded, was funded by The Who? How did that come about?
Read my book!
You stayed out of the music scene for quite a while? What did you do?
Read my next book!
You reformed the Ducks for the 35th anniversary in 2008 – good fun after all that time?
Absolutely.
You still play gigs in 2010 but as you said to me recently, largely abroad and especially Sweden due to the way the music business seems to work. That's not a glowing ensorsement for the UK live scene these days is it?
It makes me crazy but it's all about money. We need to heavily tax tribute and covers bands and those who book and employ them. If all you can see is original music, it will return. It's logical.
You've got a new album in 2010 featuring some old stuff that has been found and remixed and new material – was this fun to do?
Both this year's DD and TG comps were fun to do. Finding rough mixes of the 'lost' 3rd TG album was a dream come true. It'll be out in October
Onward and upwards for the Ducks, how do you see the future now, the Ducks for the foreseeable future and some UK dates?
We play London twice a year on a door deal. No one else will book us. Sweden is our base now and probably will be for the foreseeable future. From a personal point of view, I will shortly move there as I am starting another new project with Billy Bremner called the Trouble Boys. Ducks Deluxe and Tyla Gang will continue and I keep the solo gigs going too. You have to constantly re-invent yourself in this day and age.
Great that you are out of retirement and thanks for talking to the Friars Aylesbury website.
My pleasure.
This interview and its content are © 2010 Mike O'Connor/www.aylesburyfriars.co.uk and may not be used in whole or in part without permission.