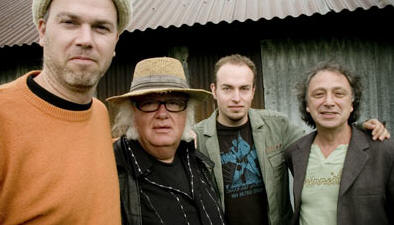 In the early 1970s, Friars put on three headlining Dutch bands. Alquin, Golden Earring (at Dunstable) and Focus. Focus, with its roots in Amsterdam and largely based on the songwriting of Thijs van Leer and Jan Akkerman broke out of Holland in the very early 1970s and became the most successful band from Holland internationally. For forty years Thijs van Leer has continued to make music, mostly with Focus and is still touring Focus in 2009. Thijs was awarded a Dutch knighthood in 2008 for his services to music. The Friars Aylesbury website had a long chat with Thijs in April 2009 in a car whilst collecting Bobby Jacobs, Focus's bass player from Luton Airport. How Rock and Roll is that?
Arise Sir Thijs, your audience awaits you.
Your career goes back a long way before Focus...
Thijs van Leer: Actually I just got knighted in Holland for 40 years in the business.
From the Dutch Government?
No, from the Queen (Beatrix of the Netherlands)
Wow......Arise Sir Thijs!
That was all down to Annelise, my love, who had worked on this for a year. I really didn't know anything. It was like a bolt from the blue.
So you have been honoured by the Dutch nation....that's wonderful. With Focus, you first started with Jan Akkerman in about 1970?
Focus already existed before Jan joined. It was a trio consisting of Martin Dresden on bass and vocals, Hans Cleuver on drums and me on Hammond organ, flute and vocals and we were originally called Trio Thijs van Leer. I then re-baptised it as Focus. It is a beautiful name, it is Latin and English and means 'concentration point' or the fireplace in the house, nice warm cosiness of the family. And I wanted to focus on the human mind. There is so much music focused on people forgetting their problems and having a drink and getting a bad hangover. I felt there is a form of music that could help people solve their own shit, their own problems and provide a distraction so people could forget their problems. I thought Focus was a good name.
It's a good name, easy to remember and travels Europe quite well...so when you first started getting successful, presumably you were more noticed in your native Holland? Then you broke out (of Holland)
Yes, we got discovered by a guy who used to be in charge of 18 publishing companies for Radio Luxembourg. He was Dutch but worked in Luxembourg and Brussels. He gave us the opportunity to record an album in London which was the Mecca of rock. We were probably the first continental band to do so. That became In and Out of Focus. There were lots of English type songs. No company in Holland would release it. We survived by playing lots of gigs, clubs, youth centres etc. But we had no record out.
Then we did a contest in Majorca where we were disqualified for playing too long! We were playing Concerto de Aranjuez by Rodrigo and we did a 16 minutes version but we were only allowed 15 minutes. After the first round, we were told to cut it else we would be disqualified. We got through to the final, but we knew that Los Bravos and Black and Black would win, as the local 'mafia' saw to that. So we thought we would get silver (prize) but they turned off the electricity after 15 minutes and I was like rat catcher Hamlyn running round the tables carrying on playing! The rest of the group trashed the dressing room as they were so angry. Then we got taken to jail in Majorca and we got bailed out by the manager of a rival. Next morning, El Pais (daily Spanish national) said after an eighty year war (between Holland and Spain 1568-1648), the Dutch were back! On the front page.
Then we composed House of Kings which Jan Akkerman had done the verse and chords for and I was doing some of top melody and suddenly we had a song that pleased the disc jockeys in Holland and we had our first hit. With me leading on the flute.
That meant with could have a 20 foot stage and one extra light!. People who had ignored us before suddenly became interested in us although it was the same repertoire. That was what having a hit did.
Then the management said we should go to England and tour there. We were shy about it as England had so many good groups and they would think their own bands were the best which was true. Then the management said that as there were power/energy strikes and traffic lights etc weren't working we should take two vans - the second one had a generator! It was like a little circus. Many British bands couldn't play because of no electricity but we were able to play.
So you were now starting to get noticed in England...
Yes, they called us pioneers and brave. We were getting lots of play on Radio Luxembourg - Kid Jensen particularly.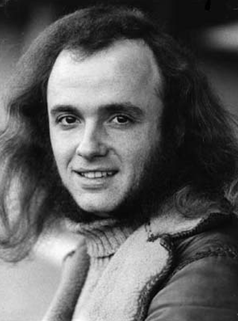 How would you describe your style of music (then)? More jazzy or leanings to prog-rock?
Prog rock did not exist then as such. Nowadays when we play festivals, younger bands see us as the godfathers of prog rock! We were very influenced by classical music such as Bach and Bartok and jazz. Also Frank Zappa - an important influence as was Herbie Hancock. Not pure jazz anymore. We have played and combined different styles.
To make a hybrid?
Yes, I think Focus is still an example of that.
I remember when Focus broke through, I've got the DVDs of the Old Grey Whistle Test performances and they are amazing. With Hocus Pocus there was everything in there....flute, accordion, organ and yodeling. Why the yodeling?
It just came out spontaneously at a rehearsal in a castle where we used to rehearse. Jan played a riff and then Pierre (van der Linden) spontaneously two bars..
Almost a jam?
Yes and then after the two bars, I started yodeling which I never did before. Then we recorded it at Olympic Studios in London and the manager said we should make a single of it. What should we call it? I thought of something rhyming like crocus or locust and then I thought of Hocus Pocus. Not because it was magical, it rhymed.
People weren't likely to forget Hocus Pocus by Focus....!
It sounds almost commercial. It made our name worldwide - we went everywhere, the USA and Australia. Everywhere except South America. We go there now but back then there was no money there. We have been big in Brazil since the 1970s. It's a great country in terms of musical expression.
It was great. So this helped get you noticed around 1971/1972 and then Sylvia...
This was a third single hit and was bigger than Hocus Pocus. And good for us as so many have covered it, even Hank Marvin. It's very good!
Very distinctive I should think! The Live at the Rainbow album in 1973 showed off Focus and how big they had become, but there were issues after that. From what I understand, Jan lost interest and wanted out of the band (in 1976)?
Yes. We were about to do an English tour and I invited Philip Catherine to replace Jan for that tour. It was very successful. I did ask Jan to rejoin the group and three times he said no.
We did restart Focus in 2001 though.
In the meantime after Jan had left, you did do some work with him though?
Yes, in 1985 we did an album as a duet just called Focus. I liked it but the record company felt there was no single on it but they killed it by not spending a penny promoting it!
So you and Jan didn't work afterwards because of this lack of promotion?
Jan and I didn't see each other for years and then then we did an oldie performance for Dutch TV in 1992 and then it didn't happen any more.
Now Focus is a young band. Bobby Jacobs (my stepson) on bass and a drummer started rehearsing in Delft (in Holland) where Bobby lives and they phoned me up and asked me come and bring my Hammond organ. I said I was at home after a solo tour and wasn't in the mood to travel to Delft. They persuaded me to take a lorry with the organ. They said I would be surprised. Then through the closed door when I got there they were playing old Focus material which made me cry - they took it so seriously. They wanted to start up Focus concentrating and reproducing the hits, Eruption, Focus I, II, III. They said it was important the music should not die. I was moved to tears. I unpacked the organ and started rehearsing immediately and we started a covers group called Hocus Pocus...
So that you wouldn't have the pressure of being Focus?
Yes, so there was no burden. But the second try out we were approached by Dave Brubeck's manager of long standing who offered to look after us and make us Focus again. It took all of about a minute and a half (!) to accept and become Focus again. Yes we'll do it.
Well, the name Focus means more to people that a covers band and you've every right to call yourselves Focus...
Then we went touring all over the world. Then the drummer was replaced (due to fear of flying) and we did Focus 8.
Today, the guitarist, Niels van der Steenhoven is 29 and a child prodigy, Bobby is 43 and Pierre (original drummer now back) is 63. I'm 61. So three different generations in one group which with good music doesn't really matter.
It's the *music* that matters...that's the main thing. You've had a great career. The current Focus gives you as much pleasure and happiness as say the early Focus of the 1970s?
More. Even more pleasure. I am so happy that the music is still fashionable.
It's stood the test of time. Well, there are very few bands from the early 1970s still playing today and it's a testament to the music, and the loyalty of the Focus fans. Did you know House of Kings has been used as themes of British TV shows? So people will have heard your music without realizing it sometimes. Sylvia and Hocus Pocus are still played on radio today.
Do you still see Jan or any of the old guys?
Sometimes, not much contact with Jan, but I know he has a good band he still plays good. He still plays a lot of my stuff which is an honour and I love his guitar playing.
I have to ask the question (for the benefit of the readers/fans) - are you likely to work together again?
No, we may meet somewhere but it will be just one occasion but there will be no continuity. I am so happy with the people I play with.
So nothing planned.
So if it did happen, it wouldn't be planned, it might just happen (by chance), but no plans.
So Focus are still popular on the Dutch circuit?
Yes, I also play as a soloist, big concerts as a classical flute player and jazz flautist and I also compose for other people. I'm famous under my own name as well as Focus. Focus is still as famous as it used to be. It's a nice position. You don't have to fight and elbow all the time.
It's also great that you are happy musically where you are now. Is the new Focus better than the old Focus because you are enjoying it more.
I don't know if it's better, but it's different because of the young blood and Pierre. He's one of the best drummers.
What can I say.....Sir Thijs van Leer, Knight of the Realm in Holland, thank you very much.
Thank you.
This interview and its content are © 2009 Mike O'Connor/www.aylesburyfriars.co.uk and may not be used in whole or in part without permission.