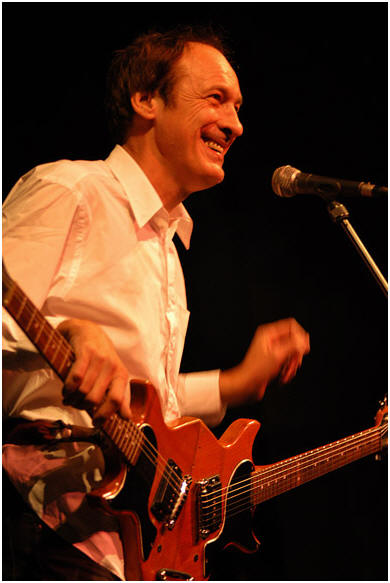 John Otway - photo by John Haxby
John Otway, along with Wild Willy Barrett is a true Aylesbury legend. His Friars history goes back to the very first Borough Assembly Hall gig in 1971 and along the way he has hit the heights and a few lows. In 1977, he put Aylesbury on the map with the surprise hit "Really Free" and it was 25 years before his second hit "Bunsen Burner". He also played to 20,000 people in Aylesbury Market Square in 1978 as part of his annual free concerts.
John, occasionally with Willy, is still performing. We spoke to to John before his and Willy's gig at The Ram Jam Club in Kingston, London (where they filmed a live DVD in 2007) and John was in good form before a vintage night of Otway and Barrett classics, lunacy and a wheelie bin.....
Otway plans to release another autobiographical book in 2010 and hopes to tie this in with a free gig at Aylesbury Civic Centre.
Hi John, thanks for talking to the Friars Aylesbury website. Your Friars history goes back to 1971 when you played a couple of gigs and with Kris Needs playing bongos with you.
Yes, that's right the first one was supporting The Groundhogs and it was the first gig at the Borough Assembly Hall after Friars had moved from the ex-Servicemen's club at the Friarage Hall. It was packed.
It was packed. That was the gig that is acknowledged as saving Friars. Had it not been as successful, there may have been no more Friars so you are part of history! Later that year, you supported Arthur Brown at the Christmas party. What do you remember about that?
I think I had a guy called Frankie Walsh playing with me. We put a band together in the afternoon and took it on to the Friars stage that evening. I was terrible for doing that! All of the rest of the Aylesbury bands seemed to rehearse for ages before they did a gig and I tended to throw it all together in the afternoon!
A novel approach!
Yes..
Seemed to work though! How did your musical liaison with Willy (Barrett) come about?
Willy had started before me - he used to run a club at the Derby Arms (Aylesbury pub no longer there) called the Bog Hog and was one of the first places I did a gig. I used to go and do regular guest slots and got to know him through that. He used to bash me up when I was even younger that! But that was I first real introduction to Willy. Then I used to try to get Dave Stopps to give me my first spot at Friars. I also did Hobble on the Cobbles before my first Friars appearance and I got a very good review in Sounds.
You continued with Willy throughout the seventies and got the first hit (Cor Baby That's Really Free) and you struck it gold really. There was very little (music) television and you ended up on the Old Grey Whistle Test, So It Goes and Top of the Pops.
and Sight and Sound In Concert.
Yes, it all took off. I remember reading Bob Harris' autobiography and it's safe to say that he was bemused (by the OGWT performance) to say the least.
Yes, he said it was all a bit sad. But recently he has accepted it. But I think there is a certain admiration for those who keep going and don't go away. He thought it was bloody stupid....which it was (laughs)
But it worked.
We were described by Pete Frame as being part of the Aylesbury Rock Explosion and there was a group of us who came out of the Bell Hotel who worked hard on getting the Aylesbury music scene going and Dave Stopps joined in on that.
So that the likes of yourselves, Orthi etc got noticed.
The ones that really made it were us, Marillion and Magenta de Vine who are household names now.
One of the things you did do, was the annual free concert in Aylesbury which took in various forms which included amongst them, the 1979 Hostelry tour playing five pubs in one night to the 1978 Open Air Otway gig with 20,000 in the Market Square.
When I wrote the first book, I looked back at the highpoint of my career to then and I started with that (1978) gig - it worked well, I'd had the hit, the press, and there was the Friars publicity machine. Dave Stopps was brilliant at promoting. It was a huge amount of people to get into the Market Square.
From that point though, your career has continued, working with Willy occasionally and made various albums, but in 2002 when you said for your 50th birthday you wanted a second hit, you did what Marillion are very good at, which is to make use of your fans. They'd already got you into that BBC Lyrics poll (if you didn't know, in a BBC poll where John Lennon's Imagine was voted number one lyric of all time, Otway and Barrett's Beware of the Flowers, Cause I'm Sure They're Going to Get You Yeah was seventh) and then Bunsen Burner...
Yes, by 2000 I couldn't see how I was going to ever have another hit single. There is part of me that always thinks that the best is yet to come, and I wondered HOW the best was yet to come. Record sales were negligible and needed to be quite high to be a pop star.
So your priority was your live work, but having had the second hit, it got you 'noticed' again.
Yes, but having had a hit in 1977 and one again 25 years later, instead of being a has been, people think you've been doing stuff all the time and it was a healthier situation for your career.
Having seen you live many times before, you always used to do 'a selection of my hit' whereas now you have a selection of hits!
Yes, as my guitarist likes to put it, its the first time the letter 's' has been on the right side of 'hit'!
I like that! To bring us up to 2009 - you're still doing solo and working with Willy, are you still going after that third hit?
The next project I'm working on is a book. Looking at the career decline after the first hit. The first book looking at being a pop star did very well. It came out in 1988 and was called Rock and Roll's Greatest Failure. I've just done a sequel called Rock and Rock's Greatest Failure Part 2. After the first hit I managed to screw up my career and after the second hit, it went to my head a bit and I thought I could charter a plane and play all round the world at places like Sydney Opera House and Carnegie Hall..
I have to admit if I was young free and single at the time , having seen the itinerary, I would have done it! It looked like a great plan!
It was a lovely idea and such a great collapse! I first started looking at the book which is equally as funny. It was tough writing it facing the problems (of the ill fated Ot-Air). The next plan is the next book which will lead to the movie of the book!
Who would you have playing you!
I don't know!
Although Ot-Air didn't go as planned, would you try something else in the future?
I'm certainly a bit shy of chartering jets! My first book was a bit of a project, then we did the big gig at the Astoria and from there to the Albert Hall and then the next hit and then on to charter a jet not that well....and now I'm writing a book of how badly that went! So that's the next project. So I had to limp through it again and write out all the sorry details (laughs)
Cathartic (writing it) or painful?
Painful! We flew over to LA because there was an Oscar nominated film company who wanted to make a film of the world tour and we blew them out because they weren't taking us that seriously!...and things like that.
Had it come off, it would have been something special wouldn't it?
Yes, nobody had done it before.
No-one's thought of since either - maybe because of your experiences?
Maybe it can't be done!
Are you still content with your career and what you do?
The best is still to come, I still think that. I just wonder where it's going to come from. I'm pleased with the book project and if the Civic is still going in March next year, I'm thinking of doing a free concert to publicise the book. I discovered early on what does work is free concerts. They sell out but cost a fortune. At least I can say I sold that out!
Well you can sell some books and make some money!
I'll have to speak to Dave Stopps and see if he wants to get involved. He was great at all that. My first free (Aylesbury) gig was at Bedgrove Pavilion and it got bigger and Dave got involved with them. I'm glad Dave is involved in it again (Friars) as when I moved to London, he stopped doing gigs and the (Aylesbury) rock explosion kind of died down. It's good to see key characters involved again.
There's now also the New Roxette, they're doing a great job promoting local music
Yes, they are doing a great job.
They're getting the music noticed again
That's absolutely amazing what they're doing. You've not had many people who will get things done really. There's always more good artistes than there are managers, you know the people that can get things done and organising.
A good organiser is half that battle isn't it?
Which is why Dave Stopps was so brilliant and put Aylesbury on the map and part of the reason I have had a career I've loved is down to him and down to Friars.
It's an incredible achievement really to have not done a day's work in over 30 years! To have practically lived a life where I have done something I have really enjoyed is absolutely brilliant
I think it's safe to say that you and Friars go hand in hand which is why we are delighted to honour you (and Willy) with a Friars Heroes Award
Well, Friars was there first! That (us playing) was the future.
One thing about Friars though, is that you were the first local artist to sell it out, in 1979. The local boy did good! Although Howard, Marillion and Kajagoogoo went on to do it (sell out at Friars) you were the first.
I think Dave Stopps got a load of stick at the time for putting on lots of local acts but he did the real world. I mean just running a rock club is hard enough, the promoting to get people in without putting on a bunch of nobodies who aren't going to draw anybody. He did an exceptional job - he did a lot as a promoter with me and other local acts. He put up with a lot, he really did.
I remember we were filmed once and he showed the film between the acts at one gig at Friars and stuff like that.
Ultimately it all worked.
There are a few key elements that made something happen and Friars was one of those.
John, thank you very much for sharing your Friars memories.
This interview and its content are © 2009 Mike O'Connor/www.aylesburyfriars.co.uk and may not be used in whole or in part without permission.