Kris Needs photo credit: Russ Naylor
If you are a Friars fan and followed Friars through the whole period, you will know who Kris is. Kris was at Friars from the very start and DJ'd the 40th anniversary gig on June 1st which was so appropriate. In the words of Pete Frame, as long as Kris is still in Aylesbury, then we are OK.
Kris started up the Mott The Hoople Sea Divers Club in the early 70s, the official fan appreciation society and had one young fan knock on his door one day whilst she was studying at Oxford. She was Benazir Bhutto. Kris is well known for his journalism, starting at The Bucks Advertiser in Aylesbury and then ran Zig Zag magazine taking over from Pete Frame. He also helped start the original Roxette magazine. Kris still regularly writes for Mojo, Shindig and Record Collector in addition to DJ'ing and counts Mott The Hoople, The Clash and Primal Scream among others as friends.
Kris released his acclaimed autobiography Needs Must in 1999. I've read it and it covers off Friars very well amongst many other things in Kris' musical life.
Hi Kris, thanks for talking to us. I would like to talk to you about your experiences of Friars as you were there from the opening night in 1969....
I was at Aylesbury Grammar School and got to know Robin Pike from the wonderful outings he put on to see Jimi Hendrix and others. I got to know Robin as he was so passionate about music. Then he got to tell me about the idea for a club in Aylesbury, it sounded really exciting. I was only 14 at the time! He was telling me about this and it became a reality. I had been doing posters for a couple of years and Robin put the odd one up in the chemistry lab and he asked me if I would do the membership card which is how that came about. I was sucked into then and was there on that opening night...
So you got sucked in because your art skills amongst other reasons...
I had come first in an art competition in Aylesbury for some psychedelic posters I did. They were like the posters for the Roundhouse at the time. So instead of getting into trouble, I concentrated on my artwork and learning how to do lettering. Robin called me to do the membership cards and later I would do the flyers, but I didn't do the early flyers.
That was Robin I believe. He did all the text, but there wasn't too much artwork in those very early ones. You started to come into your own in 1971...
There was this guy called Ben and this is a little talked about aspect. At the time, Aylesbury had an Arts Lab which was in the basement of the old council offices and is in fact where the gents toilets at the Civic Centre are now! There were a load of tunnels under the Market Square and the workshop was held there. (Aylesbury musical legend) Lol Coxhill played the Arts Lab! This kind of ran concurrently with Friars. Ben ran this and he did a lot of the early posters. He was an eccentric poet. He was quite involved and part of the crew and did a lot of the silk screening.
About the first night of Friars, I was member number 6 I think. I saw Mandrake Paddle Steamer. There were a few rows of chairs. I'd never seen a band that close and I was fascinated, looking at the gear and the artists exchanging looks!
Especially as the Friarage Hall stage was very small!
I hadn't realised how small it was until I went back just before it got knocked down. And then there was Mike Cooper (on that first night) and his steel guitar. He's very talented. It was a good night. Then I got into trouble at school for being too much into music! My schoolwork was suffering and after Friars was getting local press, my parents stopped me going for a few weeks as they thought the place was full of hippies! So I would go the Arts Lab and then sneak into Friars! I can remember going to the Skin Alley gig.
When you look back at that first year at Friars, and you saw nearly all of the gigs, looking back, it must have been a great time to have seen some of those bands?
Friars was our local club, and I got to see the bands that were mentioned in the music press. I got all the music papers and would read about them. I started going again when Keith Relf's Renaissance played who were great and then a whole raft of amazing bands. I remember Van der Graaf Generator and that Peter Hammill was a very nice bloke - I saw them sound checking. For a 15 year old that was really brilliant. Dave Arbus and East of Eden were really nice too. But then with Mott The Hoople, they were the first band that really spoke to me and that's when Friars moved up a notch
It's fair to say that Mott The Hoople had a profound effect on you!
Yes, right from the outset! And with the Edgar Broughton Band too. They had the longest hair and were the nastiest sounding....I liked drummers and Steve Broughton. They did a Captain Beefheart song and I remember invading the stage for Out Demons Out! It was great on stage chanting that out. With Mott, I remember them doing the ballads from the first album, but when they did The Kinks' You Really Got Me, that was when Leapers Corner came to life, a bunch of lunatics who if a band did something loud and fast, there was all these people 'idiot dancing' (!) Mott didn't have a huge fanbase, but I thought they were amazing and got talking to them and a week later they played the Grammar School sixth form dance.
Amazingly, Robin Pike (who put those school gigs on) has dug out the ticket for that!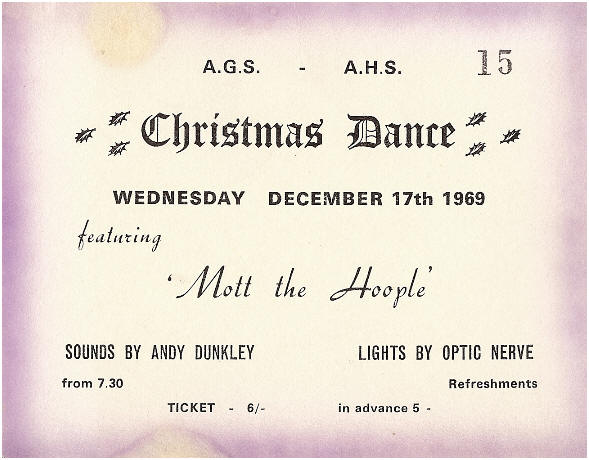 I've got one too in my Mott scrapbook! I wasn't allowed to go as I was a fifth former!
And you'd seen them at Friars the week before!
I went to the Millwright Arms across the road from the school and in there was Ian Hunter and Mott sitting in the corner. I said hello and knew I wasn't going to the sixth form dance as I had already tried and been turned away! Hunter asked if I was coming to the gig and said I couldn't. He was outraged. They were talking to me for an hour, and bought me a beer and got me in as a roadie! That was rather good. I got in and then hid under a table where the PA stack was. As I was leaving, Mick Ralphs spotted me leaving from the stage said 'this is for our mate Kris who has to go!' I was on a 10pm curfew with my parents. That sort of moment you do not forget. This was a band starting to get a reputation and they dedicated Rock and Roll Queen to me.
It's amazing to think that Mott nearly called it a day before Bowie intervened.
They came back to Friars and were starting to get a reputation as a noisy riotous band who went down well, but it got disillusioning for them. By 1971 when they played the Borough Assembly Hall, they felt like they were on a treadmill. They were making albums that didn't sell but the gigs did. The record company was getting cheesed off with them. Brain Capers (1971) didn't sell and the band got very disillusioned, had no money and felt like they were on a treadmill and led to a lot of tensions internally. Then they decided to split in March 1972 in Switzerland which cleared the air. When they got back to Britain, they called David Bowie who was shocked and said they couldn't split and offered them Suffragette City, which they turned down as they didn't think it would get played on the radio. Bowie then sat and played them a new song he was working on called All The Young Dudes and even though they hadn't yet recorded it they knew they had a hit record on their hands. So they toured again and recorded again and then they're on Top Of The Pops! Bowie saved them. It got them on the ladder.
I then started their fan club, as Bowie's was running out of Aylesbury at the time. I had done the membership cards for Bowie.
This was the Sea Divers Club?
Yes, and I did that right until they split.
Must have been a great time, as they obviously had a lot of faith in you?
I was just a kid and I was never on an equal footing with them, I was always slightly in awe of them. They thought I was this gushing fan! Now, I can talk to Ian as a mate but there's still a bit of gushing fan in me! He's genuinely taken aback at the fact the Mott The Hoople reunion has taken in five nights at Hammersmith Apollo.
What Mott made me realise was just what a wild rock and roll band was about and who could play commercial ballads and they raised the bar. But then other bands could come along and blow your socks off.
Such as.....
Genesis blew your socks off. You weren't expecting much but they had had one dodgy album out and I don't think Trespass had been released yet. Peter Gabriel comes on telling these five minutes stories and the crowd hanging onto every word. By the end of the set with The Knife it was all hayhem again! They appeared at the following Grammar School dance at Christmas 1970!
It was starting to become obvious that the Aylesbury audiences were starting to go mad over them over other venues where people just sat on the floor rather than standing up and leaping around like they did at Friars. It was a great club and younger people came and didn't get drunk. I came for the music and when Andy Dunkley (resident DJ) was playing stuff, I was peering over the deck to see what he was playing. It was all new and exciting. I remember I had to go over to Princes Risborough to see a girlfriend on a Monday night which was really annoying (as it clashed with Friars) and when I got the bus back to Aylesbury I realised I could to the last 30 minutes of Friars, and when I got there, Freddie King who should have been on had been replaced by Black Sabbath! That was great, although there weren't too many there. Those there were blasted by their wall of sound!
Graham Bond was another one. He was one of the great originals. He played twice and was very friendly. He was out of head, mind! Van der Graaf, Hawkwind, Renaissance. There were some great bands. I didn't miss any of the 1970 gigs and it was the highlight of my week. It was a tragedy when it got closed down.
Tell us about Andy Dunkley...
I was always into DJs and I used to listen to John Peel - every show from around 1967 and a lot of those bands he played on Top Gear or The Perfumed Garden I saw live at Friars. Andy Dunkley would turn up with records like Quicksilver Messenger Service and as I mentioned earlier, I would lean over his decks to see what he was doing and playing. I bought many an album on the strength of Dunkley playing them. The first record at Friars was Bad Moon Rising by Creedence Clearwater Revival. I've been a DJ now in one form or another for 39 years. He planted the seeds of it in my head.
And like Dunkley, you're in the position to influence people...
You don't realise it at the time, but yes you do judging by mail I have received. I had the John Peel ethic of playing anything. He would play techno next to folk. Later he would become a mate and started playing my records. He spoke to my mum trying to contact me to say he was playing my record! There was no dark side to him, he was a lovely bloke who was so passionate about music.
But Dunkley set the mood for Friars and there weren't many DJs at the time.
What did you do in the period after it closed down and went into exile?
By then I was starting to go to London and was playing with John Otway. I also started at Aylesbury College in September 1970. By the time Phase Two started, we were in a position to be a support act. We had been a four piece Otway band and I remember us doing 'Heroin' (Velvet Underground song) at the Grange School (Aylesbury) and we hoped to get serious. We badgered David (Stopps) for a support slot and he tried to put us on with The Faces at Watford Town Hall. It didn't happen though. However I saw The Faces at Friars in Watford.
On the opening night on Phase Two in Aylesbury, we, along with Phillip Goodhand Tait supported The Groundhogs. I remember talking to Ken Pustelnik from The Groundhogs who was one of my drumming heroes along with Steve Broughton. I was trying to replicate a drum kit on my bongoes. It was my party piece and I am sure it's why my hands ache now!
You started to do the flyers now in 1971 and they were quite distinctive
Yes, they had rabbits all over them!
From reading your book, I know you've had a life long love of them?
Looking outside now, there's four baby rabbits, so nine in total! I've always had a rabbit except when I lived in New York. I met my wife through rabbits and Primal Scream gave me a rabbit for my 40th birthday. I've been drawing cartoon rabbits as long as I remember. I thought that Friars could do with a bit of identity so I stuck rabbits on them!
Job done then! I was looking forward to seeing The Pretty Things (2009) one just to see if the rabbits made a re-appearance. I wasn't disappointed!
I was surprised I could fit all the information in on that one, it was quite tricky.
Back to Phase Two...
I remember David phoning me for advice often and once asking about a band called Can. I said they were already legendary and then he phoned back a couple of hours later saying they had been booked and was asking me to do the flyer! I remember doing the MC5 flyer from 1972 in The Dark Lantern (pub in Aylesbury) on a Friday night when it was needed on Saturday (to give out) I sat and did it amongst the Friday night drinkers! It was great fun.
You got £1 a time for the flyers didn't you?
(Laughs), yes, that was a fortune and then the same as I was getting for my Saturday job! I also used to get into the gigs for free which was handy.
What else was special about Phase Two?
There's too many things to mention. But there was Bowie coming back as Ziggy Stardust (which he had said he would do), Lou Reed, Mott The Hoople, Roxy Music. That went on for years right up to when I started working for the Bucks Advertiser. I was still going every week. Then we started the Roxette. It was really exciting, Phase Two, having this venue that was renowned and that bands wanted to play.
There was Queen as well. Phase Two was great, but the playing with Otway days came and went. He went on to play with Willy Barrett and he's still doing those songs we did then! It was good fun playing with him, but I was upset when he went off with Barrett. I've still got the bongos!
Looking back at the Borough Assembly Hall it was funky, the facilities were dire. The gents only had two toilets, the bar was small and the dressing rooms were primitive. It looked like The Grand Ballroom in Detroit, a bit run down, but it was great when it was packed. I watched Can do a three hour set there. It felt like the hall was going into orbit. They were so influential and years ahead of their time. A stunning band. They influenced me and as I found out so many others as well. I wasn't a big fan of such bands like Stackridge or Capability Brown. They were nice blokes, and popular at Friars but they didn't grip me like Lou Reed or Can. We should have had the likes of The New York Dolls who were the most dangerous band around. We needed something like that to shake things up.
And onto Phase Three....
At the Bucks Advertiser, I had covered the last night of Phase Two and I was summoned to the Civic to do a piece on the new venue and who ended up playing on the first night? Me and Otway supporting Greenslade!
I've got the photos from that night! I have still to get Geoff Tyrell's pictures up but you playing bongos is there!
Oh no! Geoff and I worked together at the Advertiser. Pete Frame and I used to meet up at lunchtimes. This was how the Roxette started.
To cover/promote the Aylesbury scene?
No, we had vastly different motives compared to The New Roxette. We wanted to pretend that Aylesbury was the centre of the earth in terms of music. We thought that devoting a magazine to the local music scene which was getting bigger week by week, there were regular pub gigs in places like The Bell, we thought let's pretend Aylesbury's like the Mersey Beat boom or something. Frame even put me a band together, The Aylesbury Bucks, which apart from me also featured Robin Boult (talented local musician who has played with Marillion, Otway and Howard Jones) and he got us to cover his record collection, all this garage punk from the 1960s. The other reason (for starting the Roxette) was to have fun and to take the piss basically. We never let an issue go by without ridiculing someone and having fun in the process.
We wanted to be dangerous. We were a punk fanzine before they were invented. We wanted to upset the applecart and to form bands. This was what Sniffin' Glue was doing (first punk fanzine). It was a punk fanzine trying to get people off their arses and to do something. Magenta De Vine (also one of The Roxette people), Frame gave her that name and she still uses it! It was a laugh.
What about punk though?
It took ages to get punk on at Friars although we did have The Flamin Groovies in 1976. I had just been on tour with them as I was writing for Sounds then. I met the Clash too. I got involved with local promoter Chris France (a promoter with WFE promotions) and he put on The Clash in Leighton Buzzard at the Tiddingfoot Leisure Centre in October. That's how I first met The Clash and that changed my life completely. Mick Jones has been my friend since then.
Then you edited Zig Zag?
Pete Frame had been running Zig Zag, but he handed it over to me. At one point we were doing this and the Roxette at the same time. It was an exciting time. As I said, The Flamin Groovies was the first punk show we had on at Friars and David finally put The Clash on in 1978.
We also had The Ramones in 1977, one of the best nights the club ever saw. Having interviewed them for Zig Zag, they said Aylesbury was one of their favourite gigs. The Ramones and The Groovies were great. Zig Zag had started to take off and I ended up on tour with bands, I remember Siouxsie and the Banshees and their next gig (on that particular tour) was Friars and I remember going through the Market Square in their tour bus past the queues with Siouxsie hanging out the window.
You've had a good life haven't you!
Yes, it's been fun and Friars was the foundation for that.
After a couple of years or so, because of your work, you attended fewer gigs?
I was in London or on tour with bands. The Groovies, Blondie and others. Then I started managing The Basement Five. And I also ended up abroad a lot. I moved (to live) to London in about 1982 where I shared a place with Youth of Killing Joke.
But...Friars was unique for carrying on for so long, and got through lots of trend and obstacles, even such things like power cuts and generators. Also skinheads and some of the things that punk brought. Although these were better compared to some things going on!
I've been lucky though (with my journalism) as I only ever meet people I want to and it's been years since I've written about anyone I'm not into because life's too short. I've been lucky enough to interview Keith Richards, Bob Marley, Captain Beefheart, Kate Bush...
I've got to concede to jealousy here with Kate Bush!
She's great, I interviewed her three times and got on really well. I got Youth playing bass on one of her albums. She took a lot of stick, but I stood up for her.
With Zig Zag, there was always a Friars element in it. The Kid Creole article was centred entirely around the Friars 1982 gig. I write for Mojo now, which is technically Zig Zag as Emap bought it and buried it paving the way for Mojo. Mojo is a spiritual son of Zig Zag, whereas Shindig is the modern equivalent covering the same kind of bands and looking like it. At Mojo, they are all so into music and that's what drives them. That's what so great now as I don't know what kinds of emails I am going to get. Do I want to interview Marianne Faithfull tomorrow? Oh great!
And with the Friars 40th anniversary?
It's going to be weird seeing some people I may not have seen for forty years. Back then, school kids a year older looked down on you and you thought they'd been around the world, but now we're all in the same age bracket, it will be interesting to meet people you haven't seen for so long. I can't wait to see who pops up!
I have to admit, I never imagined myself going back to Friars after 25 years!
It's going to be very interesting for me approach something again that I walked into as a wide eyed fourteen year old and was bowled over by every aspect from the groups tuning up to the light show to the records. It's going to be weird, the fact that it's going to be me playing the records as a seasoned 54 year old! I've done more in those forty years...you know if you told me Keith Richards was going to ask me round for a drink with no interview, I'd never have believed you. I've had some great times as well as a fair share of disasters. Friars was one of the key elements in my life, along with Robin Pike's coach outings and Zig Zag magazine and it's great that we're back.
Thanks very much Kris.
This interview and its content are © 2009 Mike O'Connor/www.aylesburyfriars.co.uk and may not be used in whole or in part without permission.