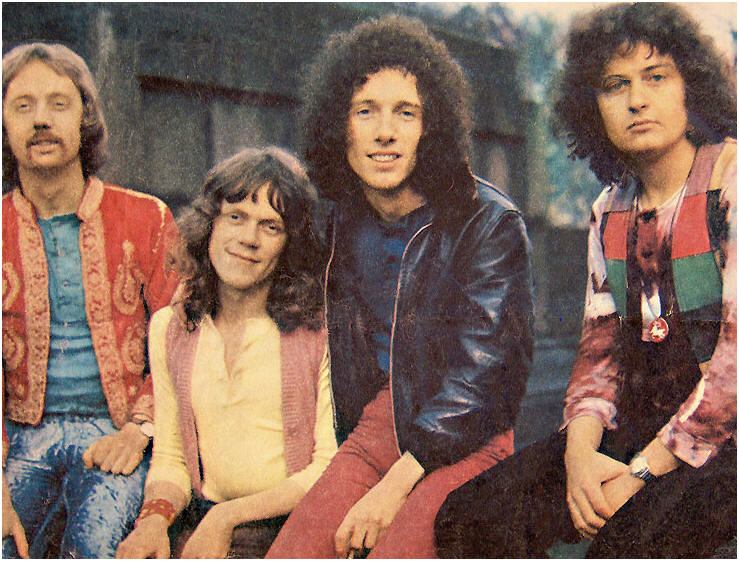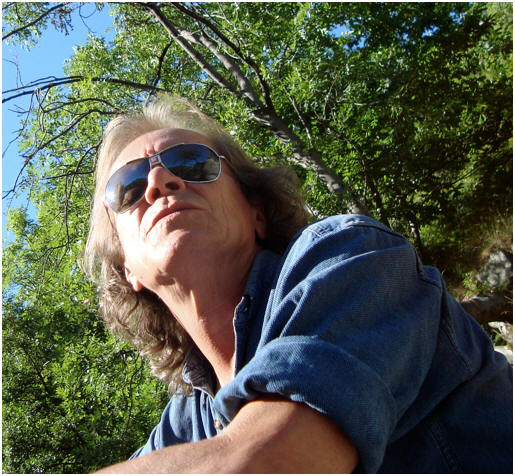 Rare Bird 1970 (Mark is second left) and Mark today
Rare Bird played Friars Aylesbury twice, but in effect two different bands four years apart. The original Rare Bird played in 1970 around the time of Sympathy, arguably their best known song which went on to sell some two million copied. We caught up with drummer Mark Ashton at his home in Nice, France where he tells us about the band, what he has done his since and his career as a painter.
Mark is musically active again and will be recording material this year and playing gigs again, just in France for now sadly.
Hello Mark, thanks for talking to the Friars Aylesbury website. Rare Bird played Friars Aylesbury twice, in 1970 and 1974. I know you didn't play the second one. But you did the first one, around the time of "Sympathy". That song was massive for you wasn't it?
It was such a huge hit on the continent and we got onto the Top of the Pops in Britain with it. It was number 1 in France, Italy, and Top 5 in Holland, it's comparable to say Whiter Shade of Pale in France.

It's very well remembered I think - wasn't this around the time you signed to Charisma? I think you were one of the first bands to sign to that label weren't you?

We were the first one. I was the last person to join the band after they had been looking for a drummer for about a year. I had been playing gigs since the age of 12 and I had done gigs at around 16-17 supporting Big bands. This was in London and I found out about this guy, Tony Stratton Smith, who managed The Nice. I then introduced Tony to the rest of the band when I joined. He came to hear us play and he signed us when we found out he also ran a label and we were then making an album in no time at all. We released the Sympathy single in Europe and it then got picked up and covered by Family Dog, a Dutch band and we had actually played on the session. The cover version went top five in Holland. Then the label released our version here in France and it became an enormous hit.

Although not unique, it took a cover version of your song to actually push yours out.....seems only right rather than another band taking the credit for it. Around 1969-70, what was it like for Rare Bird, was it like the single, in that you were bigger on the continent rather than in Britain.
That's true. But we had residencies at The Marquee and used to play clubs like Mothers in Birmingham but our market was in Europe. We did play big festivals in Europe with other bands and eventually the decision was made at a band meeting, which I disagreed with, to concentrate on England whereas I felt our market was in Europe. We did a tour in the U.S.A., won praise from the press but nothing was really followed up.
There is a common theme with so many bands from era when I have been researching them and they have been simply mis-managed. It's difficult to understand with the constant gigging and the records, why they didn't have greater success.

Yes, Spooky Tooth being one - they were big but could have been so much bigger.
This must have been hugely frustrating?
Yes it was. When we were big in Europe and abandoned it and concentrated on Britain, I thought it was madness. The band broke up and reformed a couple of years later. As you know I eventually got out of music for 16 years. I started up again last year with a great band. and started to enjoy it again. That interest is because of I wanted to share my music again.

We'll come back to that. Your new stuff which you sent me a few weeks ago, I forwarded to people and onto the Friars social media, it's great stuff. It's great quality.

Thank you.

It's obvious that the management should have concentrated more on you in Europe isn't it?

Absolutely. After I left the band when it folded the first time, Tony Stratton Smith called me into the office and asked me to stay with Charisma, offering me £40/50 a week, good money then. With the amount of records we sold, we should have been rich, but our contract was so bad. It was heartbreaking, which is why I joined Trident Productions who also managed "Queen".

With my modern 21st century head on, I still find it incredulous that the music business was so unkind to hard working bands. I've heard it first hand from other artists selling huge quantities o records and sold out concerts saying "where's the money?"

If you have a hit record now, you get paid.
I think that bands today are and have to be more savvy, getting legal people involved and so on to ensure a fair contract. I mean you sold two million copies of Sympathy.........you should have been comfortable.

Yes we should have been.

Seems that then management and record companies were out for a quick buck and using you guys as the cash cows. A sad indictment of the times I think.

Yes, it was like that.

When Rare Bird came back to Friars in 1974, I think you'd moved on by then..
I'd moved onto Trident as I mentioned, and also the band's sound and style had changed by then. It was a different band anyway.

After you moved to Trident, you did a couple of albums....

I did a couple of albums as Headstone. I used Atomic Rooster's guitarist Steve Bolton who I had seen play at a festival in Belgium and thought "wow!" We were the nucleus of that band then I did a solo album in 1976.

That wasn't the only solo work you did though, you made some solo albums some time after.

Yes, I did an album for Ariola. I then moved to New York.

You also later landed a contract with Sony France as a writer/composer - was that with a view to solo material or writing for other artists?

I was writing to the best of my ability songs that other people might be able to record. One was a Tom Waits style for example. But I was so used to writing for myself, I wanted to try something different. I went back to New York and started a little record label.

So, after you'd signed for Sony, they wanted to make you a writer for hire?

The idea of the publishing deal was that I would write some songs which could then be offered to Sony UK, Sony New York etc and try to get some of their artists to do some of my songs. It didn't really work out that way though.
So you put your energies into the record label in New York - you were living there by this time?

I'd moved to New York in 1980 and got signed up by one of the biggest management companies in America, Lieber and Krebbs, who looked after the likes of Aerosmith AC/DC, Def Leppard. I never got the record contract I wanted though. So I went after private sponsorship and found it. Someone gave me the time to work and record. I went to Hollywood in 1985 and then got signed to Sanctuary management which led to a record contract with RCA and teamed me up with Paul Rothchild, the legendary producer of The Doors. That lasted for a few years.
Whilst you were in America, weren't you also working in the theatre?
Yes, that was down to Lieber and Krebbs who produced Beatlemania on Broadway. I did a couple of things for theatre. They also put me up or a play about John Lennon. I don't look like him, (they were asking) can you talk with a Liverpool accent and I ended up being auditioned by the guys doing Beatlemania on Broadway! Going back to New York and the little record label, the plan was to make a good record and place it with a big label and hopefully get my money back. But if that had been in 1990 I might have fared better. By around 1996/1997/1998, there were so many little record labels like me all trying to do the same thing. Did I miss the boat? I did and then I got back into art. After about three or four years doing that, people were saying I could do this for a living. After all, the record industry was falling on its arse, I thought I'd had enough. So I went to Spain working my arse off changing my style.
The art had been in you since childhood I presume?
Yes it had.
Now you were getting it out.
I'd been interested since I was a boy. Back in Rare Bird, I had three bass drums that looked like a work of art! I'd always been creative that way. The art thing, I started up in Spain and a friend in the UK knew Brian Sewell, the acclaimed art critic and offered to set up me meeting him. I'd never heard of him! But friends told me if he didn't like me, he'd tear me to pieces! I gave him a call and he couldn't guarantee anything. But he was very cool and loved my work and my colours. He was extremely kind and supportive.
When did you move to France?
2003 before Spain, 2008 after Spain.
Was that for a change of scenery based on your decision by then to go full time with your art?
Yes it was. I was in France for a short while, then Spain and then things started to change with the art and I was encouraged to keep on pushing it and not be like anyone else.
Looking at your art, I have seen that you have been in the extremely fortunate position to have exhibited your art across major cities in Europe which is fabulous.
Yes....and Julian Lennon bought a painting from me last summer. A friend of mine in Monaco knows Julian well so sent him details of my website and I got a phone call saying "a friend of mine wants to buy a painting, how much much do you want?" So I asked who his friend was and he wouldn't tell me and I then found out it was Julian. He's a lovely bloke too.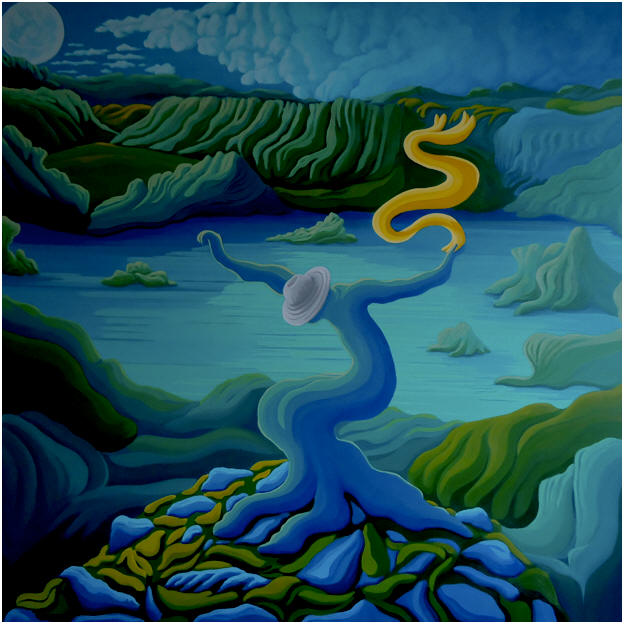 The piece of art Julian Lennon bought from Mark.
Having seen a lot of your art, there's some beautiful stuff, colourful and eye catching. I did notice though, that for your art, you've become Mark Vey. Was this to distinguish so that you weren't "Mark Ashton of Rare Bird"?
Yes, because Mark Ashton was a name I made up at 18. My real name is Vey, but Mark Ashton sounded a good name to try to be a rock star with!
As we mentioned earlier, you're back in the music game....
Yes....My new band is called "Mark Ashton Project". We're in the studio in April, we're being financed by the council in Nice to contribute (to the local scene). It was "Sympathy" actually that opened that door to us. So they've given us some money to play gigs, we just finance the PA and lights. We've three gigs, each about 500 capacity. I'm working with some young guys who are great and I rehearse them once a week and it's getting better and better and better. We're doing songs from the Headstone days and newer stuff. I hadn't written for years and thought I 'd lost my touch but it's all coming back. It's nice to be able to paint everyday and concentrate on my music. That is exciting! I believe that everybody has got god given gifts and therefore we must share.Where are the gigs? Around the Nice area where I live.
Very nice, you've missed all the snow here! Fantastic art and also as great that you're getting music out again.
If you'd told me 20 years ago I was going to be getting art out there I'd have said, "are you kidding me?!" It's a difficult time to sell art at the moment with the financial difficulties round the world, but there's a way, there's always belief. You have to believe yourself, like everything else.
To finish and something I mentioned to you a few weeks ago....we held a special night at Aylesbury Museum dedicated to the 1969-1970 era and unbelievably the day before, the poster from your 1970 gig was unearthed after nearly 43 years!
That's amazing isn't it?! I saw it on the Friars website.
Mark, thank you for your time and best wishes from all at Friars Aylesbury. You've a fascinating story having been located in France and America and good luck for the future with the art and the music.
Thank you.
Official Mark Vey art website: http://vey-art.wix.com/mark-ashton-vey-art
Official Mark Ashton music website http://mark-ashton-project.wix.com/mark-ashton
This interview and its content are © 2013 Mike O'Connor/www.aylesburyfriars.co.uk and may not be used in whole or in part without permission.