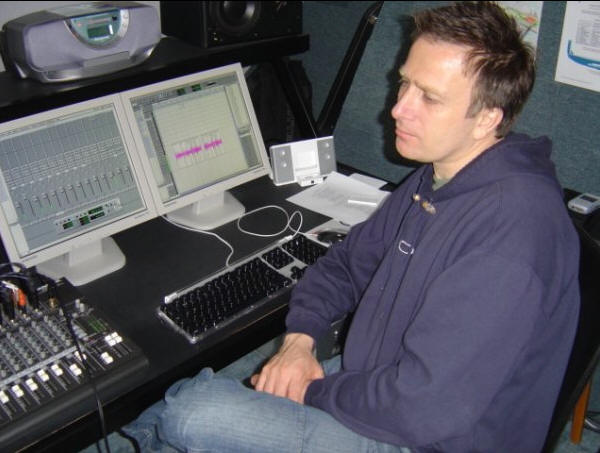 Mick at work in his studio (photo: Mick Lister)
Mick is another of our local legends. In bands since early schooldays, he came to be known to the Friars audience through The Stowaways brand of mod rock, playing no less than four times in 1979, and again in 1980. He came back to Friars in 1981 in another local outfit Dream Soldiers. In 1982 he played as support to the legendary Kinks in new band The Truth and he fulfilled a dream one year later when he headlined Friars with The Truth who had by then found the pop charts with the great single Confusion. Mick has remained active in the music industry managing and creating and works from his own studio in rural Buckinghamshire keeping close ties with Aylesbury.
We caught up with Mick at his studio in March 2011.
Thanks for talking to the Friars Aylesbury website. Actually your first Friars appearance supporting The Lurkers was quite unique. One of the Stowaways was 15 and minimum entry to the club is 16!
Yes! That was Ray (Rowswell)
By the time of The Stowaways first appearance, you'd been together a while, but how did you get together as I know you went to different schools?
We started as a band when I was 11! Me and Cliff (Rowswell) were in the same class at primary school and we lived close to each other in Aylesbury. We struck up a friendship and decided to form a band. I'd got my first guitar from Woolworths for £14! Cliff bought a drum set and Ray bought a guitar. We started to gig round social clubs in Aylesbury playing covers. We didn't have a bass guitarist. And because we were so young we entered talent contests and this was at the time As It Is were the big local band (featuring Mike Carroll and Pete Lumley who went on to form Cruise). We were looking a bass player and Adrian Bailey lived across the road and he had a bass guitar so he was in the band! Usual story!
Adrian went to the Grammar School and with Robin Pike there was the Friars connection which helped us played the Christmas sixth form dances. We called the band The Stowaways which thinking about it was a shit name really! Then we started to write songs. The punk thing had come in then though, but I was more on the Beatles melodic side. But we were influenced by the likes of Buzzcocks and The Jam. Adrian and me wrote most of the songs. Adrian was a big Jam fan. Our image was a kind of 60s mod type thing.
I was going to mention that as your next appearance at Friars in 1979 was on the Secret Affair/Madness gig which was obviously a ska/mod bill, I certainly remember you being bracketed into the mod scene locally.
Well, I was always a Weller fan and a massive Who fan. Pete Townshend was a huge influence on me. There was a big mod revival at the time spearheaded by The Jam and it was a really exciting time. We loved all that sort of music - we gave it a go and it was good fun. I was always more excited about supporting Madness that I was Secret Affair.
I think Friars caught them (Madness) at exactly the right time when they were on the up and they played and sold out Friars three months later.
An amazing band with a great atmosphere and great songs.
My first experience of The Stowaways was at the Gang of Four gig in November 1979. I guess one of the advantages of being a local band is you could be called upon at short notice if there was a problem which in this case was Swell Maps pulling out.
We were just gagging for gigs anywhere really and playing at Friars - well there couldn't be a much better place to play. Adrian would get a call from Stoppsy and it went from there. I'm not saying that The Gang of Four was the best type of gig for us! But we were up for that.
I understand fully why you got the call, but musically it was perhaps a bit of a mish mash.
But it's good to get those sort of gigs where you might get something thrown at you! (not that it did) and not have a ready made audience.
The last gig of 1979 also saw you replacing a band at short notice.....supporting Madness!
That was the Christmas party gig? We were never going to turn that down!
That was the last time The Stowaways played as a four piece as by the time The Stowaways played again supporting Bad Manners in summer 1980, Adrian had left so obviously it had changed.
Adrian was a very bright kid and he left to go to university. I was probably the only one who was driven to want to make it as a career. Adrian quit as he furthered his education. We worked as a three piece for a while but I found I was doing everything, I was writing the songs, sorting out the rehearsals and so on. We made an EP which was financed by our school drama teacher, Andrew Bolton, who became our manager for about 10 minutes! He was a lovely guy. We did a few school gigs but I don't think The Stowaways were destined for anything more than local gigs, but that wasn't enough for me.
So at this point, you must have decided you wanted to be a full time musician?
I'd kind of decided at 8 years old. Music was everything for me. And football but I couldn't play at a high enough level. But once I got a guitar that was it really. I was sure I was destined to do this. After the Stowaways split, I formed a band with Spencer Harris who used to be in The Liggers (another Aylesbury band who played Friars).
So that must have been Dream Soldiers?
Yes, that was awful. We didn't really have a good drummer and it just really wasn't a good time for me.
You played Friars once as Dream Soldiers supporting Steve Harley.
Yes, it was a time when I was searching for something better than what I was in....which ultimately led to me auditioning for The Truth.
I was coming on to that!
With the Dream Soldiers, Dave Stopps didn't like name! He was like "what are you doing?!"
I never saw the band sadly.
I think being the local lad you look around and see what's around for musicians. And at my age a lot of people were going into higher education so I was tired of being that 18/19 year old. And I think I was at a musical crossroads by then and by the end of the 70s/early 80s, the likes of U2 were getting noticed for example.
It started to go really good for you when you auditioned for The Truth. One of the best gigs I ever saw at Friars was Nine Below Zero....
I was there!
It was awesome. I had heard so much about them before I saw them, bought a couple of records and they should have been so much bigger.
Actually it was Spencer Harris who phoned me up at work and said that Dennis Greaves from Nine Below Zero was putting together a new band and should we go for the auditions. I said "oh fuck off, we'll never get that!" and then I thought OK I'll do it. I was a massive Nine Below Zero fan and saw them all over with Neil Smart (legendary Friars security man). The audition was surreal being auditioned by Dennis Greaves. I got the gig and Spencer unfortunately didn't. So many guitarists went for that gig and he obviously saw something in me that he liked. We got on and started a writing relationship straight away.
Your seventh Friars gig was supporting the Kinks as The Truth in 1982 and I remember you weren't bad at all. Come 1983, you're on Top of The Pops and headlining Friars. Great times!
To headline Friars was one of my ambitions. I think when you are young, your ambitions aren't too high and to headline your local town at the premium gig is an ambition. That will always stick with me.
It's got to be a big thing, the local boy with your name written large on the posters in your home town. You're in select company with Otway and Barrett, Marillion, Kajagoogoo and Howard Jones.
It was a bizarre time for me because our first TOTP was also Marillion's first TOTP and we were backstage chatting and it was a big thing in the local paper - local boys do good on TOTP, it was quite surreal to see people from Aylesbury on TOTP!
The Truth carried on till about 1989?
Yes, but we made a lot of mistakes. I was a local boy going into a big arena with Dennis Greaves and we got signed to Warner Brothers straightaway and we chose all the wrong producers! We could have had Langer/Winstanley and we ended up with Swain and Jolley who had done Spandau Ballet??.......there were a lot of things in hindsight we did wrong. We had a couple of hits and the new indie music swept in and Warners dropped us, but we got picked up by Miles Copeland and the IRS label which was a lot cooler. But they wanted us to lose any 'mod' tag and break America which we nearly did but IRS didn't really have any money. We had a top 5 radio hit at the same time as U2's With or Without You and were on MTV 12 times a day. It was amazing but they didn't have the money or the clout to push us further. We made an album for six months in LA with some great musicians from the likes of Mr Mister and Huey Lewis and The News. It was a good time but all good times come to an end.
So tell us what you're up to now?
I am now a songwriter and producer and had several top 10 hits and worked with acts such as Amy Winehouse, BB Mak, Dum Dums, Holly Valance, S Club, Gareth Gates, a load of pop stuff and some cooler rock stuff. Have just collaborated with legendary record producer Hugh Padgham ( Police, Phil Collins, Genesis, Sting) on a project for big film TV Music company "Extreme" who are based in LA. Just finished 2 albums for that. Also I am a partner in a management company called West 4 Music.
Cheers Mick and all the best.
This interview and its content are © 2011 Mike O'Connor/www.aylesburyfriars.co.uk and may not be used in whole or in part without permission.