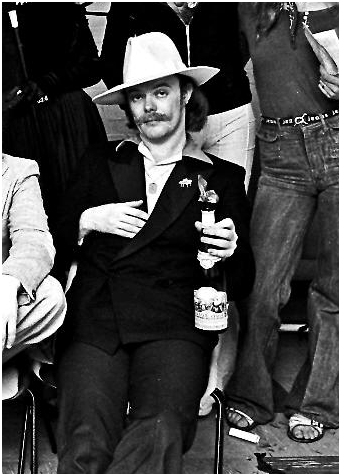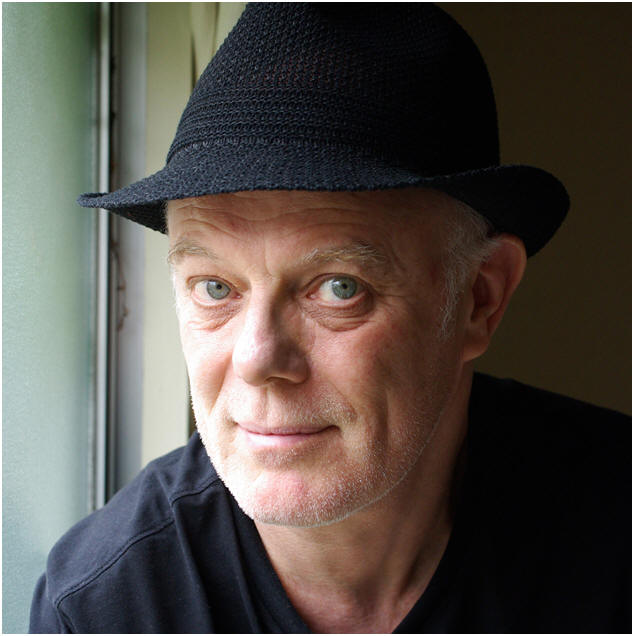 Morgan Fisher backstage at Friars Aylesbury in June 1976 (Geoff Tyrell) and more recently
Morgan Fisher joined Mott the Hoople in 1973 and just missed out on playing Friars but came back with Mott and The British Lions in 1975-77. We were lucky to catch up with him as he left Japan for London where he will be exhibiting some of his artwork and also taking part in a few Mott The Hoople, Meet The Keyboards gigs with former Mott the Hoople members Mick Bolton and Blue Weaver. Regale in his thoughts on his career, Friars, Yoko Ono and Japan and the forthcoming Mott the Hoople reunion.
Friars Aylesbury Website: Morgan, thanks very much for talking to the Friars Aylesbury website. Your music career goes back to the very early days of Friars when you were playing with Love Affair and of course the immortal Everlasting Love. This was hugely successful and when Steve Ellis left (later to play Friars with Widowmaker co-incidentally with former Mott man Ariel Bender), it must have felt the rug had been pulled somewhat?
Well naturally it felt like that initially, but rather like when Ian left Mott, I soon thought - here's a chance to contribute more of what I do musically than I had done before. So with Love Affair we got in a singer who also played guitar and flute, and we "went heavy", changed our name to L.A. and started doing much more interesting music. Kiss of death for the band of course! But all good grist to my musical mill. I think ever since my dad left home when I was 16 I've adopted a kind of "ho hum, well let's get on with it" approach rather than wallowing in regret.
How did the band react as it wasn't quite the same afterwards commercially?
Well like I said, we enjoyed experimenting more musically - making use of CBS's new 8-track (wow!) studio, and mellotrons and things like songs in 5/4 time. John Gee, the manager of the legendary Marquee club, was brought in to write praiseworthy sleevenotes and gave us a residency at his club. And later our drummer Mo Bacon and I formed a prog-rock band (modestly named Morgan) with Tim Staffell (singer of the pre-Queen group Smile) and took things even further. So I got to know Queen before they were Queen. You see, in retrospect it all pans out rather interestingly. I have never had a career plan, never will...
Your musical credentials are immense. You're probably best known for being part of Mott the Hoople, do you see this as a millstone round your neck? I'm asking as not everyone will realise your full talents over the last forty years!
Well I can't deny that Mott is obviously a peak in my career, in terms of reputation and commercial success. And it was nice that with "The Hoople" album I was able to contribute something to the musical broadening of the band (although in retrospect I can see now why many people prefer the raw early Mott - "Brain Capers" is stunning - I hope they produce some of that "wildidity" as Overend calls it, at the upcoming shows). I had hoped that the musical exploration would continue when Mick Ronson joined, but it didn't work out that way in the end. Ian, perceptive as always, called me "the icing on the cake." It's a role I think I do well, adding some colour and spice to what's happening. When left to my own devices I sometimes flounder a bit before coming up with my own "cake". After the Mott/Lions era ended I decided to go it alone and came up with several bizarre "cakes" in 1978-80: "Miniatures", "Slow Music", and "Hybrid Kids" - all cult albums in their own way. So if being an ex-Mott helps bring people's attention to other things I've done, all well and good, it was a great collaboration for a while, but eventually I've always followed my own musical path.
I don't think you played with Mott the Hoople in Aylesbury in February 1973 ( am I right in thinking you joined shortly after that) as the band was starting to getting really noticed. What do you remember of that period?
You are right, spot-on. I remember some hopelessness because my prog-rock band had folded and I was thinking of giving up music. I drove a delivery van for an off-license (at least I was still making people happy!) and thought of doing something mad like emigrating to a farm in Mexico. But I kept my eyes on the back pages of Melody Maker for jobs in bands, which is how I joined Mott. I hardly knew their music at the time, having seen them play only once maybe a year before and not been overly impressed (I was very prog at the time) except by Overend's hair! It was after joining the band that I gradually realised what monsters of rock they really were.
When Ian Hunter and Mick Ronson left the band, was there any doubt that you could carry on?
We regrouped pretty fast and got straight on to auditioning new singers. A pretty glum process until one guy came along who had a voice that went higher than anyone else's, and seemed like a suitable front man for a sparkling new edition of Mott. There was no way we wanted to try and get a singer who was similar to Ian - there aren't any anyway!.
What did you feel Nigel Benjamin and Ray Major contributed to the revamped Mott?
Like I said, Nigel had this voice that went up and up, so we made use of it and had him really stretching himself. I gather from recent vitriolic statements online that he now (to put it much more politely than he does) feels his talent was not fully used in the band (I mean regarding songwriting), but we had to establish a direction from the start otherwise we would have floundered. That direction came naturally from Overend as principle songwriter, which I respected. Remember, the band was still called Mott, and Overend and Dale were there even before Ian was. Ray was totally great as a player and as a band member, just a joy to work with and a very cool-looking dude too. By the way, Ray's health is not good now, please spare him a moment's thought if you feel to.
You came back to Friars in 1975 as Mott and we have a huge page of photographs (below) from your 1976 appearance to commemorate Friars 7th birthday. Good times?http://www.aylesburyfriars.co.uk/geofftyrellgalleryeight.html
Very good times and very nice photos, especially Overend's mum, what a dear lady. I was at the peak of my hat/moustache phase at that time and thoroughly enjoyed it - although my drinking that much that often probably concealed some frustration. Possibly because we were beginning to realise that we missed this powerful presence at the front-centre of the stage that we'd been used to in previous years. Having a multi-octave voice doth not a front man maketh... But Friars is a hotbed of manic rock lust and voracious moshing happiness and we always loved playing there. On that page of photos it is the audience far more than the band who are claiming the space, laying down the law, stampeding joyously into rock nirvana. So there!
You played Friars for the last time in 1977 as The British Lions. What led to the band adding John Fiddler and renaming the band?
My doing. I'd known John Fiddler for years and adored him and his music in Medicine Head. Then he invited me to play their farewell tour, and when the time came to replace Nigel he was the glaringly obvious choice. And fair do's, he specified that he didn't want to be just another front man for just another incarnation of Mott. We would be playing some of his songs and it needed to be a new band. We agreed. Unfortunately we chose a name that he didn't like at all - mainly to try and catch the US market, as punk was happening and we knew our chances were slim in England. Sorry John!
At that British Lions gig at Friars Aylesbury, Christmas 1977, a certain Ian Hunter played on the encore singing All The Young Dudes, a lovely surprise for the discerning Aylesbury audience!
Must have been a real treat for the audience. It gave us a lift throughout the whole gig knowing that there was this cool surprise coming at the end of it.
As I mentioned earlier, you have impressive credentials. You played keyboards on Queen's 1982 world tour, a far cry from your US tour in 1974 when they supported Mott the Hoople! Must have been an interesting time...
More interesting first time round I think. There is consummate professionalism in Queen but not as much madness and spontaneity as there was with Mott. Except for Freddie of course who was a law unto himself and brilliantly entertaining every night. But I didn't quite fit with Queen, so it didn't last long.
In the mid eighties, you moved to Japan. What brought round what must have been an extreme change of lifestyle?
Oh I am used to those! Again there was no career plan - I was taking a much-needed break from the music world, and hanging out in Hollywood. I decided that didn't suit me and on a whim decided to look at Japan. I never looked back, it suited me at once and still does. If I ever leave I think I will always go back there.
It's given you the opportunity to work with a wide range of Japanese artists including a certain Yoko Ono. Whilst Yoko might possibly be the most recognisable name (outside Japan at any rate), what has given you your biggest pleasure musically in Japan? You're known for your ambient and improvised works there certainly.
Yoko was great to work with, totally focussed and on the ball. After recording her (in her hotel room!) she called me several times from various places around the world, asking how the mixing was going, and later sent me Christmas cards. Other pleasures here have come from playing with certain musicians - a singer called Sizzle Ohtaka with the purest voice I've ever heard (she's on youtube), collaborating with a brilliant modern ballet dancer named Kisanuki Kuniko, jamming on synth with chanting monks in a temple in the mountains (Brian Eno played there too), etc. One of my greatest delights is playing every month (for 5 years now) by myself at a very cool club called Superdeluxe ( www.super-deluxe.com ). I call the series "Morgan's Organ" (you can hear many live recordings at www.myspace.com/morgansorganmusic ). I just walk on stage, with a different selection each month from my vintage keyboard collection, and improvise continuously for 40-60 minutes. It's a risk and always produces something new, almost like instant composing. Only in Japan, where the audience are so receptive and polite, could I have got up the nerve to start doing it (I'd like to do it elsewhere now). In the very same club totally different things also happen - I found myself jamming with Mike Watt (Iggy Pop's bassist) there just the other day. So basically I feel totally genre-less, undictated to by trends, and free to be and do as I like here, which suits me just fine.
You've been in Japan for some time now and is presumably very much home. Do you ever see yourself coming back to Blighty at any point (to live)?
25 years just zipped by and I guess I have deep roots here now. I tried to leave twice when I was feeling frustrated here for some reason. Both times it was a mess, nothing new happened and I wasted time and money. I am content now to be patient and wait for new doors to open, new bridges to be built, as they always have been. In recent years I have been doing some collaborations by mail - sending music tracks back and forth. I made an album with ambient music pioneer Roedelius without meeting him. I arranged (and sang on) a song for a Soft Machine tribute album by the Delta Saxophone Quartet, and most recently I played on two tracks on a charity album featuring John Fiddler, which is due for release soon ( www.damagecontrolmusic.com/charity.html ) Who knows where these new contacts may lead?
You have had a lifelong love of photography and return to London in October to exhibit some of your work, you've already had many exhibitions in Japan. You're an exponent of 'light' paintings which are incredibly striking. You must be looking forward to the exhibition.
Thanks for your kind words. Yes I am indeed looking forward to the show. It is a short exhibition, just a first toe in British waters, and I've combined it with some photos I took of Mott on tour and in the studio. It is an odd combination but actually for me it isn't. I have explored many things and hopefully grown up a bit in the years since Mott and doubtless our listeners have too, so I hope some of them may enjoy my new work as well as the fun and nostalgia of my old snaps. As far as I am concerned, creating the light paintings is exactly the same as mking music, just the tools are different. What I see in my head or feel in my heart can be translated into either medium. I've always been strongly inspired by art but am utterly useless with a brush. Finally with cameras, especially the latest high-def digital ones, I have found a way to do something visually that brings me as much satisfaction as a good organ solo!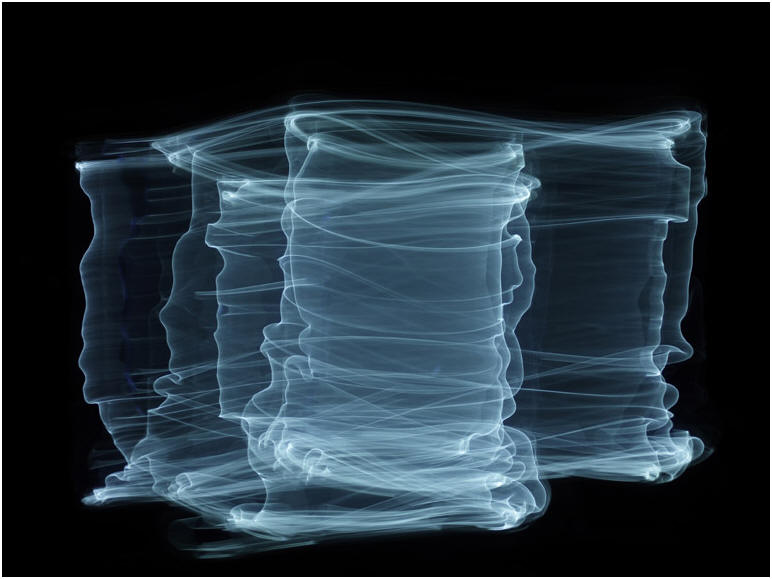 Despite a lot of clamour on the Mott the Hoople fansites, you have said you won't be performing sadly at the reunion concerts, but you are doing two afternoon concerts near Hammersmith Apollo with sometime Mott the Hoople members Mick Bolton and Blue Weaver which will at least allow the diehards coming to the gigs to see you! Have you declined to play through choice or is the band absolutely the original five come what may?
The latter, definitely. They have their reasons and I won't quibble with that. I will enjoy seeing the band in their original line-up (even if the magnificent Martin Chambers will be handling some of the drum duties). And I will enjoy the intimacy of our own smaller events, where will be able to chat at length with the audience. So I have a nice opportunity here to bring something of my own to the table. At the afternoon shows I will be showing, for the first time anywhere, my complete 40-minute 8mm film of the 1974 Mott the Hoople US tour. It had no soundtrack and after some thought, I decided to add some of my own more recent music to it - as I say in the DVD sleeve notes - "as an expression of how I feel about these images over 30 years later." Frankly I think it works a treat and if Mott fans can be open to this idea of straddling the two eras at once I think they'll enjoy it - I doubt they have any problem hearing jazz, funk or ambient music in other movies so I hope they can be open-minded about this one too. It's also very funny in parts! The DVD will be on sale as a signed limited edition especially for this reunion.
I should also mention that John Fiddler will be our special guest at the afternoon shows, so British Lions fans should be delighted to see him again after so long. He is a magnificent, neglected talent and I hope and pray that there will be a renaissance for him in the very near future and will be involved with it as much as I can. As I have said elsewhere, among his greatest fans were two other Johns - Peel and Lennon - which says something about the depth and passion of his music. British deep soul at its undiluted best.
John, Blue, Mick and I want to give the audience as much as we can at these little shows that cannot be included in the Mott Apollo gigs. We will play some Mott and British Lions songs, and some of our own (I will sing the title song from the 1996 Japanese Mott tribute album "Moth Poet Hotel" - and by the way make a few copies of this rare album available) and interact with the audience in a fun two-and-a-half hour meet'n'greet extravaganza that we feel will be a vital part of Mottober, Rocktober, whatever the worldwide Mott family in their enthusiasm are calling this whole fantabulous weeklong event.
Given the timing and your obvious availability with the gigs and your exhibition, would there be the chance of a guest appearance for the encore?
No word has come from the lads so I can't predict that it will happen. So far, life for me has always been delightfully unpredictable, I'm very glad to say. Drive on!!!
Morgan Fisher's details on his upcoming London appearances
This interview and its content are © 2009 Mike O'Connor/www.aylesburyfriars.co.uk and may not be used in whole or in part without permission.