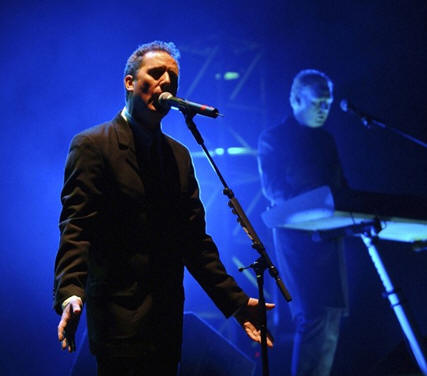 A band with a rather unusual name started to make good noises in 1979 and first played at Friars supporting Gary Numan. Their appearance was notable for these two young guys (Andy McCluskey and Paul Humphreys) were accompanied by the faithful Winston, their 4 track TEAC tape machine. Within just over a year, they had two successful albums, one of THE defining songs of the 1980s in Enola Gay and headlined their first big tour of which Friars was the opening night. Throughout the 1980s OMD got bigger and bigger. They came to an abrupt halt in 1988 and came back in 1991 with just Andy McCluskey surviving the original line up. This line up was successful and Andy called time on OMD in 1996 and became a successful songwriter, notably scoring hits for Atomic Kitten.
OMD in it's original band line up (the one that played Friars in 1980) reformed and toured their classic Architecture and Morality album to packed houses and toured again in 2008 throwing in some surprises that hadn't been played for years. OMD played a prestigious show in Liverpool in summer 2009 with the Liverpool Philharmonic Orchestra and there are plans for a new studio album in 2010.
We caught up with Andy in February 2009 where he talks about OMD and the possibility (Friars world exclusive - you heard it here first!) of playing Telegraph one last time.
Two guys and a tape recorder (Winston) was a little different in 1979, what was people's reaction to your type of music and presentation?

The initial reaction was mostly disinterested. Most friends didn't get it and the first few gigs were hardly full.

The name of the band was presumably was to provoke a reaction – how did that come about?

We knew that two guys and a tape recorder was going to be unusual so we specifically chose a name that would let people know that we were unusual.. it didn't seem to matter much as we planned (only) one gig.

I remember being quite excited at OMD supporting Gary Numan in 1979 having already heard some of the early material and liking it – how did the support slot to Numan come about?

We had released Electricity on Factory and Gary bought it and liked it. I think that he liked the idea of us supporting him because we didn't take up too much space stage.. Gary was very kind giving us transport, and food backstage and no "buy on" (the offensive practice of support bands having to buy the right to support the headlining band - Ed)
How did the tour go ? Presumably you must have picked up more and more fans on the way given that the band continued to grow from strength to strength? These venues such as Friars and Hammersmith Odeon must have been the biggest venues by far that you had played up to that point?

The tour was wonderful, friendly and a good experience.. especially as we were to tour the same venues headlining exactly a year later.

How did Numan take to you?

Gary was lovely and we can't thank him enough for his help and support.
The decision to expand to the band to a four piece was presumably to not necessarily look more 'real' to people but also to enhance the music and sound of the band? I personally think it enhanced it a great deal.

We had known and played in bands with Mal (Holmes - OMD drummer) since we were 16. We also knew Martin (Cooper, OMD keyboard/sax player). However, we started as a two piece because it seemed that only Paul and I liked what we wanted to do. We were a two piece out of necessity! Once the first LP had been done and there seemed to be an audience it was logical to expand.
I have to confess as a fan that seeing you do "Dancing" on the Old Grey Whistle Test in early 1980 was a defining moment for me in OMD's history….as well as seeing you on Top of the Pops for the first time. 1980 was very much a pivotal year releasing two albums? That's a rarity even then. How did that come about? Was it record company pressure or was it just the right thing to do?

1980 was an amazing year! beginning with the first LP that never got higher than 27 in the charts but still went gold. and then our first hit Messages.. and finishing the year with Enola Gay and the big tours! We had so many songs that we were ready for two LPs in one year.

The Organisation tour in 1980 opened at Aylesbury Friars and surprised some people by selling out (presumably to some, you weren't a 'name'), but you must have sensed/realised that the start of something very big was not far away? I have to say that was an amazing gig showing a real maturity and a huge leap from 12 months previously.

Thank you. We were always nervous about ticket sales.. the agents and promoters were more confident. It was a very fast journey from rejected obscurity to big record sales and sold out gigs! We had to learn a lot very quickly. I remember talking to the tour manager before the Friars gig saying that there were many songs where I didn't play bass ... so would should I do?.. He said "be a front man".. I said " I don't know how" I can remember during the gig actually having to think about what to do.. "I will go to this side of the stage.." "I'll look over there", "I'll sing to that person".. "I'll look to the back and make a hand gesture".. I felt so weird like I was pretending to be a rock star!
Sadly OMD didn't play Friars after that, something you commented on the website and wished you had given the intimacy of the venue, but after Organisation, the band was becoming bigger and bigger – the follow up album Architecture and Morality took you in a different direction but proved hugely popular. Was it easy keeping it all in perspective after a fairly quick (for the time) rise to success?

I think that we had perspective for a while but by 1985/6 we were starting to be too busy.. tours were very long trying to break the USA and not enough time to think of good song material.. we just didn't realise at the time. We were doing our best but we had run out of ideas and needed more time.

Dazzle Ships is a monumental piece - dark, mysterious and unlike anything OMD did before (or since). John Peel tried to describe what this was about and gave up saying that whatever it was, you did it well and played this album a lot. What was the thinking behind this album? There aren't many albums that use Radio Prague 'call' routines or multi national speaking clocks…..

I was trying to go even further with our music than we had already gone. You have to remember that we started as an experimental band.. we did music to try to "change the world" though in hindsight I'm not sure how we thought we would do that. Dazzle Ships was a logical extension.

With the continued success through the 1980s, it must have been a bit odd carrying the OMD moniker by yourself into the 1990s?

Yes it was initially.. I tried to hide behind the OMD corporate logo.

After the 'retirement' of OMD you started writing songs for others most notably very successfully for Atomic Kitten – is this something, given current OMD activity you see yourself still doing?

I loved the Atomic Kitten early days.. it was crazy and it was fun.. I love the girls dearly.. but in the end we had a falling out manufactured by other people who will remain nameless.. I didn't see this coming and didn't really respond properly. It's a very dirty business, the whole manufactured pop business very dirty indeed.. you have no idea what people are up to.
It was fantastic for OMD fans when the classic line up (1980 onwards) returned to British theatres in 2007 playing the whole of Architecture and Morality, so that is obviously a pivotal album for you, say more so that Junk Culture which people may be more familiar with because of the hits? There are those who would see Dazzle Ships as the 'classic'

Architecture and Morality is usually cited as the classic but many have different favourites.

You must have been delighted with the reaction to the 2007 tour – I saw you at Cambridge and the reaction was truly astonishingly wild and judging by the look of it, you retained your original audience (and their children!) which is no mean feat – do you think you have picked up new fans on the way?.

Certainly there were several second generation fans who didn't all look too embarrassed at being dragged there by the parents.. I guess that electro is back in fashion again.

OMD touring again in 2008 was like full circle to me in some respects – the London Roundhouse is basically a bigger version of Friars so brought back some great memories of that kind of environment – looked like you were having a good time too. I would recommend anyone to an OMD gig just to see Maid of Orleans where you really go for it!

I don't know how much longer I will be able to throw myself around stage.. some would say that it's already been 30 years too long.. but it's what I do.. for better or worse.

What does the future hold now for OMD – clearly people have not forgotten about you – will you be playing any more concerts in 2009 and if so what sort of format would the shows take? A new album? Another whole album? Dazzle Ships in its entirety? Will you ever play Telegraph again?

We have a concert on June 20th with the RLPO in Liverpool.. that will be fantastic... and more plans to go forward.

May even play Telegraph live one last time.. though the key may have to be lowered.
Andy, thanks for your time and look forward to the summer!

Cheers..
This interview and its content are © 2009 Mike O'Connor/www.aylesburyfriars.co.uk and may not be used in whole or in part without permission.