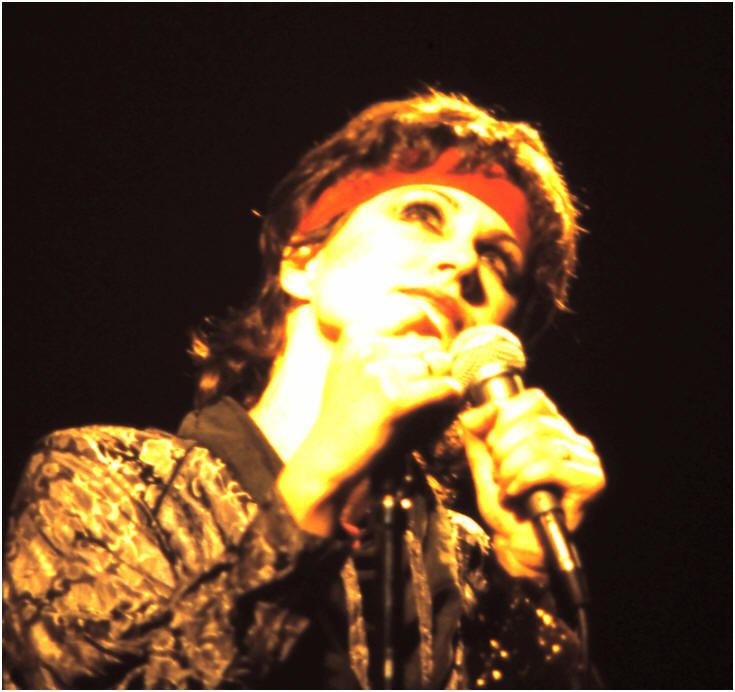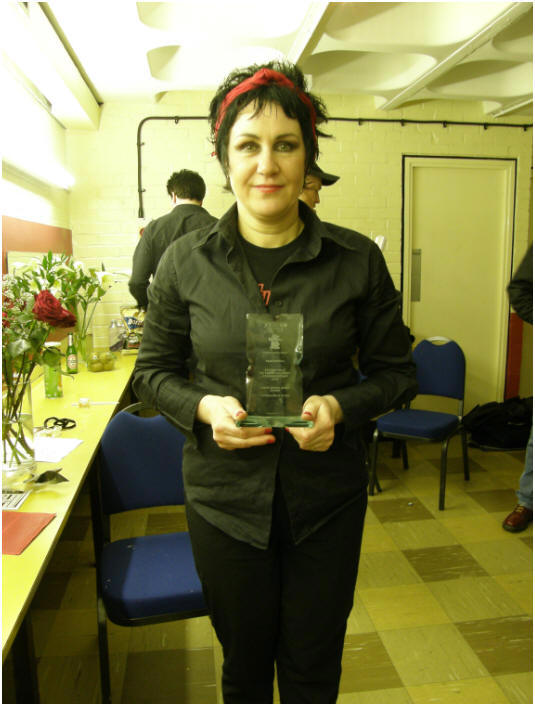 Pauline at Friars Aylesbury, October 1979. Picture: Don Stone and at Friars 2009. Picture: Mike O'Connor
Penetration was one of the great bands at the forefront of punk and played Friars three times before they disbanded in 1979. Pauline also played in 1980 with the Invisible Girls. The good news is that Penetration are gigging again and they will be back at Friars on October 23rd 2009. We spoke to Pauline to catch up on a bit of Penetration's history and what they have been up to in the intervening years. Take it away Pauline......
Pauline, welcome to the Friars Aylesbury website. We're all excited to be seeing Penetration again in October with Stiff Little Fingers. The other band playing, The Disco Students, first played Friars supporting you at the October 1980 gig!
I read a great book a couple of years ago called 'I Swear I Was There' which looked at the audience of the Sex Pistols gig in Manchester in 1976. It was a who's who of bands that formed eventually....Joy Division, The Smith, The Fall, Buzzcocks and as I understand it, Penetration as well!
Ah....I wasn't there....!
Ah...whoops..... I was led to believe that you formed after the Pistols 1976 Manchester gigs......
I did see the Sex Pistols about six times, but not in Manchester!
But weren't the Pistols the impetus and inspiration for Penetration?
We already had a little band together before that. I did bits and pieces with Gary (Chaplin) and we did covers of Jonathan Richman songs, New York Dolls, that type of thing. But seeing the Pistols made you realise you could get up and do it and we were the right age as well.
Yes, that young raw energy....and it worked as well didn't it over the following couple of years culminating in the Moving Targets album being well received.
Yes, but it took a long time to get to that point. I'd first seen the Pistols in Northallerton in Yorkshire in 1976.
The press did receive Moving Targets well, so the confidence in the band must have been quite high at the time?
We built up to it really. We did support gigs and then we did one single with Virgin which was "Don't Dictate" which didn't lead to an album and played live a lot. So by the time we came to make Moving Targets, we already had played the songs a lot.
...and building your own confidence and building up a following...
Yes.
Your first Friars Aylesbury appearance was in May 1978 supporting the Buzzcocks....
We did the whole tour with them.....
Presumably you were well received?
Oh yes, and we did that tour as a four piece as Gary Chaplin left the band a week before that tour. We got Neale (Floyd) in who was a fan and knew the stuff.
Although it was two years (leading up to this), what we packed into that time was unbelievable.....
A different attitude to now....
Yes and with a genre of music the music business didn't like. Yes, they (record companies) did sign bands as they knew there was money to be made, but they probably didn't really like them.
I think there's quite a bit of truth in that.
You weren't a 'music business schedule' exactly at the beginning. You were just out there doing your thing before they got hold of you and put you in the schedule and even that was very quick moving. Constant touring and sessions....it was very full on.
But even the most short sighted music exec must have twigged something (bigger) was going on...especially with bands with big followings and also having released early singles as you did that sold well, the record companies had to wake up to what was going on....
Well, they had to. And they sucked it all in and spat it out the other end. Very fast moving I know.
The Sex Pistols probably did the movement a huge favour when EMI and A&M wouldn't touch them with a bargepole...
Yes, it all helped didn't it? It was an anti-establishment movement in a way
In fairness to the Pistols, they didn't asked to get sacked by EMI and then by A&M after two days did they? Great publicity though.
It was...and people's reactions to them as well. There were other artists on the rosters who didn't like them. The old guard who were coming out of the 1970s and the 1960s.
Did you ever find yourselves getting caught up in the backlash....did you ever get banned playing anywhere?
No - we were never as controversial as the Sex Pistols....
I realise that, just wondered if some tried to tar you with the same brush...
We were just a punk band!
I wasn't suggesting anything dodgy, just that some councils weren't with the times!
Johnny Rotten had an incredible mouth on him and he could come out with some great things to people and he made it possible that people could say things. But we were younger than a lot of bands and coming from a different place. We were 18. Other bands were in their twenties and The Clash were older. The American bands who instigated a lot of the punk scene like Richard Hell, Television and Patti Smith were a lot older still. So we were very young. And we came from the North East of England which as far as people in London were concerned was a wasteland.
Yes, they thought it didn't exist.
Manchester was putting itself on the map and we were linking up with that a lot and Liverpool also.
It's surprising in many ways that there was no scene in a place like Newcastle. Other provincial cities like Birmingham, Manchester, Liverpool and Sheffield had scenes...
Newcastle is a very small city though. Manchester is huge compared to Newcastle. Musically Newcastle was full of jazz rock and pub bands. Big bands when touring were passing through Newcastle and that was turning people on, but there were very few punk bands at the start.
There was no scene in Newcastle/County Durham....
No, but there were independent promoters putting some gigs on. We did a gig with The Adverts and Warsaw (future Joy Division)
Sorry if this seems a daft question, but you mentioning the Adverts.....back to around 1978, did you feel that as a girl in a punk band, the press were being the press and trying to make for want of a better phrase...something...about there being you with Penetration, X-Ray Spex, The Adverts, The Rezillos etc
I'm not sure about that.....the punk thing.....the women in it...I never thought 'I am woman in rock', I was part of the band and I never saw myself as doing anything other than what I did
I agree with you, I wasn't trying to suggest it was anything unusual, because it wasn't, but I saw some weird press cuttings from that era....
What kind of things were they saying?
The headline on one for example, was simply 'Girl singer' and that's my point....the attitude seemed to be as if it was some kind of shock. It wasn't and as you mentioned you were one part of the band.
I suppose some people were attracted to that (kind of headline)
It's wrong though.....but later in 1978 you headlined Friars the first time with the Gang of Four...
I don't remember specific gigs, but I always remember that Aylesbury Friars was a good gig. It was welcoming and we liked to play there. That tour with the Gang of Four was a good one and they were really good..
The next headlining appearance I do remember well, the Coming Up For Air tour in October 1979. That gig was recorded although I know that the Newcastle gig ultimately surfaced as a live album.
Was it? I remember the Newcastle gig was recorded and also at Thames Polytechnic, I don't remember Aylesbury though (being recorded)
This was the last time Aylesbury or anywhere else saw you as Penetration.....it all went a bit Pete Tong didn't it?
We split up after that tour.
What gave everybody a fright in Aylesbury was that music press mentioned just days before you played Friars that you were splitting up at the end of the tour but worded it in such a way as to make people think you already had....
We did the whole tour but had decided to split up and announced it at the Newcastle gig. It was a bit harsh really and I regret we announced we were splitting up as I didn't realise how much it all meant......
In retrospect you should have done the tour then announced it?
Yes. A rock and a hard place? Yes.
Was it the pressure of second album syndrome or the pressures of an exhausting schedule?
We were working too hard, we hadn't stopped in three years. When you play gigs like that every night, you don't realise the toll. We had gone to America (in early 1979) and were playing two shows a night for five weeks and we got back and had to start our second album almost immediately. Half of it was written and we were having to write half in the studio, lyrics as well on the spot and the pressure was enormous. If we'd had a break, we'd have been alright. Then Neale said he wanted to leave and I though I'd had enough, I can't be bothered with it any more.
If you'd been able to take six months off at that point would that have changed anything?
The cracks were appearing with in the band. When you are with people for so long, you start to get on each others nerves and all that. We were young and didn't realise what we had. Had we been a bit older, we might have had a different view of it and possibly or possibly not have dealt with things differently. We started to pull in different directions.
You came back to Friars in 1980 with the Invisible Girls, was that a more enjoyable vehicle?
Well, a different one.
Were you able to work more on your own terms this time?
Well only Rob (Blamire) and me existed from the old band who were the only people pulling their weight. I didn't want to see the others again.
I guess you knew what you wanted to do and from that a honesty that comes with these situations...
I knew what I wanted to do and I knew didn't want to carry on with that. We still had a manager and me and Rob started to write together and there wasn't the five people (that we had in Penetration). But we didn't have a band and we got Martin Hannett involved (legendary Joy Division producer amongst others) and we started to put something together in the studio. Martin came up with the drummer, the keyboard player and the guitarist.
That was John Cooper Clarke's band wasn't it?
Yes, Martin had worked on John's album with the same band. We got Martin to produce. We became one of the producer bands, we were ahead (of the game) with that in the 1980s.
How long were you with the Invisible Girls?
About a year. We did the single 'Dream Sequence' and the album in 1980. We toured and did another single and the record company went bust and everything fell apart.
After the Invisible Girls?
I was a writing partner with Rob and then a personal partner and a lot of personal stuff went on. We then did some demos to try to get a deal and I thought I didn't want to do this anymore. I'd spent five years doing this and I was now in the position again of trying to get another record deal.
So you turned your back on the music business?
Yes.
What did you do?
I got depressed. This happens to a lot of people who come out of this (the music business) and don't know what to do. I was depressed for about three years and then I started to write again and Rob and I put stuff out on our own label and we put another band together and did some gigs through the 80s and released an album called Stormcloud. But the band we did ourselves, no support at all. In 1990 I opened up some rehearsal/recording studios where local bands come and rehearse, so I've done that for twenty years and had a couple of kids.
How did Penetration start again?
Some years ago Gary and Neale got in touch about putting the band back together and they had approached me before and I had said I didn't want to do it. But something was haunting me and I knew I wouldn't escape the past. So we had one rehearsal with the five original members but then Fred (Purser) couldn't do it as we was really busy, Neale wasn't bothering to come up from London for rehearsals. But we started getting a set together and decided to start playing live again. It's very sporadic (the live gigs) but we have got a live DVD out but we are still not connected to the music business...
So you now do things entirely on your own terms?
Yes, absolutely. We've been together longer this time round.
How have people taken to the gigs?
They love it!
I was quite young when I saw Penetration the first time so I am really looking forward to seeing you again in October! It's going to be a great evening!
It's going to be a great evening all round.
We've got some new material, we're getting an album together...we'll do a little bit of it, but not too much!
....and some classics!
Thanks Pauline, see you in October.
We're looking forward to it....see you then!
This interview and its content are © 2009 Mike O'Connor/www.aylesburyfriars.co.uk and may not be used in whole or in part without permission.