Robin and Pete are local legends. Lifelong friends, they played in many bands before joining Orthi, gaining a good reputation locally and getting a great ovation at the first Aylesbury Rock Explosion at Friars in 1976. They played Friars together again in 1977 as Orthi and then The Robins, in 1978 they became The Haircuts and then Heartbeat (with Simon Cheetham) playing Friars and again in 1979 as The Cameras. Pete went on to join up and coming Aylesbury band Marillion who went very big and is still with them 30 years later. Robin has gone on to be a hugely respected session and live musician, including the likes of Fish, John Otway, Howard Jones, Ute Lemper, Tracey Ullman, Phats & Smalls, The Lighthouse Family, Sugababes, Dawn French, Library albums, BBC & Independent TV Documentaries, as well as putting out his own records as "Big Big Sun", "Sauna" & "the itch". And once or twice with Marillion. He is currently on a UK tour with David McAlmont. He describes his best TV moment as a fleeting glimpse of him on the "Young Ones" with John Otway. Right up to date, Robin and Pete are working together again on musical projects which should see the light of day soon. They both play the 2011 Marillion convention weekend gig's in Holland, Montreal and Leamingtion Spa in March, April and early May.
We caught up with Robin and Pete in a nice rural Bucks pub in March 2011.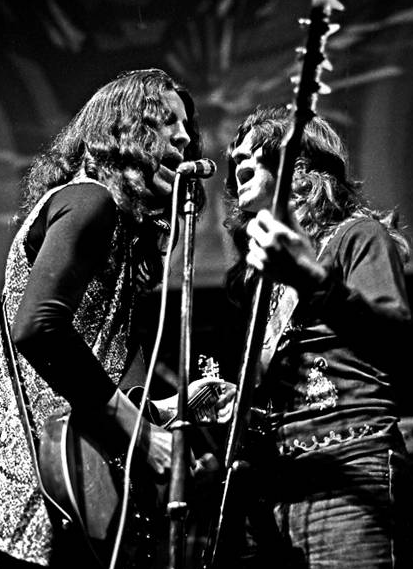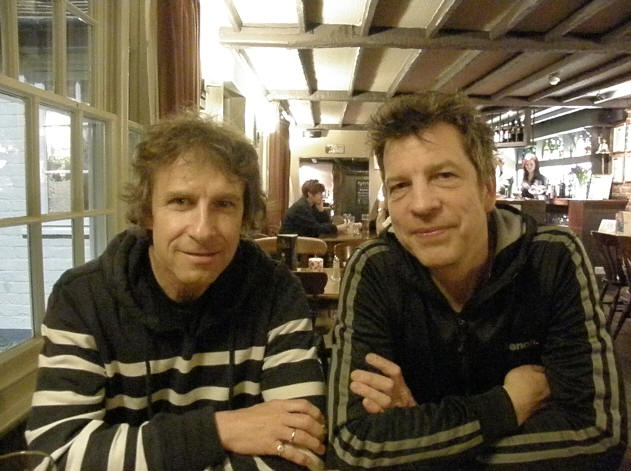 Robin and Pete at Friars Aylesbury, September 1976 (Geoff Tyrell) and in March 2011 (Mike O'Connor)
Thanks for talking to the Friars Aylesbury website. Let's go back in time to that glorious summer of 1976. Kris Needs and the Aylesbury Roxette were very much talking up 'the Aylesbury Scene' and promoting all the local talent, especially the likes of Otway, Warren Harry and of course, Orthi. The first Aylesbury Rock Explosion took place at Friars in September 1976 with yourselves, Ardazell and Otway and Barrett. What do you remember of that?
RB - That wasn't the gig with the amazing photograph (Geoff Tyrell's whole audience picture) was it?
PT - I don't remember too much about it!
By that time, it must have been the biggest stage and audience you'd played to?
RB - Yes, we hadn't played Friars before that. It was nerve wracking I think.
PT – It definitely was from my point of view.
I have it on good authority that Robin was likened at the time to the legendary Mick Ronson?
RB - Very flattering.. I listened to a lot of people, especially Mick Ronson. I really liked his playing. I don't know where his musical roots came from. It wasn't until I got to around 15/16 years old that i got into him. I loved what he did. He was such a great player.
PT - Yes he was.
How did Orthi get together - were you all mates from school?
PT - Yes, but we were in bands before Orthi.
RB - When I moved to Aylesbury, I needed someone to teach me guitar & my parents found a guy called Keith Bateman who played in local bands and he gave me guitar lessons. Pete's parents found out I was having guitar lessons and wanted Pete to have some lessons too, so we ended up with the same teacher. How old were we?
PT - About 6 and a half or 7 years old. So we were drawn together through our guitar playing. It was all about guitars and football!
RB - Sometimes I think I'm younger than I was....Pete's sister was going out with Otway and I remember him doing gigs at our school and elsewhere......
PT - I remember Warren Harry doing a gig at school as well. He did Technicolour Dreamcoat. It was good that there was an outlet for the music.
RB - Orthi were already going. There were two brothers and a fiddle player. The keyboard player, now a really successful TV music composer, wanted to leave the band to go to university. They decided for some reason that they needed a guitarist and a different bass player and suddenly we're in the band. We were younger than them, we were probably 15.
PT - And we did lots of gigs locally. With a few gigs on the outskirts of London as well.
Clearly a band with a lot of potential (when you were doing all those gigs)?
RB - I don't know about potential, we didn't think of it in those terms. We were playing gigs and we were a band going somewhere.
PT - We used to do so many gigs, places like The Hunt in Leighton Buzzard, The Kings Head in Aylesbury, a couple of pubs in Wendover and all over the place....
RB - Luton, High Wycombe......
You were undoubtedly a hard working band.....
PT - You could actually gig every just in the Aylesbury area if you wanted. It was an amazing scene actually back then.
RB - It could be a trick of the memory, but there was one week, where we were going straight from school to the sound checks! And there was clearly one gig where they said if you are under 18, please leave the venue, which was a bit of a problem! Two fifths of the band would have had to leave! All a good learning curve.
You played Friars again in 1976 supporting Eddie and the Hot Rods but by 1977 you were second on the bill at another Aylesbury Rock Explosion headlined by Otway and Barrett and also featuring Power Take Off. Of course, you're older and still on the up. What do you remember of that time?
RB - (Laughs)
It was a long time ago to be fair!
RB - You'd think that it would stand out wouldn't you?!
PT - That all sounds really blasé!
RB - What I mean is that nothing obvious stands out, but I do remember it was incredibly exciting to be playing Friars.
You played again at Friars in 1977 at the Christmas party. This time you were as The Robins and had the pleasure of seeing a surprise Ian Hunter appearance. Why had Orthi renamed themselves? Was it a change in personnel or style of music or both?
PT - It had changed so much, both musically and with personnel. It seemed the right thing to do.
RB - There was also a dispute over the name. It was one of those situations where someone who wasn't in the band anymore said it's my band you can't call it that (Orthi). Somebody else had started the band so we couldn't continue as we were.
PT - And the music had changed a lot as well although it was still essentially a rock band, the emphasis was on rock and not progressive rock.
RB - So we were moving away from the prog thing.
PT – Yeah that's right originally the band had been a mixture of prog and folk.
I believe you did a great version of Sweet Home Alabama?
PT - It was long, I'll grant you that! And it got longer and longer!
Moving swiftly on to 1978.....
PT - How do you know all this stuff!
Four years of doing the Friars website! It gets etched into the head! You came back to Friars with Heartbeat (which also featured Simon Cheetham) who had derived from the Haircuts. Another name change!
PT - We just wanted to sound like we'd been in loads of bands! It was very different, a kind of rip up the rulebook and start again kind of thing.
And Simon Cheetham was definitely off kilter with the lyrics!
RB - He has a different way of looking at things!
That was supporting Ultravox.
PT - I think the audience got confused.
RB - I think it got confusing because Simon had a very clear idea of what he wanted the band to be. For me personally, I was still in the process of trying different musical avenues. The image & music was confused. Audiences detect that. It's like when people listen to music, they don't always understand what's happening musically but they do feel when something's wrong. Having said that.. I do remember enjoying it.
PT - You like it or you don't. I enjoyed it though. I thought musically it was a good thing but people were wondering where Sweet Home Alabama's guitar solo had gone.
After the Haircuts/Heartbeat, what did you do....
PT - We were in a band with Frank Walsh (formerly of local band Tamberlaine and now in Old Country Union)
RB - That's when it started getting rather complicated. There was Aylesbury Goes Flaccid (legendary Aylesbury album) and I'm under the impression that I played on quite a few tracks on that album including the Robins track. We were getting asked to play on different things. Pete had just 'joined' the Metros with Frank and I ended playing on their records even though I wasn't in the band. I had been asked to join another band with a guy called John Wilson and Ed Rowe. It was called "The Heartbeats". We were offered gigs in Hamburg and it was a choice of gigs in Hamburg or music college. Hard choice! (Well at the time !) So we played gigs in Germany and got signed to RCA Records. We came back to the UK where I actually got a regular salary & learnt all about making records/touring etc. I did that for about two years. I was doing bits and pieces for other people but it was odd as I wasn't in the Aylesbury music scene anymore. John's sister was Mari Wilson who had started to move onto the bigger things. Her guitar player, Colin Ryan was from Aylesbury as well.
PT - And even Otway moved on (from Aylesbury). The Aylesbury thing sort of dissipated as people moved onto different things.
You became Otway's live guitarist of choice for some time, I remember seeing you at my college! How did that come about?
RB - It was quite an interesting period in some ways. The band I had been in, The Heartbeats, did a tour supporting Hall and Oates in the UK. We got to the end of the tour and something had happened and I decided I didn't want to to do it anymore and I left the band on the last night of the tour at the Hammersmith Odeon. I came home and didn't know what to do. The Metros (with Pete still in the band) rang me and said they heard I'd left and would I go to New York with them.
We (Pete and I) busked in New York right under the Rockefeller Center which is HQ of Atlantic Records record company, (Always my favourite label because of all the Jazz stuff & Led Zeppelin). Eventually I got a deal with Atlantic and signed in those offices looking down on the spot where Pete & I used to busk.
PT - But it was a struggle out there though.
RB - It was... visions of stale Corn Flakes with water come to mind. When I got home, completely broke, Otway phoned me and said he'd heard I was home and needed a guitarist for some gigs and it went on from there. I played with him for about 3 - 4 years.
I saw you playing some of those gigs, and it amazed me then and still does as to how Otway has never caused himself a serious injury!
PT - That is amazing - that he can still stand up! He's Aylesbury's answer to Iggy!
I'm still amazed he hasn't harmed himself doing songs like Headbutts!
PT - He's got scars on his head! But you should see the microphones.
RB - I have a lot of memories of those gigs. I remember one gig in Scotland where the whole of the strip lighting, running down the centre of the venue, came down on the audience. I think Otway was on my shoulders..? or maybe a chair, anyway, he was about to fall so he grabbed hold of the nearest thing, which was the lighting & that was that. Sparks & glass everywhere. Needless to say.. we never went back.
You've stayed in the music business since as a respected session and live guitarist and you've even played with Marillion once or twice haven't you?
RB - I've always done sessions. Even when you go back to those Friars days, even if I wasn't in a band, I was always being asked to play on something and it went from there. The music industry is quite unforgiving & so for me, having played in bands that have not had real commercial success, doing sessions has enabled me to keep involved in making records, writing & touring. I played with Marillion once when Steve (Rothery) got married & went on his honeymoon. I do remember, at first it was strange to play those Marillion songs with Fish having seen the band so many times before he left.
I guess you can pick and choose what you do...?
RB - Otway decided that he wanted to get into the comedy/TV world, which was when I decided to put a band together. I met John Jolliffe who I'd seen with Don Henley on TOTP and that's when we put "Big Big Sun" together. We spent about 6 months writing and recording demos before getting a deal with Atlantic Records as I mentioned earlier. The first single from the album looked like it was going to fly in America - the radio stations on the west coast were playing it and getting excited. John did sound a bit like Sting and people genuinely thought it was Sting's first solo album. Then the guy at Atlantic who signed us got fired and there was no one to handle us. It was a great band with Dave Levy on Bass & Gary Ferguson on drums & we still keep in touch.
As regards pick & choose what I do.. not always true. Sometimes I get asked to do something that I know is just not my thing. We were lucky growing up as our parents played a huge range of music from classical to jazz. Duke Ellington, Oscar Peterson, Errol Garner, Django Reinhardt, Count Basie, Bill Evans & later, people like Stan Getz.
PT - Ella Fitzgerald etc
RB - It was all a great education, but for sessions, there's always going to be something outside the comfort zone. Even if I could pastiche it... you know there's somebody who could do it so much better.
RB - We were listening to all that stuff from about 5-6 years old. What I like about sessions is that your not doing the same thing every day. ( that's assuming you've got any of course !) There might be TV documentary soundtrack with an orchestra one day and the next you could be doing a pop/dance/rock track or a Library "disaster music" album. Also, it helps you keep up to date with what's happening. You have to keep listening to new stuff. If someone says they want a guitar piece like *that* then you have to know what the reference is regardless of the style.
You've also played and written with local hero Fish for quite some time and for the last 12 years or so, you have played with another local hero Howard Jones, I've seen you play with both. Howard's acoustic shows are amazing.
RB - I spent nearly 10 years writing, recording & touring with Fish. Lots of highs and lows. I ended up living in Edinburgh for a long time, made a lot of friends, recorded/co-wrote many albums & had far to many Birthday's in Poland on the European tour circuit. I decided to leave the band for personal reasons. I just needed a change. Fish & I keep in touch & remain friends. I took a year out, moved to Brighton with my wife who'd got a place at the University, did some windsurfing & photography, got involved in the local music scene, did some session work, recorded my alter ego "itch" album which was the complete opposite of anything rocky, before getting a call from Howard.
I've worked with Howard on many of his albums as well as touring, especially in the States & had some great times with him. The acoustic gigs were unusual as some of the tunes were a challenge to translate on just piano & guitar There was no guitar on Howard's first two albums, so it was interesting to take songs that were so electronic & have to play them in an acoustic style. Especially from a groove point of view. We spent a lot of time working on musical tricks that made it work. Mind you.. it just goes to prove the point... if you've got a good song, then you can pretty much play it on anything.
Aside from Marillion, you have a side project with Transatlantic.....when we last spoke, you were about to record with them in Nashville.
PT - That was for an album called The Whirlwind. We all wrote various pieces of music in advance so When we got to Nashville we were prepared. We scheduled 10 days I think to organise what we were going to record and how we were going to organise actually recording it. We recorded bass and drums in Nashville and then worked from our respective home studio's on finishing vocals, harmonies, guitars and keyboards. I remember recording lots of scratch vocal harmony parts in one of the bedrooms at home as it had a good sound. I took it to the Marillion studio to replace and refine what I'd done and our producer Mike Hunter thought it all sounded fine, so we kept it all and sent it off to be compiled by Rich Mouser, the Transatlantic mixing engineers. He was the poor chap who had the job of compiling everyone's ideas and making sense of it all. I think he ended up with 120 plus tracks of audio for the main Whirlwind album track and had to do lots of sub-mixing just to be able to listen to it all.
So how did Transatlantic come about?
PT - That was through Mike Portnoy the drummer who I've known for years. His band, Dream Theater, supported Marillion years ago at the Ritz in New York and it was their first gig there. Having been support acts ourselves and having some quite bad times, we were very helpful to them and we kept in touch. He emailed me some years back, saying he was putting a project together and would I like to play bass. I heard the demos of Neal's and at the time I was just starting to hear about Spock's Beard, the band Neal had originally formed. The demos were quite riffy which I thought was not one of my strengths so I had my doubts about playing with such fast and serious musicians and phoned Mike to ask him if he was sure! He said he was sure as he liked my musical approach so we got together after many months of email as you do. Then I broke my leg after being hit by a car. I thought "That's it there goes that project", but the rest of Transatlantic decided to put the project on hold until I was well enough to fly. We recorded our first album in New York. Bear in mind with Marillion we can spend years on an album and even weeks on a chorus, we take it to the nth degree before we do it. But with this, it was a case of, we had a week booked in New York, so let's see what happens. This makes it a very fast and furious process and I come back drained. Both ways of recording are great. With The Whirlwind we ended up recording 11 tracks in 11 days Scary but lots of fun.
To bring us bang up to date, you're working together again.....
RB - It's been an effort to get us in the same room on the same day but in the end, creating deadlines meant we had to get on with it !T - We're doing the convention again ths year - this weekend in Holland, and we've been recording some songs as well.
Have you a name for the project?
RB - Maybe Pete and Robin's Musical Whimsy!PT - We made a CD but we haven't really given ourselves a name yet!
Really appreciate your time gentlemen - best wishes from all at Friars Aylesbury!
This interview and its content are © 2011 Mike O'Connor/www.aylesburyfriars.co.uk and may not be used in whole or in part without permission