Stiff Little Fingers are Friars legends, the band taking to Friars as much as Friars took to them. Voted the best support act at Friars in 1978, SLF went on to play another six headlining sold out concerts including the prestigious 10th birthday party gig. In 1980, SLF chose Friars to be recorded for possible inclusion on a live album. That album, Hanx, turned out to be recorded entirely, bar one song, at Friars, such was the esteem in which the band held it.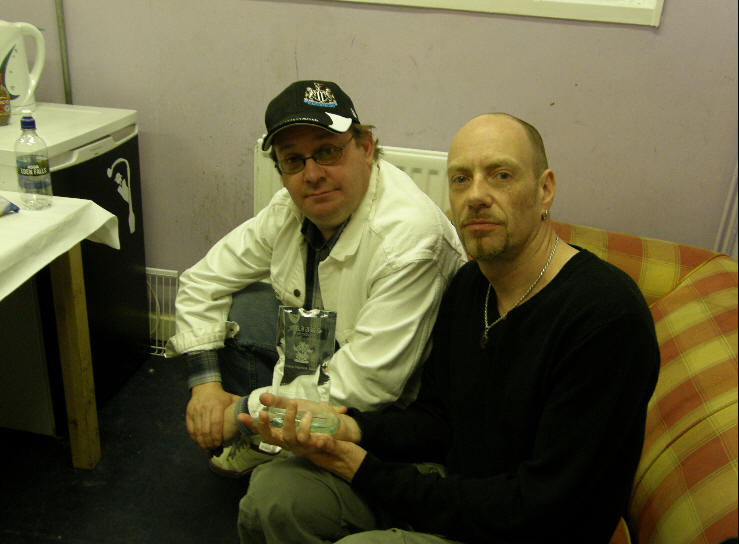 Jake and Ali, Northampton May 2009. photo - Mike O'Connor
Stiff Little Fingers in 2009 retains a loyal audience and regularly gig in Britain still and original members Jake Burns and Ali McMordie are still going strong. It is no surprise that SLF were selected for a Friars Heroes Award which they received at this interview.
We spoke to Jake and Ali on their UK tour in May 2009.
Friars Aylesbury Website: Jake and Ali, welcome to the Friars Aylesbury website!
Jake Burns: Thank you it's an honour.
Stiff Little Fingers and Friars go back a long way. You first played Friars in 1978 supporting Tom Robinson. What do you remember of that tour?
It was a lot of fun. They made us so welcome. We were just a bunch of raggy-arsed punk rockers from Belfast, we had no record deal at the time. Nobody on the mainland really knew who we were, although we had been played on the John Peel show. That was as much as anyone was aware of, so for Tom to take us round the country was a huge boost for us. Not just from the point of view of going out and playing to people but we were being called back for encores, most evenings as people were aware of who we were.
That must have been gratifying...
Ali McMordie: We weren't bottled off, so that tour was a success!
Was it that bad?
Being a support band could be difficult especially in the punk days. Many support bands to SLF, the audiences were less than tolerant of them, so that (the TRB tour) was a huge boost.
You may not have been aware, but each year, there was a members poll at Friars and you were voted best support band of 1978. You came back twice in 1979, firstly on the Rough Trade tour and then the Friars 10th birthday which was a huge success. Do you remember these occasions?
I have to be honest and say I don't remember particular shows, but I do know we always looked forward to playing Friars because it was always a capacity audience and it was so welcoming. The other thing, as Ali mentioned, was that some audiences could be a bit hairy for a better word, you were never sure of the reaction. But at Friars, it was run like a family club almost. Everybody...not just backstage, but the audience too seemed to know each other. There was a wonderful camaraderie about it. I can't think of another venue like that. There were venues that were bigger and may have claimed to be more legendary...the likes of Hammersmith Odeon or Glasgow Apollo, but the atmosphere was unique to Friars and to Aylesbury.
Others have said that the Aylesbury reception was special. You're on record as saying that Friars was run as if it was Madison Square Gardens...
(laughs)...well nothing was ever left to chance. I don't recall us ever having any complaints when we got there. From a crew point of view and band, nothing was too much trouble. It ran like clockwork, it really did.
It was run by music fans. Friars was promoted very well. Not that you needed to promote it too much as it always seemed to sell out.
Yes, every SLF gig sold out and quickly too...
It was great from our point of view but you could never take it for granted.
When you recorded (the live album) Hanx, did you purposely pick Aylesbury?
We originally tried to record it in Scotland, simply because the numbers would be bigger and hence the audience sound would be bigger. But the two tapes we made were unusable. So we decided that we had to move the recording to later on in the tour. The Rainbow was the obvious one to do because we hired the mobile (studio) in London so that kept costs down and we also needed to pick a place (on that tour) where we got a guaranteed good reception and Aylesbury was the obvious place. As it turned out, with the exception of Johnny Was, the whole album is from Friars (July 1980 gig)
The photograph on the back of Hanx, although a grainy shot of a kid, that was taken at Friars.
Also a couple of songs were filmed at that gig like Gotta Getaway which went out on the Old Grey Whistle Test.
Let's talk about that legendary Wingnuts episode, what was going on there?!!! (for those unaware, SLF 'supported' themselves at Friars at this July 1980 gig for fun in masks as an American band!). I know for a fact that the promoter had no idea what was going on! Neither did the stage manager, they were completely taken in!
I don't know how as we were wearing clear masks and we told them we were from Cincinnati or something (laughs heartily!) but still with Belfast accents...
But why!
We had just gone tour crazy. We had been on a bus for weeks on end and it seemed like a fun thing to do. Light relief? Yes. It took about two songs before the crowd stopped throwing things at us and realised who we were.....!
You could see this ripple of recognition going through the crowd!
Yes, it did start dawning on people......
(laughs) Yes, this American band.....they seem to have Belfast accents and they are using the main band's equipment....hmmm!
Going back to that punk/new wave era of 1977/1978 and also coming out of Northern Ireland, this set you apart from some of the other artists, as what you were writing about was what you were seeing at home...it was real. Whereas, some of the others were talking about what they perceived....a police state, oppression, anarchy which wasn't there......
Yes, if you want me to use horrible marketing jargon, it was a unique selling point, the fact we were from Belfast. I don't think that there was anything on the first Clash album that they didn't either believe in or had witnessed. Again after that, they were casting out about what to write about and to an extent so were we. Coming from the background we came from did give us a springboard and also meant that once we moved over here, we were writing about the things that The Clash or Buzzcocks had written about because we were experiencing them for ourselves. So we got an album start on everybody I think.
I think a lot of people were truly amazed at (debut album) Inflammable Material going into the album chart at No 14 when in those days that was a huge achievement (for a debut new wave record). In those days, albums even by huge acts wouldn't always go straight to the top ten.
Yes it did...and straight out again because of the BMRB (chart compilers of the time) who didn't think the sales were genuine as this kind of thing had never happened before! It took them another couple of weeks to reinstate us.
They didn't believe it because it was on an independent label, they had no idea who we were and I don't think they had any idea who Rough Trade Records were. And for us to go in one place higher than Barry Manilow's Greatest Hits...there was no way they could take that on board.
That must have been hard to swallow...
They thought we'd hyped it. But if they had visited Rough Trade's offices, they would have realised they couldn't have afforded a bus ticket never mind having the money to hype the record up the charts. That was never going to happen.
It was a boost for Rough Trade as well as it almost saved the label. We are responsible for The Smiths!!!!
(laughs) Are you proud of that!
You can take that any way you want!
For the benefit of the tape, that is open to interpretation! So without you, there would have been no Smiths!
I'm sure they would have signed with somebody else.
You last played Friars in 1982 and then you went away for a while. Jake, didn't you go on to become a Radio One producer?
I did. I spent a year there.
Just a complete change...something you wanted to do?
I'd always enjoyed it when I had gone in to do something for radio and I wanted to see what it was like on the other side of the microphone, a poacher turned gamekeeper type of thing. By the end of the year I had had enough of it and they had had enough of me as well. They were only ever going to offer another six month contract, by which time the band had reformed and were doing pretty well. I realised it was time to leave when I was sitting in a pub after work and was arguing that the new Jason Donovan record was a good single. I stopped mid sentence and thought 'I've got to get out of here!' (laughs all round)
Ali, you turned your hand to tour managing, working with the likes of Moby...
With Moby, I was playing bass as well as tour managing which was exhausting. Then his record (Porcelain and album) went huge. I've always been interested in the tour management side, discovering the other side of the industry but still staying in it to an extent. That was until I was dragged back, kicking and screaming three years ago into the fold!
I did see you on that 2006 tour and it was cracking!
Yes, it was a case of never say never (on being back in SLF). It was amazing how quickly 15 years had passed.
I bet you wished you hadn't given me your phone number now! (laughs)
It's fantastic that 30 years later the nucleus of Stiff Little Fingers is still here...and enjoying it!
Enjoying it is the main thing....and probably the reason we called it a day in 1983. We had stopped enjoying it and it wasn't fun anymore. We've always said that when this stops being fun, we'll stop. I think we've all come to that realisation that we'll know when to stop.
Maybe that break did you good as you've been going over twice as long this time round....so something is working....
Well...we're all older and wiser...
I wouldn't go that far!
I think you also realise what you had first time round. I don't think we realised how much the band meant to people until we went away and came back again. That was the one thing that really struck me when we reformed. It wasn't so much the fact that thousands of people came to see us, although that was a surprise in itself. What struck me was the amount of affection that people had invested and you suddenly realise that whilst we might laugh and joke about it, this was something very special to a lot of people and not just the four guys in the band.
We were a band that people seemed to discover for themselves. There was no great hype or marketing campaign. That's helped the longevity.
For the record, my own discovery of SLF was at school, where people would bring in Inflammable Material and say 'you've got to listen to this'
So many did discover the band at school. As they still are (discovering music at school) with the modern generations.
Jake and Ali, thanks for your time.
Thank you !
Thanks
Stiff Little Fingers official site
This interview and its content are © 2009 Mike O'Connor/www.aylesburyfriars.co.uk and may not be used in whole or in part without permission.