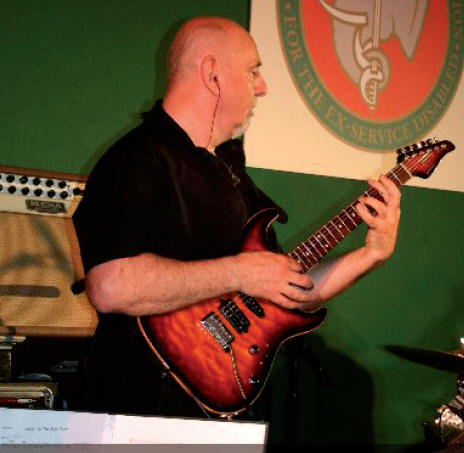 Fred d'Albert today.
In terms of researching for the Friars website, if there was one band that there is almost no information on, it must be Sweetwater Canal. They played Friars in 1970 and a lucky break helped us track down the band's guitarist Fred d'Albert who fills in the gaps for us. We spoke to Fred at his London home in February 2012. Fred is a now a busy guitar teacher.
Hello Fred and thanks for talking to the Friars Aylesbury website. As I say in my introduction above, you were not the easiest band to research so very grateful to talk to you! So where does your musical history begin?
I started in 1962 as a teenager in a band called Comanche after the Apache Indians. We were influenced by The Shadows' Apache. This was 1962/1963 and my career went on from there. The first professional band I joined was Tony Knight's Chessmen. The Chessmen used to be in residence at The Flamingo in Wardour Street and they used to do all those type of venues. Rick Gunnel and his brothers ran the club. It was a bit seedy in that area (Soho) with American GIs coming along. Maybe the whole thing was slightly druggy, I don't know.
I wasn't aware of The Flamingo but was aware of The Marquee further up Wardour Street which I went to a few times.
I played there a few times! But The Flamingo spawned many bands like George Fame and the Blue Flames who virtually lived at The Flamingo as Rick was managing them originally. Then there was The Nightimers, with Herbie Goynes (who was a GI) and the guitarist was John McLaughlin. Also there was Long John Baldry, Zoot Money...all those came from The Flamingo.
It was really a scene within itself?
Yes it was. All the bands I mentioned above and the likes of Alexis Korner. The Rolling Stones used to turn up to see Korner. It was a really early R&B club. They had back to back music nights and the likes of Ray Charles and Fats Domino and more jazzy leanings too.
I was so grateful when you helped fill some of the gaps of Sweetwater Canal. I know a lot of the band came together after being in the Freddy Mack band, were you part of that too?
How Sweetwater Canal came about...there was Freddy Mack's band...they were touring for a long time doing all the venues and were a really popular soul band. I wasn't in the Freddy Mack Sound though. I was in the T H E Cat Soul Band which did the same kind of thing. I was touring with the likes of Arthur Conley (Sweet Soul Music) and other American artists who came over. The Mack Sound ended when Freddy was arrested for being an illegal alien. The band was working at a studio on the Old Kent Road part owned by Mike Hugg of Manfred Mann as the resident musicians. At that point, amongst others, Alan Cartwright would have been on bass, Roy Draper on Hammond organ and other guys and that was the nucleus of Sweetwater Canal who were named by Ronnie Scott's Jazz Club.
You were under Ronnie Scott's management wing weren't you?
Yes, one of the guys who worked for Ronnie, Jimmy Parsons, who was on the door, also worked for the management side of the club promoting gigs and bands who came to play there. They decided to stretch out with management and that's how Sweetwater Cana came about. They had this singer, Aliki Ashman and they put her with the remains of the Freddy Mack Sound and the remains of the Jazzmen which was me and Tony Brown and that was the beginning of the band. There was a big brass section, two sax players, trumpet and valve trombone. The trombonist was from New York and he was Ray Draper. If you read up on Ray, you'll see he was shot somewhere.
Yes, in researching the band, I believe he was shot in a robbery.
I don't know about that, but do know he was in London to get away from New York, mainly the drugs scene. He came to Europe to play and found it a more amicable situation. Most of those black guys back in the 1950s and 1960s were treated like third class citizens especially in the south (of the USA). Even people like The Drifters came to the UK in the 1970s and just stayed and had all that success. Johnny Moore was from Alabama and it was unbelievable. The black guy would have to cross the street if he was on it with a white person and segregation in restaurants and all that sort of thing.
That's really shocking isn't it?
It is, and it's only about 50 years ago.
I can't comprehend or get my head round that sort of behaviour.
That's why so many American artists came over here - Johnny Moore and the guys from The Drifters lived here, they lived in France, Sweden, Germany wherever.
Because of their situation at home....that's appalling.
Sweetwater Canal as I was saying started as a project for Jimmy Parsons and the Ronnie Scotts management and that was in about 1969 as that was when I know I signed a contract with Ronnie Scott. It was such a big band with Hammond Organ, drums, guitar, bass, saxes, trumpets etc and then Aliki and a percussionist at one time..
How would you tag Sweetwater Canal in terms of the music, was it more to the jazz side?
It was progressive, but I'd suppose you'd call it jazz-rock.
Somebody I know who remembers the gig at Friars.....
Really? !!
...and described you as maybe the progressive jazz, but a bit avant garde, would you go along with that?
Slightly, yes. Difficult from my perspective. It you look at the individuals, I mean Ray Draper played with Charlie Parker in New York. But if you heard him playing over a rock rhythm section, you would think that was avant garde! (laughs)
This person also described you as a hybrid of Graham Bond and Jon Hiseman but with ten of you!
That's very good!
Sweetwater Canal weren't active for very long, about a year wasn't it?
Yeah, maybe 18 months. We were a big band and rehearsed upstairs at Ronnie Scotts. To keep it going, when American artists came over, the band was used to back them on tour. So we did a tour with Arthur Conley, an Atlantic Stax tour with Sam and Dave headlining (who had his own band), Joe Tex (also with his own band) and us backing Arthur Conley and Clarence Carter. That went to Paris, Amsterdam, Madrid, it was quite a big tour.
Ultimately though, I get the impression that the size of the band was really it's undoing.
Yes it was.
I've seen Alan Cartwright on record as saying it was arguments over expenses that broke the band up.
I can't remember that! But there were some very forceful characters in the band. The lead tenor sax player, Phil Kenzie would often grab things by the reins when other people were just watching things happen. The thing is we went into the studio to record an album which had ben organised by Jimmy Parsons and there was a big launch for Jon Hiseman's Coliseum, Sweetwater Canal and all the new signings with Vertigo. We played that and with backing other people, and rehearsing the album upstairs, eventually with a band that size, if the opportunity to do other gigs comes up....Alan before he joined Procol Harum was with Brian Davison and Every Which Way. That was his first gig after Sweetwater Canal. I was with The Drifters for 22 years and the bass player was Matt Pegg whose father is Dave Pegg from Fairport Convention. Matt is now the bass player for Procol Harum when they are working, so I have worked with Procol's two bass players!
Was/is Dave Coxhill the sax player in Sweetwater Canal related to Aylesbury legend Lol?
No, they're not related (laughs) - although Lol is a jazz legend, very avant garde.
As we said, the band couldn't last, not least for logistical reasons. I know Alan Cartwright ended up ultimately in Procol Harum, and I know Ray Draper was killed as we discussed.....
And Roy Davies went on to be in Gonzalez and also Kokomo.
And Tony Brown went on to be in Skin Alley. Aliki went on to be in Ginger Baker's Airforce....and is now living in Australia I believe.
(laughs) that stunned me as I had no idea!
You were in The Drifters for over twenty years. How did you make the leap there?
I was with Marty Wilde doing the cabaret circuit in the north of England. He'd been around since the Boy Meets Girl days and had a little four piece group. I worked with him for about a year or 18 months. He was a really well known writer and we demoed the songs like Tiger for Lulu and Down The Dustpipe for Status Quo and more, several hits. We did the demos as we were his backing band and got paid about £8 for a session (laughs) and record all those songs for him and then they were sent on to various people and they became hits.
So when did you join The Drifters?
After Marty, I was with Joe Brown for a while. When Marty took a break, Joe basically took over his rythym section. He'd just come out of a West End musical, Charlie Girl and was doing a cabaret show as Joe Brown and The Bruvvers. Quite big with horns. That was full on for 18 months. I was away in Canada and the US and in the mid 1980s I was doing a show in the Cafe Royal and the keyboard player at that gig was the player for The Drifters live band and asked me if I would like the gig. I said yes of course as I had a lot of background working with Americans. Not just the Atlantic tour but many other tours with the likes Edwin Starr, The Fantastics, The Vibrations. There was quite a lot of acts and that kept me busy and I said yes to The Drifters and I did that right up to 2008. I had also been doing a lot of function work in the West End hotels and there was a lot of work. And theatres also.
Did you do any studio work, or just live work?
All live. They did a live DVD in 2007 and I am on that. Gary Brooker of Procol Harum also guests.
And what do you do today?
(laughs) I'm 66! I teach guitar in Hampstead and Twickenham one and half days a week and the odd gig. Just odds and ends really. I spent a lot of years touring but the the last three or four years, I have concentrated on the teaching.
Do you still see any of the guys?
I've not seen Dave Coxhill for some years, but I haven't seen Tony or heard from him for a very long time, I did do some demos with him in the late 1970s and was also in a band called The Magicians with him and one of the demos was a hit for Andy Williams. I worked with Tony quite a bit and I can't trace anything for him. It was amazing you found out that Aliki was in Melbourne.
I'm nothing if not tenacious when it comes to trying to find out about bands who played Friars!
Geoff Driscoll is now in Surrey and teaching and does various gigs. Phil Kenzie went to the States and was working with Rod Stewart at one time and is probably still in LA somewhere. All these guys will be quite old now!
I'm glad to have had the opportunity to fill in the gaps on the whereabouts of the band and to have discussed Sweetwater Canal as there is so little out there and it has proved so hard to research and I am so glad you got in touch.
I was searching for Sweetwater Canal on the web and found the Friars website and nothing else!
Best wishes Fred and thanks for talking to the Friars Aylesbury website.
It brings it all back! Cheers Mike.
This interview and its content are © 2012 Mike O'Connor/www.aylesburyfriars.co.uk and may not be used in whole or in part without permission.