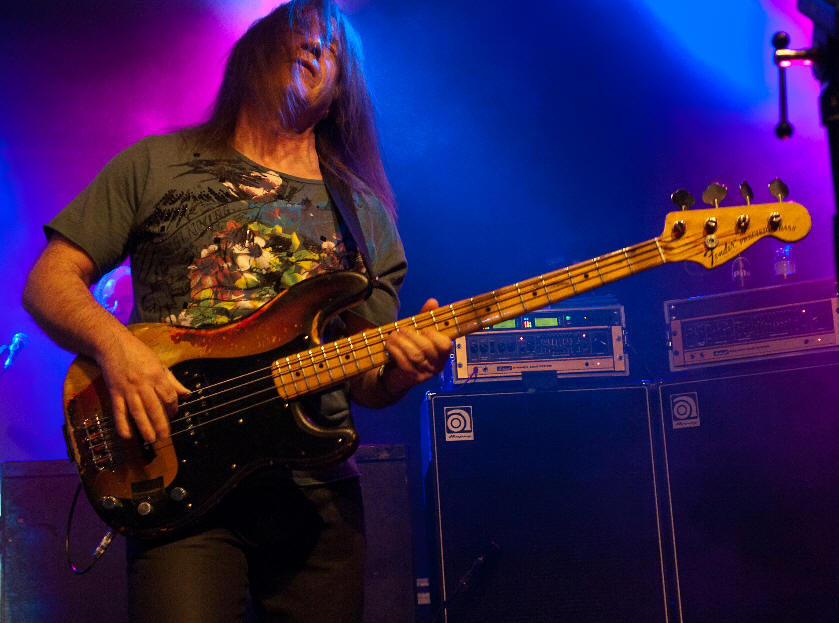 Trevor in recent times
On 15th July 2012 it will be 40 years since that legendary Friars gig where the American journalists were flown in to see David Bowie, by now in full flight as Ziggy Stardust, to spread the word in the US. As we will see there was more than one first for Bowie at Friars. There has been a lot of media attention with BBC documentaries and the like of late ruminating the 40th anniversary of the release of Ziggy Stardust on the nation. Trevor Bolder, the band's bassist has been under much demand for his time and we are grateful for him talking to the Friars website.
Trevor, thank you so much for agreeing to talk to us. You're probably all Ziggied out at the moment!
We had to turn down interview requests - there was just too many. It was getting crazy.
I'm very honoured you've chosen us! There was the BBC Radio 4 documentary last week which featured the two 1972 Friars gigs. In a couple of weeks time it's the 40th anniversary of the legendary gig. It stands out today still, when you consider all the highpoints at Friars over the years, as the most talked about gig ever. From your perspective, with RCA flying in all the journalists to help break you in the US, what was it about Aylesbury that seemed to work?
To be honest, if we go back a while before that, the very first gig Bowie, Mick Ronson Woody (Woodmansey) and I ever did together was at Friars. This was in September 1971 around Hunky Dory when David was still in his folk phase.
I have heard a tape of that gig and what really surprises me (with the hindsight goggles on) is how nervous David seems.....I think he was still finding his feet?
As a band we had just finished making Hunky Dory and Friars was the first gig we did with him and we were all pretty nervous doing a show where all these new songs were being performed for the very first time to an audience. So we were all putting an effort in for that show and of course it went down a storm.
The January 1972 show was really where Ziggy Stardust started to take off.....
That show was the first one we did for Ziggy Stardust.
Two firsts for us! What inspired David to come up with what was in effect a wonderful concept album? What was behind the themes and characterisations?
I think he was just looking for something different, something that actually must have taken him a while to come up with. No-one knows how or why he came up with it! It was developed over a period of time and he just needed to be different. You need to remember we had been doing folk clubs when we joined him. He was very much a folkie with the long hair and acoustic guitar. When we were rehearsing all this stuff, he would go off and do folk clubs in London once or twice a week. He must have thought "I haven't got anywhere with it, I have to do something completely different."
With the Spiders From Mars being quite a heavy rock band, it pushed him in a different direction. The Man Who Sold The World was quite a heavy album which Mick and Woody had played on. When he then came up with the costume ideas, a lot of that was influenced by A Clockwork Orange - we were supposed to be Droogs. He took us to see the film and we got into character with those in the movie, just like a gang. The idea was that kids would easily latch on to us...and they did. We became their band because we looked completely different. You had Marc Bolan around at that time as well but T Rex were all individuals whereas the Spiders were uniformed and looked like something. All the costumes were designed round Clockwork Orange but where they might have had brown boots, we had coloured ones. It was a bit futuristic which is what he was after.
It was a great image!
There's been nothing like it since. But Marilyn Manson, if you look at the image of his band, it's based on the Spiders From Mars. They look like us and he even has one eye different like Bowie. People tried to copy it and didn't succeed. It really was a one off.
With yourself coming from a blues background, then working on Hunky Dory and then finding yourself for the Ziggy album renamed as The Spiders From Mars...I presume you, Mick and Woody all bought into the concept eventually or straightaway?
We started making the album in September 1971, and it took some time. It didn't just happen at once, it was quite a slow process to get that image together. David thought he couldn't throw it all at us at once, so it was a slow process of ideas he was putting to us. By the time of the first Friars Ziggy gig, we were the Spiders From Mars but without the make up and then he mentioned it.....Mick's reaction was that he wasn't going to wear make-up on stage, what would his mates think! (laughs). Eventually though, he wanted to use make-up as theatre, not as glam rock - I never considered us as glam rock. We were a rock band. It took time to get the image and to be different. Coming from a blues based rock band...to change your image so radically - Mick just wasn't sure about it. Woody had to wear a pink suit! For a band who were basically a blues band, it did take a while for us to do this.
It was a complete sea change in image and musical style wasn't it? But it worked.
The combination of the Spiders and Bowie was magical - we complemented each other. We were bringing his music to life, he'd demoed stuff for the Ziggy album and when we got hold of it, it became magical and played it to a better standard. We definitely complemented each other.
When you look at Suffragette City and Ziggy Stardust 40 years, they are not out of place are they? Whilst that's also true of the whole album, I mentioned those two as the single identifiable tracks.
No. The albums flows beautifully.
Yes it does.
You know what track's coming next. I don't play the record that often but I played the 5.1 version the other day and amazed at how good it sounded. I know everything about the album and on the radio today, it still sounds brilliant.
The July 15th gig when RCA flew the execs in and as David Stopps said on the Radio 4 documentary, it was mayhem!
Did you know Queen were there?
Yes, I believe Roger Taylor and Freddie Mercury attended as unknowns.
In 1973 after you did the north American tour, Ziggy came to an end at Hammersmith in a concert preserved on film. My understanding is that David decided to end the Spiders From Mars period, effectively re-inventing himself?
Yes.
I also understand he had neglected to let you know that this was his intention?
It was badly done. The BBC4 documentary recently showed Mick Ronson's wife saying "they all knew, the crew all knew, everybody knew except Trevor and Woody". They had been told not to tell us. Why? Did they think we wouldn't appear or do something? It was all very strange. It did leave a bad taste in our mouths. He really should have told us what was going on. But we moved on.
But by then in 1973, aside from Ziggy, you had also done Aladdin Sane and Pin Ups?
I did both but Woody didn't do Pin Ups.
I find it weird Woody and you weren't told specifically whereas everyone else was. After that, your working relationship with David came to an end, so what then?
I went to work with Mick Ronson on his solo albums.
That period of Ziggy Stardust, how do you see that legacy today, musically or otherwise?
That album and that period have influenced so many people. You hear people like Gary Kemp and Midge Ure and the rock bands like Def Leppard, they (talk about how they) were brought up on that (album) Even the likes of Madonna and Lady GaGa today are still listening to that album.
My son plays in a band at school and this young kid, about 16, said "you're Trevor Bolder aren't you?" Yes....."you're a rock and rock legend!" (laughs). The kid was 16 but it is still influencing them today and they still listen to that album.
It's a huge testament to that album and the guys who played on it. Of all the albums David has done, with a couple of notable standouts, it's this album that is being commemorated.
Next year is the 40th anniversary of Aladdin Sane.
Yes, but that won't be commemorated in the manner this is.
I don't think so, but there will be little things done for it.
But Ziggy Stardust was *so* influential........
It is iconic and one of the top ten albums of all time.
There was an urban myth as I was growing up that the cover of that album was shot in Aylesbury, but it wasn't. There was also myths surrounding Clockwork Orange and Aylesbury.
Definitely wasn't Aylesbury! It was Heddon Street in London
Since you worked with Bowie, you've worked with Mick Ronson and done some other odds and ends, but you've been in Uriah Heep for quite a while now?
I was also in Wishbone Ash for a couple of years and did a couple of tours with them. I joined Uriah Heep in 1976 and left in 1981. I returned in 1983 and have been there ever since.
And still enjoying the music business!
Oh yes, there's nothing better, playing and touring the world and playing great concerts in great countries. Living the dream? Yes! You do get tired and we're trying to keep ourselves youthful so we don't do all the aftershow parties! Back to the hotel for a cup of tea!
It's an enormous honour for us at Friars to be able to talk to you having played on such an album.
I'd love to come back, I've not been there since the Friars gigs.
Actually the venue you played at has long gone, but the walkway to the main entrance remains. There's a plaque put there not so long ago commemorating the fact Ronnie Barker performed there in 1948. I think next to this we should have a plaque that says something like "Ziggy played guitar 40 years ago" or similar!
It ought to say Friars was the place of the very first Ziggy Stardust and the Spiders From Mars gig.
Many thanks Trevor, your time all the more appreciated given you have turned interviews down and best wishes to you.
Cheers.
With grateful thanks to Martin Darvill and Nathan Parsons at QEDG Management for their help with this interview.
This interview and its content are © 2012 Mike O'Connor/www.aylesburyfriars.co.uk and may not be used in whole or in part without permission.