There are some very special songs which mean a lot to the Friars story - just a few of them are here....and this list will be added to over time.
The first song heard at Friars
Creedence Clearwater Revival - Bad Moon Rising (played by DJ Andy Dunkley)
The first sounds to blast out at the Friarage Hall and Kris Needs appropriately made this the first song at the 40th anniversary gig in 2009
The first live song played at Friars
Mandrake Paddle Steamer - Cougar and Dark
Phase One and Two - before the main band
Genesis - Visions of Angels
Phase Two and Three - before the main band
Clifford T Ward - Dubious Circus Company
Phase Two - Standard Lamp and The Shades
Brian Keinch David Stopps Colin Keinch Pete Doherty
Abba - Super Trouper Cliff Richard - Travellin' Light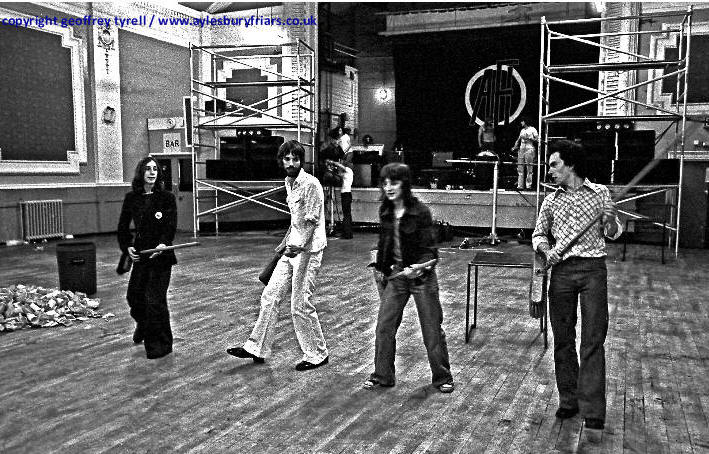 These gentlemen swept up after gigs whilst air guitaring (and being an imaginary band called Standard Lamp and The Shades) to some of their favourite songs: I am reliably informed that Abba and Cliff Richard were high on the list across Phases 2 and 3 and specifically these songs.....
Phase Three - before the main band
Fireballs - Quite a Party/Gunshot
David Bowie - Art Decade
Eric Clapton/Cream - Steppin' Out
Sandy Nelson - Let There Be Drums
Phase Three - last song performed at end of 1984
Marillion - Market Square Heroes
We thought that was the end of Friars - we were wrong! Technically, the last song actually performed at Friars before the 25 years hiatus was Auld Lang Syne
Phase Three - last song ever performed
Paul Weller - Town Called Malice
My word, what a way to bow out!
Phase Three - last song ever heard
Mott the Hoople - Saturday Gigs