It was like this. On December 22nd 1984 around 11.30pm, 1250 people milled out of the Civic Centre, having seen local heroes Marillion perform a stellar set including a preview of what was to become their number one album Misplaced Childhood. As we all sauntered out of the building, there was no traditional Friars news-sheet being handed out advertising the next gig…..simply there wasn't one to plug. No matter, we all thought, this has happened before there will be something soon.... this is Friars after all, the epicentre of Aylesbury's tasteful culture. Well something did come along in March 1985 and not everyone really saw it coming.
The front page of the Bucks Advertiser simply said…..THE DAY THE MUSIC DIED.
Bang on the money we all thought. David Stopps had announced that Friars, the legendary club out in the sticks which had broken so many household names, was to close. The reasons for it closing were simply down to economics. Friars had lost a lot of money in the preceding year, very few bands of a decent magnitude were touring in what was fast becoming the video age and some bands were playing Friars for lesser money, as they loved the place, as a favour which as Stopps noted, was flattering but far from the real world. The final straw came when a fast rising band booked for Saturday April 6th 1985 pulled out because they could earn more money elsewhere (their hometown in this case). This is not widely known as the gig was never advertised. The name of the act is not relevant but they are now long gone from the public consciousness.
So...what happened in the intervening 25 years? Aylesbury was still served by occasional gigs at the Civic and some good ones to to be fair, promoted by the Council and others including some well known bands such as Big Audio Dynamite, Squeeze, The Damned, Marillion, Howard Jones, Everything But The Girl and many more who conceivably would have played Friars and did in the past. Earth Records/Oven Ready Records legend Bill Reeves whilst Friars was still going and beyond continued with his In The Lair gigs featuring up and coming acts like Nick Cave and The Bluebells. Robin Pike until the late 1980s presented his excellent series of Division One gigs at the Wendover Wellhead Inn and latterly at Aylesbury United FC featuring the best in new talent including The Housemartins who had just started to strike gold as they played. There were also a few gigs by Groovin' Promotions including ace rockabilly band The Orbitones. There were many others too willing to give it a go, and why shouldn't they?
Whilst there was still some pop life in Aylesbury, it wasn't overly regular and being round the town with no Friars posters to see, no handouts and indeed no Earth Records (lost to the Friars Square redevelopment), Aylesbury had somehow lost a bit of its soul. It seemed Aylesbury needed Friars more than it thought.
Friars 21st birthday in 1990 came and went as did the 30th anniversary in 1999. Would there ever be a Friars gig in Aylesbury again? This was what the people were asking.
In summer 2007 when this website was first conceived, the webmaster learnt that there may be a couple of Friars gigs in 2008 (hence the link as a hint on the website all through 2008) to tie in with the Civic closing and a fitting time to say goodbye and end Phase Three for good. A couple of snags though. One was the indecision over whether the Civic would stay open longer than February 2008 which was eventually resolved to stay open until July 2008. The plan then was to have a couple of gigs in the summer. The other snag was that one gig line up was practically confirmed but this fell apart through circumstances. No-one has known this till now. I know what the line up was but cannot reveal that.
It became very obvious that the Civic would need to stay open beyond its planned closure in July due to the Waterside project slipping further behind. An extension was granted until February 2009 and then the news we all wanted came through that the extension would go even further and eventually into 2010. That meant the 40th anniversary party of Friars was on for June 2009. The 25 years of waiting was over. Friars was indeed coming home.
So the question on everyone's mind about Friars coming back was finally answered. The new Friars website which had kept Friars name out there proudly announced to watch out for a special announcement and then it was let known that Friars was returning on Monday June 1st 2009 almost exactly forty years to the day since Mike Cooper and Mandrake Paddle Steamer trod the tiny stage at the Friarage Hall on Monday June 2nd 1969.
What was going to happen? ... Top secret meetings took place between David Stopps, Robin Pike, Kris Needs, the webmaster, and Jam Central Records to plan what would be the first Friars gig in 25 years. The decision was made to try to reflect the early golden era of Phase One and to keep it authentic, do the gig on a Monday night. The Pretty Things, so big in the sixties, were always contenders for headliner and a couple of other acts were sought. These choices were easy. Edgar Broughton Band who had played many times before and the band who literally saved Friars twice, The Groundhogs. Plus original day one member Needs would spin vinyl from the time. Kris also sorted out the news-sheets like the old days and Budget did one of her legendary posters.
The event of people queuing up for tickets when they went on sale is covered HERE and was covered by BBC TV local news.
The headlines in the papers should have been THE DAY THE MUSIC WAS REBORN
A truly emotional occasion, the gig was a tremendous success with all three artists being very well received and The Pretty Things turning in a brilliant set and Edgar Broughton surprising a lot of people. Mandrake Paddle Steamer came along too and only logistics prevented Mike Cooper from coming along. On the night to Bucks TV, Stopps announced there would be another Friars gig, this time from the punk era.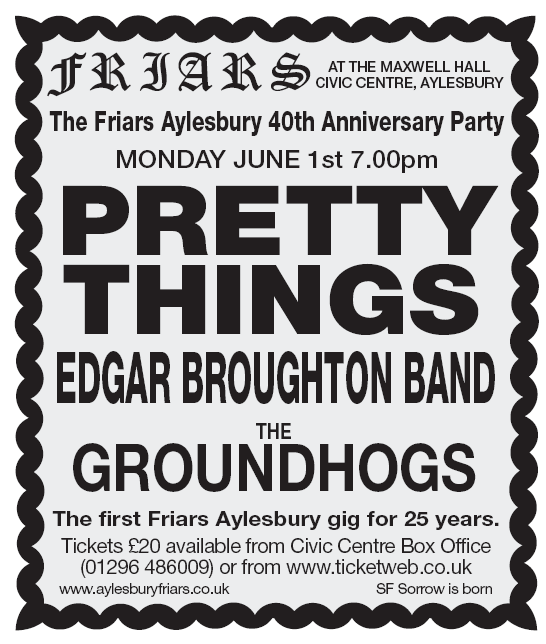 The punk era you said? There was only one choice…..Friars Heroes Stiff Little Fingers were coming 'home' in October after 27 years. Top line support from Friars heroes Penetration and local boys The Disco Students who, to tie in, released their I Met My Girlfriend At A Friars Gig single (featuring a cameo from Stopps). This was an amazing night. A complete sellout in advance, this was like the Friars gigs of old to many people with the place rammed with people there from first time round. Jake Burns described being back at Friars as emotional. It was. No-one thought they would see this.

To complete the year, the final 40th anniversary gig in November featured two acts from the eighties pop era of Friars and with a Christmas theme too, billed as the last ever Christmas party. Kid Creole and The Coconuts delivered an amazing set like it was 1982 all over again. China Crisis won a new legion of admirers after a great balanced set of newer songs and classics. And the BBC did another feature on the gig.
Well, for a few months at least, although just the three gigs, it was like Friars never went away and a lot of very happy people were back at the Civic meeting people they may not have seen in 25 years or more..... and the unmistakable sight of a certain man in a white shirt and trousers to whom nearly 90,000 members may owe a drink.
And then Phase Three closed for good with that gig by Weller.......what a way to go. Roll on the Waterside and Phase Four!
Watch this space, as they say!