related friars history (click on date)
Stackridge Saturday July 21st 1973 Saturday November 17th 1973 Saturday July 13th 1974 Saturday January 5th 1975 Saturday June 7th 1975 Saturday December 30th 1975 Friday September 26th 2014 Friars Dunstable Saturday 30th June 1973 Friday 16th August 1974
Forever More (Alan Gorrie) Friars Bedford Friday January 15th 1971
setlist
Typical setlist at the time known to have included:

Lummy Days, Anyone For Tennis, Syracuse, Teatime, Dora, Purple Spaceships Over Yatton, Marzo, 32 West Mall, She Taught Me to Yodel, Let There Be Lids and Slark
band line up
Stackridge
Mutter Slater (flute/vocs) Andy Davis (vocs/guitar/keys) Billy Sparkle (drums) Jim "Crun" Walter (bass) James Warren (guitar/vocs) Mike Evans (violin)
Average White Band
Alan Gorrie (bass) Malcolm Duncan (sax) Hamish Stuart (bass) Onnie McIntyre (guitar/vocs) Roger Ball (sax) Robbie McIntosh (drums)
gig poster and flyer (click to enlarge flyer)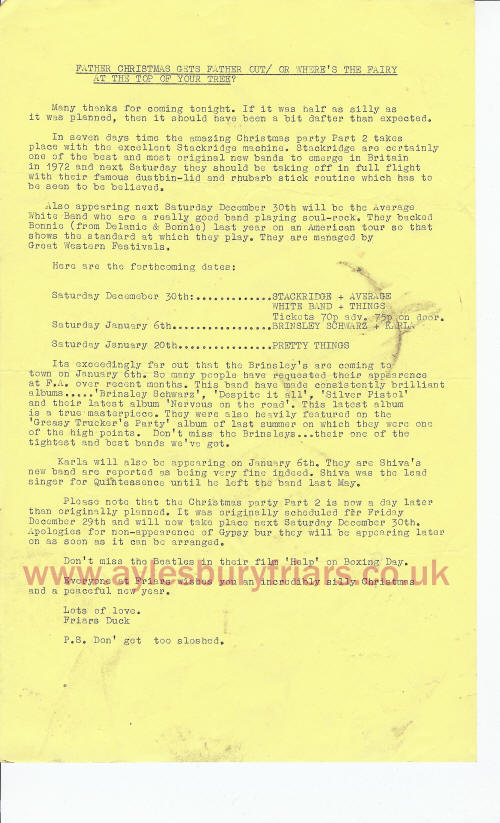 ticket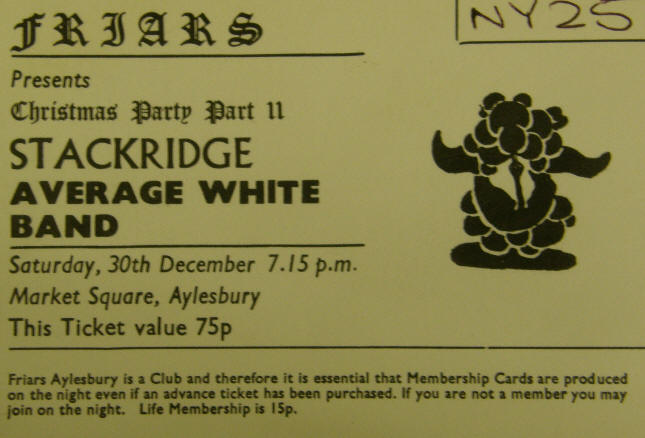 memories
press cuttings
what happened next
Stackridge are still going strong in 20

13

with mostly the classic line up above. James Warren was part of the Korgis who had a huge hit with "Everybody's go to learn Sometime"

Average White Band did all right for themselves scoring some huge hits including the notable "Pick Up The Pieces". Robbie McIntosh died in 1974.
odds and trivia
official web presence
Stackridge official site
sound and vision
S

tackridge - Lummy Days
Average White Band - Pick Up The Pieces