related friars history (click on date)
UFO Saturday January 29th 1977 Saturday June 24th 1978
Asylum Saturday May 24th 1975 Saturday 28th June 1975
Contempt (Asylum) Saturday June 25th 1977
Chicken Shack (Paul Raymond) Friars Bedford Friday 5th March 1971 Friday 11th June 1971
setlist
Can You Roll Her; Doctor Doctor; Oh My; Out In The Street; Highway Lady; I'm A Loser; Let It Roll; This Kids; Shoot Shoot; Rock Bottom; C'mon Everybody; Boogie for George
band line up
UFO
Paul Raymond (keys) Phil Mogg (vocs) Pete Way (bass) Andy Parker (drums) Michael Schenker (guitar)
Asylum
Howard Paul Gregory Ksavery Gary Beaves Andy Stuart
gig poster and flyer (click to enlarge flyer)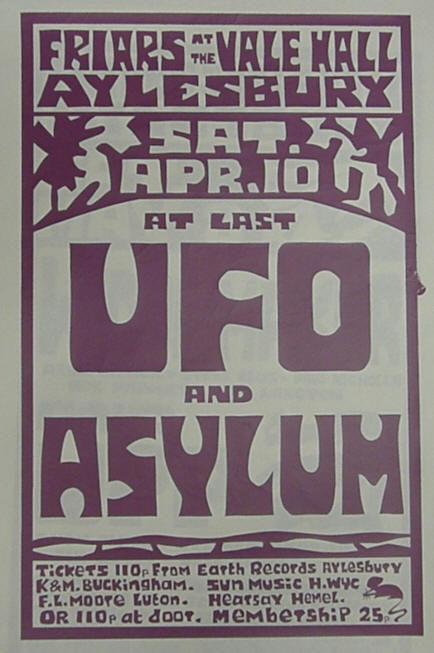 Two different flyers. The second, blue one, was issued at the Steve Harley gig a few days before.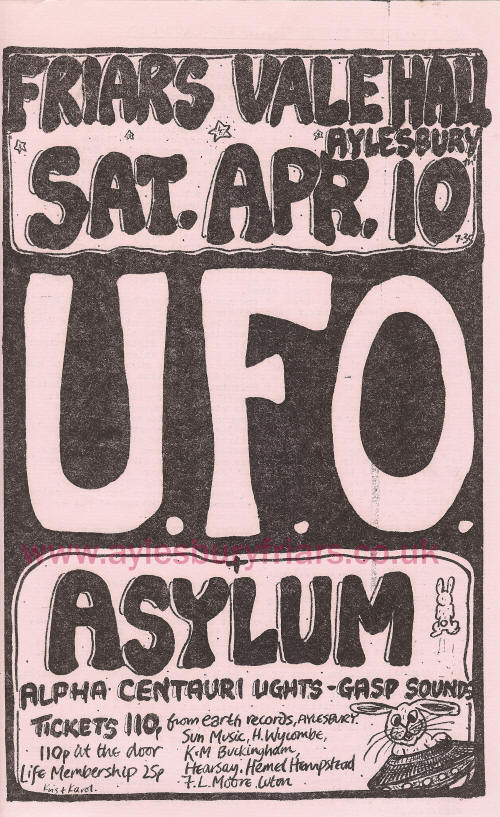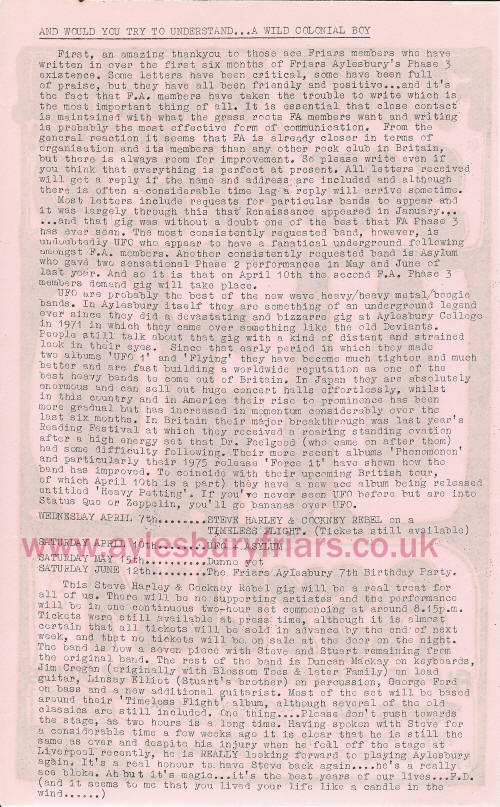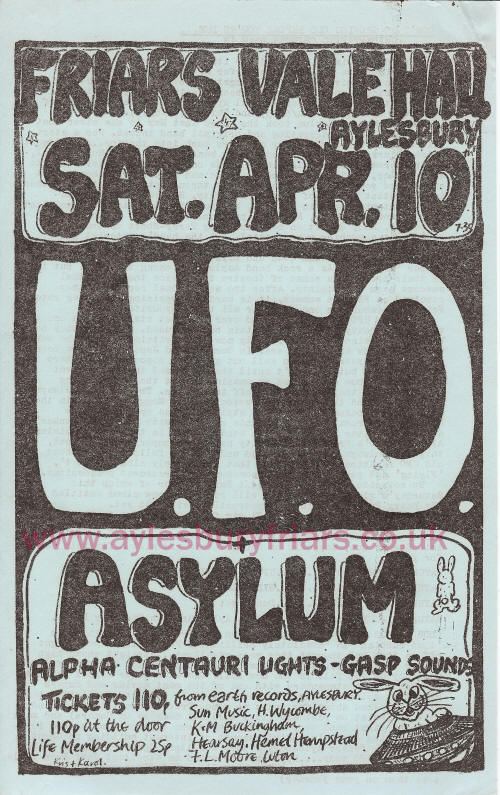 ticket
memories
Paul Raymond, UFO
It would be easy for me to say, like Rod Stewart on Parkinson recently that I remember nothing about the seventies, however I do, even though I'm sure I was just as drunk as he was!!! I do remember Aylesbury Friars, only because this was the gig that Ron Nevison (producer of our most successful records) came to see us play live in 1976. Unfortunately I don't have any photos to support this, but we were going through our chiffon and spandex era - very glam, I think I was wearing a silver studded suit, a la Keith Richard, and Pete was in his stripes (what else - some things never change!)
press cuttings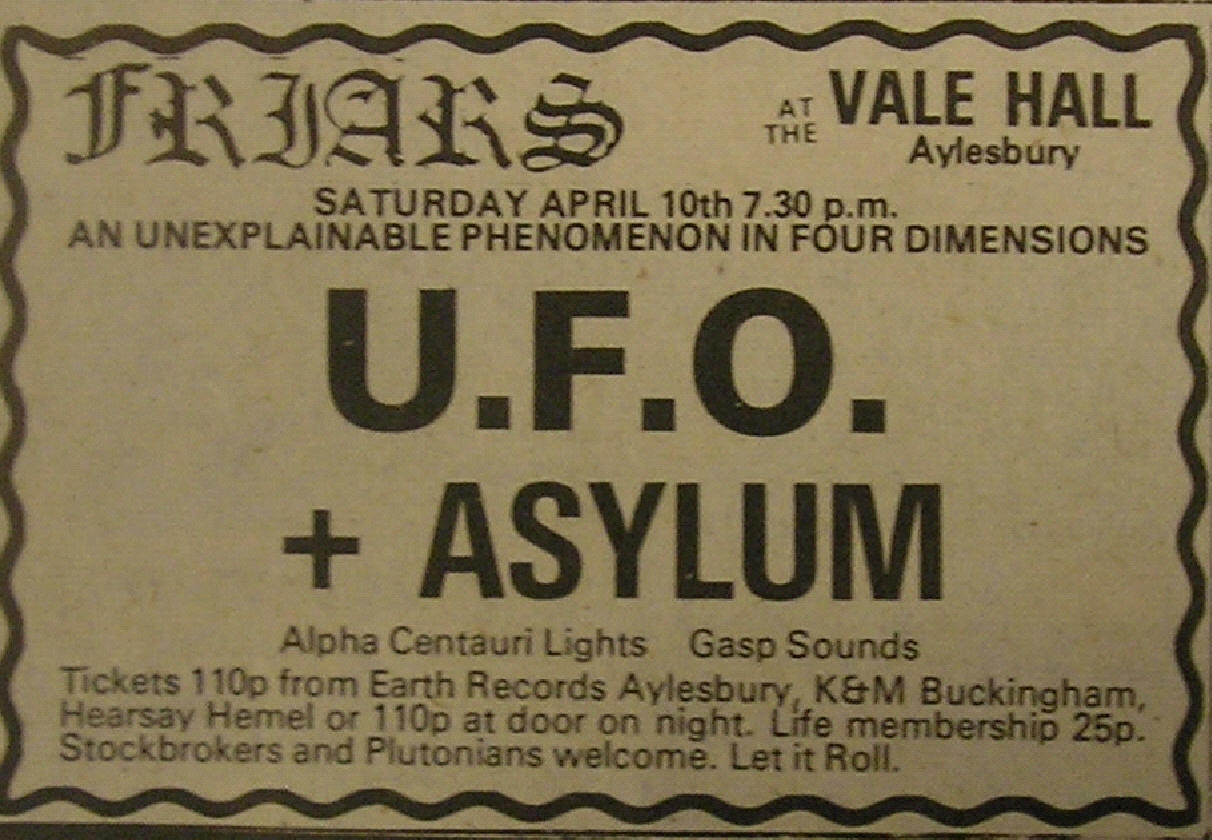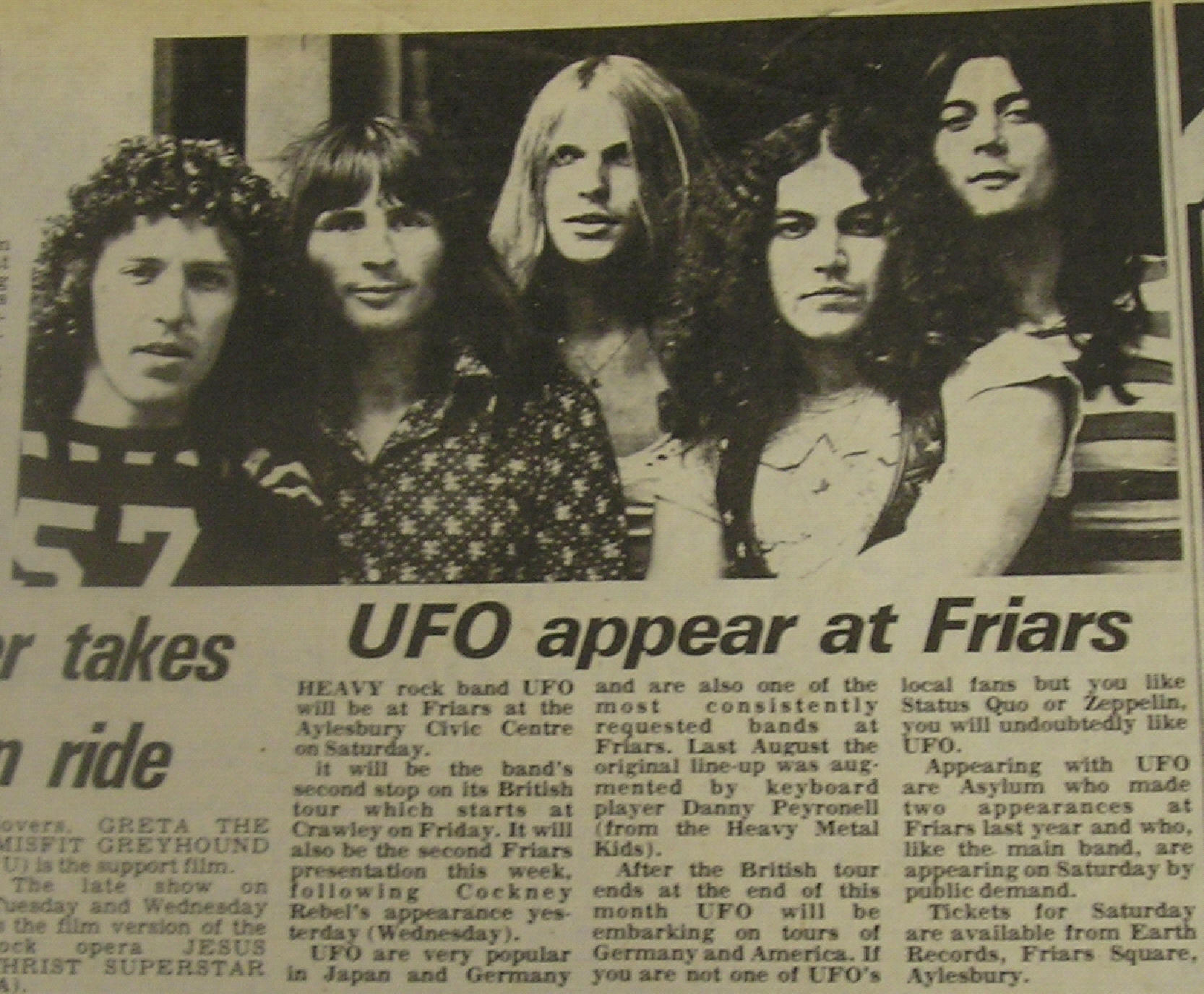 what happened next
UFO with Mogg, Parker and Raymond continue to record and tour as at 2012. Michael Schenker eft UFO in 1978 to form The Michael Schenker Group who still play as at 2012. Schenker rejoined UFO briefly in 1995
Asylum morphed into Contempt and re-appeared at Friars in 1977 at the Kursaal Flyers gig.
odds and trivia
official web presence
UFO official site
sound and vision
UFO - Shoot Shoot