related friars history (click on date)
Farm Monday June 22nd 1970 Saturday 7th June 1975
setlist
Possibly: Paranoid; Iron Man; N.I.B.; Black Sabbath; Walpurgis; Hand of Doom; Fairies Wear Boots; Behind the Wall of Sleep; Rat Salad
band line up
Black Sabbath
John 'Ozzy' Osbourne (vocs), Tony Iommi (guitar) Terry 'Geezer' Butler (bass) Bill Ward (drums)
Farm
Bill Stallwood (vocs) Nigel Harrison (bass) Mick Barnard (guitar) Paul Hammond (drums) Pete Tyson (sax/flute)
gig poster and flyer (click to enlarge flyer)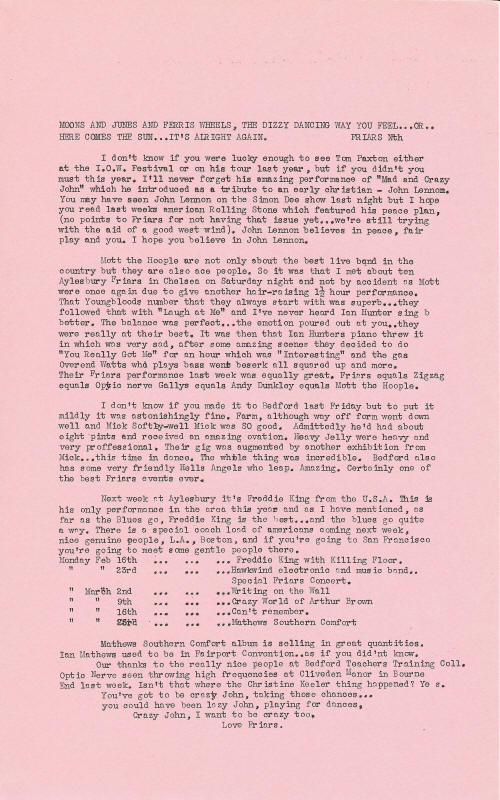 ticket
memories
Black Sabbath replaced Freddie King at the last minute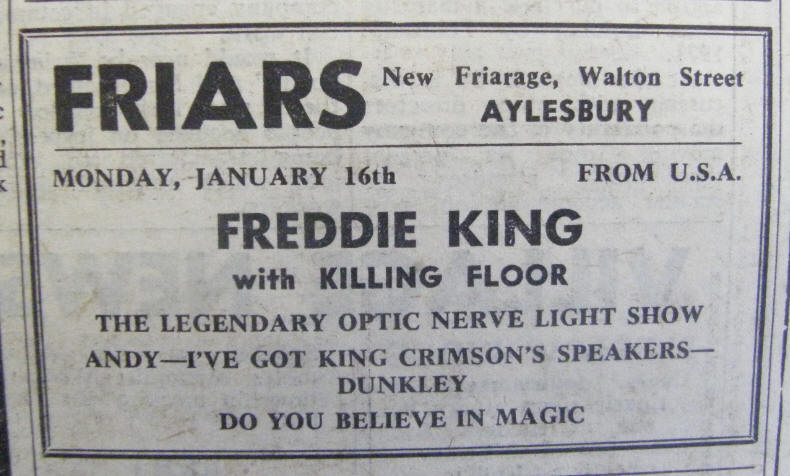 Geezer Butler "Unfortunately, I don't remember too much about that gig , but I'm sure we were delighted to be asked to play there, as gigs back then before the first album's success were few, and we were always grateful of being asked to play. I'll ask Tony Iommi if he remembers, he seems to have a better memory than the rest of us. Good luck with your project"
odds and trivia
This wasn't the first time Freddie King pulled a gig at the last minute at Friars - he repeated the stunt in 1974.
what happened?
Black Sabbath went on to become a hugely successful band and tour and record in one format or another (currently Heaven and Hell) today. The original line up occasionally reformed for one of Osbourne's Ozzfests. Osbourne became a household name into the 21st century not for his music, but as the star, with his family, in MTV reality show The Osbournes. So much so that Osbourne and Tony Iommi played together at Buckingham Palace in 2002 as part of the Queens' Golden Jubilee celebrations. The original line up toured again in 2012 with a new album, but Tony Iommi has health issues restricting his appearances and Bill Ward's participation ended in recriminations. They headlined Hyde Park in 2014.
official web presence
Ozzy Osbourne official site
Tony Iommi official website
Bill Ward official website
Geezer Butler official website
sound and vision
Black Sabbath - Iron Man