see Kris Needs' piece on the rise of Blondie including this gig in the Mojo new wave special (March 2008). Also these photos from ZigZag (courtesy of the John Braley collection)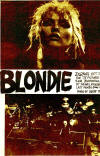 Clem Burke, Blondie
"I must say that I have fond memories of the gig although they're somewhat clouded with time. I noticed that the Blondie band member info was incorrect as this was our first UK gig with the new line-up of Nigel Harrison and Frank Infante. As you can see the newspaper article with Nigel shows this.
(webmaster - duly noted and updated!)
It was the beginning of a 6 month worldwide tour to promote the Plastic Letters LP. I can only say I remember the audience response to be fantastic and we were all delighted to be back in the UK again. I seem to remember thinking what a fantastic kick off for the tour."
Clem Burke, reiterating 2012 in a conversation with Debbie Harris (Bootleg Blondie)
'Friars was a great gig , I actually do have fond memories of that night & that tour with XTC . Wow, I guess that was a while ago.'