Monday July 12th 1982
friars aylesbury phase three - stoke mandeville stadium sports hall, harvey road, aylesbury
pictures from this gig in the galleries
The Clash
No support
related friars history (click on date)
The Clash Wednesday June 28th 1978 Friday December 22nd 1978 Saturday January 5th 1980
setlist
T

HE COMBAT ROCK TOUR 1982

London Calling

,

Clash City Rockers

,

The Leader

,

White Man In Hamm

ersmith

Palais

,

Janie Jones

,

The Guns Of Brixton

,

Should I Stay or Should I Go?

,

Know Your Rights

,

The Call Up

,

The Magnificent Seven

,

Police On My Back

,

Wrong 'Em Boyo

,

Rock the Casbah

,

Career Opportunities

,

Somebody Got Murdered

,

Brand New Cadillac

,

Clampdown

,

Ghetto Defendent

,

Armagideon Time

,

Stay Free

,

I Fought the Law

,

Straight to Hell

,

Safe European Home

,

Garageland

,

Jimmy Jazz

,

Complete Control

,

Car Jamming
band line up
The Clash
Mick Jones (guitar/vocs) Joe Strummer (guitar/vocs) Paul Simenon (bass) Terry Chimes (drums)
`
gig poster and flyer (click to enlarge flyer)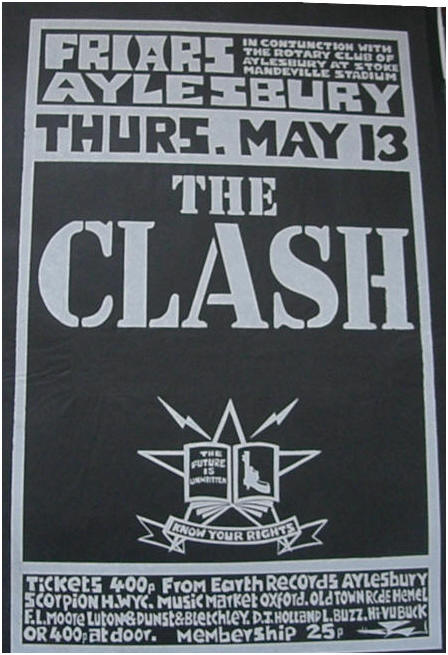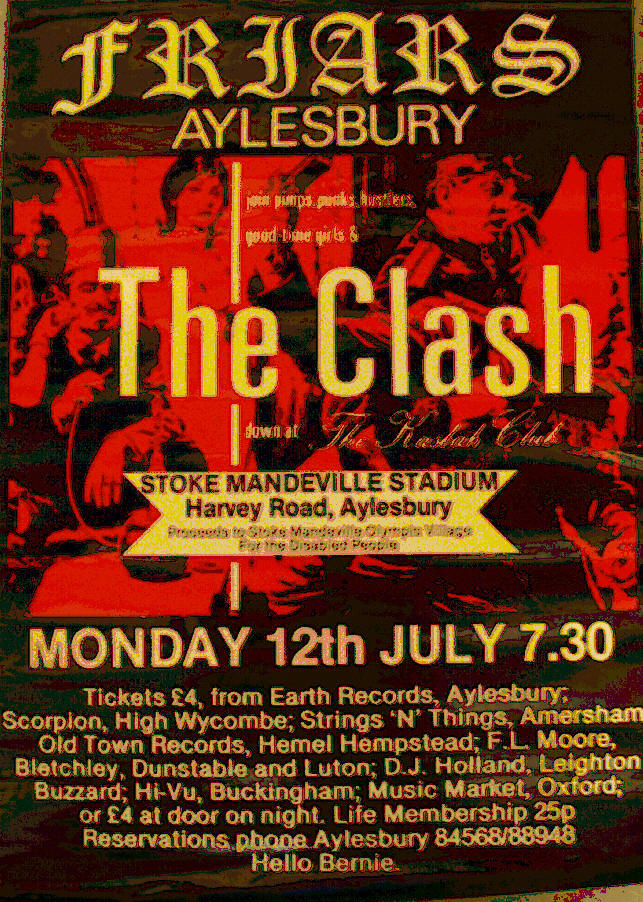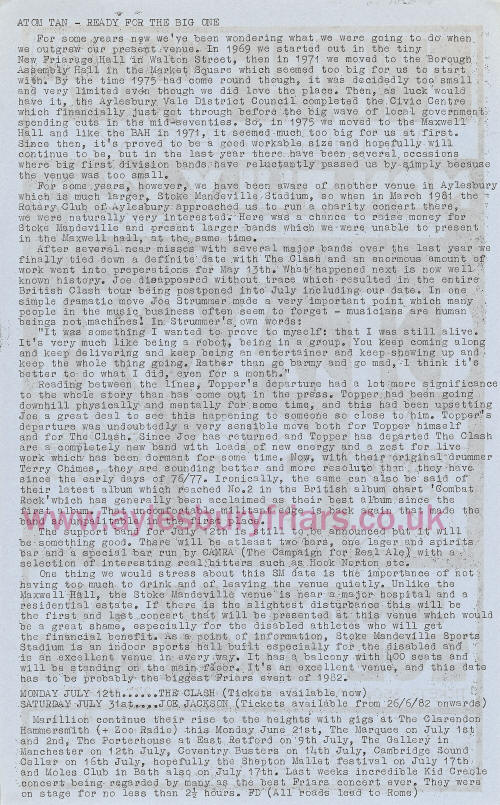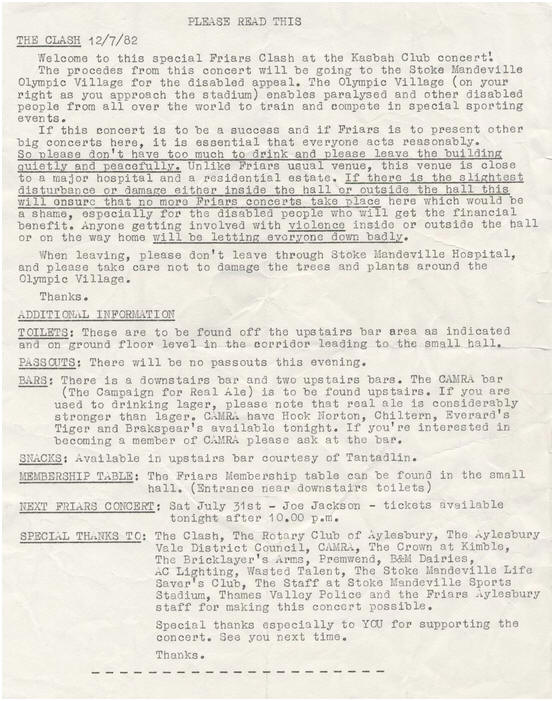 ticket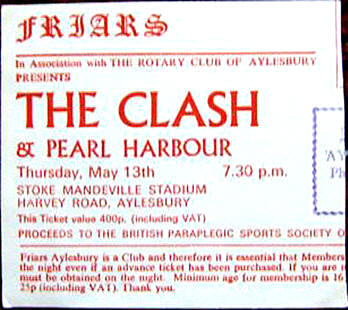 memories
Webmaster, north Bucks
"This was a special and unusual gig not least because of the location. The gig itself was an amazing atmosphere and electric by the time the Clash came on stage. This was during the ASLEF strike of 1982 which caused mayhem on the railways. Joe Strummer sauntered on and said "we got the train to Aylesbury from London, we support ASLEF, this one's called London Calling" After that it was non-stop brilliance from start to finish. A great night"
Rik Moore, Friars fan, now in France
"Two quite vivid memories to share which often run through my mind (the other is Toyah 1981):
2. The Clash gig at Stoke Mandeville sports hall. A strange venue. About 2pm whilst having finished building up the stage/sound system with the Clash people, Dave Stopps asked me if I had a car. Well at the time I had a massive 12 yr old green Volvo (nice!) and so I was promptly given the job of taking Strummer and Co down to the Market Square for a few drinks and a couple of hours in Aylesbury prior to the gig that evening. Its still my claim
to fame!"
Joe Strummer meets some young patients at Stoke Mandeville Hospital which had a profound effect on him.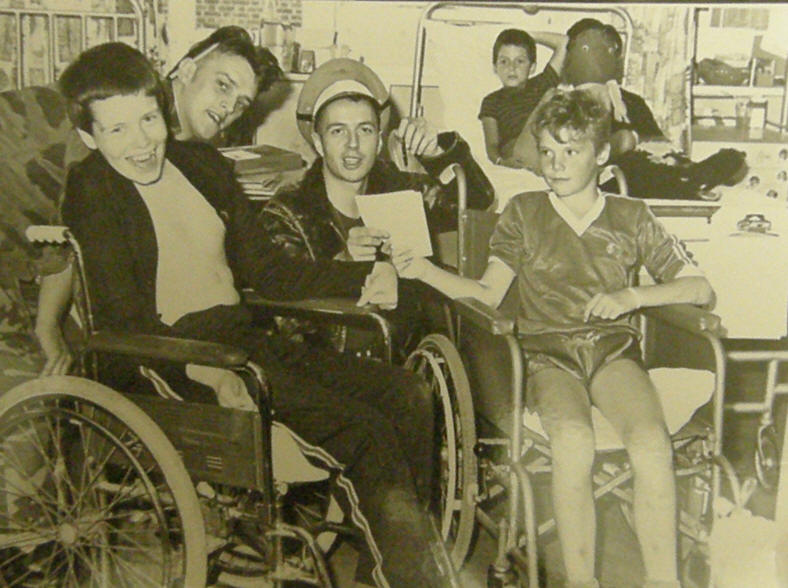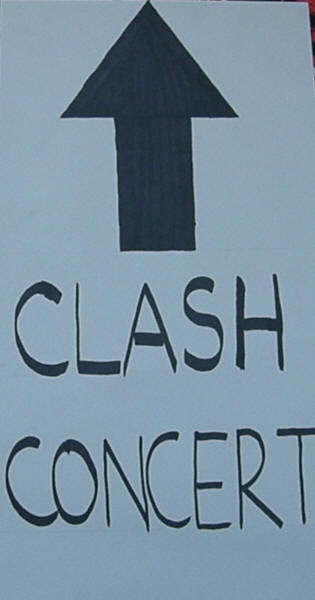 press cuttings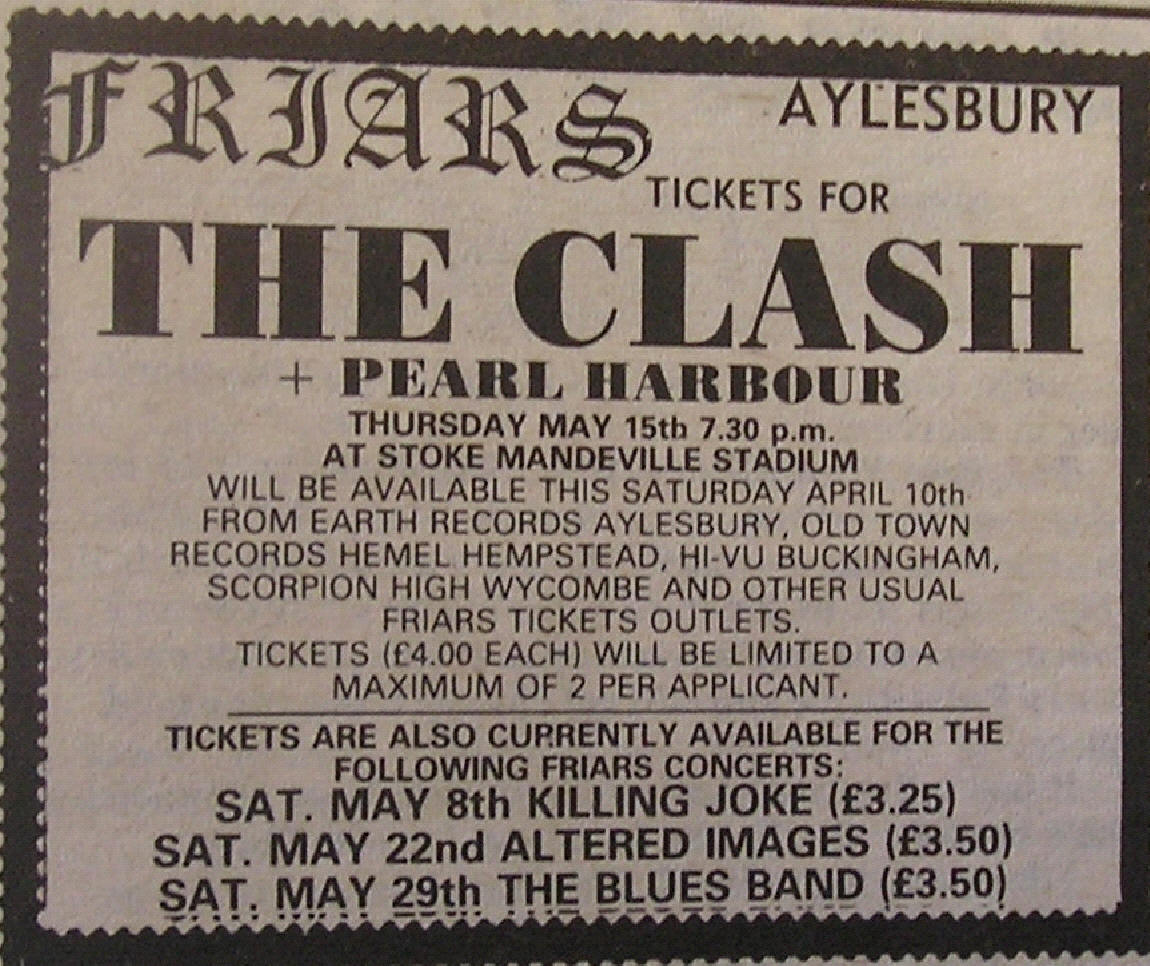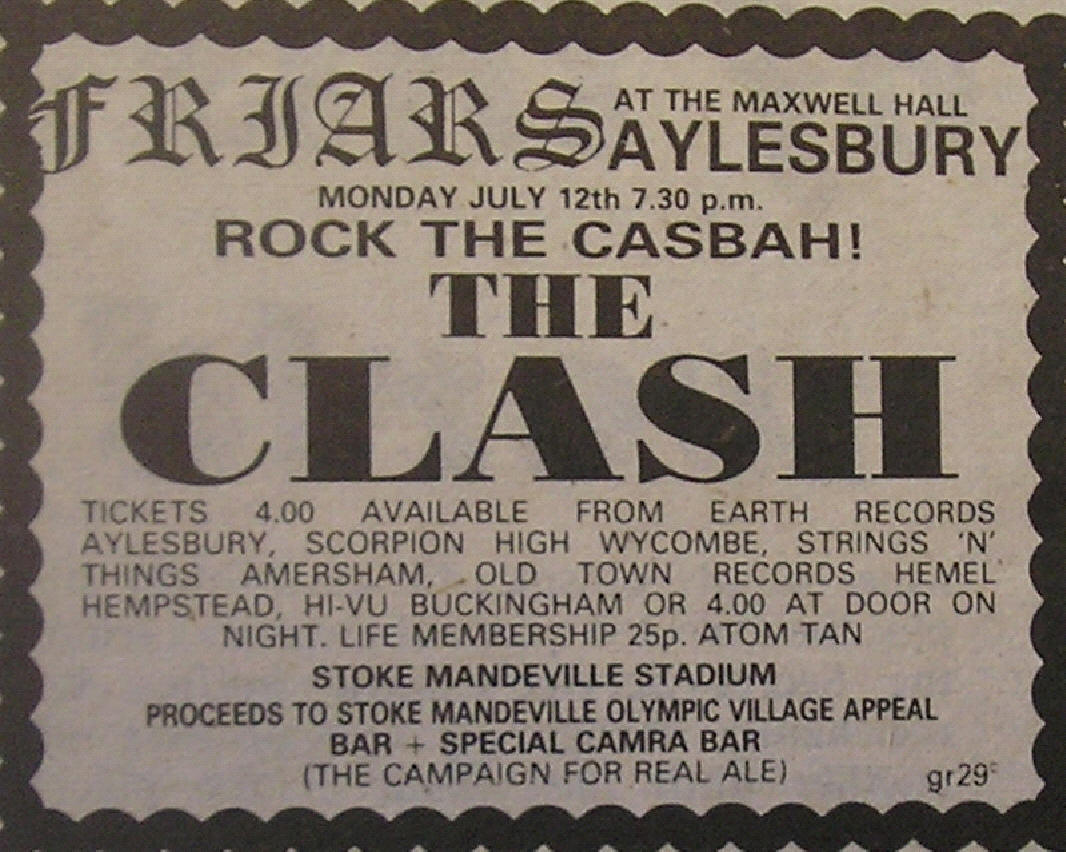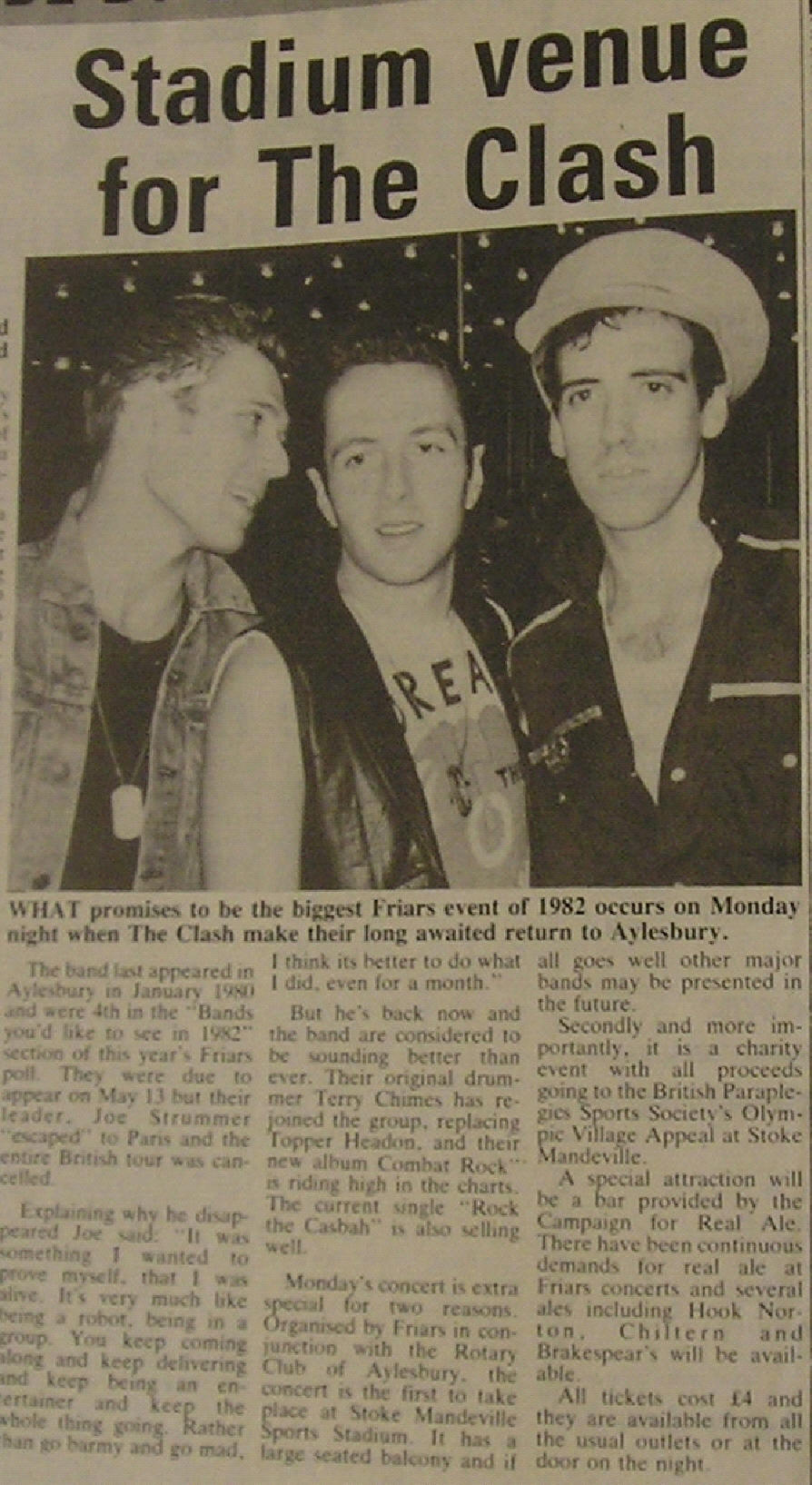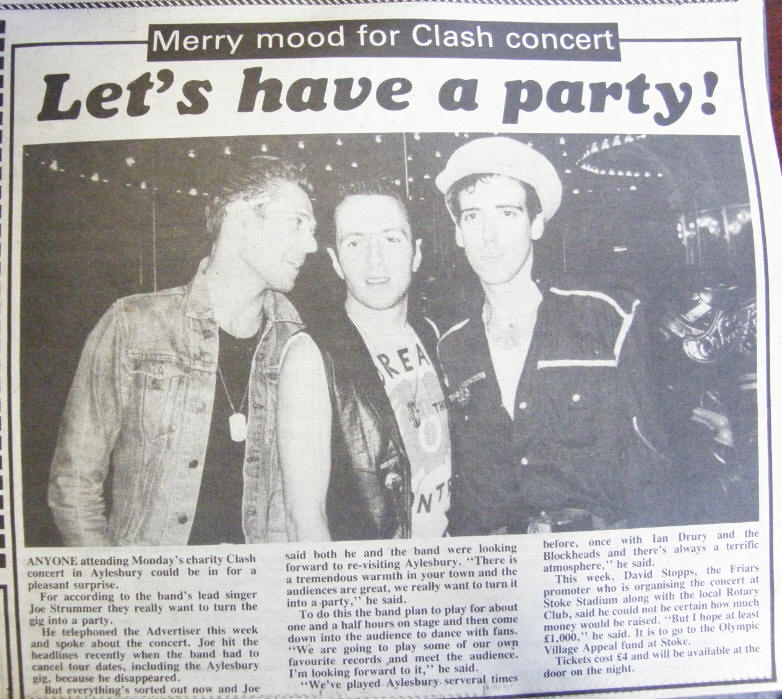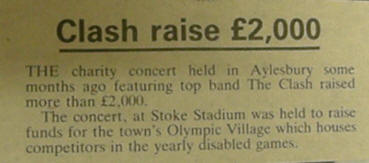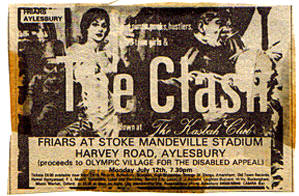 what happened next
The Clash
effectively imploded after the final Cut The Crap album by which time Jones had been sacked from the band. After The Clash, Jones went on to successfully form Big Audio Dynamite. Currently he is part of Carbon Silicon. Strummer formed and toured with The Mascaleros. Simonon went into art and came back into prominence in 2007 with The Good, The Bad and The Queen, a project also featuring Damon Albarn. Topper is believed to be living and playing in the Dover area. Joe Strummer died in 2002.
Jones and Headon reunited for the first time on stage in 25 years in January 2008 at a Carbon;Silicon gig (Jones' current band)
odds and trivia
official web presence
The Clash Official Site Blackmarket Clash (who kindly allowed some cuttings)
sound and vision
The Clash - Know Your Rights
privacy policy legal and t&c contact
© copyright 2007-2021 david stopps/friars aylesbury ltd

All rights reserved and no part of this website may be reproduced without written permission - please see terms and conditions for details. All photos copyright mike o'connor except where specifically stated and used with permission.