related friars history (click on date)
`
setlist
From Joe.....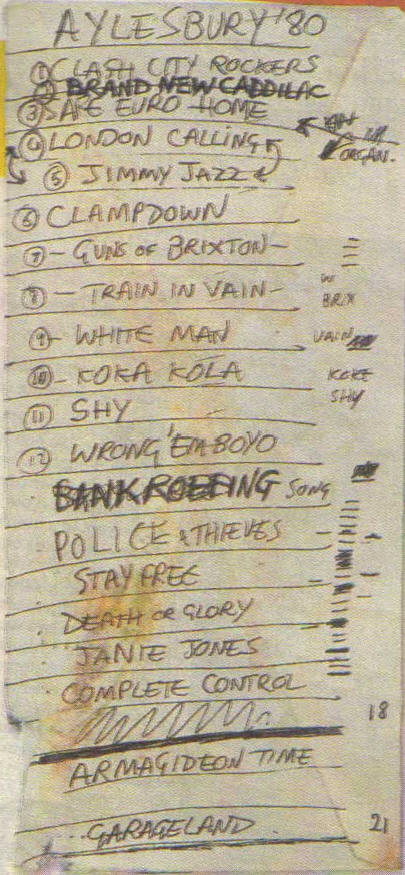 band line up
The Clash
Mick Jones (guitar/vocs) Joe Strummer (guitar/vocs) Paul Simenon (bass) Topper Headon (drums)

Mick Gallagher (keys) Lew Lewis (harmonica)
Ian Dury and the Blockheads
Ian Dury (vocs) Chaz Jankel (guitar) Mick Gallagher (keys) John Turnbull (guitar/keys) Charley Charles (drums) Norman Watt Roy (bass) Davey Payne (sax)
The Vice Creems
Kris Needs (vocs) Colin Keinch (guitar) Wally Wildebeest (bass) Tony Bryant(drums)
`
gig poster and flyer (click to enlarge flyer)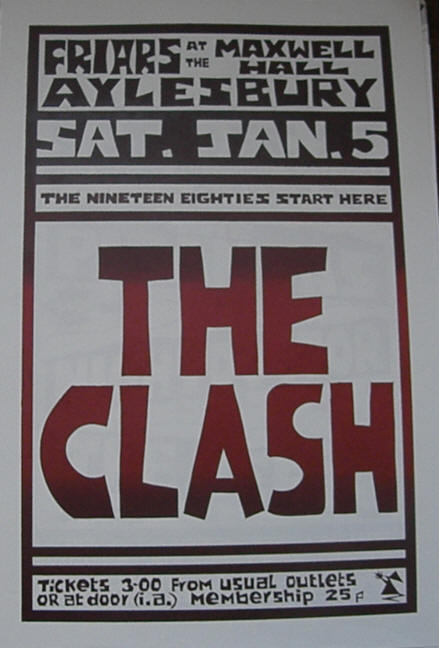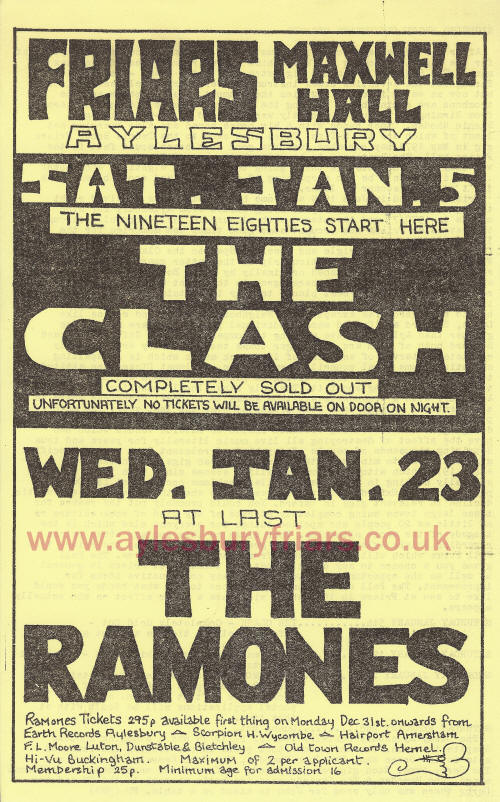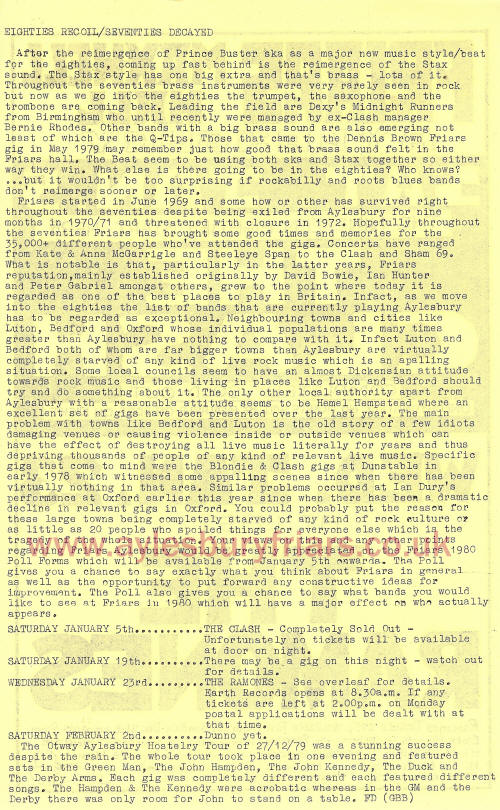 ticket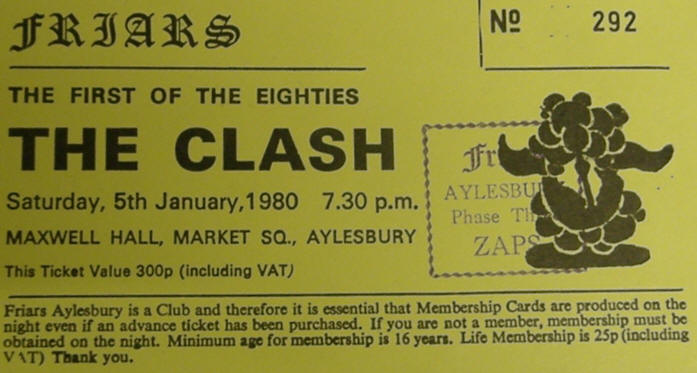 memories
The webmaster, north Bucks:
"The opening night of the London Calling tour saw a mammoth and excruciatingly loud performance from Joe and Co. I didn't enjoy this one so much (as Stoke Mandeville 82) but did enjoy the 'surprise' support act of a certain Ian Dury and The Blockheads who were incredible (when queueing up someone shouted "Ian Dury is the support act" and lots of "you what?") and an interesting local act called the Vice Creems featuring a certain Kris Needs. I remember him vividly unwittingly calling me a **** after the moron I was with spat at him during his performance and then bravely legged it from the hall after he saw the look on Needs' face.. Not my fault (nor his to be fair) but Needs pointed in my direction at the end of the song and said naughty things to which the audience turned in my general direction. Whoops. Can laugh about it now as Kris and I know each other."
Thanks Sarah Woods for the below backstage pics: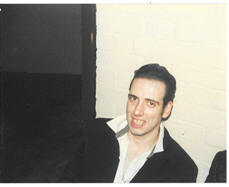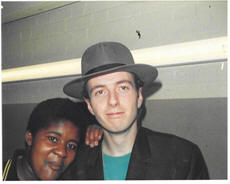 press cuttings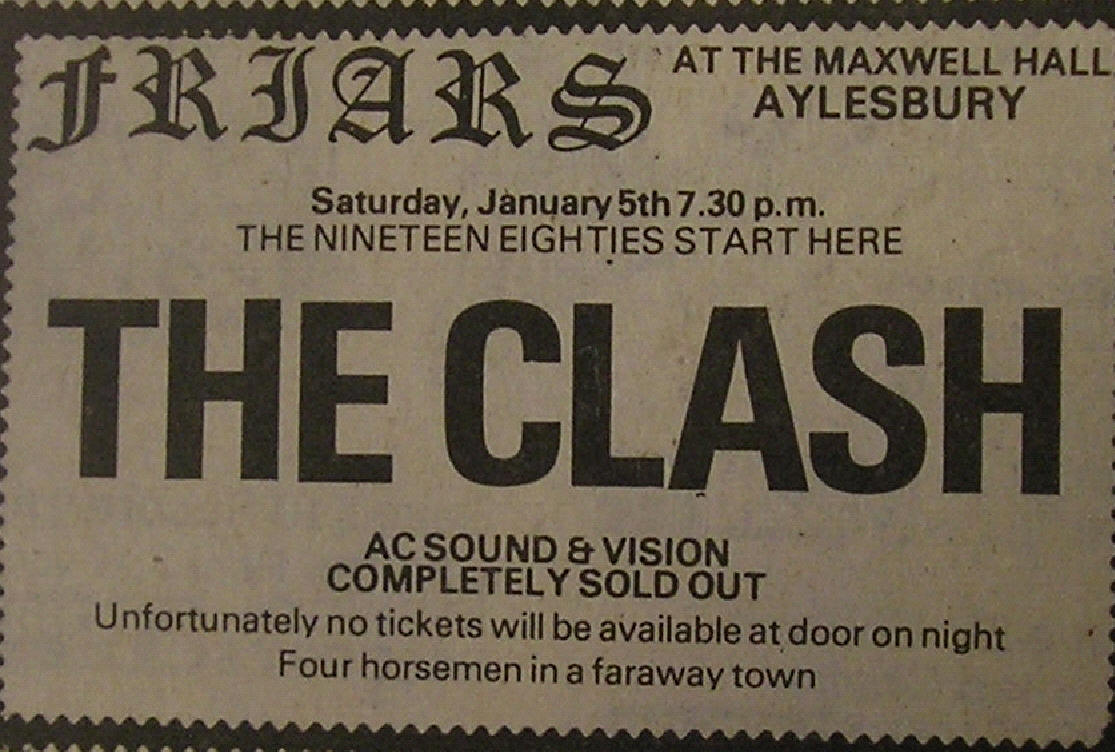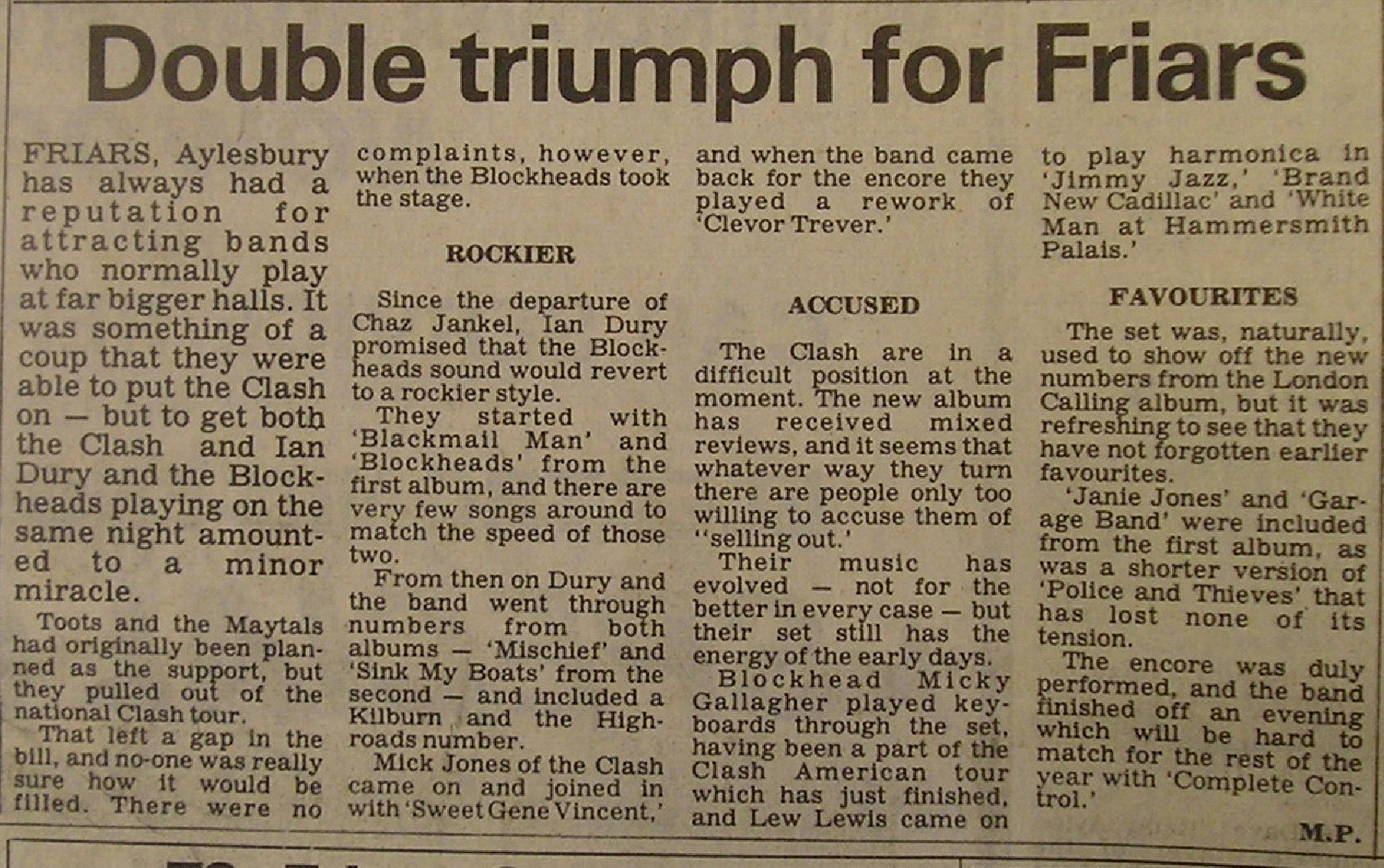 Thanks Tim Watts for the cuttings.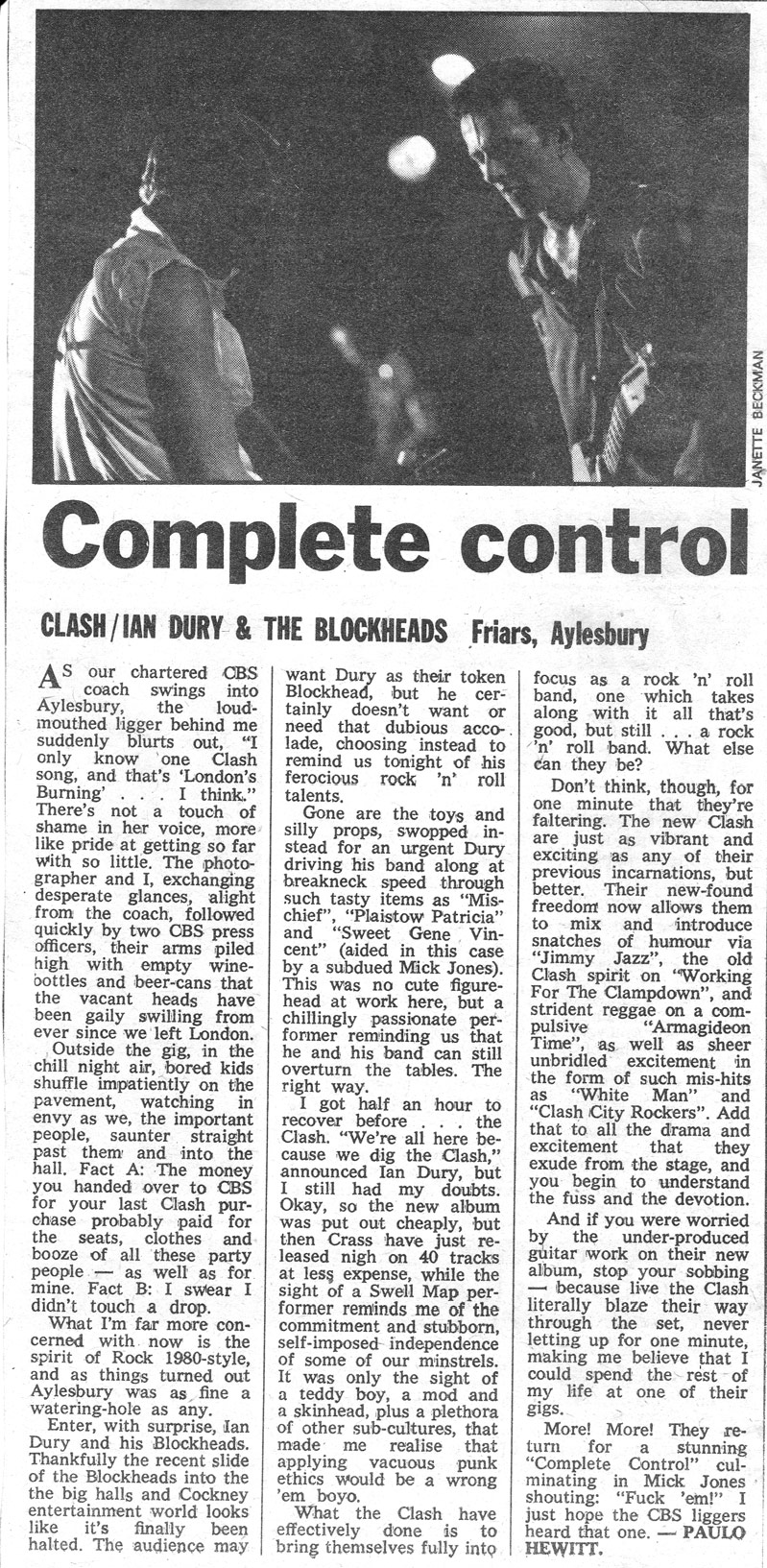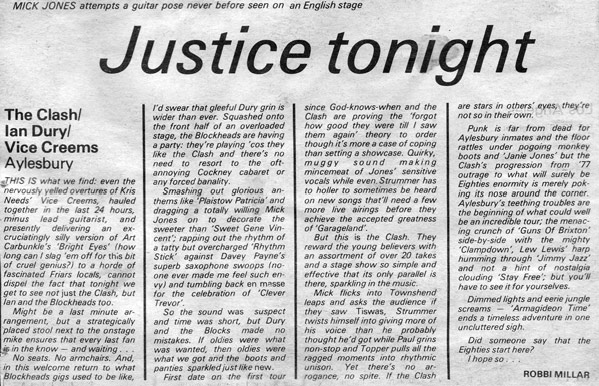 thanks to graham britten for the nme cuttings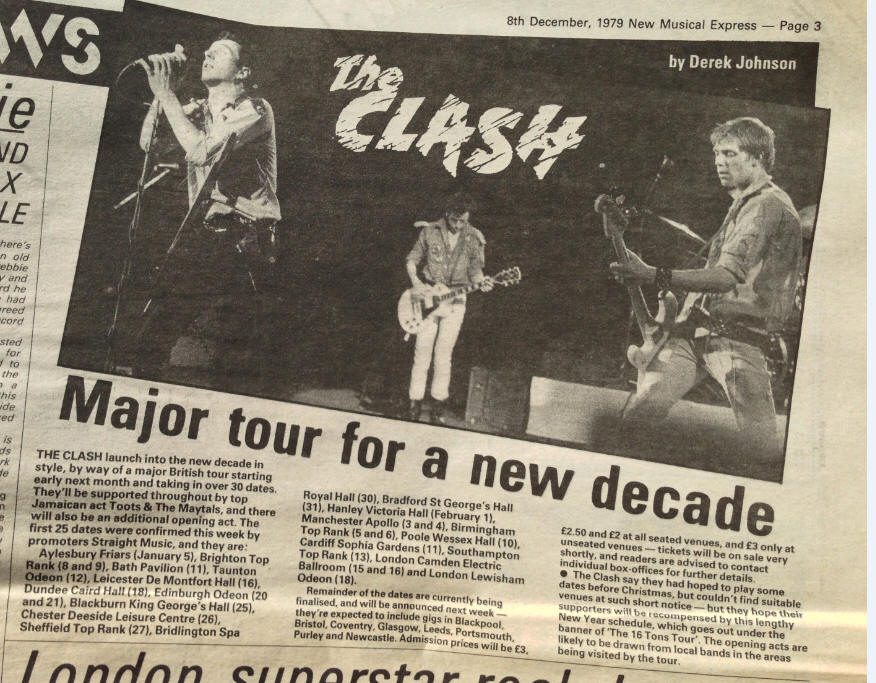 what happened next
The Clash
effectively imploded after the final Cut The Crap album by which time Jones had been sacked from the band. After The Clash, Jones went on to successfully form Big Audio Dynamite. Currently he is part of Carbon Silicon. Strummer formed and toured with The Mascaleros. Simonon went into art and came back into prominence in 2007 with The Good, The Bad and The Queen, a project also featuring Damon Albarn. Topper is believed to be living and playing in the Dover area. Joe Strummer died in 2002.
Jones and Headon reunited for the first time on stage in 25 years in January 2008 at a Carbon;Silicon gig (Jones' current band)
Ian Dury and the Blockheads lasted only another couple of years. They reformed for one off gigs and more permanently in the 1990s before Dury's untimely death
The Vice Creems featured Friars legend Kris Needs who is still a music journalist
odds and trivia
official web presence
The Clash Official Site Blackmarket Clash (who kindly allowed some cuttings)
sound and vision
The Clash - Police And Thieves (live at this gig!)
Ian Dury and The Blockheads and Mick Jones - Sweet Gene Vincent (also at this gig!)
Vice Creems - No Passion