related friars history (click on date)
Eddie and the Hot Rods Saturday February 7th 1976 Saturday October 2nd 1976 Thursday December 23rd 1976 Saturday February 18th 1978 Friday October 8th 2010
Kursaal Flyers (Graeme Douglas) Saturday December 28th 1974
band line up
Eddie and the Hot Rods
Barrie Masters (vocs) Graeme Douglas (guitar) Paul Gray (bass) Steve Nicol (drums)
The Members
Nicky Tesco (vocs) Gary Baker (guitar) Chris Payne (bass) Adrian Lillywhite (drums)
`
gig poster and flyer (click to enlarge flyer)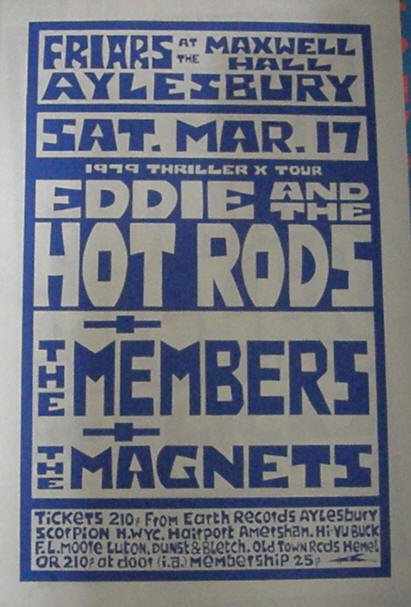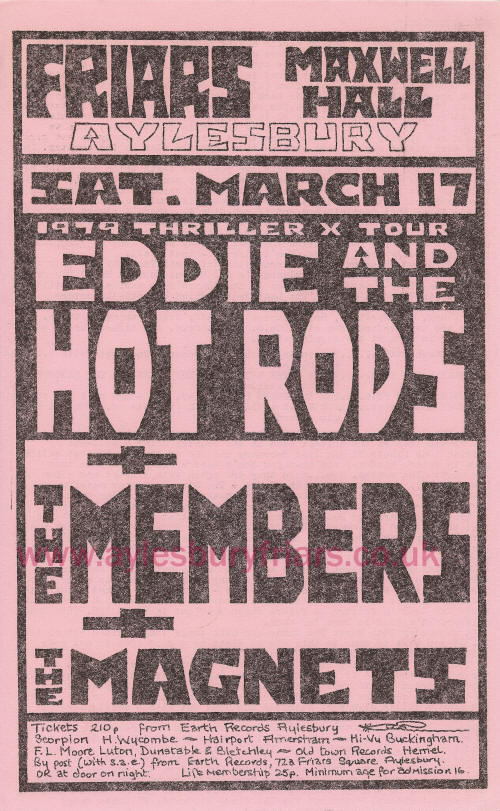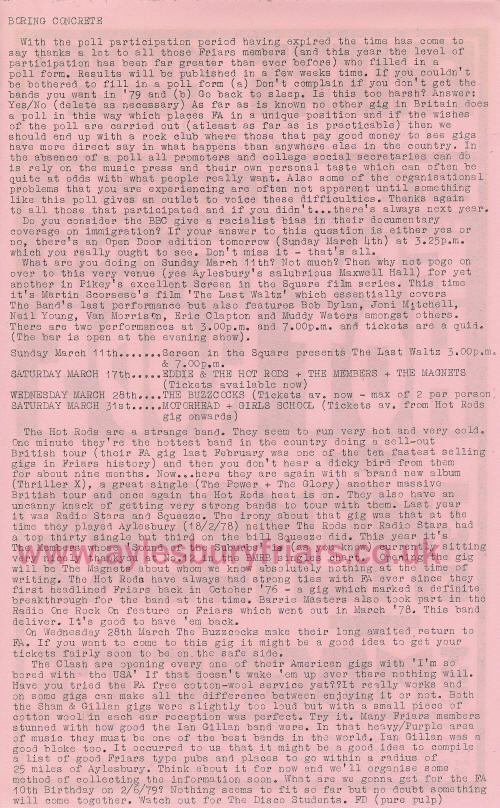 ticket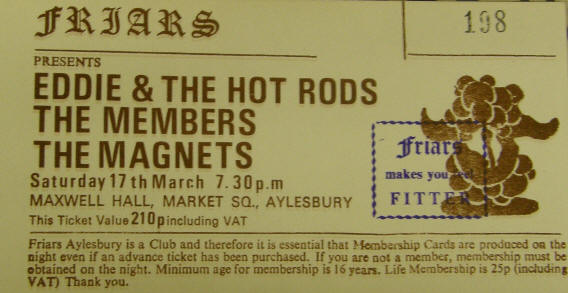 memories
Barrie Masters, Eddie and the Hot Rods:
In my humble opinion Friars was the best all round gig in the country. The size is great as you're never too far from stage or bar, acoustics are excellent and from the bands point of view a perfect stage size and great dressing rooms.David Stopps ( promoter in my day ) an excellent host, always looked after us well and also ran a tight ship. I must add that the Iggy Pop gig with David Bowie on keys, rates in my top ten gigs of all time. So as you can tell, you won't get a bad word about Friars from me, and I have done more gigs than most bands in the country, most of them I have forgotten by now, but I always remember the Friars gigs I have done. if only all gigs were as good as.....
press cuttings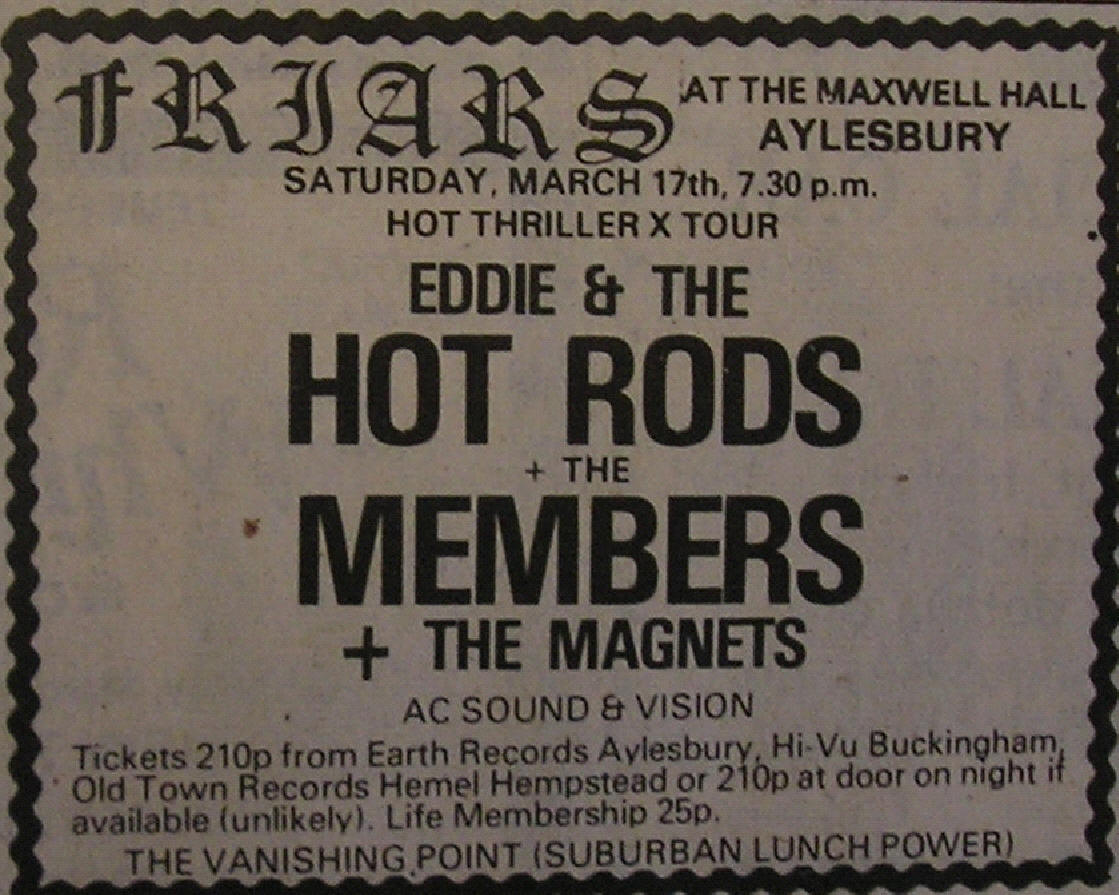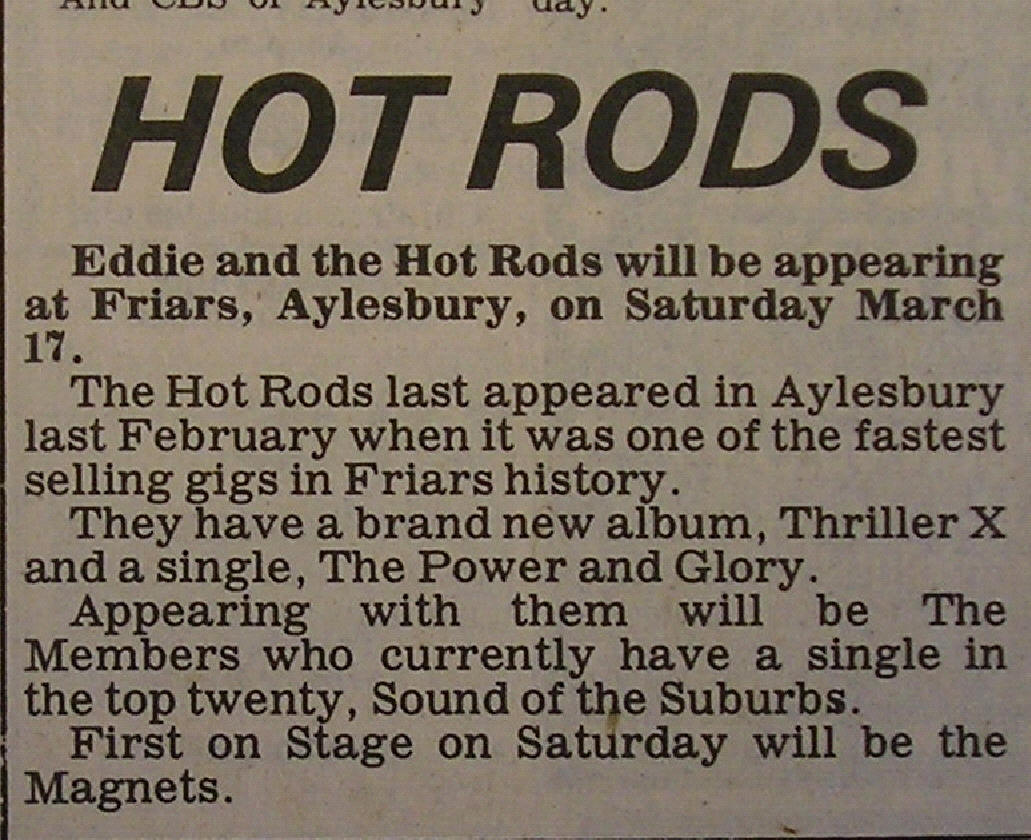 Thanks to Graham Britten for the NME cuttings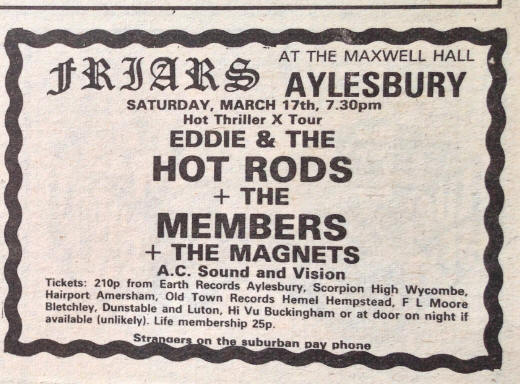 what happened next
Eddie and the Hot Rods still gig regularly today. Guess what? Eddie and the Hot Rods came back to grace Aylesbury in the Summer of 2008 headlining Hobble on the Cobbles in the Market Square and they finally came back to Friars at the first night of Phase Four where they were thought by many to be the best band on the bill.
The Members split in 1983 but not before a hit single or two. They were reunited in 2007.
odds and trivia
official web presence
Eddie and the Hot Rods official site
Radio Stars official site
Squeeze official site
sound and vision
Eddie and the Hot Rods - The Beginning of The End
The Members - Sound of The Suburbs