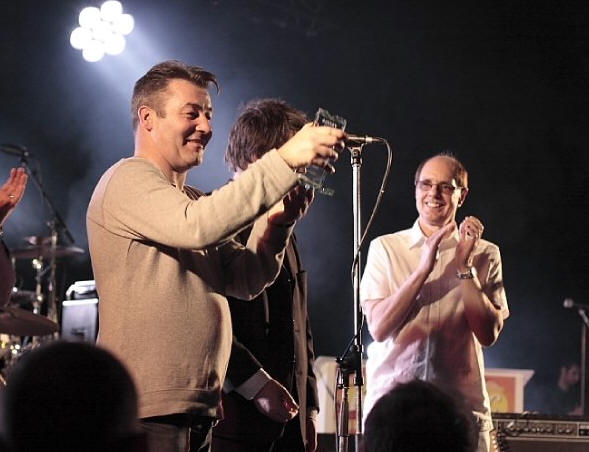 Eddie Lundon, Friars 2009. Photo Neale Wareham
Two of Liverpool's finest, China Crisis troubled the charts a lot in the 1980s and played Friars in 1983 for the 14th birthday party. They are back at Friars on November 27th 2009 after a brief 26 year absence. The band is still going strong and regularly gigging. We caught up with Eddie from the band and you can read about what to expect at Friars, his work with Paul McCartney's LIPA and the fact they are recording a new album for their 30th anniversary tour next year.
It's great that you're back at Friars after 26 years!
Bloody hell! It's unbelievable - I didn't realise it was so long!
It was the Friars Aylesbury 14th birthday party in 1983!
I know the venue really well, but I can't remember what it looks like inside! It's going to be a good night and with Kid Creole as well.
We know David Stopps from there and we gave Howard (Jones) his first tour.
1983 was the first big year for China Crisis wasn't it?
We did really well from 1981, we had a good run of albums and hit singles. Even from the fourth album, we had a big hit with Best Kept Secret. But from the first album (Difficult Shapes), we had African and White and Christian. 1983 Was a great year with the hit album Working With Fire And Steel and the hugely successful single Wishful Thinking but it was not our best year though, that was 1985/1986 when we had hits with Black Man Ray and King in a Catholic Style from the Walter Becker produced album Flaunt the Imperfection.
Yes, I'd forgotten how much you did after that 1983 period! Time flies! What I have said in my Friars newsletters of late is that you forget just how many hit singles China Crisis had.....
If you look in the Guinness Book of Hit Singles and stuff like that, there are ten or twelve top 40 hits. We sold about seven million albums. It wasn't just here that we were successful. It was all over we did really well.
Did you have success in America?
We did OK over there, and had sell out tours. We did well in various territories - in Europe, Australia, New Zealand and the Far East.
You did alright when so many British acts don't even get a sniff of success in America.....
It was good!
It took you round the world!
Happy days!
Another thing I have mentioned on my newsletters is that I saw you live last year and you were absolutely brilliant!
Thank you! Where was that?
At the Roundhouse with OMD. I thought that not only was the crowd up for it, you and Gary (Daly) clearly were too!
We were - we thoroughly enjoyed it!
Two of the best Liverpool bands on one stage!
Thank you very much!
It could only have been topped by having Deaf School on as well!
Clive Langer (from Deaf School) produced one of our albums! What Price Paradise, which has Best Kept Secrets on it! Deaf School are playing in Liverpool again at Christmas.
I can't get to that, but will be seeing them in London in a couple of weeks.
We play Christmas gigs in Liverpool and usually play the Cavern. We do two gigs there. It's world famous...it's the Cavern and it has to be played! It's a great venue. We do two nights there because it only holds 450 people. You go downstairs to it and it freaks you out a little bit because you think if anything happens, how the hell do you get out? The the atmosphere is rowdy and good fun but looks a little dangerous! It's not the original Cavern? No, it's still a series of tunnels. The original one was built under a road and this one is just like the old one, but isn't the real one.
I've seen the recreation of the Cavern at The Beatles Story in Albert Dock.......
Last year, we went to Florida with the kids, and as you have to do, we went to the Hard Rock Cafe and they have one wall that was the Cavern! The kids couldn't get over it!
Amongst China Crisis' musical influences is Steely Dan....you got Walter Becker to produce a couple of albums.
He produced two albums and produced Black Man Ray and King In A Catholic Style. We had great times with Walter. When we did the second album with him, he was living in Hawaii so we recorded there which was fantastic!
There are worse things you could be doing!
Yes, but I couldn't surf! Couldn't crack that nut!
Warped By Success was your last album.....
It was our last studio album for Virgin Records, but we recorded another Warped By Success after that. Everything since then (1994) has been 'Best Of' albums. We have a ton of stuff we have never got round to recording which we will do for next year as it will be our 30th anniversary
You've told us first! There's a new China Crisis album on the way!
Yes, for the 30th anniversary.
Will you be doing a 30th anniversary tour off of the back of that?
Yes, as you said yourself, we enjoy playing, so absolutely.
It was brilliant as I said to see you guys enjoying yourself so much.
We keep it fresh and the musicians are great so it sounds so much better.
You have an extensive back catalogue, which we will hear in Aylesbury on Friday, but seeing you doing your best known songs, you weren't going through the motions (which I have seen from artists I won't name) which was great.....
If it was a case of doing that, I wouldn't do it as that's dishonest. People have paid good money to see us.
You've worked together for near on 30 years, but with the last 15 years seeing mainly compilation and live albums, what else have you been doing?
I teach for Paul McCartney at LIPA (Liverpool Institute of Performing Arts). I've been there quite a while. They give me time off to tour and record so best of both worlds. We've had some great students come through there and been successful - The Wombats, The Zutons, Sandi Thom......and I've been part of that.
There will be a lot of respect as you've been there and done it....
I teach songwriting (obviously!), sound recording and some of the business side. I work mainly with songwriting and performance elements.
I remember the publicity when LIPA opened.....
It is doing really well now. About 50% of the students are from abroad. The parents attitude is if you're going to music school, you are going to the best, Paul McCartney's!! It's got five recording studios and it's fantastic!
What's Gary done to keep himself busy?
He paints. He's an artist, he's actually gone down to Windsor today as he's got an exhibition going on. I'm in London tomorrow doing some LIPA work and then it's up to Aylesbury!
So we can expect to hear a best of China Crisis set on Friday....and what else? Any new stuff?
We're going to do some obscure album tracks that people won't have heard for ages and we're going to do all the hits!
It will be rocking on Friday!
We played with Kid Creole this summer at a festival in Henley. We do a fair amount of festivals.
Looking forward to seeing you and Gary on Friday, Eddie....thanks very much for your time.
Cheers
This interview and its content are © 2009 Mike O'Connor/www.aylesburyfriars.co.uk and may not be used in whole or in part without permission.