Fast Buck were an emerging band from the pub rock scene of the mid 70s and secured high profile tour supports to Kevin Ayers (including Friars), ELO and The Pretty Things. We caught up with the face and voice of the band, Ed Hamilton, and some surprises in store as you will see there is more to Ed's musical history than meets the eye as we discuss amongst other things Sheena Easton and The Nolans. Ed is an Oscar nominated songwriter and when in a band called The Night Shifts, replaced Jeff Beck who then replaced Ed. We spoke to Ed in November 2011.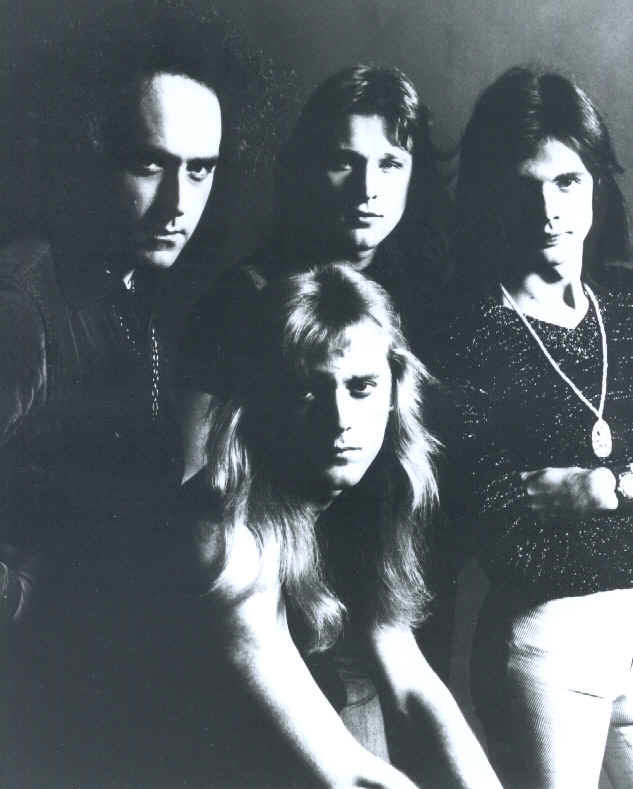 Early publicity shot for Fast Buck - Ed is on the left. (Fast Buck website)
Thank you Ed for talking to the Friars Aylesbury website. I wasn't old enough to see you at the time, but I am impressed that having played at Friars in July 1976, you are still playing now and with exactly the same line up, that's impressive 35 years after!
Was it really 35 years?!
Yes, the hot summer of 1976!
Wow, I can remember it as if it was yesterday.
You remember the specific Friars gig?
Yes!
What do you remember exactly?
I remember that Kevin Ayers was a bit of strange lad and a bit of strange audience. They weren't really our audience, they were a bit hippy but they were OK, we went down alright. But not as well as we were used to.
I remember the gig well, we were slightly wary and looked out at the audience and had quite heavy and dark make up on and looked a little spaced out (laughs!) - Kevin went down well and we stayed and watched his set.
Musically you were different to Kevin - I've listened to some of your stuff and it's great. How would you describe yourselves? You seemed to get tagged in with the pub rock scene, would you see that as fair?
(Laughs) Well, we did come out of the pub scene, but then so did Dire Straits. Andy Summers and The Police. Andy, as you know was in Kevin Ayers band. We got on really well with Kevin's band. Charlie McCracken I saw some years later at Wembley Stadium and Andy Summers used to buy his stuff from Rolands on the Great West Road where our drummer worked for a while. Mike (Baron) said to Andy "I don't suppose you remember me, I was in a band called Fast Buck" Andy did remember him and remembered that we had toured with them in Kevin Ayers. Zoot Money was good and I know Rob Townshend hasn't been so well. We got on with all of them, they were great musicians, but Kevin had cultivated this hippy aura so we were happier on the ELO and Pretty Things tours.
Funny you mention them, as when Friars opened its doors after a 25 years absence in 2009, we had The Pretty Things headlining...they were great and blew me away. Still with Phil May and Dick Taylor.
Dick wasn't in the band when we toured with them and we had a run in with Phil May on that tour. The first gig of the tour was at Brunel University in Uxbridge. Our respective record companies had organised the tour, it was nothing to with the bands. After the first gig, Phil May demanded £500 before the gig at Birmingham or else he wasn't going to let us use the PA. We protested it was unfair as we hadn't organised any of this and he basically told us to go 'forth and multiply' so I told him to shove the PA up his arse and we would use our own which we did setting up the PA in front of theirs. Our P.A. at the time was massive. After the sound check as we came off stage we heard the tour manager saying to Phil that he may have made a bit of a mistake. After that they were alright with us. We didn't invite these hassles. We worked with a lot of other bands and never had problems. We never had any issues with ELO who were much bigger. We got on with most people, the issue with the Pretty Things aside which disappointed me.
ELO were huge!
Yes, this was around the time they were about to become a world wide success. They had a tour of America and we were supposed to support them there but we got pulled out of the tour because the American record company wanted an American act as support.
Outside of Fast Buck, you did some work with Bonnie Tyler?
I made a couple of albums and some singles with her and then came back to the band. I was supposed to go to America with her, but I wanted to keep the band going. Because I knew her management, Ronnie Scott (not related to the jazz club) who was the manager/songwriter with a publishing company I wrote for, he used to help me with my demos and my songs so he knew my capabilities and offered me the job with Bonnie Tyler.
Working solo outside of the band confines, was this the first major artist you had worked with?
No, I had already worked with the Outlaws in the 60s with Chas Hodges. I worked with Dave Peacock and Mickey Burt in other bands and before they were Chas and Dave.
Chas was also with Head Hands and Feet......
Yes and when we came off the road, we opened a studio called Fast Buck Studios in Chiswick and I recorded many of these people. Tony Colton, The Strawbs, Gerard Kenny etc.
I think from having checked up on you, your musical history is significant....
Is it?!!!!
I think so. I also think it's the first time I have ever spoken to an Oscar nominated songwriter..! - you got nominated for Loving on Borrowed Time (from the film Cobra) which was recorded by Gladys Knight and Bill Medley. Many people reading this will not have realised till now that you also wrote Night Games for Graham Bonnet which was a massive hit record.
That song was originally for Fast Buck and we did a demo at Fast Buck Studios because we'd finished our contract with Jet Records and I wanted to get another one. I had worked 36/37 hours with Dominic Bugatti (a great songwriter and all round good fellow, but a stickler when recording!) at the studio and when I got home I was so hyped up. When you are recording someone and working the desk you have to be so on the case and you can't make mistakes because that take could be the take of the night, you had to capture everything. It was about 2am and I sat down and picked up my Strat and started strumming Em. I wrote the first verse and the chorus of Night Games straight down but the second verse took another two weeks to write.
I guess sometimes they just fall into your lap or they take a while.....
Yes, but you have the come down and you want to go to bed, so you think I'll finish that in the morning...! (laughs) As it turns out, it was quite a good song and I was quite happy with it. I took it to the rest of the guys and said 'I don't generally say this but I think this is a hit and I want us to do it and to get another record deal'. I took it around to all the record companies and they all said it was alright but it wasn't a hit. I told them I would ring them up when it was sitting on the chart.....
That must have been a joy, just a shame you couldn't do it with Fast Buck.
I rang them all up and Kevin Roland who was in a band called Family Dog in the 1970s (and was A&R at a record company) just said after I pointed out it was a big hit all over the radio, oh it wasn't the version I heard.....! Unfortunately I felt I had to prove a point. Graham Bonnet had just left Rainbow after two huge singles with them and I wanted to prove myself as a songwriter and was offered a cover with Bonnet and said to the guys I was going to have to take it. It was a bit of a shame but the Bonnet version had Cozy Powell, Micky Moody, Gary Twigg on bass and Status Quo's keyboard player. Our version is available too on the Fast Buck 2 album, and I think it's much better.
Did you leave the band at that point....?
No, we were running the studio from 1978 to 1987. For various reasons the band drifted as they continued to play whilst I was running the studio but we got back occasionally to play special gigs and reformed permanently a few years ago and have been playing ever since.
You've done the songwriting and also producing and you mentioned Micky Moody (from Whitesnake) - you've done some other stuff with him too....
Micky Moody and Bob Young (Status Quo tour manager) had an occasional band called the Young and Moody band and I became their lead singer. They were friendly and it was an occasional thing. They had a song which I did the lyrics for and he said I like the sound and it's nearly a hit and asked where I did it. I told them it was at our studios. They came down with some well known session players and I did a session [with them] and did some vocals and fell into it. And they asked me to do an album and had this concept of having a supergroup and getting in the likes of Lemmy and The Nolans(!). I agreed to do that and we ended up on Swap Shop and Tiswas and the like.
I'm trying to get my head round a supergroup with Lemmy and the Nolan Sisters!
I'll tell you what - a lot of people have no time for the Nolans but they are so professional and they thought it was great as no-one had ever thought to ask them to do something like that before. They worked harder than any of us to get it right. They were very together and so nice.
Am I right in saying you worked with Sheena Easton also?
I worked with her and crossed over a few times in various projects but we never shared a stage. We had some songwriters called Mike Leeson and Peter Vale who John Deacon of Queen had discovered. He had a deal with Sheena Easton's management and we recorded all her early stuff down there. She was really nice and it turned out she came from a place 1.5 miles from me. She's from Bellshill, I'm from Motherwell. We had a lot in common. She was great. This was just before she broke with Modern Girl. She went from there to being huge in America.
I also played on BBC's Pebble Mill with a band that included Mick Underwood (Gillan) and Neil Murray and Micky Moody from Whitesnake. Leeson and Vale went on to be very successful songwriters. Mick Leeson wrote the lyrics to For Your Eyes Only which Sheena Easton did for the James Bond film. Pete Vale co wrote Love Will Keep Us Alive for the Eagles comeback album (co written with Paul Carrack). Aside from Sheena Easton they had a number one with Charles and Eddie's Would I Lie To You? They came good.
There's such a depth to your musical history and looking back, you also worked with Thin Lizzy's Scott Gorham in the forerunner to Fast Buck didn't you?
That was tentatively called Special Brew. He saw me playing in a pub in Wandsworth and he loved my voice so why didn't I sing with his band? We alternated between Special Brew and Fast Buck and when Scott told me he was going to join Thin Lizzy and the drummer was going to join Slack Alice as he didn't want to be left behind, he thought I would crumble into nothing but I held auditions and got the other three musicians who ultimately became Fast Buck. The last contracted gig as Special Brew after Scott Gorham left, I borrowed some good friends of mine, the guitarist and drummer of Hot Chocolate who were huge at the time. Scott was in the audience and joined us for some harmonies. Rob Grant the bass player in the Scott Gorham line up is now a doctor of American history and lives in Atlanta, Georgia. He tracked me down through the Fast Buck website and came over to see me earlier this year. I hadn't seen him since 1975. He came over to see the duo Andy Locke (also from Fast Buck) and I play as A&E at a gig in Harrow.
Coming full circle and as I mentioned at the start, you are gigging regularly with Fast Buck again...
Yes, we are playing quite a few gigs. We still have that three part harmony magic we used to such good effect, and a host of our original fans. It's great fun.
Fantastic to hear your story and thank you for talking to us. Thank you very much for your time.
This interview and its content are © 2011 Mike O'Connor/www.aylesburyfriars.co.uk and may not be used in whole or in part without permission.