One half of prog electric duo Tir na nOg, Leo O'Kelly went solo after they split in 1974 and one of his first solo gigs in the UK was at Friars Aylesbury supporting Fruupp in 1975. As you will see, he has vivid memories at that tour and indeed of Friars itself. Now touring with Tir na nOg again as the original duo, they tour Britain in the spring of 2012. We caught up with Leo at his home in Dublin.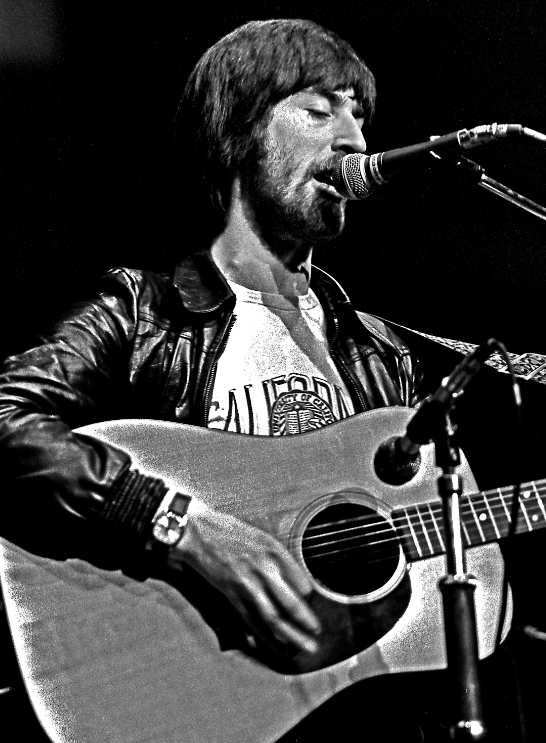 Leo at Friars 6th December 1975 (Geoff Tyrrell)
Thank you Leo for talking to the Friars Aylesbury website.
I'm not sure I can contribute too much, but we'll see what I can do! Even back then, there was an aura about playing at Friars.
When I was researching for our chat, it looks like we billed you incorrectly as Leo Kelly rather than O'Kelly...
This does happen from time to time. I think it's the two o's running in to each other.
When I first contacted you, you said you remembered the gig as it was the first night of the Fruupp tour?
It was certainly the first night I played. I think the tour started the night before, but Friars was certainly the first one I did. I few over from Ireland and got a train up from London. I remember walking through the town.
It's pleasing for me knowing that the Friars gig stood out rather than just being another gig for you.
Even at the time, you knew you were playing somewhere very special and it was an honour to play there. When I played, I knew the place was hallowed if you like.
Fruupp for example were particularly big in Aylesbury, how did that tour support come about?
I was trying to think how it came about. When I was living in Dublin, I used to get lots of gigs but I didn't have a telephone, so I don't know how it came about. Possibly, it came about through Paul Charles, Fruupp's manager. I didn't really know Paul until that tour but he would have been aware of me. Word of mouth? I think so. Somebody must have sent the word over to Dublin. We did the London Roundhouse on that tour as well. It was fabulous and there was a Northern Irish gig that I was told not to play on that tour because it was such a Protestant town that if they heard my southern accent there would have been a riot.
I just got paid for the gig though and I tried to go back to the hotel...and I went to the gig - it was very threatening being followed round and I dared not open my mouth. I got back to the hotel to find it locked and surrounded by barbed wire and gates. So I went back to the gig and the town was deserted and from the hotel to the gig a car drove beside me the whole way. I was scared to look left right or centre. This was not long after the Miami Showband tragedy.
Friars was very pleasant and very well organised. I remember there was one guy coordinating it.
That was/is the legend they call David Stopps! So many artists I have spoken to, like you, talk of the magic of Friars.
Prior to playing at Friars, you were one half of Tir na nOg.....
We came back to Dublin in 1974 and I did a few solo gigs, but these (the Fruupp tour) would have been the first UK gigs as a solo artist.
You did just the three albums as Tir na nOg (Tir na nOg, A Tear And A Smile and Strong In The Sun)....and John Peel took a shine to you?
We did the three albums and a couple of live albums. We also did stuff for Bob Harris and as many as ten John Peel sessions.
Those sessions have finally come out CD as well. You did just the three albums, you got tagged as progressive folk which is quite a unique tag in some ways. It's unusual for a start!
I suppose it is but at the time progressive was respectable and seems to be acceptable again!
In the Tir na nOg days, you got to support some amazing artists didn't you?
It's probably easier to say who we didn't play with! We supported Jethro Tull, T-Rex, Roxy Music, Emerson Lake and Palmer, Procol Harum, Hawkwind, the list goes on! Rory Gallagher, pretty much everyone. And Supertramp supported us once!
That's amazing! I think you're right, it is easier to say who you didn't play with!
We were gigging with the likes of Fairport Convention and Pentangle at the folk end of the scale and Hawkwind at the other end of the scale. The great thing about playing in Tir na nOg is that we could be playing a small folk club one night and then something like the Royal Albert Hall with Jethro Tull. And pretty much everything in-between so we got to meet everybody, it was fantastic really.
Playing and meeting all those fantastic artists must also have brought your music to wider audiences. But Tir na nOg stopped in the summer of 1974, although you were getting all the John Peel sessions, was it the lack of commercial success........
The real problem was that we had all our eggs in one basket. We were managed by Chrysalis, recorded for them, publicised by them....we didn't really have anyone in our corner. We had no independent manager to look after our interests. Another problem was we were playing seven nights a week all the time. It was just too wearing. Three or four nights a week maybe....
It was too much wasn't it?
I think so, we hardly had any time to do our laundry!
So that really brought it to an end?
Well, at one point towards the end we thought we might give them another six months but we got really got pissed off and said could we do three nights a week or if we were doing a tour then seven nights might be OK if it was at the start or end of a tour but not endlessly. We could be in Glasgow one night and Cornwall the next day. It was a bit mad and then they got a bit pissed off. I think we could have been the first band to drop their record company! (laughs)
That's a novel situation!
It's a pity in some ways but everyone was very young. Even the managers at Chrysalis were all in their twenties.
After Tir na nOg split, you and Sonny (Condell) went off and did your own things and your solo careers. You also got involved in production didn't you?
Yes. Around that time I did that Fruupp tour in 1975, I produced an album by The Loudest Whisper which became a collector's item selling for lots of money. I produced mainly Irish folk acts and produced half a dozen or so albums for EMI and Polydor.
Aside from the production and your solo work, have you stayed in the music business?
I haven't done anything else, it's been 100% music.
Around the mid 1980s, Tir na nOg got back together and you've been performing sporadically since then?
We put an single out then (Love Is Like A Violin) and did a bit of a tour and recently we have been gigging everywhere - our last gig was last weekend in Wicklow. We've got four short tours of the UK coming up all over the place.
I will be making every effort to get to the gig you are playing at Milton Keynes Stables, a fabulous venue.
I believe the tickets are selling well. This is totally down to friends and fans in England who have managed to get us these gigs all over the country.
It goes to show that the music lives on.
Yes, and the audiences are coming out of the woodwork!
I also noticed which I find fascinating is that as part of your UK 2012 gigs, you are going back to the Troubadour in Earls Court where you played for first ever UK gig in 1970!
That's going to be exciting, I'm really looking forward to that. I'm amazed it's still there, I can smell the coffee! It's a small venue. I remember staying on the floor of some friends of Sonny's in London and the first place we went to was the Troubadour.
With all your UK gigs planned for 2012, is there a new Tir na nOg album in the pipeline?
I wouldn't rule it out let's say. We are being encouraged certainly to put one out.
With the fans having helped put these gigs on, I guess you have to weigh up the commercial realities before you decide to make an album....
Leo, it's been great talking to you - best wishes to you from all at Friars Aylesbury
This interview and its content are © 2011 Mike O'Connor/www.aylesburyfriars.co.uk and may not be used in whole or in part without permission.