Cruise, as a well known local band, secured three support slots at Friars - two on all local bills and the third a prestigious slot supporting Flock of Seagulls. A cross between Shakatak and Steely Dan, here Mike tells us his musical tale which begins well before Cruise and continues today.
Thank you Mike for talking to the Friars Aylesbury website. I was chatting to another local legend Mick Lister earlier in the year for the website and he was talking about being in talent competitions in the 70s when the big Aylesbury band at that time was As It Is which is where you really started isn't it? I remember seeing adverts for you in the Bucks Herald as I was growing up as you always seemed to be gigging.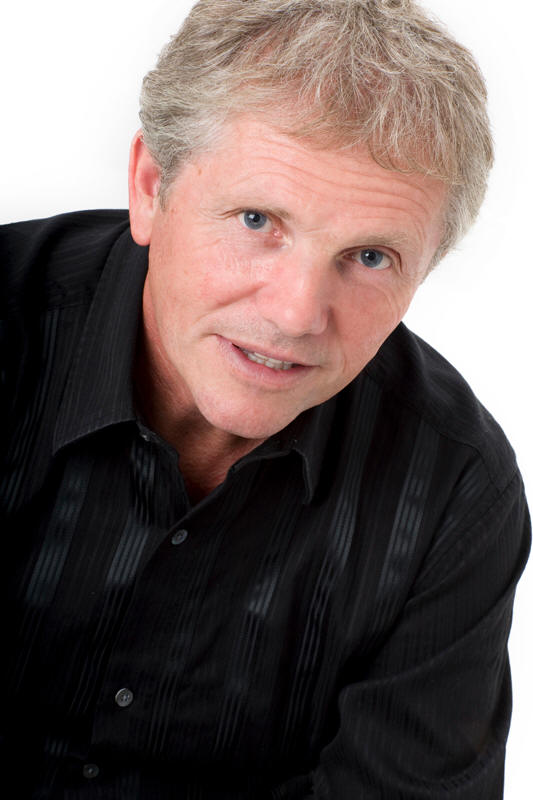 Mike Carroll today (copyright Mike Carroll)
We were a popular little band then. We were young and did covers and played everywhere. We did all the social clubs and stuff. He headlined Hobble on the Cobbles sometime in the 1970s on the stage in the Market Square....
Before it got banned for being a glorified piss up!
Yes, there was some trouble and it got shut down.
But you have come full circle with that - you played it last year premiering your latest CD and you're playing the Hobble at the Waterside next February?
I'm doing a solo spot in the foyer apparently! I'll be busking and I'll bring my dog! (laughs)
Was As It Is a full time concern? How far did you take that?
Not really. We'd just left school really and by the time we got to 19, we were singing Bay City Rollers and that kind of rubbish but our musical tastes were stretched and we were into Alex Harvey and we were doing things 'Faith Healer' by the end of it at places like the New Holland Social Club. We used to go down quite well as people had never heard it.
I know you did talent shows back then, did you ever get any TV work?
No, but we did tour with David Essex with Cruise in 1983.
I was coming onto Cruise.....!
I was in a duo called The Heartbreak Kids with Martyn Thrussell, who did appear on New Faces.
I remember Martyn - he was a friend of my cousin and I saw him play at my cousin's 18th!
Martin joined As It Is just before he did New Faces. We played the Civic and he got all the publicity and headlines. He came second on New Faces and but for Jim Davidson would have won it. We then did the Heartbreak Kids and did some talent shows at the Civic and became a trio with Charlie Devon on sax. Martin then went to America where he still resides. I then formed Cruise and played locally and got some support slots at Friars.
Yes, the first gig was a big local boys gig with Otway and Barrett headlining and you playing in the Aston Hall. How did that gig come about? So many local bands wanted to play Friars so what did you do?
We must have hounded Dave Stopps!
A common theme I think!
Yes, we must have done. I'm not sure how we got the gig though. There was another band playing with Les Payne's son on drums, a reggae band?
Ah, that would have been No Nonsense!
I think we played a mixture of Steely Dan songs and our own stuff. I suppose we got the gig because we did do our own stuff.
I think you were seen as the local jazz-funk stars? More in the Level 42 way or say Shakatak way?
Not really But probably nearer Shakatak, but we thought it was nearer Steely Dan with the song content (we had)
Shakatak meets Steely Dan?
Sort of - a cocktail Steely Dan. There wasn't much rock involved, it was quite jazzy.
I get what you mean. You were doing local gigs as well and of course came back to Friars in June 1982. I was at that gig and all three bands...Marillion, Cruise and Solstice were great and very well received. Then an arguably bigger gig in 1983 supporting A Flock of Seagulls who were very big in America at the time.
What happened there was through some of my family in London, I got to meet a guy called Don Murphy who was Adam Ant's manager and he ran security for Frank Sinatra and any of the big acts that came into England to perform. He got into the music business being it security, car parking, meeting people off the plane...he was a bit of a villain really(!) and when Adam sacked Malcolm McLaren as his manager, he asked Don to fill his boots and agreed to have a go even though Adam was one of the UK's biggest acts round that time. Don was a friend of my uncle's and before I knew it I was sitting in A&R at CBS with legendary producer Muff Winwood. Muff put us in a studio and made some recordings. The band had all but split up and we were just songwriters with a singer. We had these songs and got some session musicians in to work with Muff came to see us at a big London rehearsal studio where next door had the Belle Stars rehearsing. The idea was we would rehearse for a week and do a big showcase and Muff would see us. He was blown away and said we were a great band and wanted to see us do a gig. So Don Murphy got in touch with David Stopps asking that he helped put us on at a local gig as there would be a fanbase and Muff wanted to see us in a gig situation and he stuck us on the Flock of Seagulls gig.
So what happened after that?
We thought we were going to get signed to CBS and Muff said !I can't put my finger on it - you sound like David Cassidy singing with Steely Dan!" The voice of an angel with these ugly bastard musicians, it's a bit of a mismatch! I can't get my head round it. Muff then said (to us) that David Stopps had apparently said to him that "they're one of those bands that you think are really good but they are not going to make it" and that killed me. What a thing to say, even if you thought it? Don persevered with us and Muff suggested getting us out on a tour.
So that's how the David Essex support slot came about?
We were just songwriters rather than a band and Muff suggested getting a band to work around me. So Don got us on a tour with Essex.
How did you go down on this tour?
Fantastically well. We played the first half of the tour including Scotland which Don had paid a lot of money to get us on and by the second half of tour, we were about to come home, as we all had jobs and the like, Mel Bush the promoter said that David Essex wanted us to do the second half of the tour as we were warming the audiences up brilliantly before he came on and this time we'll pay you and the gigs are all round London so you'll get record company interest. By then on that tour we'd played Scotland, Wales and the north of England. We were really tight by then playing every night. But we split up as everyone said they had to go back to the jobs. So we never did the second half of the tour. They didn't want to go back to their jobs but they had to.
So it was a case of the other guys not wanting to take the risk?
Yes, but I'm still friends with all of them and play with some of them. Now they all say "what the fuck were we thinking?" I thought they could have got jobs anywhere anyway as they all had degrees. I was the one with no education like that and I always thought we should have given it a shot.
You were really up for it?
Yes, I just wanted to do the music. Two of us wanted to stay and the others had to go back to their jobs, so that was the end of Cruise.
That must be so frustrating, as that would have been the once chance that wasn't going to come round again. You'll never know what might have been.
Our manager had to go to America, so that lost momentum for us and when he came home, it was like "what the fuck happened" and that was our manager. Bad luck? Yes, a bit of bad luck. He had another showcase organised and brought another guy in, Paul Russell, to give another opinion and he got another three or four bands involved and so after that Essex tour it completely fell apart.
The music business is not always the nicest place to be - I've heard so many bad things.....
It's a horrible business. I often think I'm glad it didn't happen. I have a nice life, nice family and I enjoy the music and I have a successful roofing business. I often wonder if it would have fucked me up.
It has to many people.
It's a horrible business. People get fame and it's all downhill I suppose.
After the demise of Cruise, you concentrated on your songwriting...
In Cruise, I never wrote at all, I was just the singer.
What shaped you after Cruise to become a songwriter?
I recorded some stuff with one of the guys from Cruise as demos then really stopped for five or six years. I moved back to Aylesbury from London and started a family. But it's in the blood isn't it. So I started again with a covers band and then started writing songs and doing my own stuff and wrote a lot of stuff for my niece Jess Carroll. I was writing songs for a company as well and everyone was saying to me why wasn't I singing these songs? So, I've made three albums since and all on iTunes.
Whilst you have had fun doing it, have you been able to get any of your songs noticed in a wider field?
I've never had a breakthrough but when I play stuff to people they keep saying it's really good! I'm nearly at the end of it all really...(laughs), you think you are going nowhere. A couple of weeks back I headlined at The Aylesbury Limelight Theatre. It's been an ambition of mine of about 10 years to play solely my own songs. I got some great musicians in and had a great night. One of the best nights I have had in music. Everyone sat and listened, it wasn't like playing in a pub and people were saying great things about the songs after the gig. When you are captivated, you take it in better (rather than a pub)
Since the Limelight, instead of wanting to pack it in, I am full of enthusiasm again and have just released a new CD. Some great tracks on there and not so jazzy.
Mike, many thanks for your time and best wishes.
This interview and its content are © 2011 Mike O'Connor/www.aylesburyfriars.co.uk and may not be used in whole or in part without permission.