related friars history (click on date)
Madness Saturday September 8th 1979 Saturday December 29th 1979
The Bodysnatchers (most of the Belle Stars) Wednesday March 19th 1980 Thursday June 12th 1980 Saturday August 9th 1980.
setlist
Embarrassment; Sign Of The Times; Close Escape; Day On The Town; Bed and Breakfast Madness; Disappear; Pac-A-Mac; When Dawn Arrives; My Girl; Cardiac Arrest; Promises Promises; Take It Or Leave It; Shut Up;Tomorrow's Dream; Mrs. Hutchinson; Baggy Trousers; Missing You; Madness; Grey Day; Come On Come On; It Must Be Love; The Prince; One Step Beyond
band line up
Madness
Graham 'Suggs' McPherson (vocs) Cathal 'Chas Smash' Smythe (vocs) Chris Foreman (guitar) Mike Barson (keys) Lee Thompson (sax) Mark Bedford (bass) Dan Woodgate (drums)
The Belle Stars
ennie Matthias (vocs); Sarah-Jane Owen (guitar); Lesley Shone (bass); Miranda Joyce (sax); Stella Barker (guitar); Clare Hirst (sax); Judy Parsons (drums)
gig poster and flyer (click to enlarge flyer)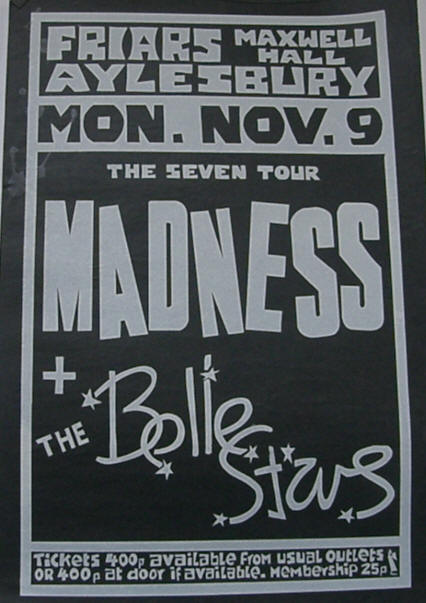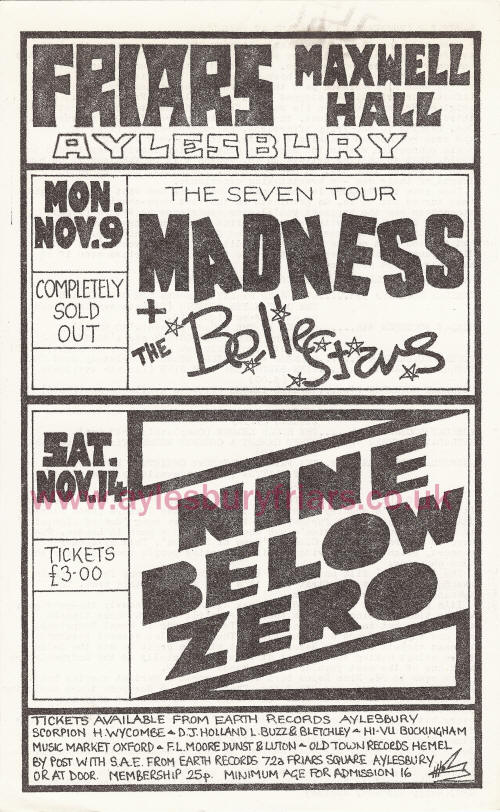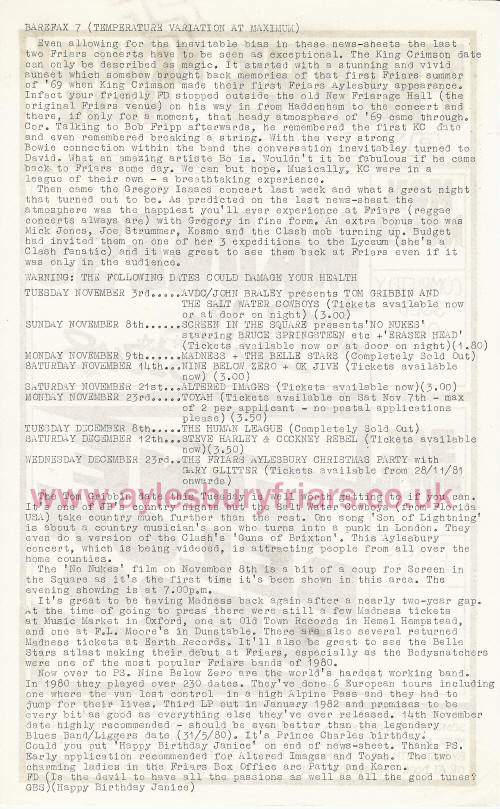 ticket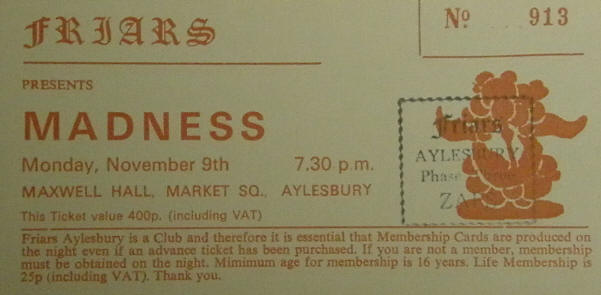 memories
press cuttings
what happened next
Madness After Mike Barson left in 1985, there was a decline in Madness' fortunes even though they were still charting. Musical differences drove them apart in 1986. Later in the 1980s most of the band regrouped as The Madness but this didn't work out. Suggs went on to have solo success. The Madness revival started with a couple of reunion concerts (all seven of the band) which ended up in two huge concerts in London's Finsbury Park. Since then Madness have played the UK's biggest arenas on practically an annual basis and still are

.

Suggs has also been a TV presenter for a Saturday night karaoke show on Channel 5. they released a new album in 2013

In the intervening years, Dan Woodgate was a member of Voice of The Beehive.

The Belle Stars had disbanded by 1986 having had a few hit singles.
odds and trivia
official web presence
Madness official site
sound and vision
Madness - Embarrassment
Belle Stars - Sign Of The Times