related friars history (click on date)
setlist
Rude Boys Outa Jail; It's Up To You; Little Bitch; Monkey Man; Blank Expression; Concrete Jungle; Stupid Marriage; You're Wondering Now;

·

Poor Boy Coventry; Nothing Ever Changed; Rat Race; Stereotype; A Message to You Rudy; Tube Train; Do the Dog; Too Much Too Young; Fanta C. Rachel; Nite Klub; Enjoy Yourself (It's Later Than You Think) You're Wondering Now
band line up
The Specials
Jerry Dammers Terry Hall Neville Staple Sir Horace Gentleman Roddy Radiation Lynval Golding John Bradbury
The Bodysnatchers
Rhoda Dakar Sarah Jane Owen Stella Barker Nicky Summers Penny Leyton Miranda Joyce Jane Summers
The Reluctant Sterotypes
Paul King (vocs) Tony Wall (bass) Colin Heames (drums) Paul Sampson (guitar)
`
gig poster and flyer (click to enlarge flyer)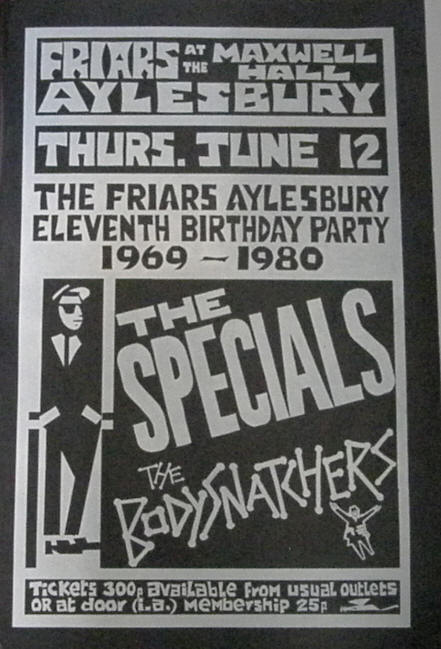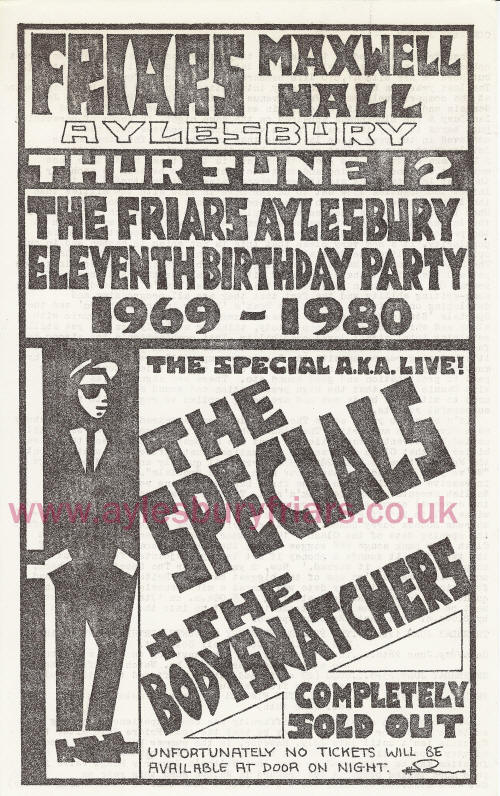 ticket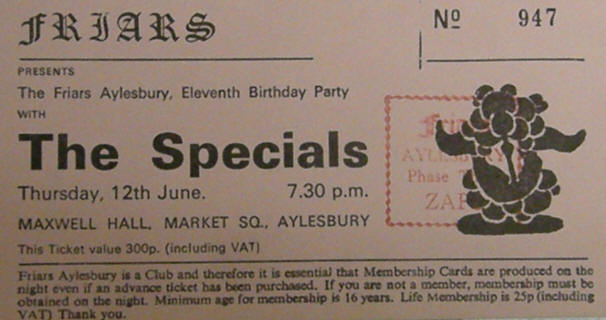 memories
The webmaster, north Bucks:
"This was a weird gig and I may be a dissenting voice. I remember the Bodysnatchers being OK but I was dismayed at what was then one of Britain's most dynamic live bands seeming to have a bad night, truly not helped by members of the band diving in the crowd and encouraging many of them up on stage which I subsequently found out that they had been explicitly asked not to do."
press cuttings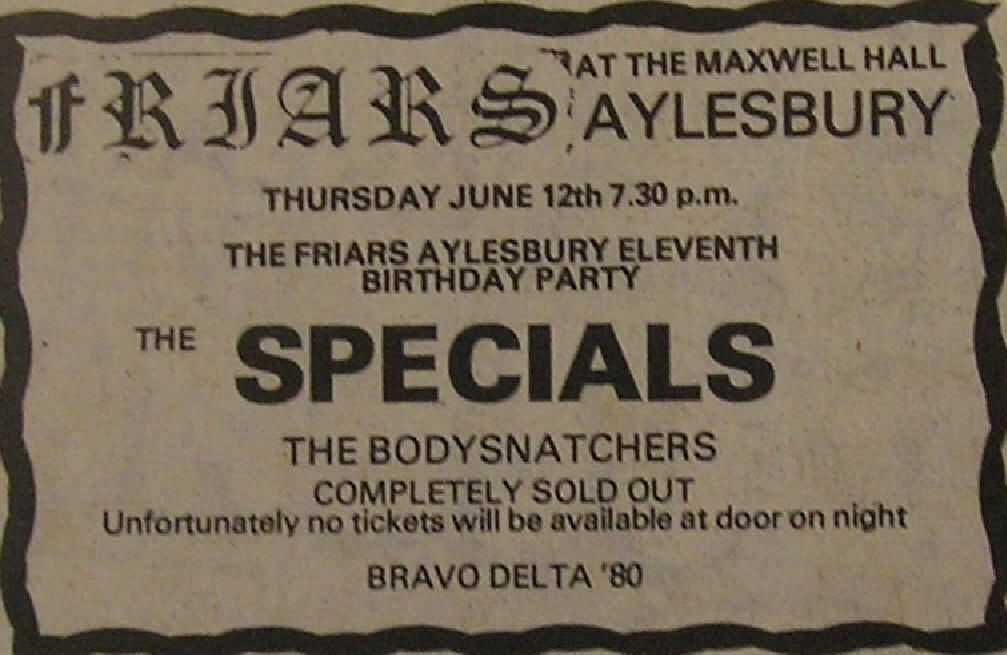 what happened next
The Specials had petered out by 1981. Dammers led a revived Special AKA most notably having a huge hit with Free Nelson Mandela. Hall, Golding and Staples formed the successful Fun Boy Three. Hall also had some success with Colourfield.

The Specials reformed in 2008 and played hugely successful tours in 2009. The reformed line-up did not include Jerry Dammers who now tours as The Spatial AKA Orchestra

This reformed line up returned to Friars Aylesbury in May 2013 without Dammers and Neville Staple. they also broke every friars record going for ticket sales.

John Bradbury died in December 2015
odds and trivia
The

first band on the bill, The Reluctant Stereotypes had huge success by 1985 with a slight line up change and a change of band name. That band? King.
official web presence
The Specials official site
sound and vision
The Specials - Do Nothing
The Bodysnatchers - Easy Life
Reluctant Stereotypes - Nightmares